Fine Dining In a Converted DC-10. Plus: Where in the World to Eat, and the Sad Confessions of a Non-Foodie.
STORY AND PHOTOS BY PATRICK SMITH
January 20, 2016
I'M THE FARTHEST THING from a foodie. The very word foodie irritates me. It goes back to my childhood. I was raised in what was perhaps the must gastronomically unadventurous family in America. A "salad," as I knew it when I was a kid, consisted of a bowl of iceberg lettuce doused with steakhouse dressing. We had our pizzas Margherita style, with sauce and cheese only. The idea of adding a topping was almost frighteningly exotic. In sixth grade my little league coach took our team out for Chinese food. I cried and hid in my room because I didn't know what Chinese food was or how to order it. Later, in the 1980s, friends of mine would often go for dim sum on Sunday afternoons. I always made excuses to stay home, because I had no idea what dim sum was, and would surely embarrass myself trying to eat it. I was thirty before I could use chopsticks or knew what a burrito was.
Food, to me, was always a mundane, unexciting experience. I travel a lot, but to this day I consider dining out to be a chore. This is heresy to a lot of people, I know, but I'm perfectly happy with a burger from room service or some easy-to-grab street food.
Unless, that is, we're talking about dinner inside a converted McDonnell Douglas DC-10. Now this is a restaurant to get excited about.
Welcome to La Tante DC-10 Restaurant, located just outside Kotoka International Airport in the friendly capital city of Accra, Ghana. For several years this venerable aircraft sat derelict next to a hangar, sans engines and wearing the sun-bleached colors of the defunct Ghana Airways. The hulk was destined for the scrap pile when, in 2013, it was purchased by the Vindira Company. It was towed down an embankment to its current resting spot, and refurbished into a full-service restaurant with seating for 118 passengers — er, diners. It's hard to miss, looming just behind the Marina Mall and painted a ghastly green (the color owes to a sponsorship from the locally brewed Club beer).
I love the repurposing of commercial aircraft. La Tante is one of several similar projects around the world, including a 747-turned-hotel outside the airport in Stockholm. There's something about this idea, the recasting of the jet into a wholly unexpected role, that causes one to reflect on the astonishing capabilities of commercial aviation. When you're sitting on a plane at the airport, it's easy to take for granted the fact that you'll soon be soaring through the sky, en route to some exotic city halfway around the world, a feat that would have seemed unimaginable just a hundred years ago. It's different, though, when that plane becomes a restaurant, and you're sitting inside and suddenly you think about how this place, this entire building — we think about it now as a building — once flew through the air at hundreds of miles per hour, calling port in London, New York, Johannesburg, and dozens of cities in between. How is it even possible?
The main dining room is set in what used to be the economy class cabin. The outside seats are original, with tables installed in between. Conventional tables and chairs are used in place of the center rows. If you want, you can stow your extra belongings in the overhead bins.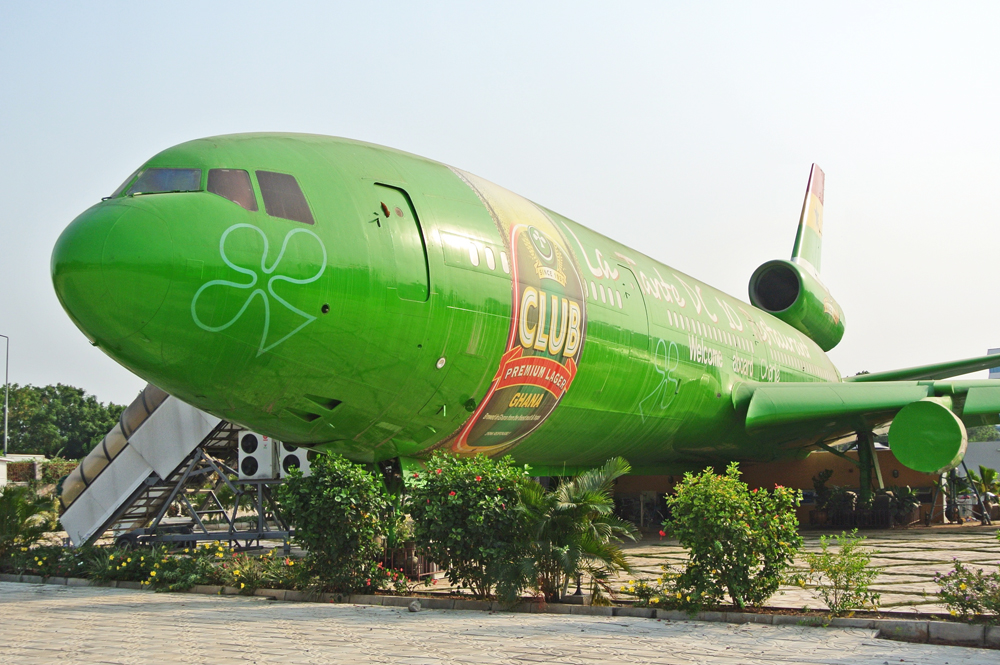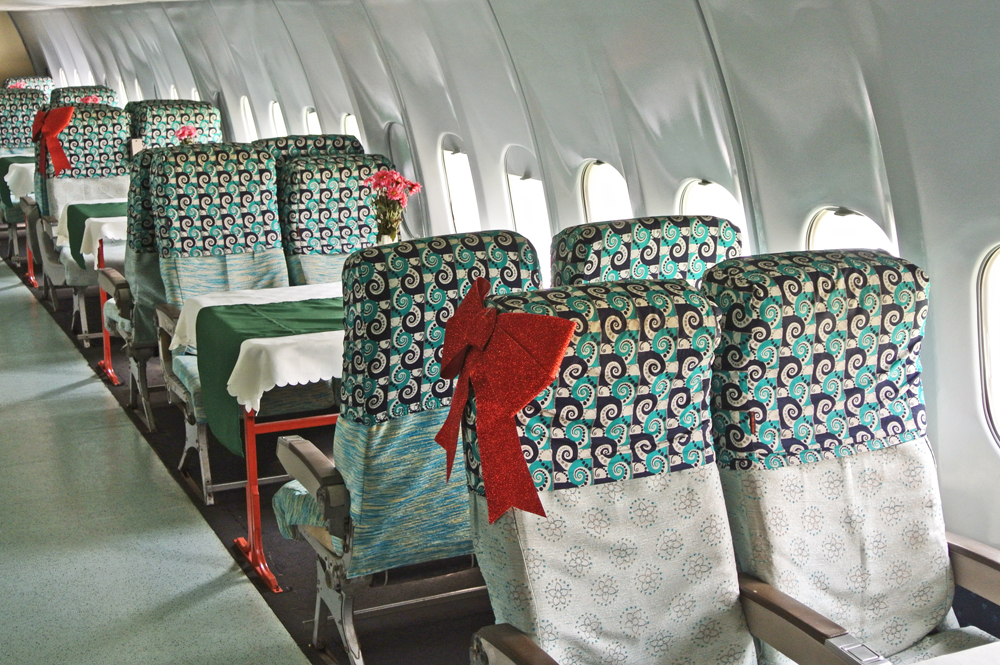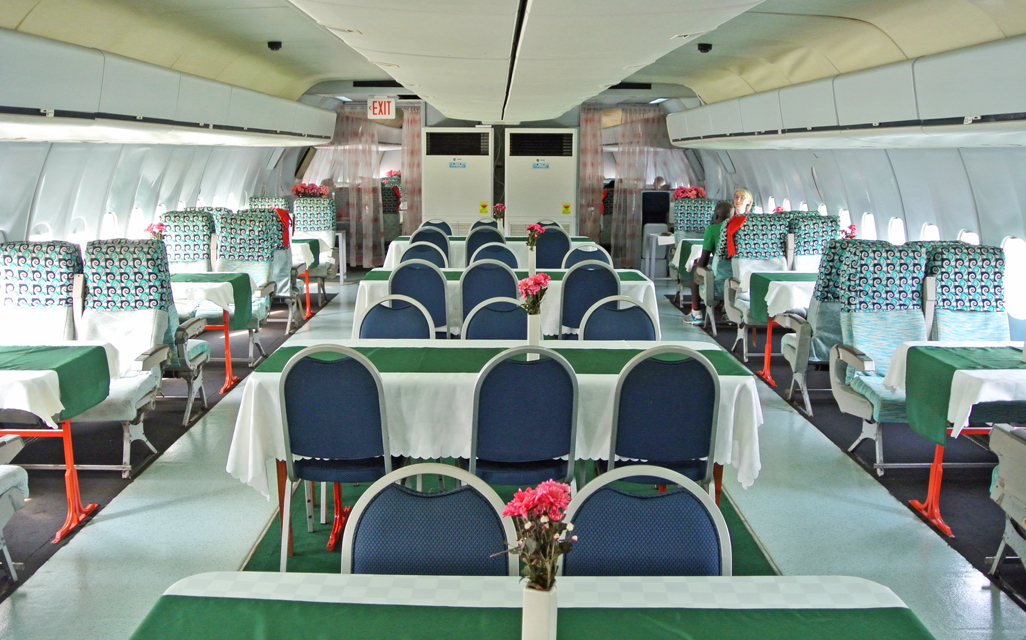 The landing gear gardens are a cool if peculiar flourish.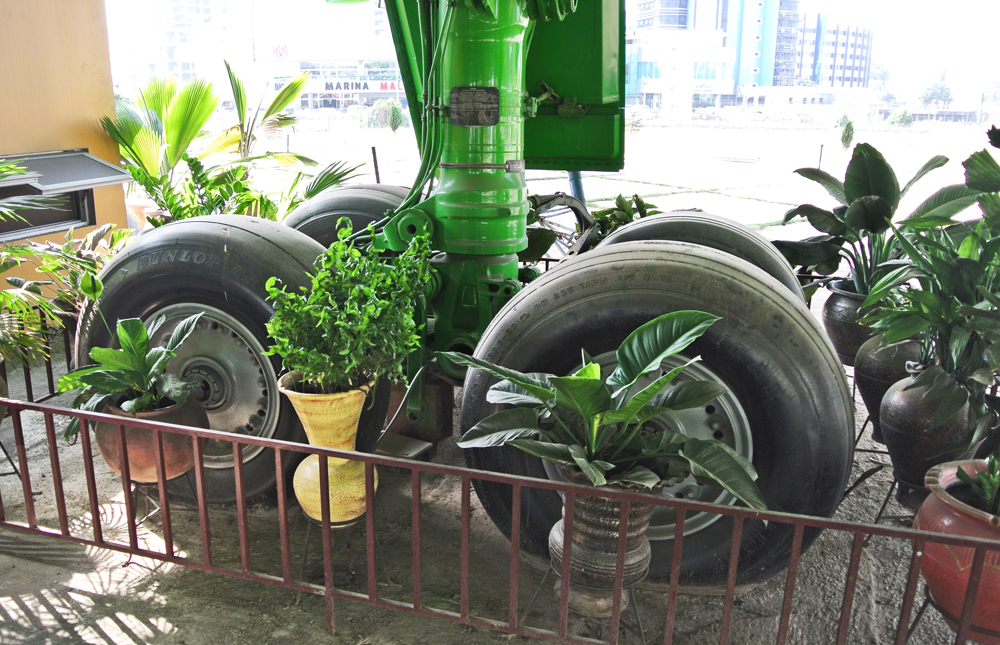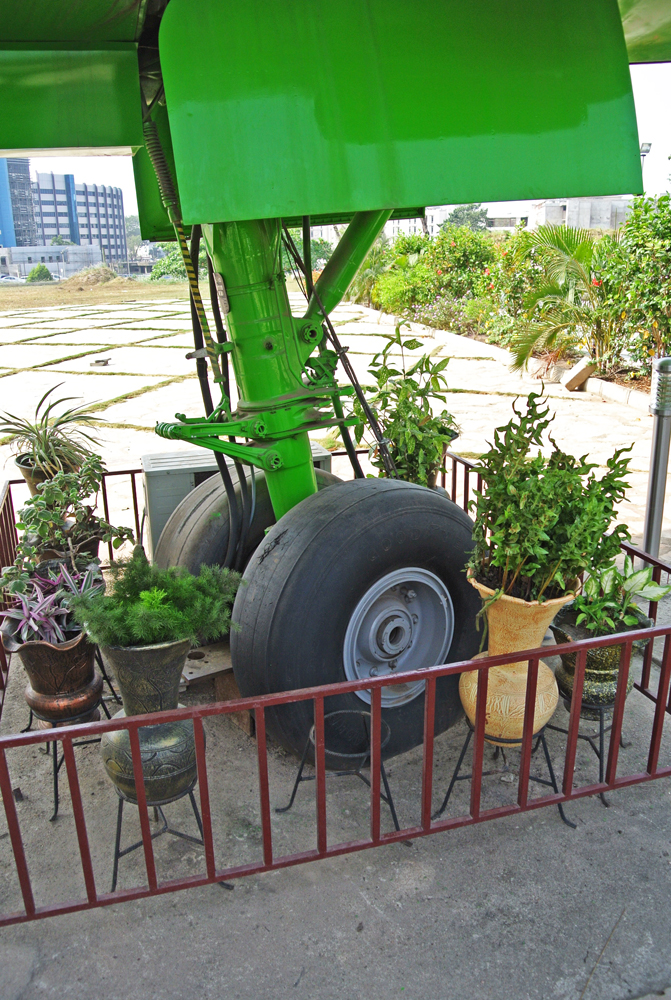 The washrooms are all but unchanged, except for a conventional "land" commode in place of the blue-water toilets.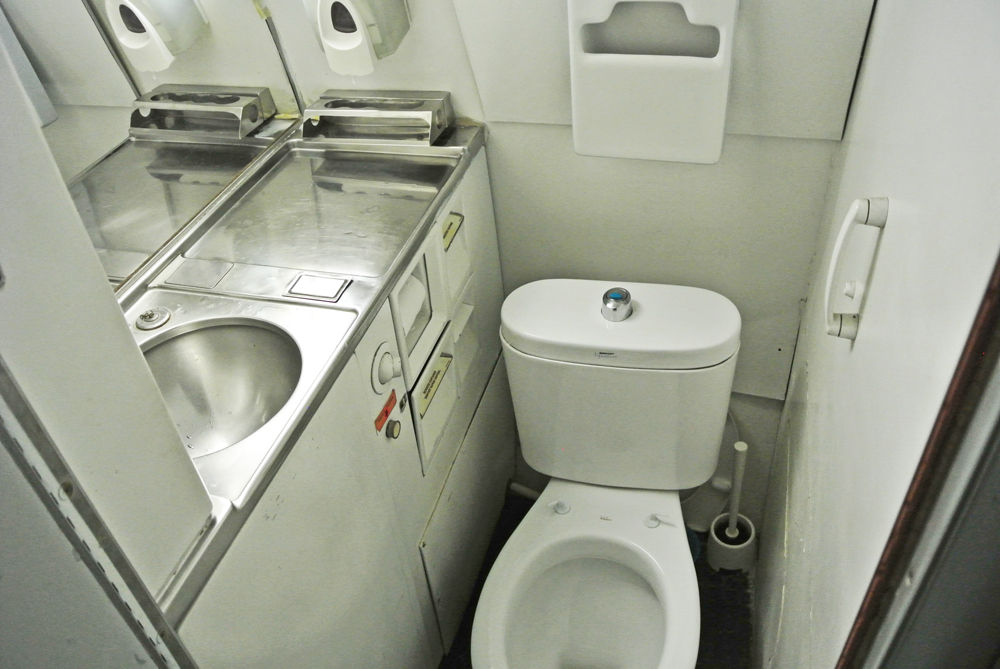 La Tante's menu isn't terribly sophisticated. It's your basic Ghanaian food. But it's wholesome and inexpensive (at the moment it's about 4 Ghana cedi to the American dollar). Here I kept it simple and ordered the Jollof rice with chicken, a Ghanaian staple. It was good, if unexceptional. Just the right amount of spicy. My normal Ghanaian favorite is the "red-red," a stew made with black-eyed peas cooked in palm oil, but La Tante offers it only with fish, not with chicken or beef, and I don't enjoy the fish version. The waitresses (yes, they dress like flight attendants) are friendly and the food came promptly.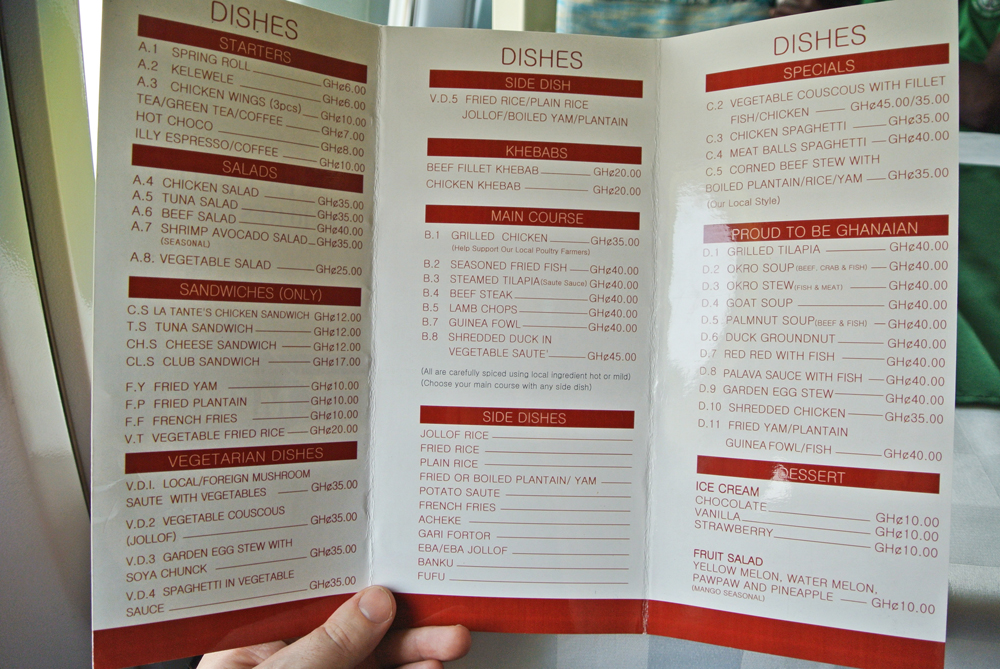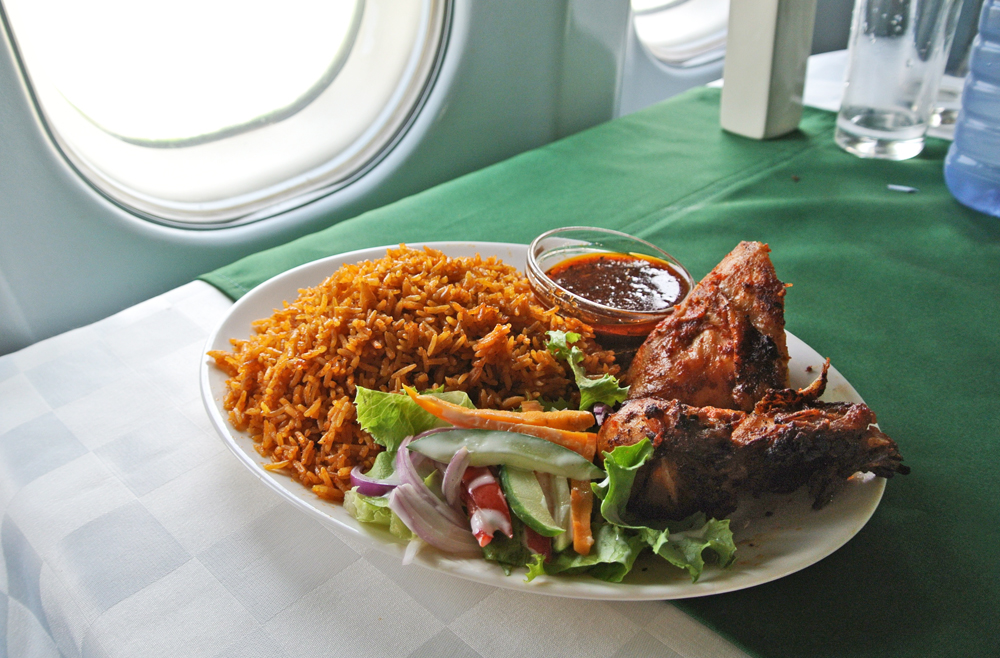 There's a bar/lounge in the forward section, in the space once occupied by first class.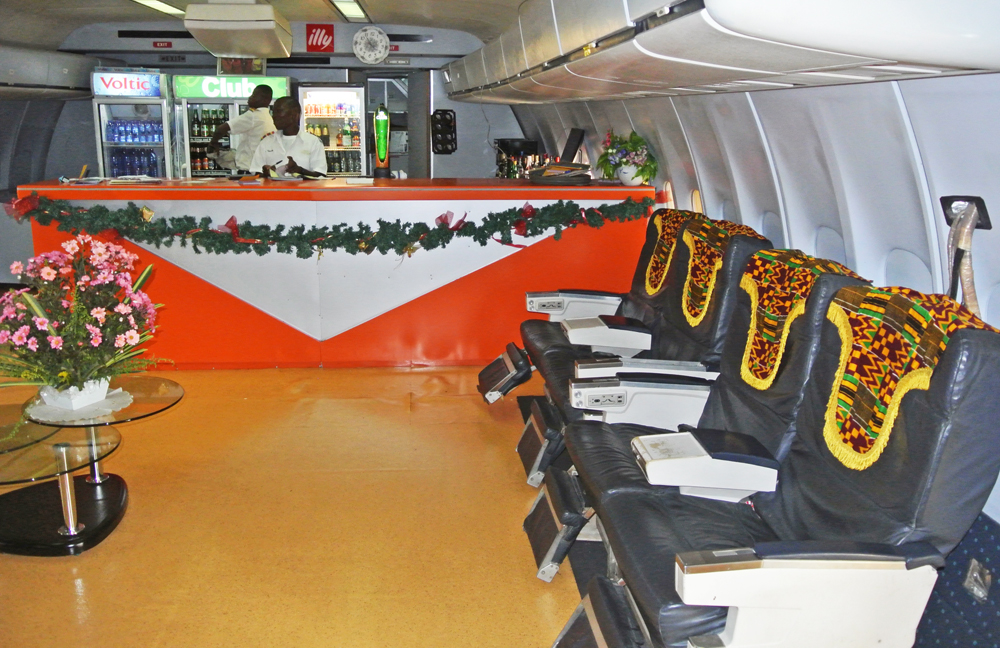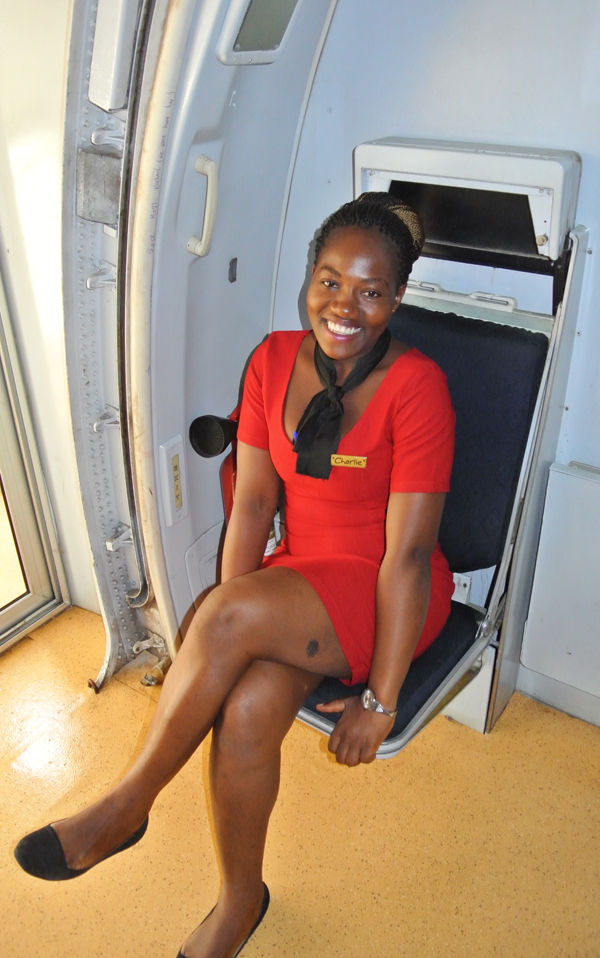 The Ghana Airways tail livery remains. Notice the kitchen annex built into the right side of the fuselage.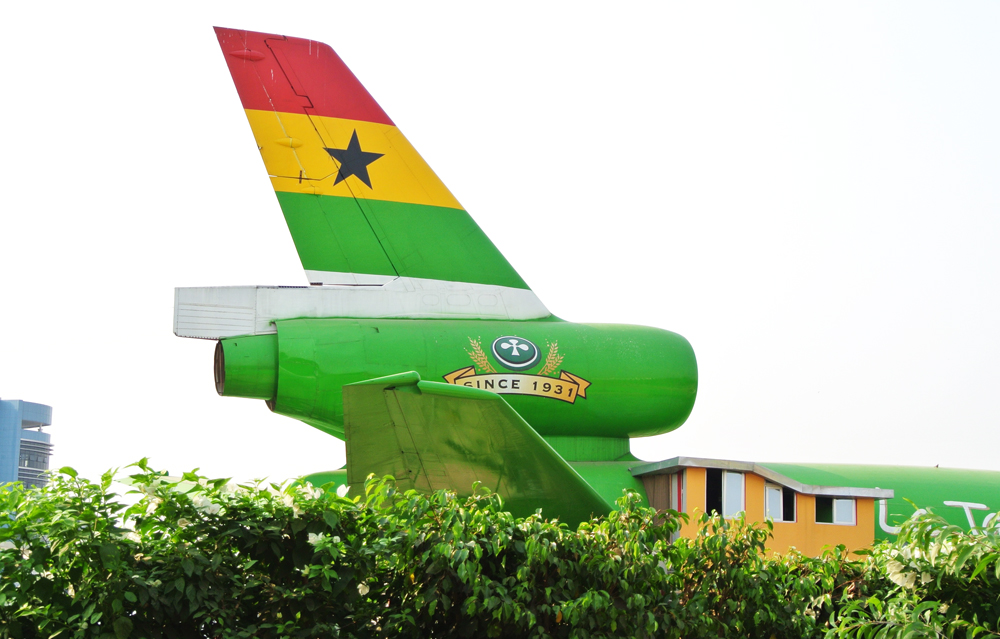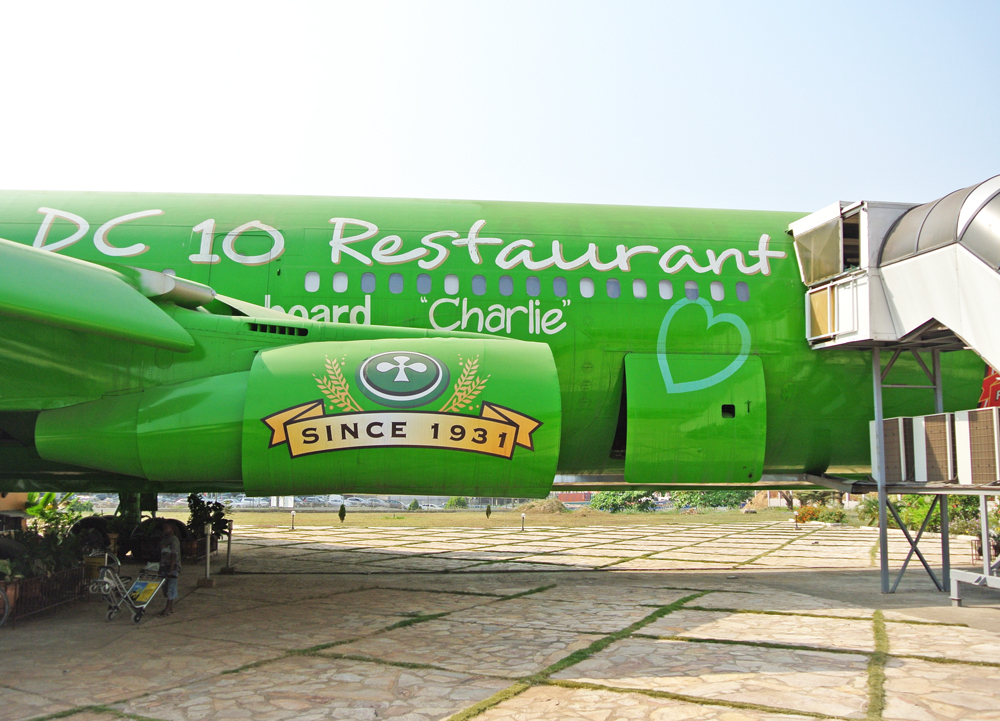 If there's one thing La Tante is lacking, it's a little history. I wish the owners would put up some framed photographs of the place from its flying days. In addition to its work for Ghana Airways, the jet flew for the U.S.-based World Airways, which sent it on charters all over the globe. Many restaurants have long and storied histories, but usually just in one place. Here's a restaurant that has literally been everywhere.
UPDATE: June, 2018: A recent visit to Ghana confirms that yes, the La Tante restaurant has lost its Club beer sponsorship and is no longer doused in the sickening green paint seen in the photos above. The DC-10 is now mostly white.
__________
As much as I enjoy La Tante, it's not my favorite eating spot in Accra. That honor belongs to Tandoor, an Indian place in the Cantonments neighborhood. Tandoor might be my favorite restaurant anywhere. Established in 1993, it's one of the oldest Indian restaurants in the city, with a gigantic menu concentrating on Mughlai specialties, plus all of the standard Indian entrees, and then some. I order either the coconut-chicken kebab (not spicy) or the chicken Madras (where's the fire extinguisher?). The menu includes approximately four thousand varieties of naan and roti. Seating is inside or outside, garden-style on heavy wooden benches and tables. The atmosphere is very laid-back, though you might hear Nik, the owner, berating his staff when the service gets too slow.
Dining out just isn't my thing, but I do have my spots. La Tante and Tandoor are two of them.
Speaking of West Africa, if you're in Senegal, I recommend a Lebanese place called Le Layal, near the Place L'independance and within walking distance of the Pullman hotel. It's nothing fancy — which is partly why I like it — with good prices and good food. Once you get past the "Testicles With Garlic and Lemon," and the "Homos with Chopped Meat," the menu is both coherent and tasty. Le Layal's mezze is the best I've had in Africa. (They've gotten around, those Lebanese. I dare you to name a big city anywhere in the world that doesn't have a decent Lebanese restaurant or a Lebanese-run hotel.)
Down in Mexico City, meanwhile, you might find me at Fonda el Refugio, an historic restaurant on Calle Waterloo in the Zona Rosa that dates to 1954. "Historic" implies pricey, but the entrees here are well within the average traveler's budget. The waitstaff is attentive to a fault, and the food arrives quickly. My regular dish is the carne asada a la tabasqueña. Get there early to avoid the crowd.
And let's not forget Abou Tarek, in Cairo. Everybody in Cairo, if not in all of Egypt, is familiar with Abou Tarek, a four-story building on a grimy street full of tire and muffler shops, just off the eastern end of 6 October Bridge, a few blocks in from the Nile. It's been there since 1950, founded and (still) owned by Youssef Zaki. Zaki is maybe Cairo's closest thing to a celebrity chef, a sort of Colonel Sanders of Egyptian fast food, whose portrait stares down at you from the walls. On my last visit, Zaki himself was on the premises, shaking hands. Walk in, take a seat, and within thirty seconds you're dining on the restaurant's sole entree, that most delectable of Egyptian treasures: a steaming bowl of koshary — a carbohydrate bomb of noodles, lentils, chickpeas and fried onions, topped with a spicy tomato sauce and however much chili you can handle. All for the equivalent of about $1.50. Abou Tarek is not fine or formal dining by any stretch, but it's tons of calories and tons of fun.
The best meal I ever had, though, was an impromptu feast from a streetside take-out joint in the city of Van, in eastern Turkey. It was a kebab plate, with succulent hunks of meat and slabs of tomato and onion, all wrapped fish-and-chips style in newspaper. I was starving at the time, which is maybe why I remember it so fondly. I think I paid about two dollars. I have no idea what the name of the place was.
There, just like that I'm a food blogger.
Related Stories: