Welcome to Room 420: Rubber Floors, Mysterious Odors and Inexplicable Artwork. Plus: Mojito Madness and the World's Worst Billboard.
ACCRA, GHANA
THE FLOOR IN ROOM 420 is made of rubber — or something that looks like rubber. It's a pebbly, industrial-style flooring. I wouldn't be surprised if it were made from recycled tractor tires. That would be a good thing, and either way I like it. I admire its toughness, and it lends a handsome touch to the rest of the — what to call it? — African-modernist decor of sun-faded pastels and white pine. But tread barefoot at your peril: in the shower your feet will leave inky black stains around the drain.
Outside my window, a crippled man is propelling himself down the sidewalk in a hand-cranked wheelchair with a seat made of plywood. He is wearing an oily pair of jeans, and his legs — whatever might be wrong with them exactly, or if they're there at all — look like deflated canvas tubes. Nearby, on the wall of a construction site, in angry spray-painted letters it says, DO NOT PISS HERE!
My room stinks of cigar smoke and cologne.
Now, at least as I understand it, the accepted literary style of describing smells is to always use some fantastical or over-the-top comparison and maybe a little metaphor. "His room stank of coalsmoke and defeat." I'm not creative enough for that, and besides it doesn't always describe the smell accurately. I assure you this room smells precisely like cigar smoke and cologne, and I am confident that both of those things were here, in abundance, shortly before my arrival yesterday afternoon. I picture an overweight German businessman in a towel dousing himself in some awful fragrance; a recalcitrant Nigerian hooker napping in this very bed. "Kommen ve must go now. It is check-out time!"
The smell hit me the second I walked in. I thought about changing rooms but I was too tired to go dragging my stuff back to the elevator.
Plus, this is room 420. I have had this room before, and Eau de Montecristo aside, it is my favorite for an excellent reason: because it is home to the most ridiculous piece of artwork ever to grace a hotel room. Hotel artwork is a pretty competitive field — in all the wrong categories — and if you travel a lot, doubtless you've marveled at the many tacky, trite, or simply hideous pieces tacked to the walls by clueless hoteliers. But the winner for oddest-ever in-room picture hangs proudly above the non-useful miniature sofa in room 420 of the Novotel City Centre here in Accra. I could try describing it, but here's your proverbial Thousand Words instead: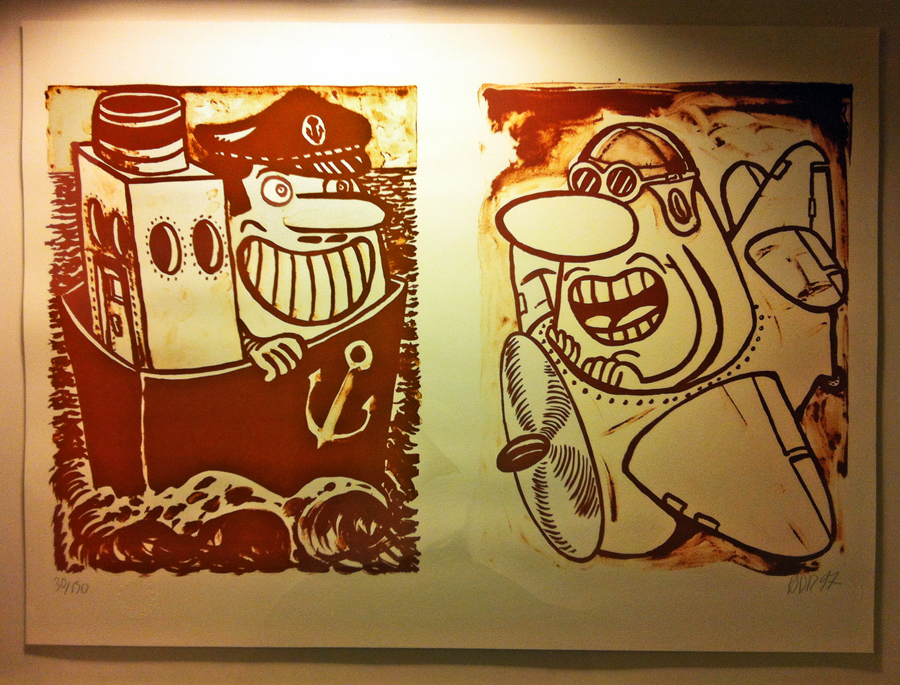 I can't make out who the artist was (initials DDR?), but this was a limited edition print, number 30 of 150, and it dates from 1997, embossed with an important-looking stamp decreeing its membership in the esteemed "Novotel Collection." I call it, "Air and Sea," or, "O Captain My Captain" (artist unknown; ink and whatnot on paper). Perhaps in a youth hostel or backpacker joint it wouldn't seem so jarring, but the fact this is West Africa makes it even more of an insane non-sequitur than it would be anywhere else.
I thought about taking it with me — the theft of fine arts is a booming business, you know. And here in Somerville, Massachusetts, we have the should-be-famous Museum of Bad Art. MOBAs renowned curators could do worse, maybe, than ringing up Novotel and making an offer for DDR's masterpiece. Alas the piece is surprisingly well-secured in its frame.
Or am I being unfair? It's a fun picture, certainly, and far preferable to some schlocky painting of an African village or an acrylic stick figure of a woman grinding grain.
Meanwhile, for guests who don't mind lingering odors, who aren't serious art collectors, or who don't enjoy bouncing around on rubber floors, the Novotel still has plenty to offer. It's clean, in a convenient location, and the staff, like everybody in Ghana, is disarmingly friendly. The poolside pizzas are the best in West Africa and the Sangaw bar, just off the lobby, is a relaxed and cozy spot to enjoy a cold bottle of Star.
It's also a great hotel to have your laundry done — a badly needed service after a long flight and the sweaty van ride from Kotoka airport. They are prompt and do an excellent job. It's not too expensive, and everything comes back brightly washed and meticulously folded in accordance with some unfathomable mathematical folding principle. Even the socks come back folded, looking like little origami socks.
Not everybody at the washing station is paying attention though. I'm one of those eco-weirdos who takes those sad little "help us conserve water" placards seriously; I re-use the towels and I don't let the housecleaners change the pillow cases. And on the laundry slip, I write, in big underlined letters, NO PLASTIC! Chipping in, doing my part. No matter, here's how my clothes come back to me…
There's some cultural disconnect going on here, possibly — the idea that a Western guest wouldn't want his impossibly folded boxer-briefs and socks presented in cellophane splendor simply impossible to entertain. Or maybe they think this is funny?
Which brings us down to the aforementioned Sangaw Bar. What to make of this special cocktail promotion, advertised tabletop in clear plastic easels…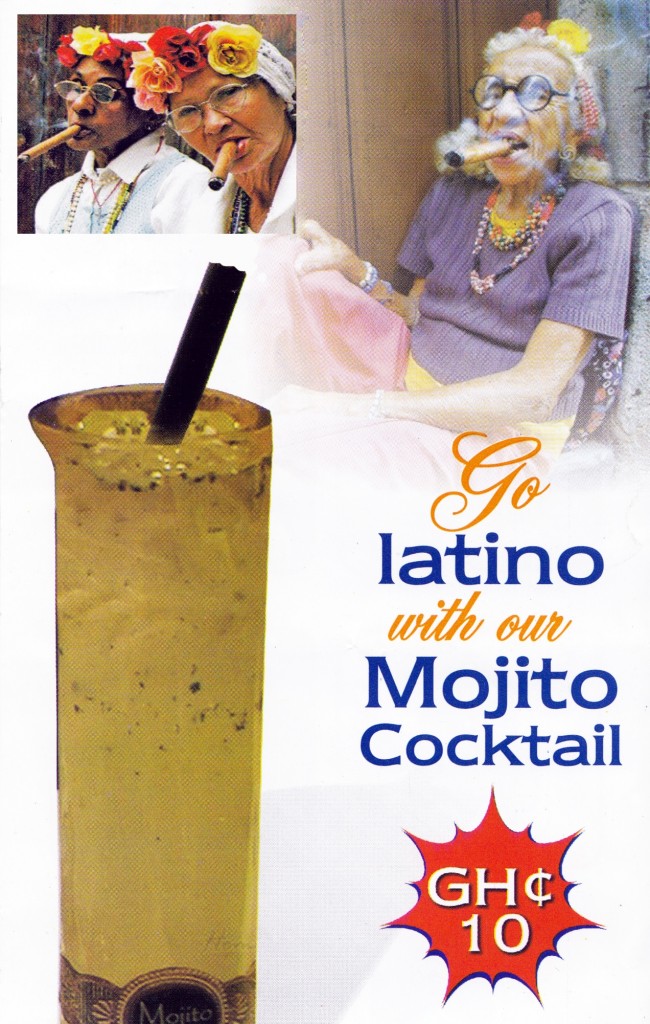 Apparently for some West Africans, your idea of "Latino" is a crazy old woman smoking a gigantic cigar.
I much enjoy traveling to Ghana, and Ghanaians are some of my favorite people in the world. Always smiling, always saying hello, always eager to sell you a handmade goatskin drum or some shea butter without ripping you off. This is an amiable and proud place — if not always for reasons everyone is eager to hear about. Once, a couple of years ago, I was getting out of a taxi across from the Novotel, and as I stepped to the curb I was confronted with the following, staring at me from a newspaper kiosk…
So we know there are people who keep track of these things. And naturally some of us wonder: who finished first and second?
Accra is also home to the world's worst billboard. It's just outside the airport, informing arriving passengers of the country's desperate dearth of copywriters. KILL INSECTS! ENJOY NICE SMELL. Is that the smell of dead insects? At any rate, it looks like they applied a little too much: "Hey girls, come and help daddy spread some of this toxic insecticide around the house. Douse it good now, and breathe it in! Smell that wonderful smell. Breathe in deep! What's that? Yes, daddy also has a headache and knife-like stomach pains. But just keep breathing and spraying. Wait, oh shit, I just killed my entire family…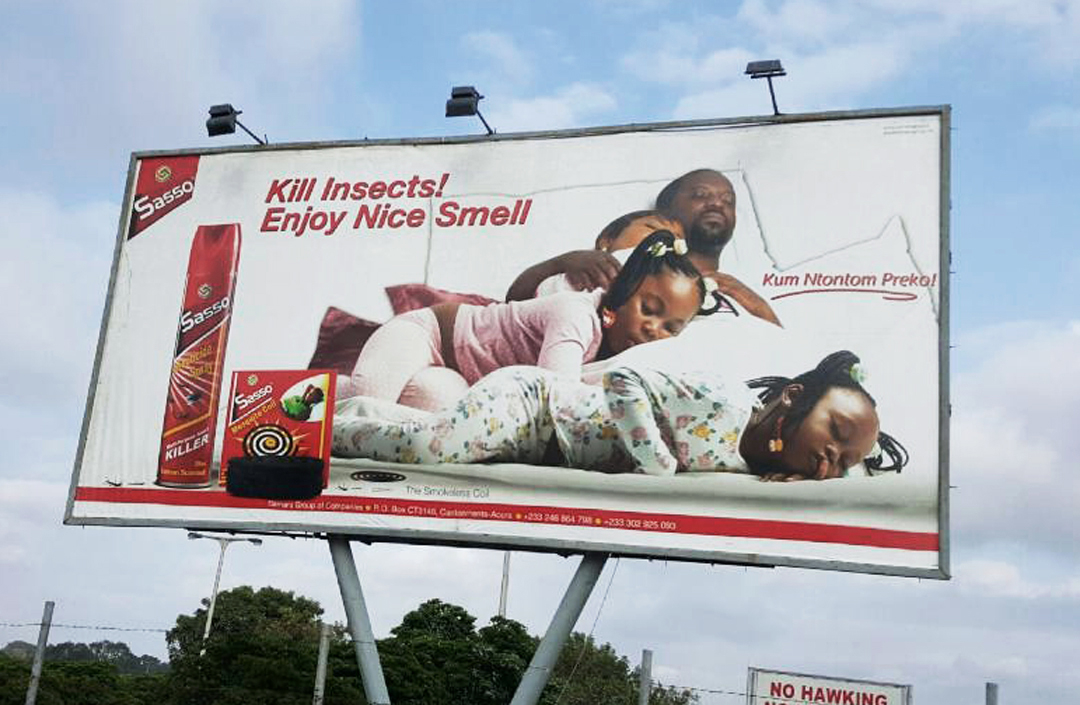 I digress.
Every hotel has it quirks. Inexplicable artwork, rubber floors and bizarre cocktails, there are a lot of things to dislike about hotel rooms, even the fanciest and most expensive ones: temperamental air conditioning, toe-breaking doorjambs, ergonomically hellish "work spaces."
And here's another one: cardboard brochures. Nowadays, each and every hotel amenity, from room service to Wi-Fi, is hawked through one or more annoying advertisements displayed throughout the room. Cards, signs, menus, and assorted promotional materials—they're everywhere: on the dresser, in the closet, on the pillows, in the bathroom. I wouldn't mind if this laminated litter was placed unobtrusively, but it tends to be exactly in the way, and I resent having to spend five minutes after an exhausting red-eye, gathering up these diabolical doo-dads and heaving them into a corner where they belong. One's first moments in a hotel room ought to feel welcoming, not confrontational.
Food and room service are another topic entirely. Speaking of West Africa, be careful never to dine too hungry at the Pullman Hotel in Dakar, Senegal, where the surly poolside waitress might, eventually, bring you the pizza you ordered ninety minutes ago, and where the in-room menu offers such delectables as:
Chief Salad
Roasted Beef Joint on Crusty Polenta
The Cash of The Day
Paving Stone of Thiof and Aromatic Virgin Sauce
That last one sounds like a chapter from a fantasy novel. Head instead to Le Layal, a great little Lebanese place up the street where, once you get past the "Testicles with Garlic" and the "Homos with Chopped Meat", the menu is both coherent and tasty.
So the phones are open. If you've got comparable examples of hotel weirdness, feel free to share them in the comments section below.
UPDATE: November 15, 2014
Well, subsequent stays at the Novotel City Centre in Accra reveal that the "Novotel Collection" is more bountiful than we thought. We now have three contenders for the for strangest (worst?) hotel artwork of all time. Move over "O Captain," you've got company. Down one floor, in room 302 we behold this remarkable creation. For now untitled, it appears to depict a severed robot head in the throes of a mind-meld with a giant strawberry…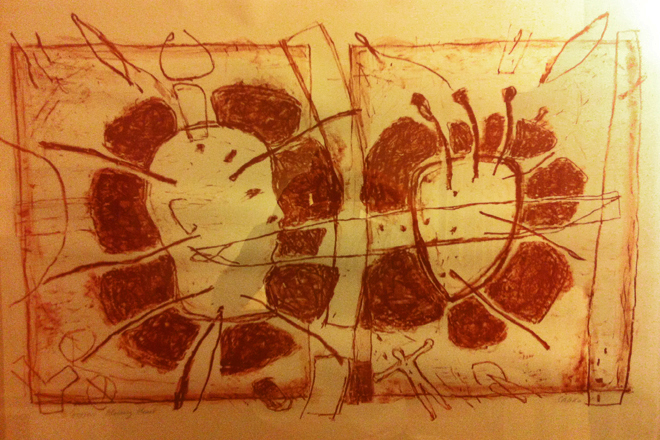 And not to be outdone, also on the third floor, yet another demented masterpiece awaits us, perhaps the most impressive of the lot…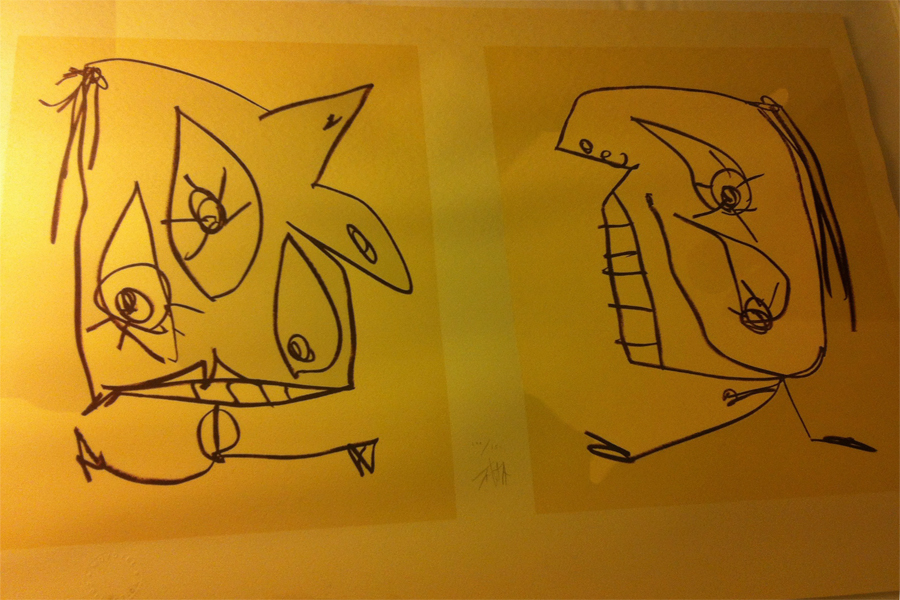 We notice a consistency here — an opposing-panels "faces" theme — though somehow this unifying principle doesn't make the pictures less ridiculous. How to choose a favorite?
Anyway here's an idea. Maybe you should visit Ghana. If you're considering a first-time trip to West Africa, I can't recommend it more highly. It's friendly, safe, affordable, and there's tons to do.
HIGHLIGHTS IN TEN DAYS…
Day 1: Arrival. Check in to your non-smoky room at the Novotel and enjoy the afternoon at leisure. Walk down to the Arts Center to try out your haggling skills, and maybe come away with one of those not-too-overpriced drums. Later have dinner at Tandoor, Africa's best (and spiciest) Indian restaurant.
Day 2: Accra. Visit the Osu coffin makers, and finish the afternoon with a sundowner at Osekan, a seaside bar/restaurant not far from the hotel. Ghanaian food tonight at Buka, or at Asanka Local if you're adventurous. If you've never had Ghanaian food, start easy and order the red-red, or the Jollof rice with chicken.
Day 3: Get an early start and head west to Elmina Castle, the famous slave castle about two-and-a-half hours west of Accra. (Skip Cape Coast Castle and head directly to Elmina, about 20 minutes further.) After a tour be sure to wander around the harborfront area. Get right down in there, onto the sand in into the little alleyways between the houses. After lunch continue west to the small town of Axim, near the border with Ivory Coast.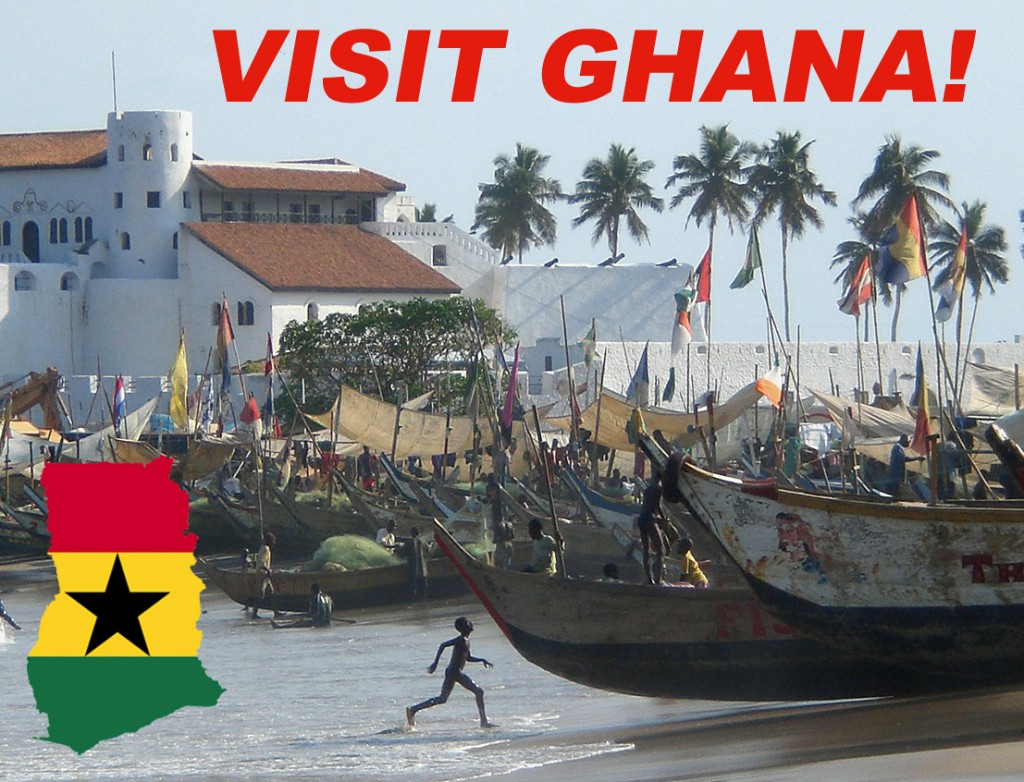 Days 4 and 5: Spend two nights at the Axim Beach Hotel, a rustic seaside place on a beautiful beach. Take some time to wander Axim town, with its ramshackle main street and nearby slave castle.
Day 6: Depart Axim early and head east to Cape Coast, stopping at Nzulezo floating village on the way. Once in Cape Coast grab a bus or tro-tro up to the frenetic city of Kumasi, about a five-hour drive away. Stay at the Four Villages Inn.
Days 7-8. From your base in Kumasi, take a tro-tro out each morning and visit the nearby Ashanti towns. Buy some Kente cloth and don't forget your schnapps (this will make sense to you later).
Day 9. Fly back to Accra — no bus or tro-tro; you've had your fill of that — and spend your final night in room 420. Have a pizza and a crazy lady mojito.
CLICK HERE TO VIEW THE AUTHOR'S PHOTO GALLERY FROM GHANA
And please consider donating to this campaign: