April 23, 2019
DID YOU HEAR the one about the flight that went to Edinburgh instead of Dusseldorf?
On March 25th, a British Airways regional jet took off from London City Airport (LCY) bound for Dusseldorf, Germany. An hour or so later, the passengers found themselves in Edinburgh, Scotland. Not until the jet touched down did they realize they were headed to the wrong city.
Reporting on this incident has been inconsistent at best. Obviously certain outlets find the whole "the pilots flew to the wrong airport!" angle irresistible. But that isn't what happened. The pilots, the flight attendants, and their aircraft were dispatched, flight-planned, and fueled for a trip to Edinburgh. That's where they were expected to fly, and that's where they went.
 
The passengers, on the other hand, thought they were going to Dusseldorf. In other words, the plane didn't fly to the wrong city. The passengers were put on the wrong plane.
 
The breakdown was apparently between the technical staff (pilots, dispatchers and flight attendants) and the airport personnel who processed and boarded the passengers. The former were Edinburgh-bound. The latter were handling a flight to Germany — or so they thought.
But, you're thinking, wouldn't the "welcome aboard" spiel by either the pilots or cabin crew have given things away? We always mention the destination, don't we? And surely flight attendants would have noticed "Dusseldorf" on the customers' boarding passes, right? The signs and announcements at the gate, too, would have referenced Edinburgh. Could all of this have somehow been missed?
I, for one, can see it happening. Those PAs are sometimes perfunctory, and how many people are listening to begin with? And I can easily — easily — imagine a scenario where the gate personnel and flight crew found themselves on separate pages, regardless of any boarding announcements or signs above the podium. The fact this was a contract company flying on British Airways' behalf, rather than an actual BA aircraft operated and overseen by BA personnel, could also have been a factor.
Embarrassing, sure.  But not the same thing as two pilots taking their plane to the wrong destination. Which, I'm the first to admit, has happened. More than once…
In 2013, a Southwest 737 destined for Branson, Missouri, instead ended up at a small general aviation field nearby, touching down on a runway less than four thousand feet long. Only a few months earlier, a 747 freighter operated by Atlas Air found itself at the wrong airport in Kansas. In June, 2004, a Northwest Airlines flight from Minneapolis to Rapid City mistakenly landed at Ellsworth Air Force Base. And, in 1995, a Northwest DC-10 touched down in Brussels instead of Frankfurt. And this is only a partial list.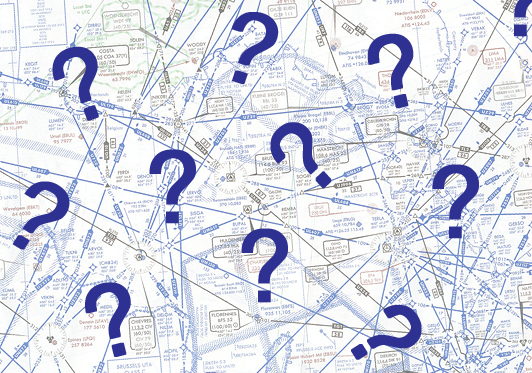 The idea of highly trained aircrews with troves of technology at their behest landing astray sounds, I'll agree, amusing, quaint, or even patently ridiculous. So how does it happen? Improperly keyed coordinates? A navigational computer gone crazy? Or is there a more visceral, seat-of-the-pants explanation, such as a tired crew mixing up a pair of similar-looking runways.
If there's a common thread, it's that often in these cases pilots were flying what we call a "visual approach." Most of the time, jetliners land using what we call an ILS (instrument landing system) in which controllers guide us onto a pair of radio beams — one vertical, the other horizontal — that form a sort of crosshair that we track to the runway, either manually or by coupling the ILS to the plane's autoflight system. There are also what we call "non-precision" instrument patterns, in which a GPS-guided course takes you to a few hundred feet or less above the pavement. But a visual approach, as the name implies, is almost entirely pilot-guided. This is when high-tech goes low-tech. Essentially you eyeball the airport through the windshield, report "field in sight" to ATC, get your clearance and go ahead and land. When available we back-up a visual with whatever electronic landing aids might also be available (an ILS signal, usually), But sometimes our orientation is based entirely on what we see through the window.
Visual approaches are very common, very routine, even at the biggest and busiest airports. Airline pilots perform thousands of these approaches every day without incident. However, you need to be sure of what you're looking at. This is particularly true at smaller airports, where cues on the ground (roads, coastlines, buildings etc.) aren't as obvious, and where you might not be familiar with the surroundings. Certain combinations of circumstances make a mistake more likely: a nighttime visual with low-altitude maneuvering, for instance, at an airport you're not used to, with perhaps a similarly laid-out airport nearby.
In the winter of 1990 I was copiloting a small turboprop when we were cleared for a nighttime visual approach to New Haven, Connecticut. As it happens, the lights and orientation of nearby Bridgeport, Connecticut, appear strikingly similar to those of New Haven. After a minute or two we realized the error and corrected course. All of this happened far from the runway, and, somewhat in our defense, we were flying a 15-seat Beech-99 — a vintage relic from the Age of Aquarius, with as many electronic accoutrements as my mountain bike.
In addition to whatever human errors catalyze such events, weather and air traffic control (ATC), to name two, can lend a hand in getting from point A to, as it were, point C. In the case of that DC-10 finding its way to Belgium instead of Germany, air traffic controllers had been given the wrong information, and began issuing a long and complicated series of vectors and course changes to the crew, sending it toward Brussels. Airspace in Europe is complex and congested, and roundabout routings aren't uncommon. Thus it wasn't necessarily obvious to the crew that they were being led astray. By the time the crew realized they were being vectored to Brussels, they decided to land there rather than have to recalculate fuel reserves and orchestrate a last-second re-routing. In the end, it was probably safer to land at the wrong airport than the right one.
The act of landing a plane is, on one level, inordinately simple. At the same time, it's a maneuver beholden to technology. It can be one, or the other, or both, depending on circumstances: the aircraft type, the approach being flown, the weather, the airport. There are times when an old-school, seat-of-the-pants skill set is exactly what's required. Other times it's all but impossible to find a runway without help from the instruments and screens in front of us. Either way, though, it comes down to judgment and decision-making. Despite everything you hear about autopilot and the alleged sophistication of modern jetliners, it's the fight crew — the pilots — who are very much flying the airplane. Sometimes it takes an embarrassing mistake to make this point clear.