THE SCOURGES of modern-day air travel. I can think of a few: TSA, delayed flights, garbage in your seat pocket. Screaming kids and misdirected luggage. "CNN Airport News."
Or, how about the blizzard of cardboard placards that hotel chains insist on littering their rooms with? I spend a quarter of my life in hotel rooms, and I resent having to spend the first five minutes of every stay gathering up an armful of this diabolical detritus and heaving it into a corner where it belongs. Attention innkeepers: this is fundamentally bad business. One's first moments in a hotel room should be relaxing. The room itself should impart a feeling of welcome; it shouldn't put you to work.
And here's another one: the ever-expanding collection of electronic cords, adapters, chargers and other gadgets I'm obliged to haul around with me. You know what I'm talking about. Anybody who travels regularly knows what I'm talking about — an assortment of technological tackle that seems always be getting larger and more cumbersome. It keeps us "connected." It makes our lives easier and more productive.
That's what they tell us, anyway.  We're increasingly at the mercy of commercial products, both tangible and virtual, and taught to behave as if we truly need them.
Don't get me wrong. Riding the subway out to Logan, I love being able to pop in my earbuds and catch a few cuts from the Wedding Present or the Jazz Butcher. And my MacBook Air is as essential for travel as a change of socks. But there is, or was, something to be said for that unplugged, disconnected age of not-so-long-ago. If nothing else, our carry-ons were lighter, with more room for clothes.
The photo below shows the assortment of electronic gadget and gizmos I take with me pretty much every time I hit the road, be it for work or pleasure. As recently as a decade ago I owned none of this. I didn't even have a cell phone until 2006.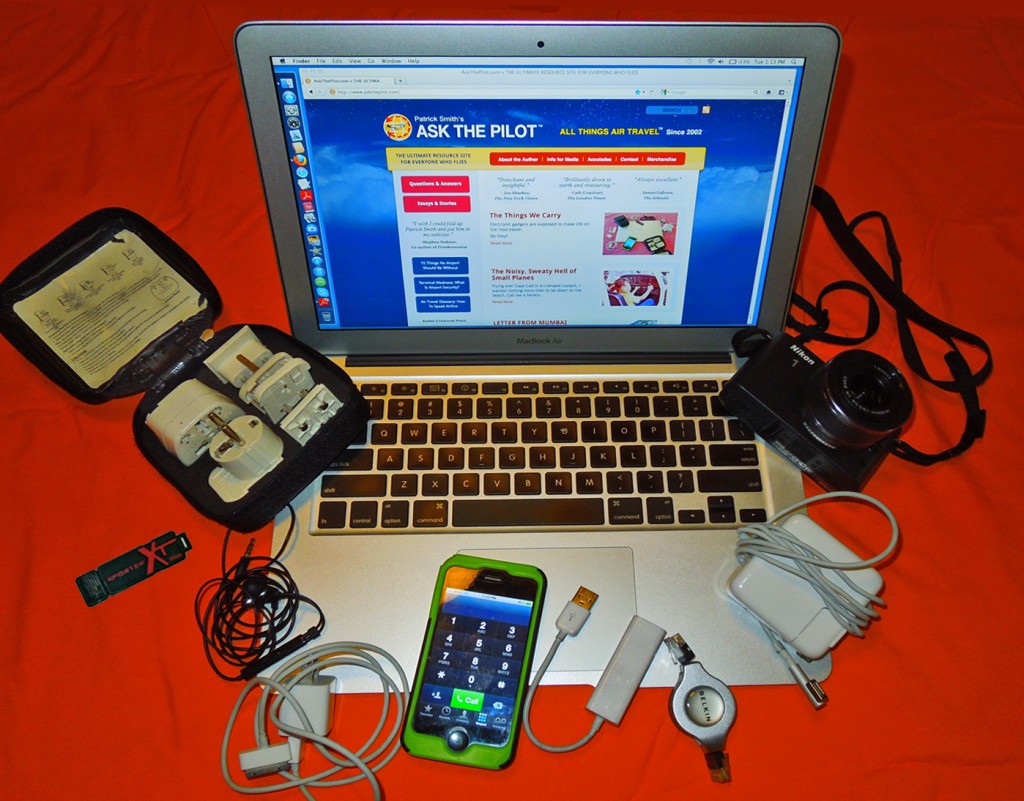 Clockwise-ish, from upper right:
— My camera. It's a Nikon 1, now that I've retired my Panasonic DMC-LX3 — a decent point-and-shoot with a Leica lens and super-long battery life. The Nikon takes better photos but it's heavier and the battery doesn't last nearly as long, meaning I sometimes have to bring along a charger as well (not shown). The camera comes with me on all of my vacations and half or so of my work assignments.
— Power adapter for laptop.
— Ethernet cord. Useful in those (too many) hotels where Wi-Fi is weak and a wired connection runs more robustly. Hotel-supplied ethernet cords are often broken.
— USB-to-ethernet adapter (see above).
— iPhone 4. (Product unplug: Am I the only person who despises — and I mean really despises — the iPhone's messaging keypad? Because the special function keys — caps, space bar, backspace and return — are so close to the normal character keys, I'm constantly capitalizing, spacing and backspacing when I don't mean to. This happens in either the vertical or horizontal layout, and it's especially annoying for those of us with fat fingers. It takes me five attempts to complete the simplest sentence.)
— USB charger for iPhone. Includes a USB-to-AC connector (optional, but a good thing to have).
— Earbuds. It's a Klipsch set.
— 32GB flash drive. For my backup files and for transferring to and from my master computer at home.
— AC adapter set. Essential when traveling overseas.
— And in the middle of it all, my beloved MacBook Air.
All together, we're looking at roughly five pounds of gadgetry that, for all intents and purposes, is mandatory carry-on. Sometimes it's slightly less, other times slightly more. Not shown, for instance, is a spare battery or charger for the Nikon, or my Flip video camera. (Flip is what I used to record this footage in Egypt and Senegal.) )
Thus, the real must-have gadget is a decent case or container in which to consolidate all of this crap. For me, most of the more wiry components above fit nicely into an old business class amenities kit, which keeps them out of the way and avoids tangles. (How frustrating is it, meanwhile, that so many electronic devices require their own proprietary charging cord or adapter? Imagine if every lamp took a different kind of light bulb.)
As for the rest of my luggage… I'm something of a pro when it comes to short-notice, multi-climate packing. Here's a tip: go with lightweight clothing. What a concept, I know, but I'm amazed by how many people travel with heavy cotton jeans — even to hot climates. I own a lot of fast-dry synthetics. They're not stylish, but when have I ever been? On the other hand I can launder a pair of pants in the hotel bathtub and they're dry before morning.
a version of this story orginally ran on the website Salon.