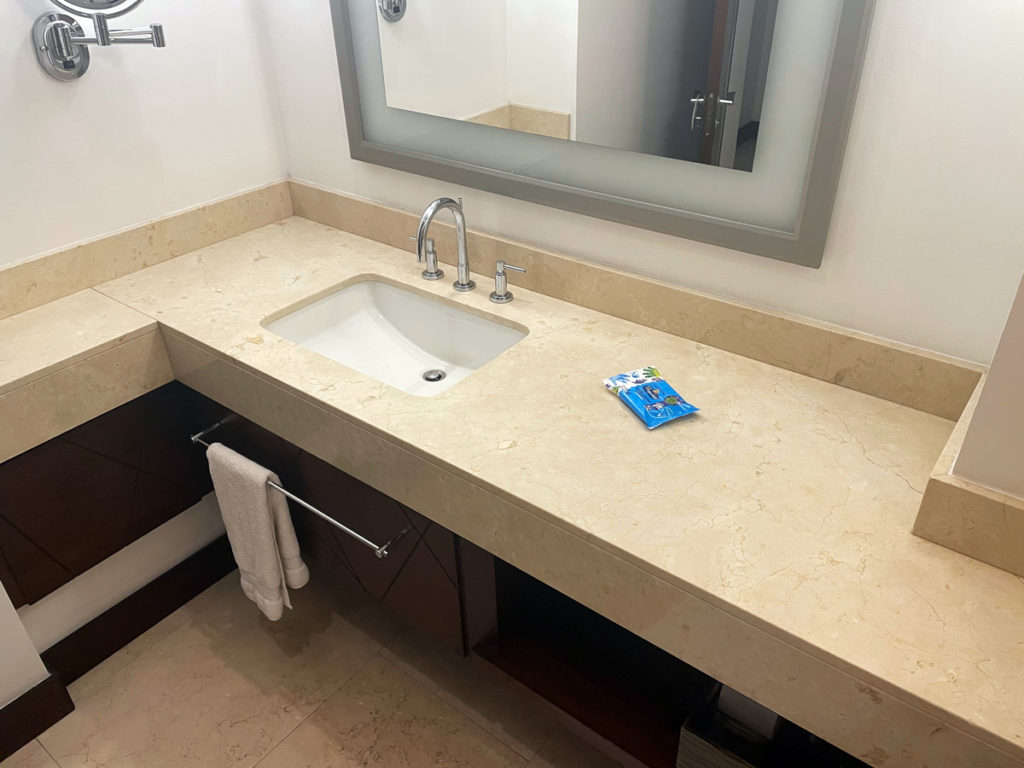 May 4, 2021
Mexico City, Mexico
HOUSEKEEPING: Good evening.
PATRICK SMITH: Hola. Can you help me? The door to my mini-fridge is locked.
HOUSEKEEPING: Yes, sir.
PATRICK SMITH: I need somewhere to store my leftovers. The fridge is locked.
HOUSEKEEPING: Yes, it is locked. For COVID-19.
PATRICK SMITH: What?
HOUSEKEEPING: The fridge is locked. Because of COVID.
PATRICK SMITH: I don't understand. What does COVID have to do with my mini-fridge?
HOUSEKEEPING: I am sorry sir.
PATRICK SMITH: But… what about my sandwich?
HOUSEKEEPING: The fridge must be locked. Because of the sanitary condition.
And so on.
I spend a lot of time in hotels. Witnessing the various ways they've responded to the ongoing pandemic has been equally amusing and frustrating. The focus on cleanliness has been relentless, spawning an arms race of extreme and often bizarre measures. Although different chains have come up with different gestures, there are certain constants: the remote-control handset encased in plastic, for example, and the ubiquitous QR placard in place of a room service menu. The Gideon's have been scooped from the drawers; pens and notepads have disappeared.
How effective these measures might be isn't my expertise, but suffice it to say I'm skeptical. The idea, so far as I can tell, is to reduce the number of so-called "touchpoint." In a hotel room, of all places, this feels a bit absurd. Not to mention, health organizations say that the chances of COVID spreading via surfaces are tiny.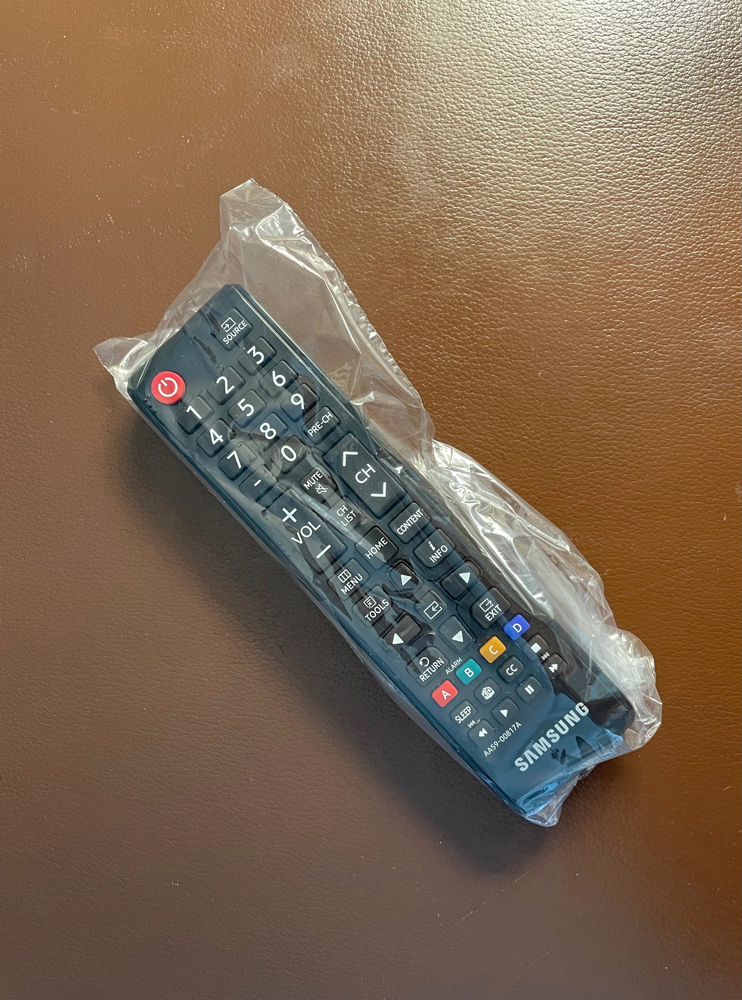 Usually the effect is merely comical, but occasionally it's maddening. One night in Los Angeles I was forced to drink tap water out of my hand because the room had been stripped of cups and glasses. "Yes, we've removed all beverage-related items," was the response to my complaint. There's still a bed, and a shower, and toilet for that matter. But nothing to rinse with after brushing your teeth.
In a hotel near Kennedy Airport, "per order of the governor," according to the sign, the 24-hour continental snack buffet — a small cabinet of pastries and fruit — is now available only from 5 a.m. until 10 a.m. Did I miss something about people contracting coronavirus through donuts? If so, from this point on you can only catch it in the morning.
Cynics will wonder how much of this, misguided as it might be, is truly in the interest of safety rather than opportunistic cost-cutting. We'll see what returns and what doesn't. When companies start throwing around words like "streamlining" to describe their customer experience strategies, that's a euphemism for scaling back.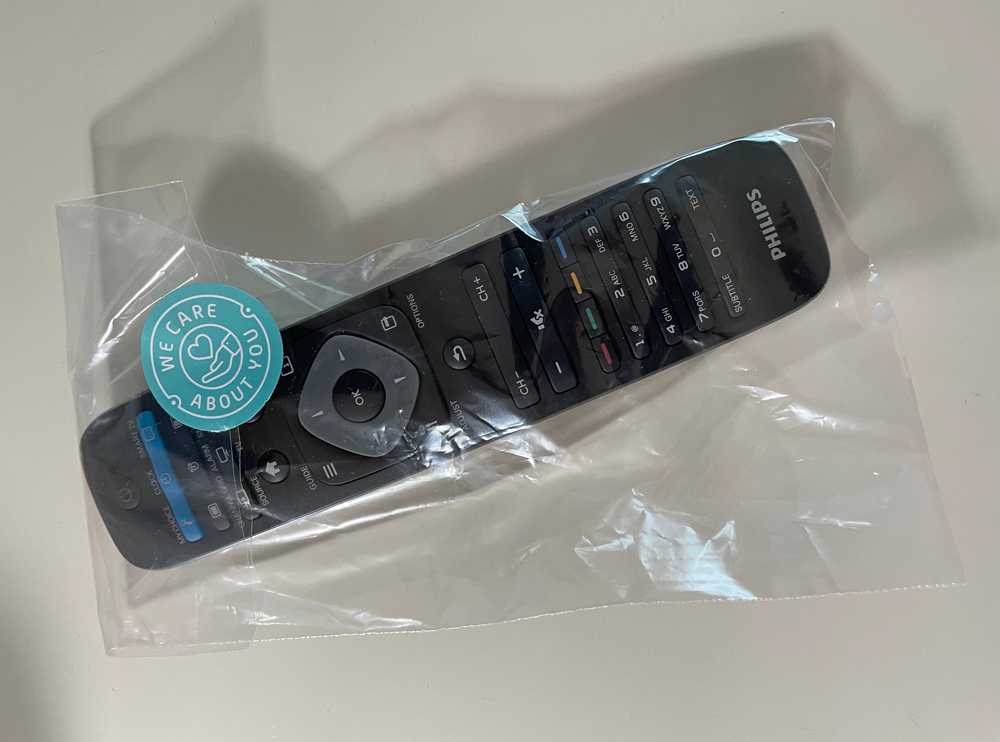 Meanwhile, I'm convinced that one of the byproducts of the pandemic has been a tenfold increase in the manufacture — and subsequent discarding — of single-use plastics. Everything now is wrapped in plastic, from hotel silverware to the food on airplanes.
Have you flown in first or business class lately? On many airlines, each course of the meal service — salad, entree, dessert — comes plated in its own little polystyrene house. Indeed, each individual roll or bread slice is wrapped in cellophane. Mind you this wrapping is done by hand, which would seem to undermine the whole endeavor, but in a world drifting ever deeper into dystopian madness, never let reason stand in the way of pointlessness and waste.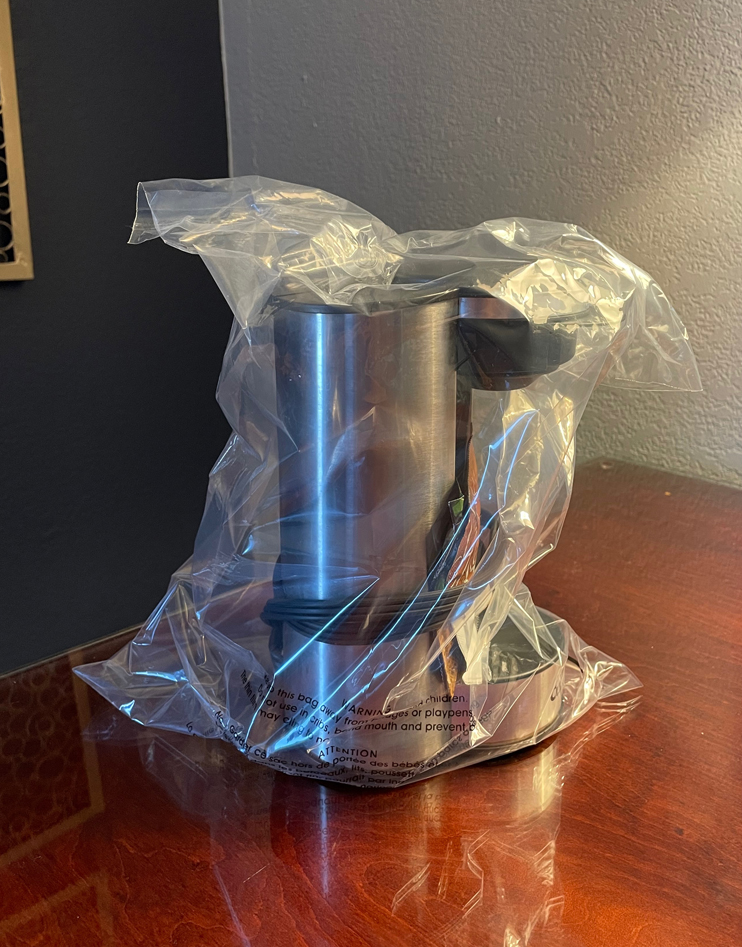 The morning after that mini-fridge episode, I was passing through the crew security checkpoint at the Mexico City airport. I was subjected to repeated pat-downs and was asked to proceed twice through the body scanner. The culprit was — wait for it now — a slip of paper in my shirt pocket. A man ordered me to stand before him with my arms outstretched. He slipped on a pair of sanitary gloves, touched me lightly on the breast pocket, then took off the gloves and threw them away. Off to the side, at the x-ray belt, my colleague was having his suitcase eviscerated by two guards who'd spotted a tiny corkscrew inside — the kind that attaches to a keychain.
Am I the only one who sees the parallels here? Am I the only one getting nervous? We are all familiar with the phrase "security theater." Will "virus theater" be next?
Twenty years after the attacks of 9/11 and we're still confiscating pointy objects from pilots, wasting billions of dollars and immeasurable amounts of time on security protocols that nobody can justify or explain. And it's doubtful they will ever go away. Once such things become policy, with entire bureaucracies constructed to support them, they are often impossible to march back. The traveling public simply gets used to them.
Although the COVID crisis will not last forever, don't be surprised if aspects of it — even, or especially, the silliest and most illogical ones — are still with us for years to come.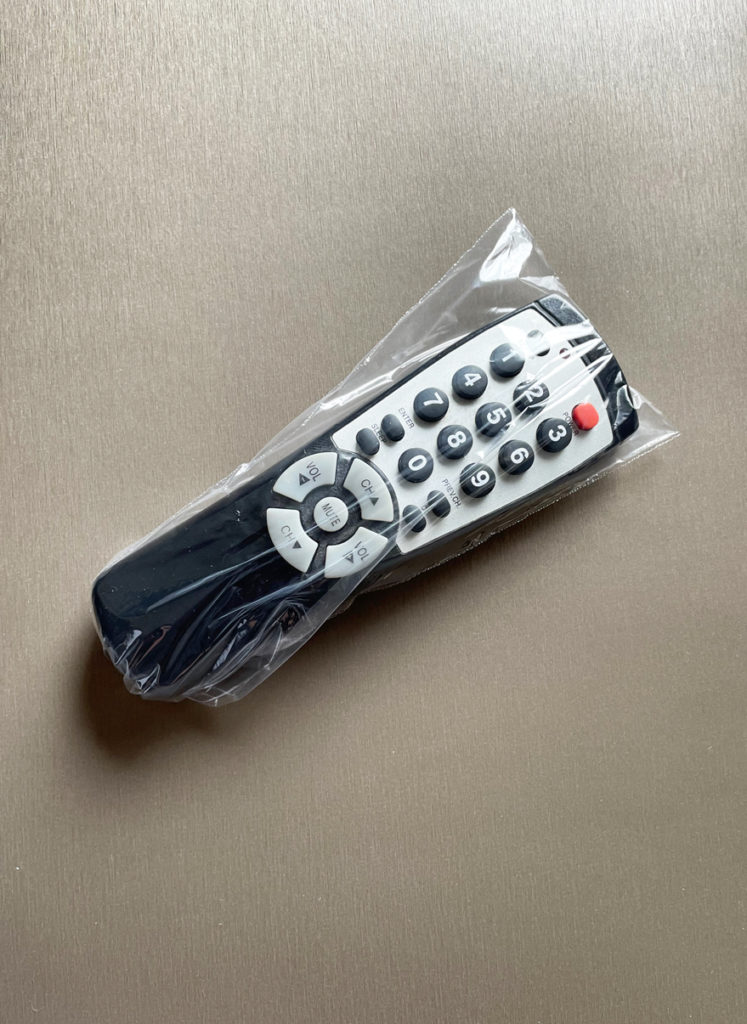 PHOTOS BY THE AUTHOR.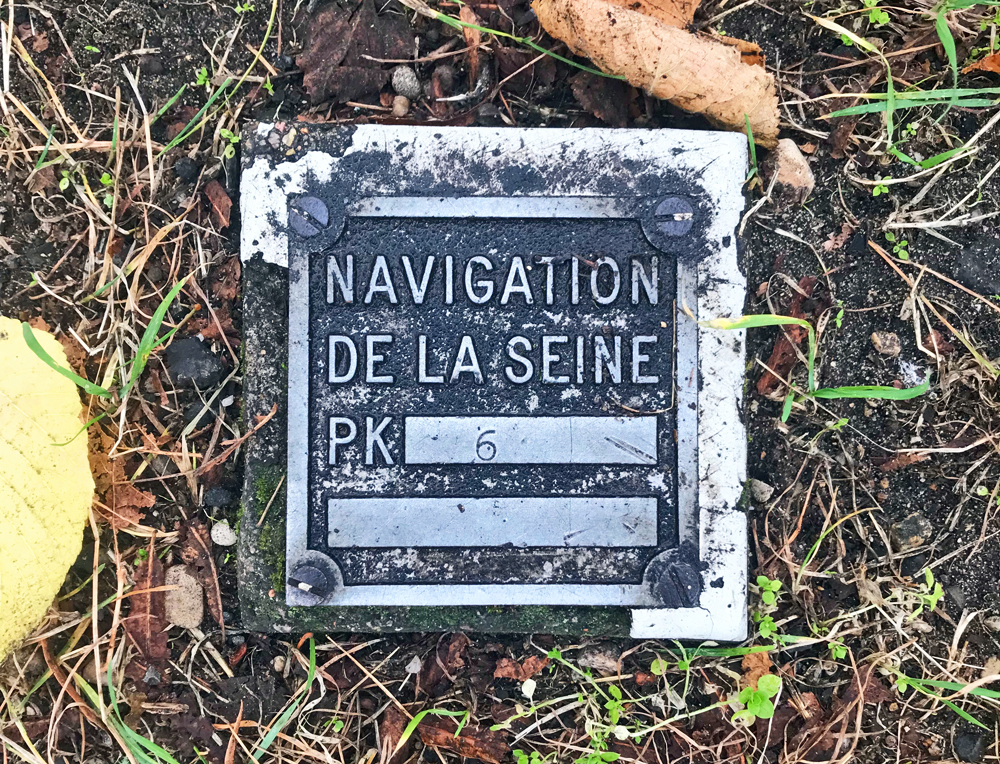 THERE'S NO SUCH THING as a "typical" airline layover. They run the gamut, from eleven tired hours at an airport motel in Harrisburg, to multiple days in a five-star property in Singapore or Cape Town. The worst of them are depressing; the best are exciting, even a little glamorous, and crewmembers are known to bring along their spouses and kids, turning a work assignment into a mini-vacation.
I'm not as adventurous during my downtime as I used to be, but almost always there's something to discover. And in keeping with my ends/means philosophy of air travel, I'd be remiss not to share some of these discoveries with my readers. Thus, "Moving in Place" is a new feature, a travelogue of sorts, in which I'll periodically share unusual highlights from this or that destination.
I might recommend a restaurant or share photos from a tourist attraction, but the subject, most of the time, will be something peculiar or unexpected.
All text and photos by the author.
October, 2018. The Cincinnati Mosaics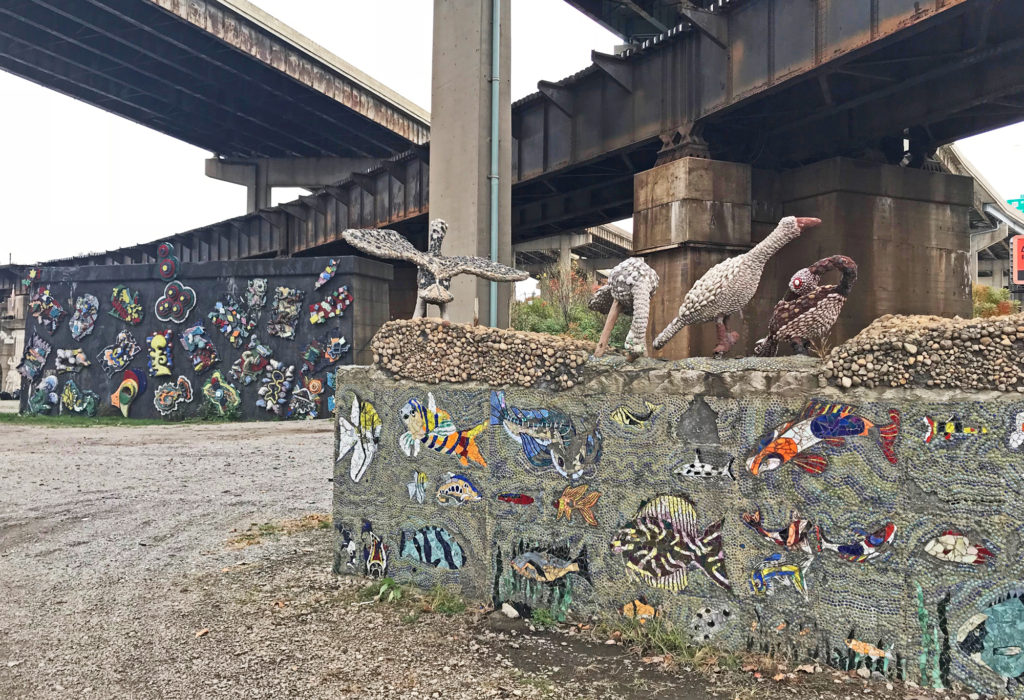 The derelict spaces beneath America's highway overpasses are among the nation's bleakest and best-avoided locations. What's found there is typically some combination of neglect, decay, danger or despair. But not always. And for that we travel to Cincinnati, Ohio.
There, in a litter-strewn no-man's land beneath the rusted superstructure tangle of routes 75 and 71, just north of the Ohio River, one encounters, of all things, an urban sculpture garden — a sprawling, somewhat haphazard collection of statues, murals and mosaics composed of mortar, glass shards, pebbles, shells and tile fragments. The artwork depicts mainly bird and marine life, plus a number of abstract shapes and patterns.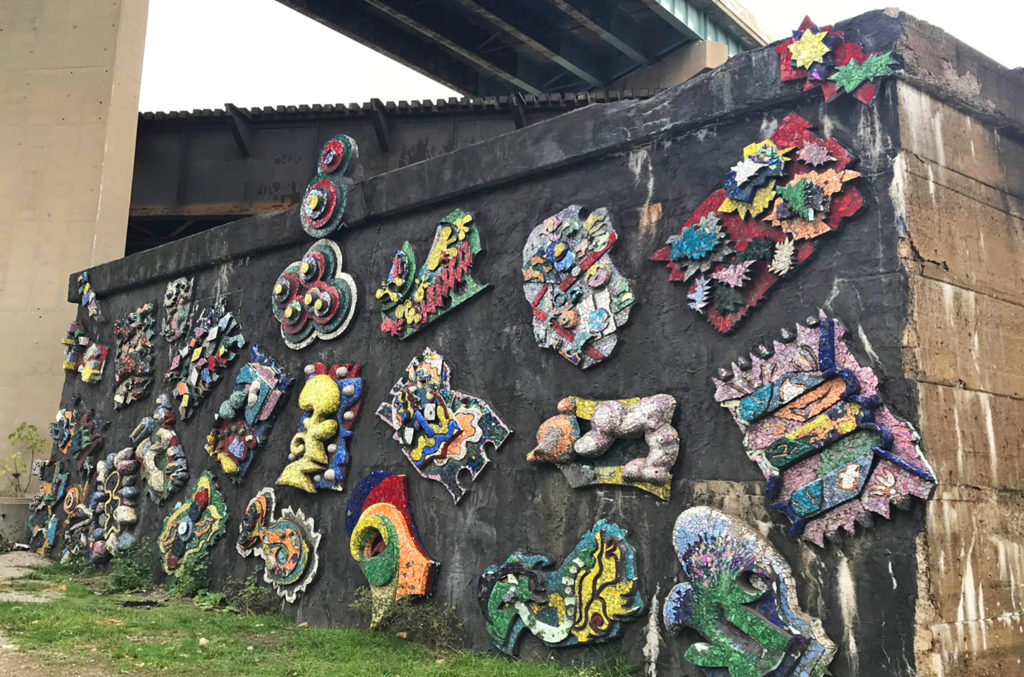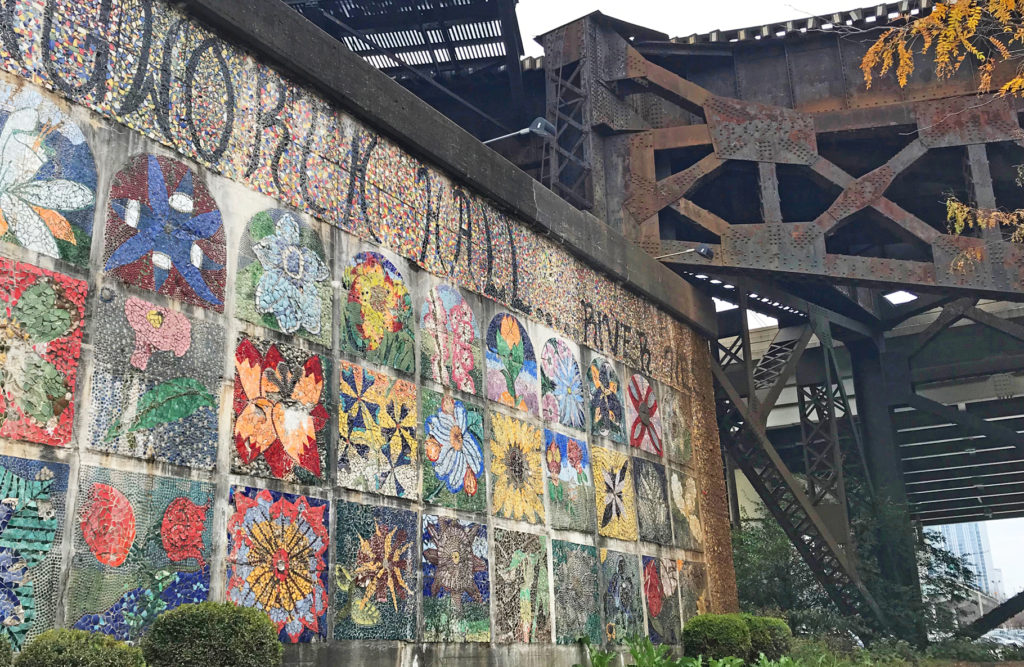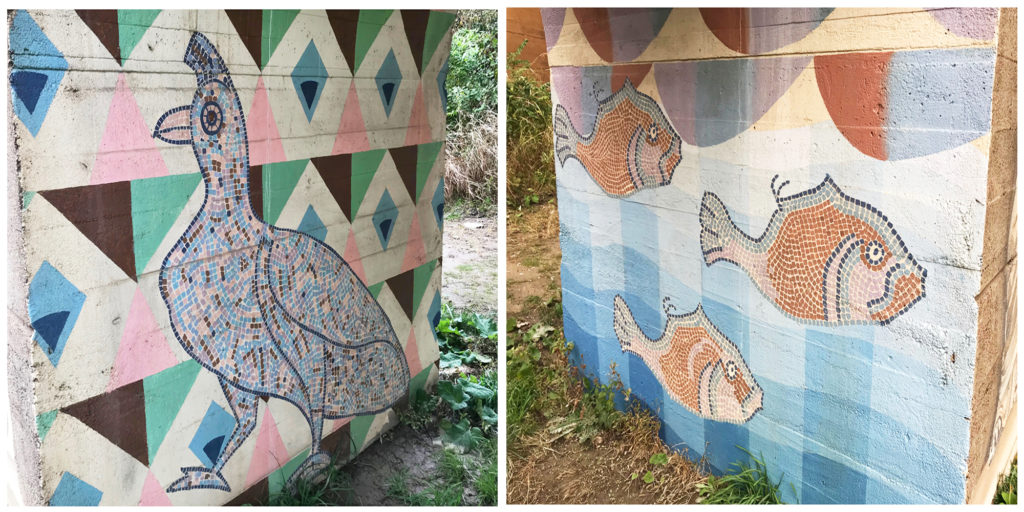 I could find nothing about the project online, but according to a plaque it was the work of a dozen students — city kids, presumably — working under the supervision of a team of professional artists in affiliation with the Cincinnati Arts and Technology Center. Whatever its origins, it's one of the oddest and most intriguing pieces of public art I've ever encountered.
The installation is just a few minutes' walk from downtown Cincinnati. To find it, go a couple of blocks west of Paul Brown Stadium, where the Bengals play, just off Pete Rose Way, below the scary-looking snarl of highway towers.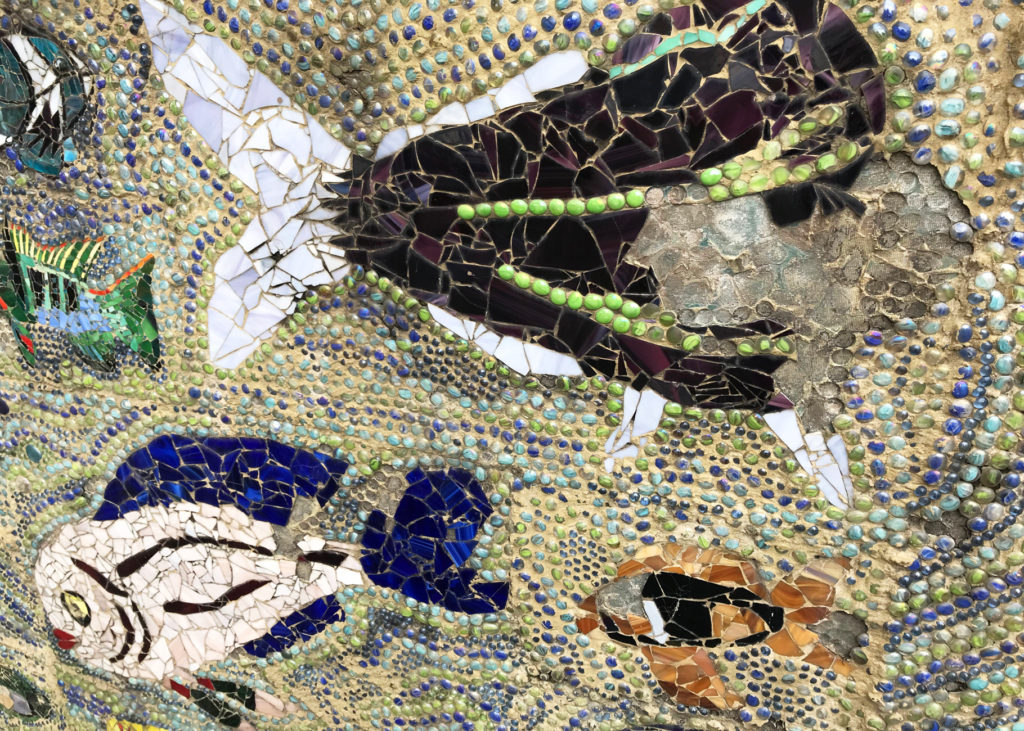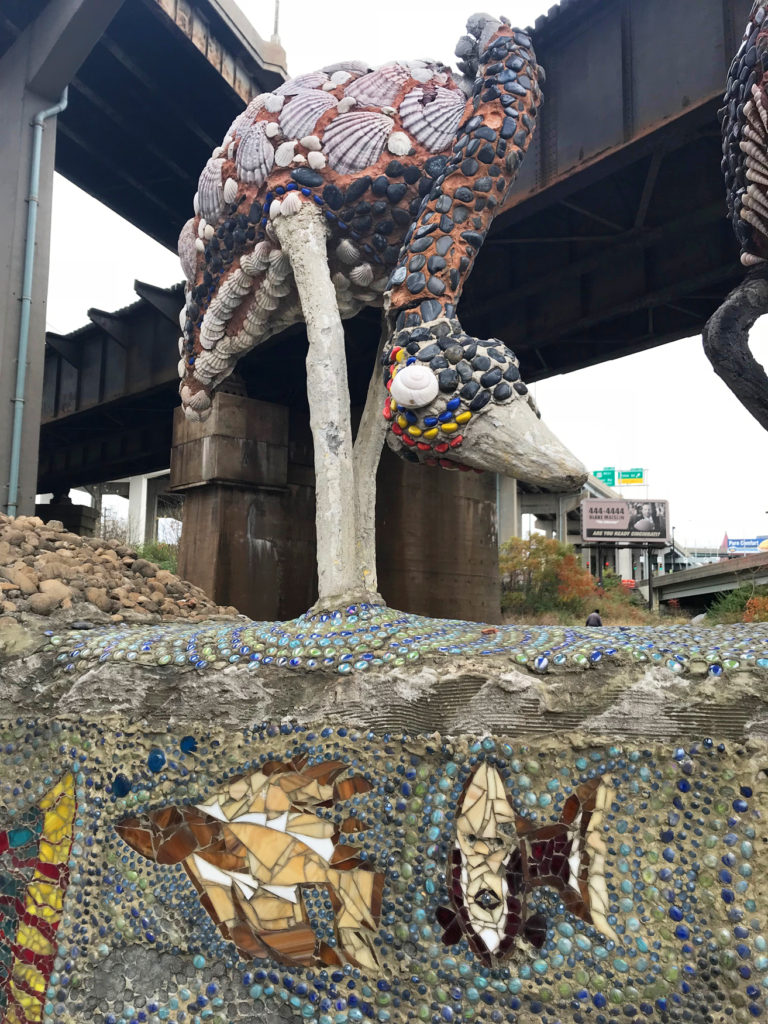 November, 2017. Paris in Four Bridges.
There are 37 bridges that cross the Seine, but my normal morning walk (about 13,000 steps round trip, according to my Garmin Vivofit) takes me past, or below, four of them. It's the understructure of these bridges that fascinates me most.
My walk starts on the Île aux Cygnes, a skinny, mid-river island popular with dog-walkers, and it's the pont de Grenelle that comes first. This is the kind of nondescript span that you'd see in any of a hundred American cities (indeed, a quarter-scale replica of the Statue of Liberty, dating to 1889. abuts the center stanchion), but there's a sleekness to the metalwork that I like.
Further along the island is the pont de Bir-Hakeim. Formerly the pont de Passy (1905), this is a two-level bridge with a railway crossing above and a roadway, pedestrian and cycle crossing below. Chinese tourists come here by the dozen every morning to have wedding pictures taken — more than a few of whom have been inadvertently photobombed by yours truly.
The Pont Alexandre III, finished in 1900, connects the Invalides and Eiffel Tower on the south side with the Champs-Élysées and Grand Palais (my favorite building in Paris) on the north. The Beaux-Arts style bridge is the fanciest in the city, decorated extravagantly with ornate masonry pedestals, lampposts, cherubs and winged horses. Beautiful for sure, but check out the underside!
Further along, the passerelle Léopold Sédar Senghor links the Musée d'Orsay with the Tuileries gardens on the other side. It's named after the first president of the former French colony of Senegal, in West Africa.
The airport in the Senegalese capital, Dakar, is also named after Léopold Sédar Senghor. The footbridge in Paris is considered something of an architectural marvel and is planked with exotic hardwoods. The airport in Dakar… well, I've been to Dakar probably fifty times and I once described that airport as the "world's worst." Which I'm sure it's not, but it made for a good story.
A new airport serving Dakar, named after Blaise Diagne, the first black African elected to the French parliament, is scheduled to open next month after a long series of delays. Maybe Diagne will get a bridge across the Seine.