STORY AND PHOTOGRAPHS BY PATRICK SMITH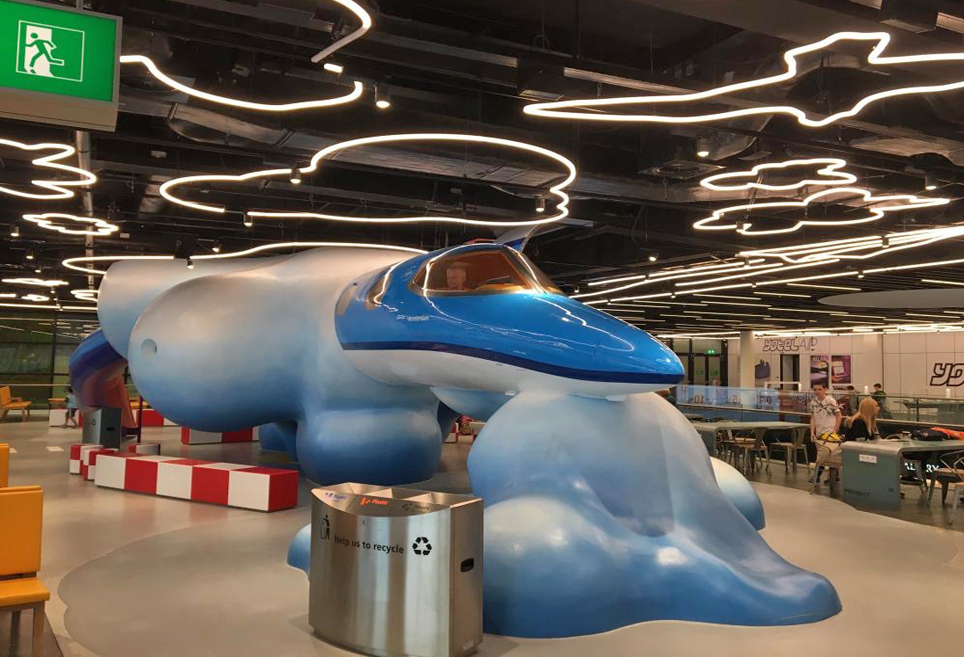 Update: November 10, 2016
OKAY, HERE'S WHAT IT'S NOT: It's not Singapore-Changi. It's not Seoul-Incheon. It's not sparkly or fancy or architecturally exciting. It's got bottlenecked corridors, low ceilings, and seemingly endless walks between concourses. And recent construction projects have made the passageways even more congested.
It is, however, clean, efficient and amazingly flyer-friendly.
Amsterdam's Schiphol Airport is the place I'm talking about.
Schiphol has always been one of the top-scoring airports in passenger surveys, something that never made sense to me until recently, when I had a couple of long layovers that gave me time to really explore the place. AMS is the world's 15th busiest airport overall, and one of the top five for international transfers. Keeping long-haul passengers happy is all about time-killing, and to this end Schiphol's range of amenities is amazing:
My favorite are the "quiet areas" — relaxation zones decked out with sofas and easy chairs. Some are decorated with faux fireplaces. Others have artistically-inspired chairs with built-in iPads. Every airport should have some version of this. Noise and crowds are among the biggest stressors that travelers face, and nothing is more welcome than some peaceful corner to relax in. There's also an in-terminal hotel that rents day rooms.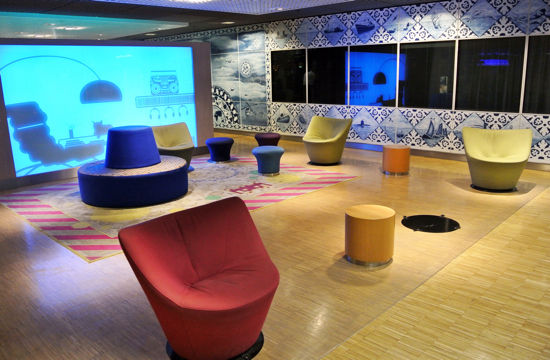 Amsterdam's famous Rijksmuseum has a branch at Schiphol, right there in the terminal, with no admission charge. Directly next door is a sit-down library.
For children, the "Kids' Forest" play area is bigger, brighter, and I have to say, just more fun-looking than most municipal playgrounds. Or maybe your tyke would rather play pilot in the awesome (if vaguely psychedelic) airplane replica, complete with puffy clouds, pictured at the top of this post.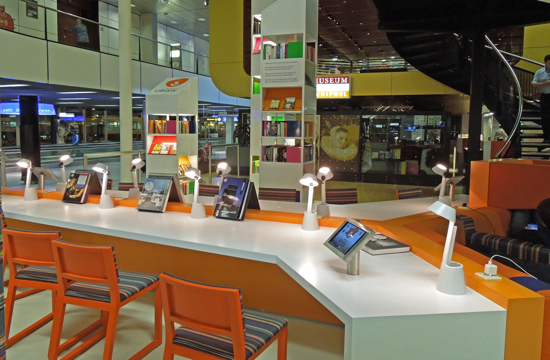 The retail options are pretty much endless, and there's also a full-service grocery store. If your layover is long enough, there's a tour desk that sells half-day guided excursions into Amsterdam, with a pick-up and drop-off point just outside the terminal. For those staying in-country, the railway link into Amsterdam — and to points beyond — couldn't be simpler. Tickets are purchased from kiosks inside the terminal, and the platform is only a short walk away via tunnel and escalator.
Amsterdam's hometown carrier, KLM, is the world's oldest airline, and on the second level, near the meditation room, is a hallway of historical KLM travel posters showcasing the carrier's destinations and aircraft over the decades. There's also that rarest of rarities at airports nowadays, an open-air observation deck, called the Panoramaterras. An outdoor deck is maybe not ideal considering the Dutch weather, but it allowed them to install that old KLM Fokker 100 as part of the scenery. You don't need to be an airplane geek to appreciate the view and a chance for some fresh air.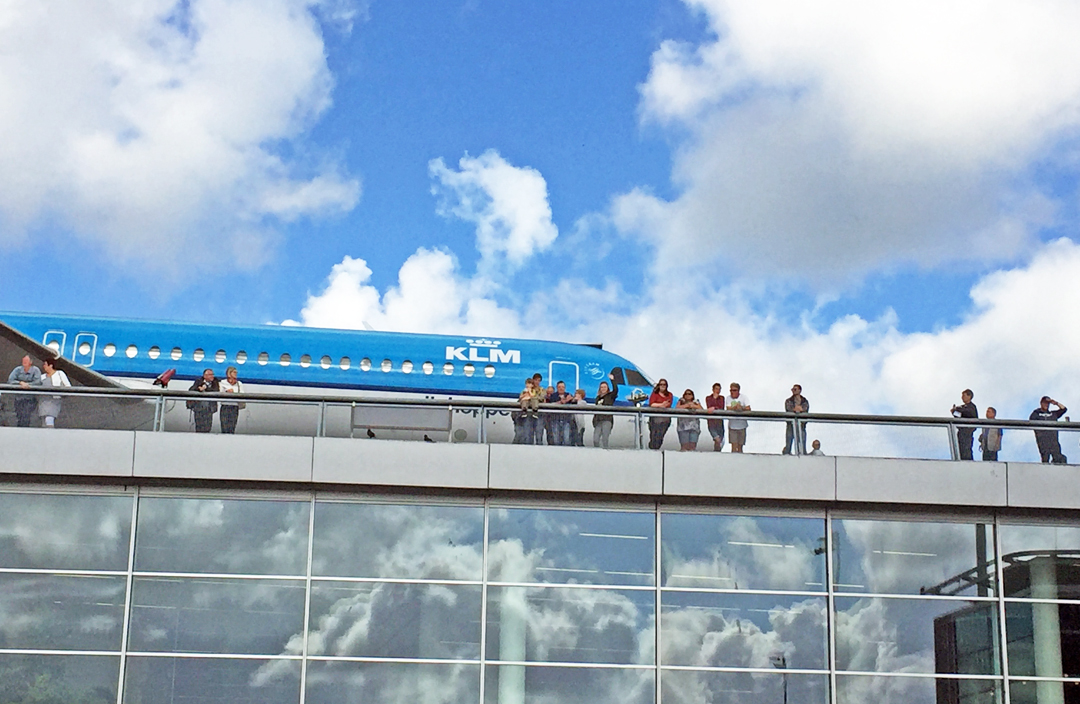 Down in the central lobby, meanwhile, is one of the coolest airport retails shops around — at least in the eyes of some of us. The Planes Plaza sells plastic and die-cast models, toy airports, airline pins, books, and so on. In the hallway out front there's an entire forward section of a former KLM DC-9 (open to passers-by, of course), as well as a main landing gear section and engine cowling from a McDonnell Douglas MD-11.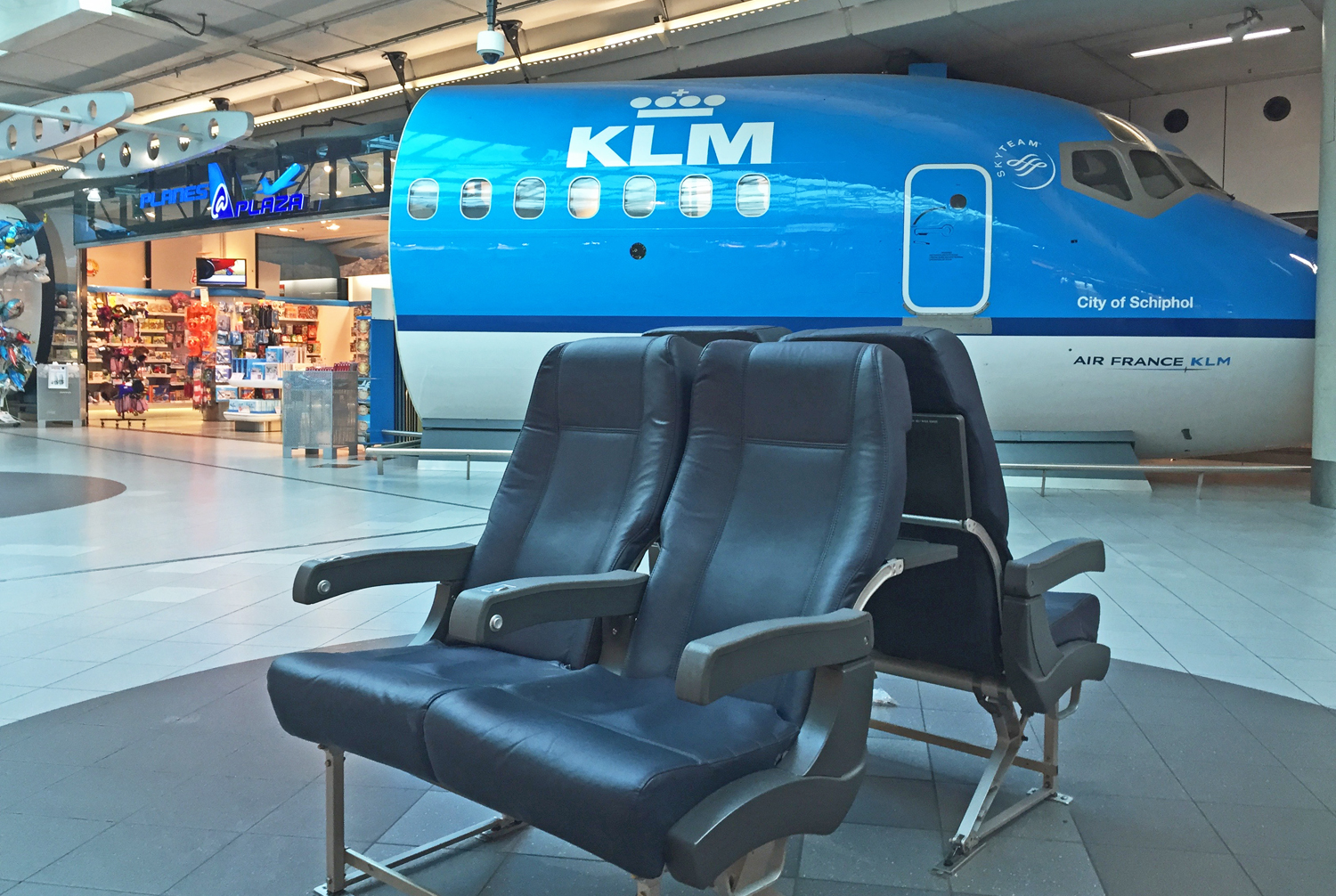 And when the weather is good (an iffy proposition most months of the year), the fun continues outside. This being the Netherlands, the airport's perimeter is ringed by bicycle paths, one of which leads to Schiphol's spotterplaats, designated zones adjacent to the runways where airliner enthusiasts gather with their binoculars and cameras — an activity that is all but banned in the U.S. (Airplane spotting is so popular in Holland that Schiphol's website includes a spotters' subsection.)
As you can see from the sign below, cyclists can ride from the airport clear into Amsterdam itself. How many big-city airport's are accessible by bike?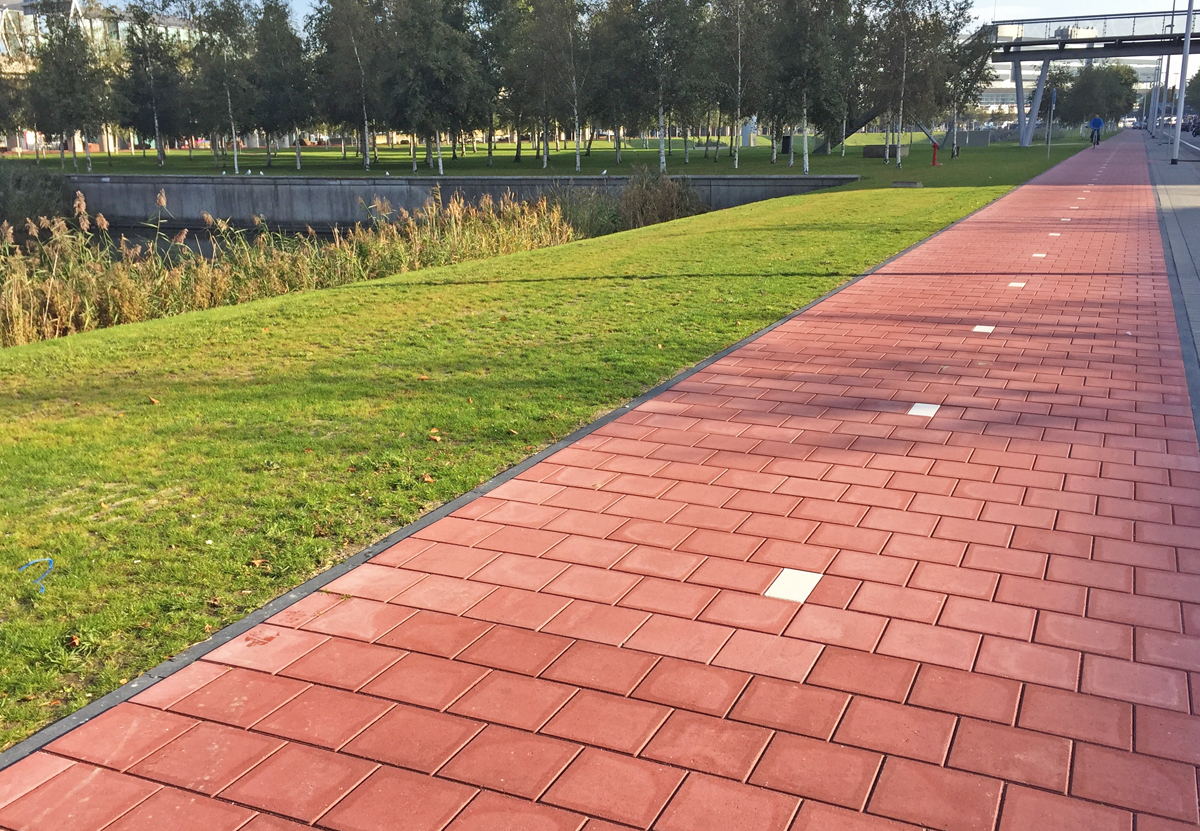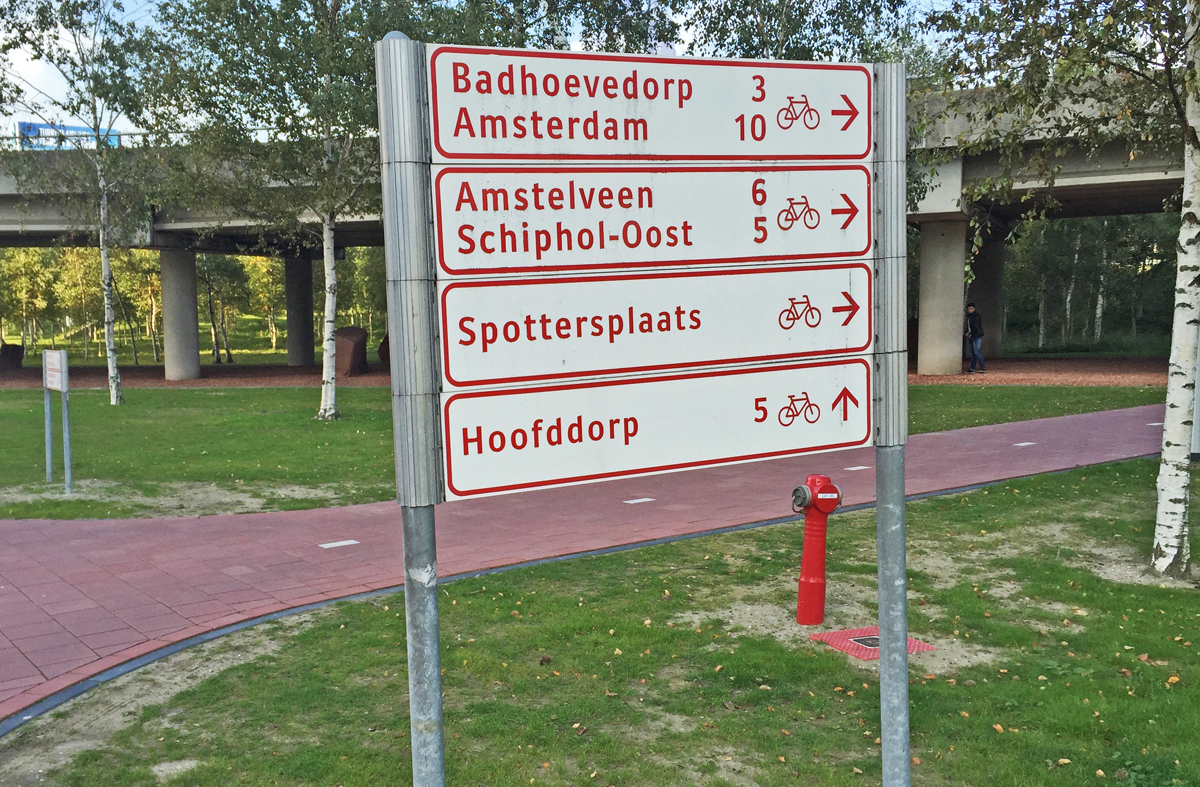 Schiphol is pronounced "Shkip-hole," by the way. The second syllable is short and flattened; it's "Shkipple." It's not "Shipple," and it's definitely not "Shy-pole."
No, there's not a butterfly garden or koi ponds like the ones in Singapore, or the soaring ceilings and waterfalls you'll find elsewhere. But what Amsterdam lacks in flair, it makes up for with a workmanlike functionality and plenty of quirky charms. It's got something even the biggest and flashiest airports often lack: character.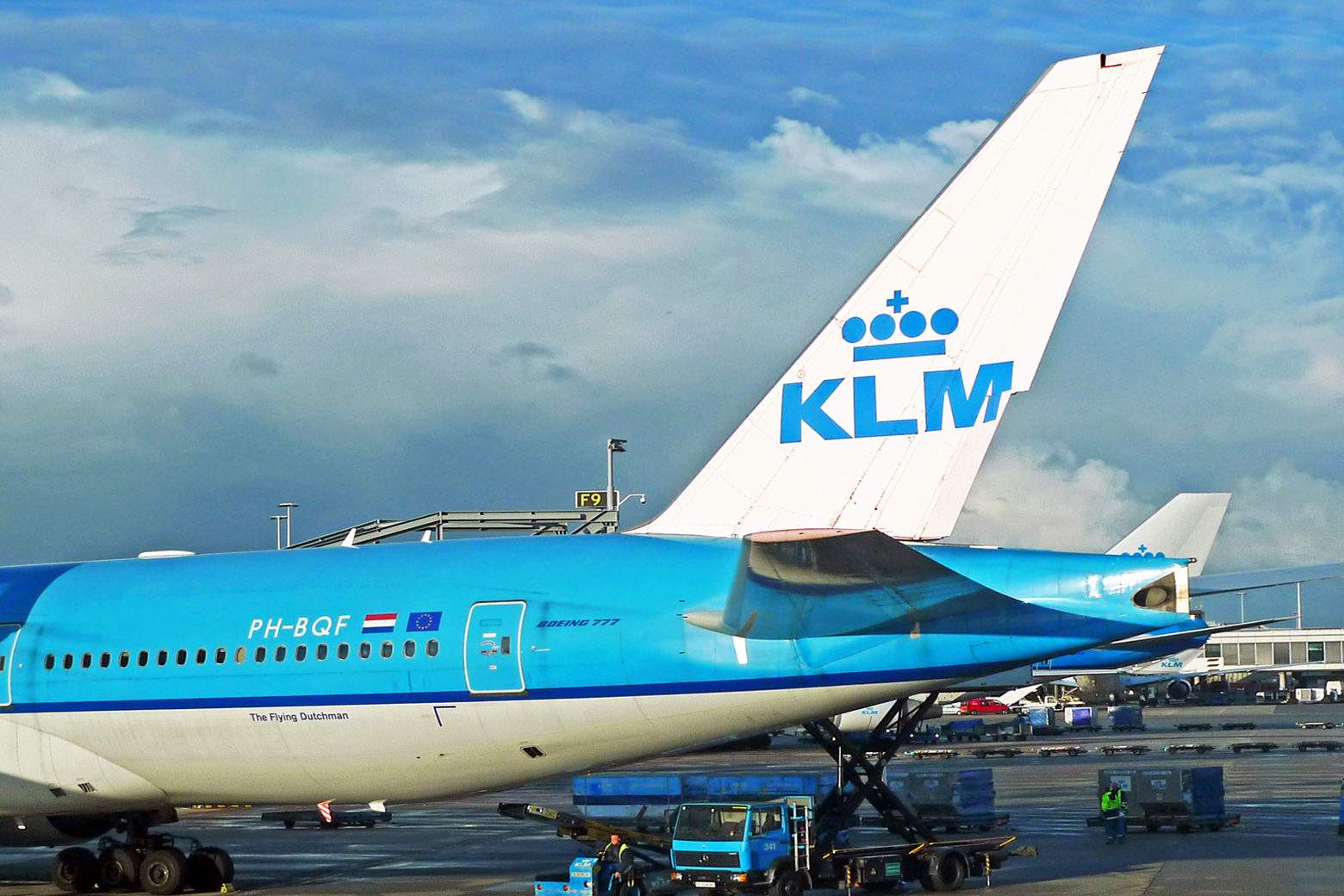 NORTH LATITUDE
LETTER FROM AMSTERDAM, 1991
LIMPING INTO Centraal Station, I whisper quietly. "Skip-hole," I say. "Skipple. Skip-ill." I'm rehearsing the correct pronunciation of Schiphol, the name of Amsterdam's airport, from where in a few hours I'm due to catch a flight home.
It's midsummer of and I've been up for two days — every hotel, motel, guesthouse and hostel sold-out from Antwerp to Hamburg. I'd taken a pass on a second floor chamber at the Kabul, a Red Light hovel across from a condom store, napping instead at McDonald's and listening to a seven year-old cassette of Zen Arcade over and over and over. Now the lobby of Centraal Station hovers above me with its overcooked façade of gables and filigree, like some great medieval fun house.
I'm limping because of a late-night collision with one of Amsterdam's countless sidewalk posts. The city's streets are lined with tens of thousands of knee-high iron bollards, the point of which, I think, is to keep cars from parking on the sidewalks (a mission for which they are semi-successful, depending which part of the city you're in). Because they are black, and because they are knee-high, these bollards are a sensational invitations for injury. How the Dutch and their swarms of bicycles avoid mass casualties I'll never know, but distracted by a flaxen blonde pedaling past me on the Leidseplein, I ambled straight into one. It got me just below the right kneecap. I could feel the tendons twist and buckle.
I move slowly and achingly into the station, where, if it's any consolation, the ticket man seems impressed by my pronunciation efforts. He takes my guilders and smiles.
A half hour later, watching from a second-level airport restaurant, the KLM employees are the easiest to spot in their blue uniforms. Everything about KLM is blue. Even their jets, inside and out, are done up in blue — a two-tone of powder and navy. There's something soothingly, inexplicably Dutch about it — the pudding shades lifted straight from a Vermeer painting. I look at the ticket counters — at the logo and the aluminum marquee, the stacks of KLM timetables and frequent flyer brochures– and I realize there's no red. Try to find an airline that doesn't have at least one shade of red as part of its identity. None of that here, just cool Dutch blue.
"Shkip-ohl," I mouth silently. Airport workers on bicycles glide across the polished floor.
A few seconds later I'm asleep, my head on the greasy table and my knee throbbing.
Finally I'm at the counter, and the KLM woman's badge — the KLM-ers are handling check-in for my Northwest flight — says "Meike," which I assume is a first name, not a last, but I can't be sure. Her white hair and milky features seem to go nicely with her blue vest — a perfect picture of efficient Dutch neutrality.
I hand over my pilot credentials: company ID, licenses, medical certificate ("holder must wear corrective lenses"), letting her know I'm entitled to ride along gratis in one of the extra cockpit chairs.
Jetliner cockpits can have many as five seats. Behind the pilots you'll find one, and often two auxiliary stations, known colloquially as observer seats or "jumpseats." A jumpseat might unfold in sections or swing out from the wall; or it might be a fixed chair not much different from those of the working crew. They can be occupied by training personnel, FAA inspectors, off-duty pilots commuting to work, and freeloaders like me. It's an uncomfortable place to sit, most of the time, though probably not as bad as the middle seat in coach. Certainly the scenery is more interesting, and although pilots are known to whine for extended periods of time, there are no colicky infants. And, it's free.
Or not entirely, as Meike tells me that I need to pay a departure tax, which is bad news because my knee is all but seized and the payment kiosk is two-hundred meters away. The distance means nothing to her, the Dutch airport employees simply coast through the terminal on their bikes. As I stagger away, I'm nearly flattened by one.
Next hurdle is a gate-side podium where a gangly security man in a cranberry-colored suit is grilling me, making sure I'm not a terrorist. He looks like he belongs at the Avis counter. This is one of those post-Lockerbie things, where you stand at the desk to be peppered with questions about battery operated appliances, the contents of your suitcase, and why you came here in the first place.
If he's looking at me a bit strangely, it's easy to understand why: I am 25 years-old. I have not slept or showered in almost three days, and I can't walk. And I'm trying to convince this officious fellow that I'm an airline pilot deserving of a free ride home in the cockpit.
"You are a pilot?"
"Yes sir."
"For who?" The takes my ID badge and fingers it warily. This is still what might be called the old days, and my small-time regional carrier, Northeast Express, isn't one to take things too seriously. Its employee badges look like something you'd make at home. In fact, they are hand-assembled in a company trailer at the airport in Bangor, Maine. There are no holographs or fancy stamps or bar codes. He looks at my crookedly cropped photo and picks at the cellophane tape I've placed over the peeled laminate.
"Northeast Express," I explain. "Or Northwest Airlink, like it says on our planes. We're a code-share affiliate of Northwest. They have a hub here."
"Northeast?"
"No, Northwest."
"You work for Northwest?"
"No, I work for Northeast."
"But…"
"Northeast Express. We fly feeder routes for Northwest."
"So is it Northeast or Northwest?"
"It's both!" I say in a voice a little too chipper.
"Really," says the guard. "What kind of plane do you fly?"
"The Beech 99."
"The what?"
"It's a fifteen-seater. A small turboprop." Embarrassment mixes with exhaustion.
"Small, eh?"
"About the size of a milk truck."
"Yes, well. And where did you stay in Amsterdam?"
"McDonald's."
And so on.
My luck, they are using a 747 today instead of the usual DC-10. It's one of the old -200s with a three-man crew. I love the 747 and savor every chance to ride on one. This time, though, I learn that every last passenger seat is occupied, which means I'll have to spend the entire eight-hour trip upstairs on cockpit. Usually the captain will toss you back to a vacant seat, hopefully in first or business, but this time there aren't any.
The cockpit of the 747 sits at the forward tip of the upper deck, at such a forward extremity of the giant ship as to feel entirely removed from the rest of it. Possibly, from the crew's point of view, that disconnect is the ideal arrangement. Pilots fully grasp the gravity of their responsibilities, trust me, but a constant awareness that you're sitting atop hundreds of thousands of pounds of metal, fuel, freight and flesh can be — and how to say this exactly — distracting.  The cockpit is long, but surprisingly narrow and cramped for a plane so massive. Eight or more hours in the forward jumpseat, which does not recline, is the sort of thing that keeps chiropractors in business.
Worse, there's another traveling pilot with us — he's a United captain with a Dutch girlfriend, he tells us, who makes the crossing a couple of times monthly on his days off. This means there are five of us – the captain, first officer, flight engineer, and two jumpseaters, wedged into a room better suited for two.
But still, it's a 747, that grandest of all jetliners. Despite my exhaustion and junkyard knee, I'm elated.
After strapping in, the other freeloader takes out his inflatable neck pillow and is sound asleep almost instantly. Propped in his seat, he looks like an unconscious accident victim in a neck brace.
We push exactly on time, and we're in the air fifteen minutes later.
Out over the Atlantic it seems like the sun has hardly moved. And it hasn't, so much, as we race westward, effectively slowing the passage of time. I can read the INS displays as they tick off the degrees of longitude and latitude.
At thirty degrees West the first officer is making a position report over the high-frequency radio. "Gander, Gander," he calls, "Northwest zero three niner, position." He's got a clipboard full of dot-matrix printout on his left knee and a wedge of apple crumble on the right. A voice answers back, all reverb and crackly, a thousand miles away. Making a call over HF is a bit like offering up a prayer. You're calling across some insane distance, hoping that somebody answers, and that they care.
The sunlight is white, oblique and directionless through the glass, like a spotlight from everywhere and nowhere. Outside temp shows minus 59. As the spectator, I'm both awed and heartbroken watching this crew of a 747 at work. An opportunity to sit here is irresistible. It's like sitting in your favorite team's dugout during a World Series game. But it carries with it a sort of voyeuristic shame. Forgive me, but it's a bit like watching two strangers having their way with the girl of your dreams. You're almost there, but the important parts are missing. You can watch but you can't touch.
We are tracing a long, sub-polar arc toward eventual landfall at a gateway fix near Labrador. They've given us the northernmost track, one that will take us to nearly 60 degrees north latitude, practically scraping the glaciered tip of Greenland.
This far north, with clear weather and in the proper season (think April and Titanic), it's not uncommon to see fields of icebergs drifting below, their wind-sculpted tops discernible from seven miles up.
Today there's naught but gray ocean, the demarcations west of Greenwich passing invisibly, 60 cold miles at a time.
Which is fine since the view from the forward jumpseat of a 747 is terrible, unless you enjoy meditating on a wall of chipped zinc chromate, or else memorizing the lifejacket instructions embroidered onto the back of the captain's chair. With all due love for the 747, the better jumpseat is on the old DC-10, where the aft left window extends from head-level to below the shins. You literally have a wall of glass to look through, and during steep approaches, or up over the Andes, the view is worthy of an Imax ticket.
My knee feels like it's seizing, so I go for a walk.
I hobble downstairs and all the way rearward, past row 57 and up the other aisle. The plane is full and there's crap all over the floor. People are asleep or watching the movie. I can't tell what's playing. A blurry bulkhead screen shows a distressed young woman crouching behind the fender of a pick-up truck.
I loiter near the rear galley and ask for a Diet Coke. A few feet away, waiting his turn for the lav, is a young guy in a purplish sweater. He strikes me as a straightlaced sort, maybe a law student or a kid who'd splurged for a bachelor party in Holland.
And he's sweating, I realize. A nervous flyer? All flyers are nervous flyers, whether they admit it or not, but this is more serious. His J. Crew mock turtleneck (eggplant) is starting to blot at the armpits, and wet barbs of hair are sticking from his neck. Is this guy okay?
He's the guy who in high school played on the hockey team and bullied me around. I'm thinking he's got a Bulldog Café t-shirt somewhere in his luggage, which later he'll give to his girlfriend who'll wear it for the rest of the summer on Cape Cod.
I give him a half nod, then slide sideways towards the emergency exit. I turn and shift my weight so that I'm leaning against the door sill — my thigh held firmly against the boxy portion that contains the escape slide, and where it says DO NOT SIT.
And now the guy is eyeing me with a raised and quivering eyebrow, probably wondering which will pop open first — the lav, so he can relieve himself, or the cabin door, ejecting us both into the frozen tropopause. I should say to him: "Relax dude, I'm an undercover pilot, see?" Maybe flash him my trailer-made ID or a picture of myself in the cockpit of my ridiculous Beech 99, let him know it's all gonna be okay.
But I don't, and instead I put my hand on the big silver handle.
These door handles are designed for ease of use, I suppose, but they've always struck me as such retro-looking devices, clumsy and cartoonishly oversized. I'm thinking about this and tapping it with my thumb.
And now Eggplant J. Crew is on the verge of a full-bore conniption, his temples visibly throbbing. He fixes an angry gaze on me, his upper lip moist and trembling. Should I dare move that handle, he's ready to spring, I can tell.
What Eggplant doesn't know, and what, just for the fun of it, I choose not to tell him, is that neither of us could open the damn door if we spent all day trying. The doors on the 747, like the doors on most commercial planes, open in before they open out. At cruising altitude, with the cabin pressurized, there are probably 15,000 pounds of air pressure holding that door closed. If I jiggled the handle enough I might get a red light to come on and the pilot upstairs to drop his apple crumble, but the door is not opening.
After a minute he can't take it any more. "Look," he says, with a detectable tremor in his voice. "Could you please not touch that?"
"Sorry," I say, pulling my hand back.
I take my Diet Coke and head towards the front again. As I hobble up the aisle, I shoot a quick glance at Eggplant, who seems to be calming down now that I'm leaving. "Take it easy."
Little does he know this demented, limping person has a seat up front with the drivers.
Related Stories:
SOUTH LATITUDE: SEARCHING FOR SOUL IN FLORIDA AND BEYOND
WELCOME TO HIDDEN AIRPORT. UNEXPECTED PLEASURES AT A TERMINAL NEAR YOU.
DECLINE AND FALL OF THE U.S. AIRPORT
WHAT'S THE MATTER WITH AIRPORTS?