September 3, 2020
HERE ARE some pictures of airline food.
Pardon such a vapid diversion, but there's little else to talk about these days that isn't crushingly depressing. If nothing else, these photos take us back in time — to the days when an airplane ride didn't feel like a medical evacuation. Back before flight attendants began dressing like astronauts and planes became flying hospitals. Already it seems so long ago. Plus, I'm hungry.
Before the coronavirus madness began, we'd reached a point where, at least on some airlines, the food in international premium class could rival that of a fancy restaurant. All carriers took pride in their onboard product: not merely the food itself, the presentation and choreography of the service — the whole indulgent kabuki of premium class, from the menus to each carrier's signature cutlery. It could be pretentious, but always it was fun.
Here, in no special order, are some examples. New and old, fancy and not so fancy. There are many that I'm missing: Royal Air Maroc, Cathay Pacific, EgyptAir, Turkish and so on. I'll be adding to the list as my photo archives cough up forgotten snapshots. And, hopefully, through future travels.
These weren't employee freebies. I've spent a lot of money on these seats. Maybe let me show off a little…
ALL PHOTOS BY THE AUTHOR
Philippine Airlines
A business class meal aboard a Philippine Airlines A330, Singapore to Manila. Adequate if underwhelming. This was a three-hour, intra-Asia service; presumably the airline's long-haul routes have a more lavish spread. Appetizer salad in the top photo was followed by the chicken and noodle thing below. Not visible here are my second and third helpings of garlic bread. Yum.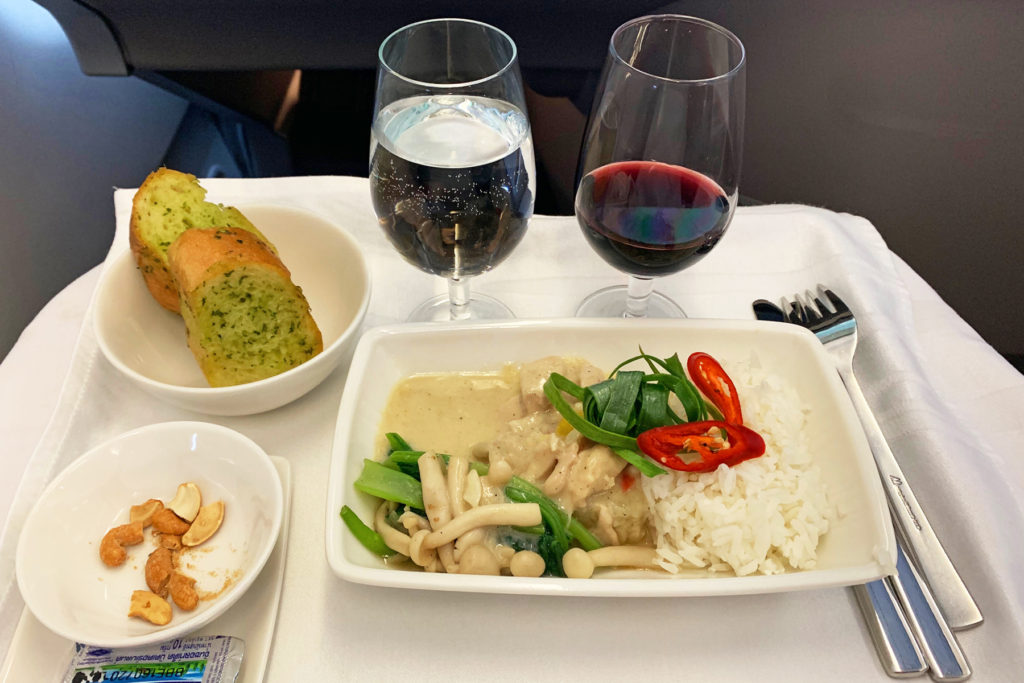 China Airlines
The upper photo shows a business class dinner aboard a China Airlines Airbus A350, en route from Taipei to Amsterdam. The cabin decor on this aircraft was strikingly handsome, gold highlights and elegant wood tones. The food, however, was less impressive, and they were super stingy with the wine. The second two pics showcase the carrier's shorter-haul service on the A330.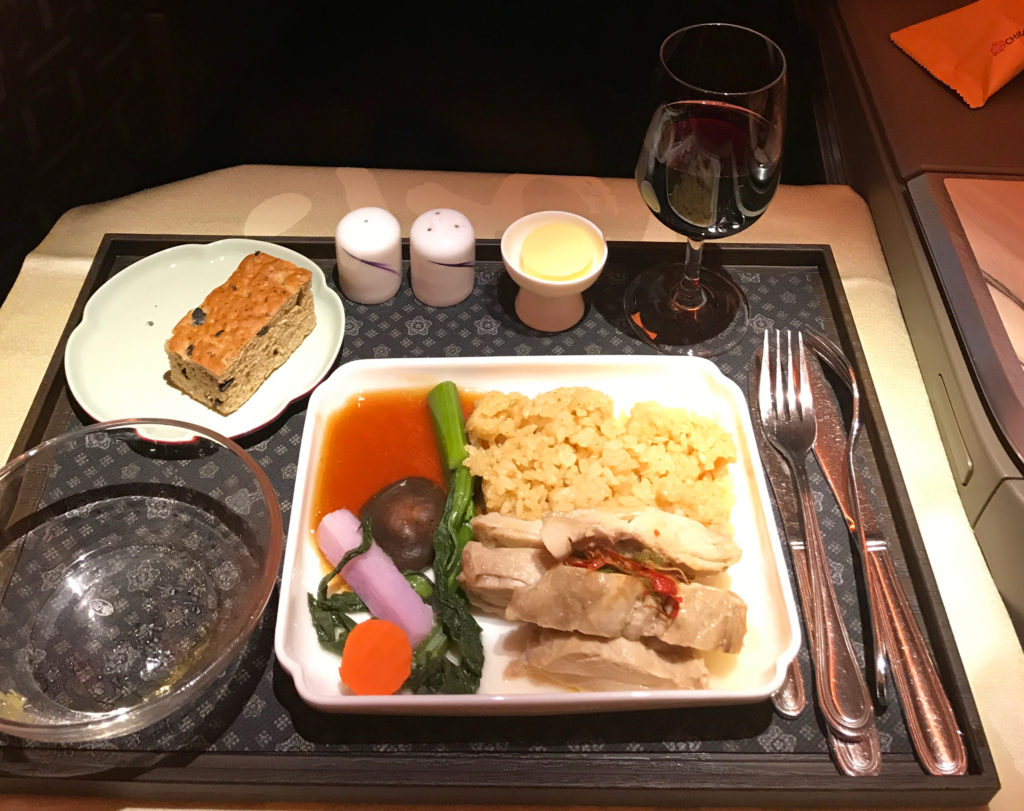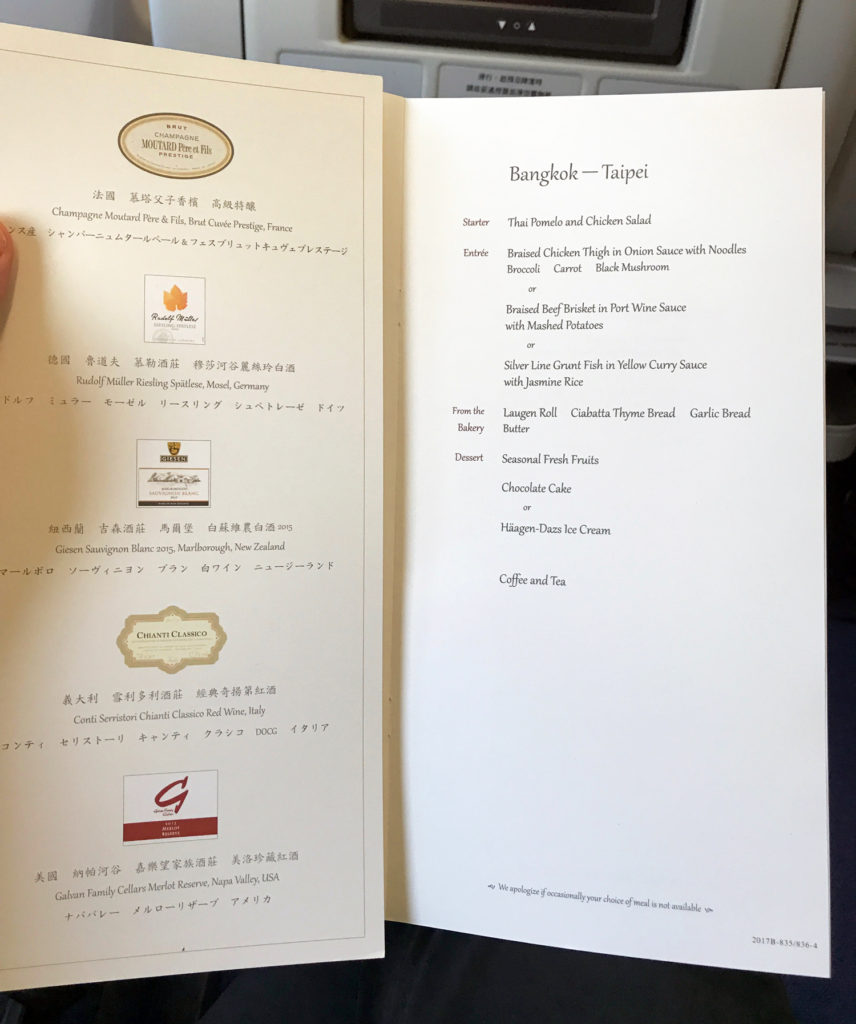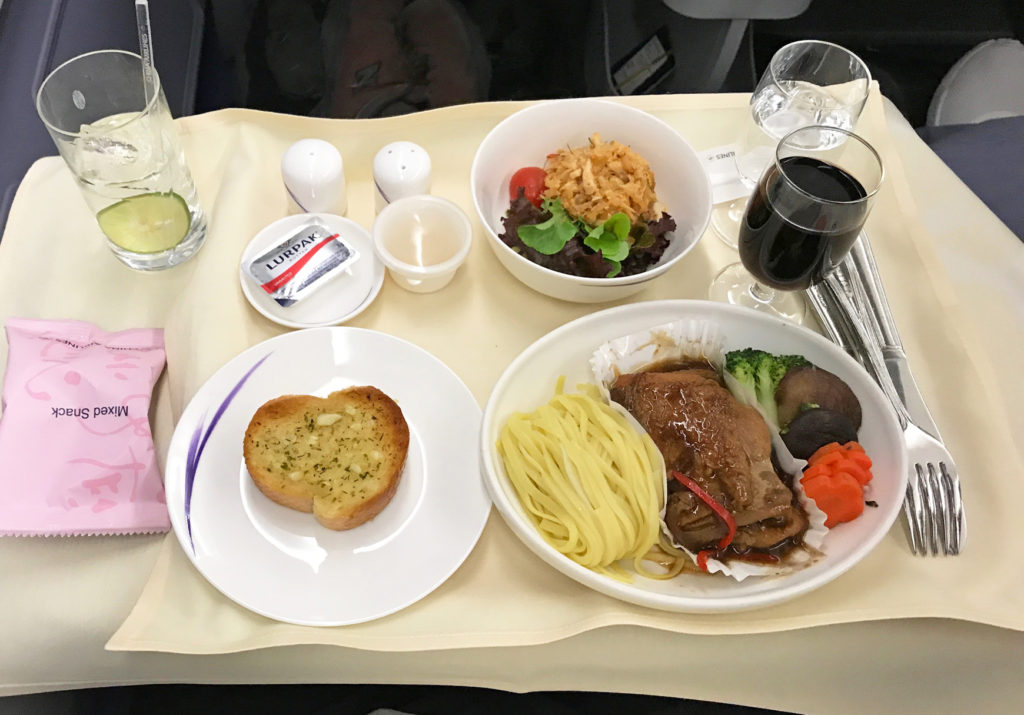 South African Airways
Economy class dinner on the now-defunct South African Airways. Not a bad offering on the quick hop from Lusaka, Zambia, to Johannesburg. The second pic beholds one of the sadder things I've seen on a plane. Believe it or not, this was the business class vegetarian entree, served on the Johannesburg-Victoria Falls route. Click here for a detailed review of this flight.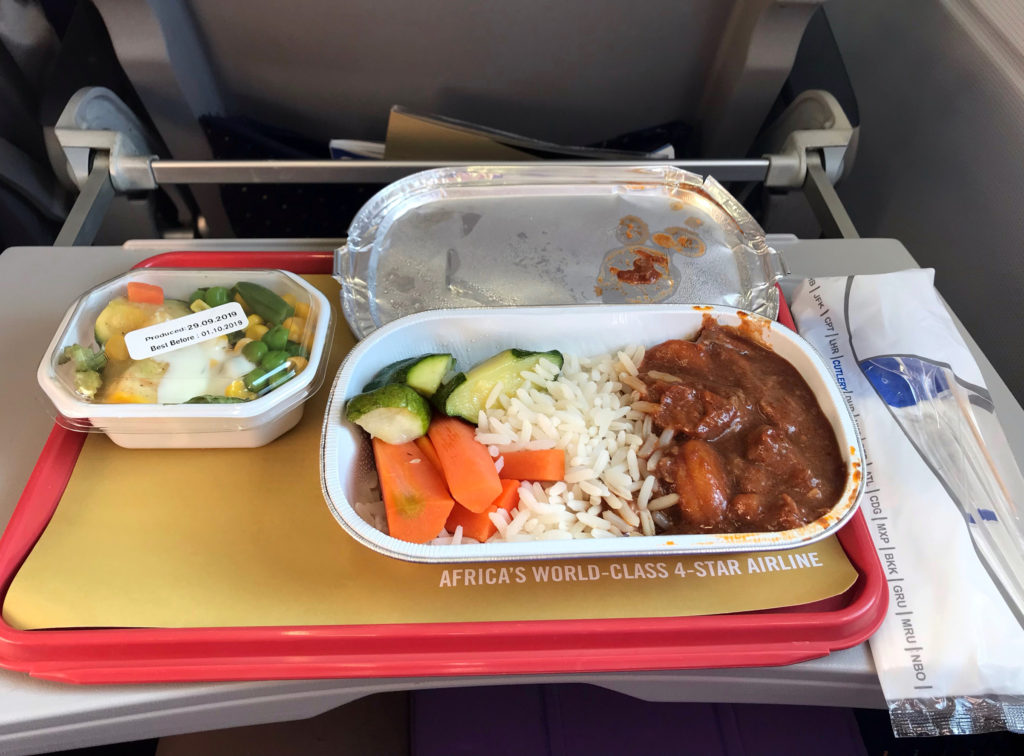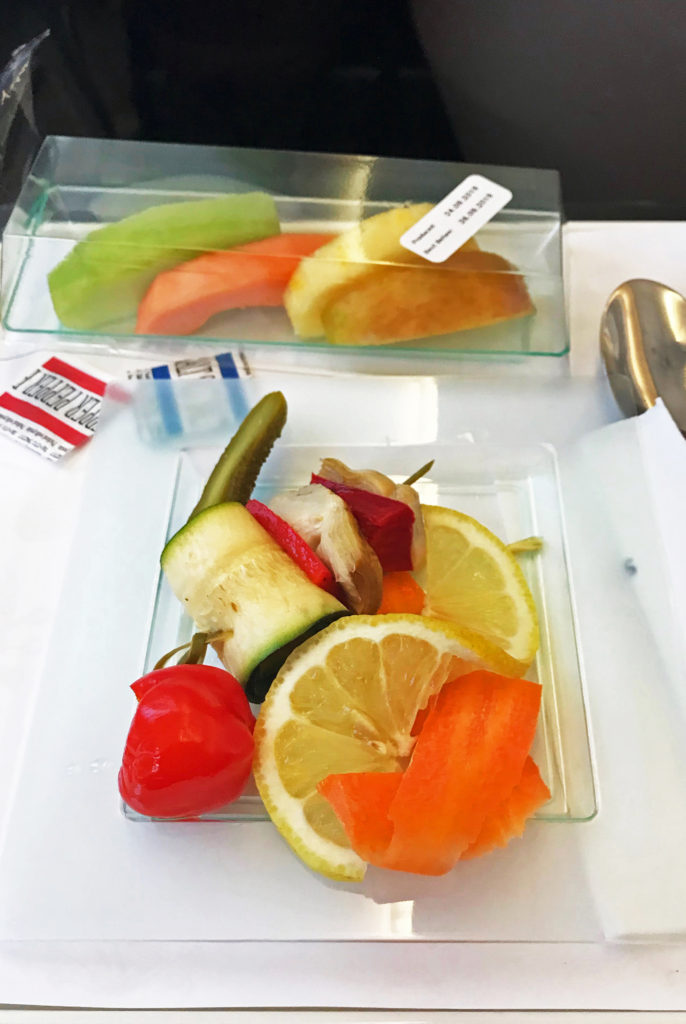 Sky Airline
Sky Airline (there is no "s") is a Chilean carrier, and this was the economy meal on a 737 between Santiago and Punta Arenas. Let's just say that I loved the paper tray liner, and leave it there. The green plastic silverware was a curious and, some would say, unappetizing touch.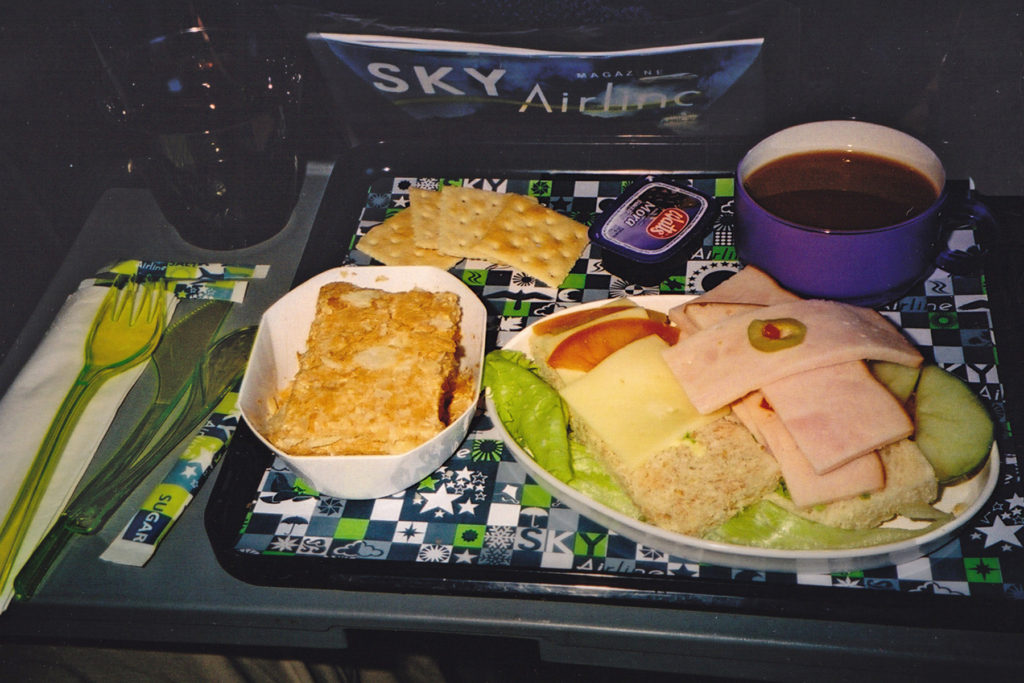 Sri Lankan Airlines
A beautiful little menu to whet your appetite on way from Bangkok to Colombo. The meal itself was standard economy fare, which is to say equal parts adequate and unspectacular. The seat-pocket magazine is called Seredib. This is a sanskrit term from which the word "seredepity" comes from.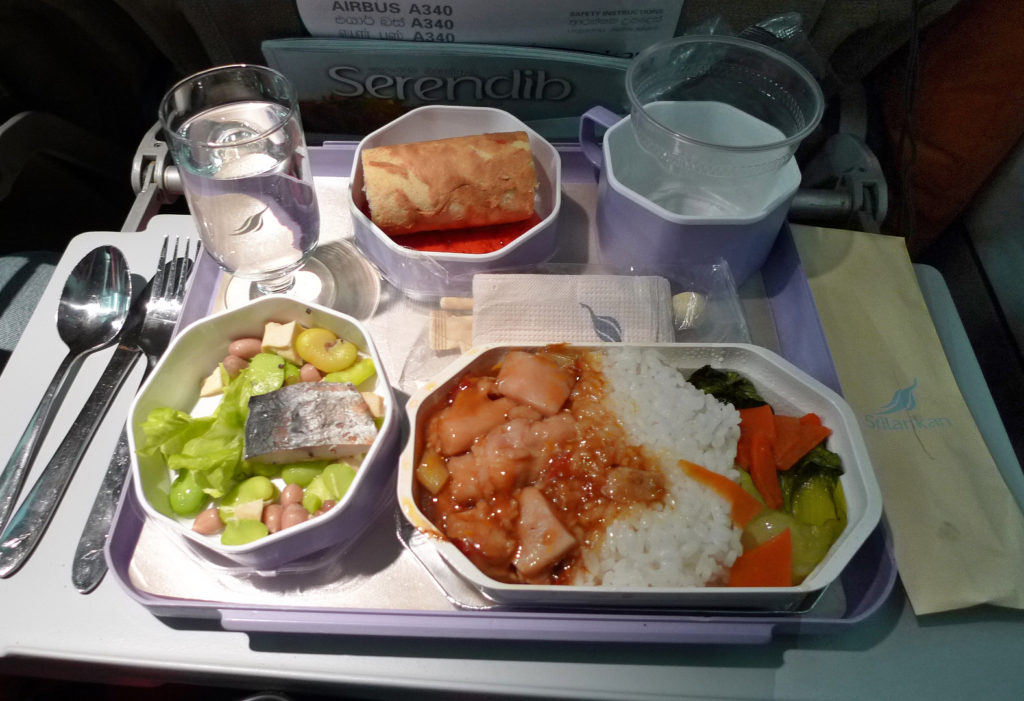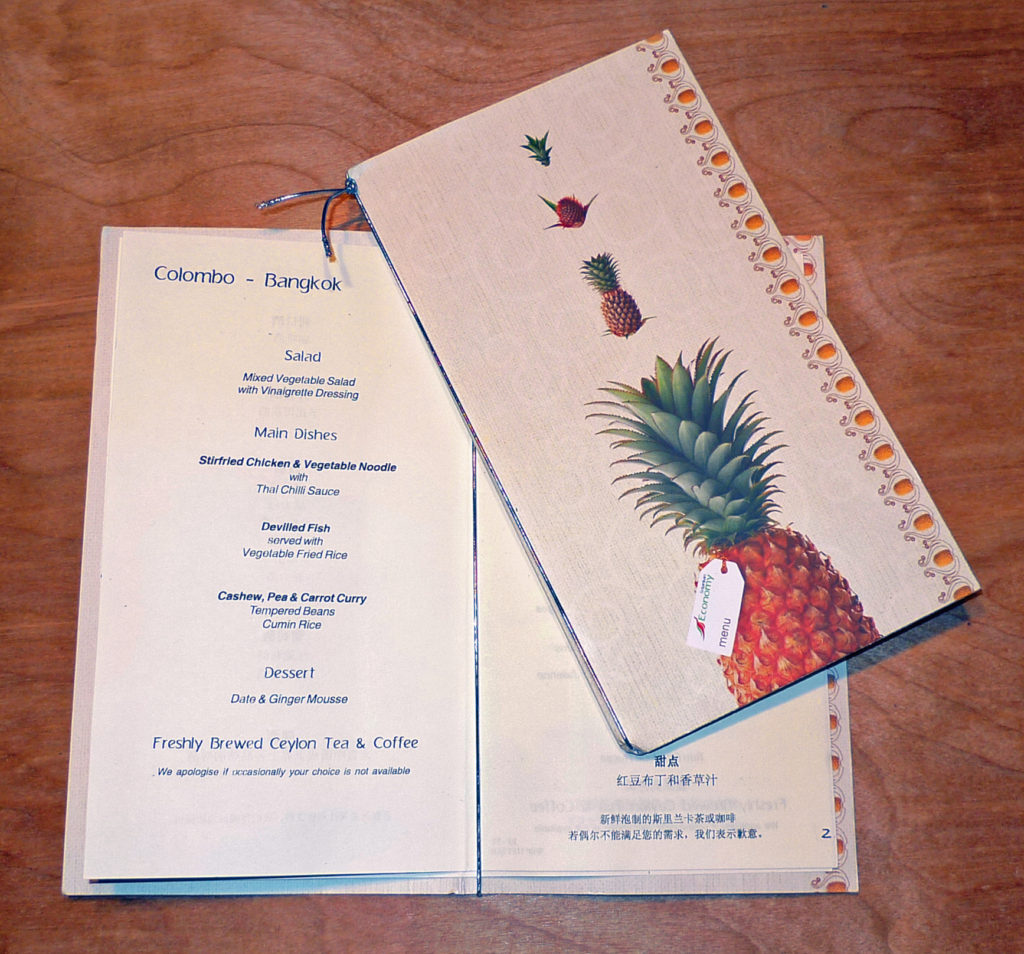 Qatar Airways
Qatar's premium class food is arguably the best in the world. And what you see here is the short-haul version, served on a two-hour flight from Doha to Yerevan, Armenia. Keep scrolling for a peek at long-haul.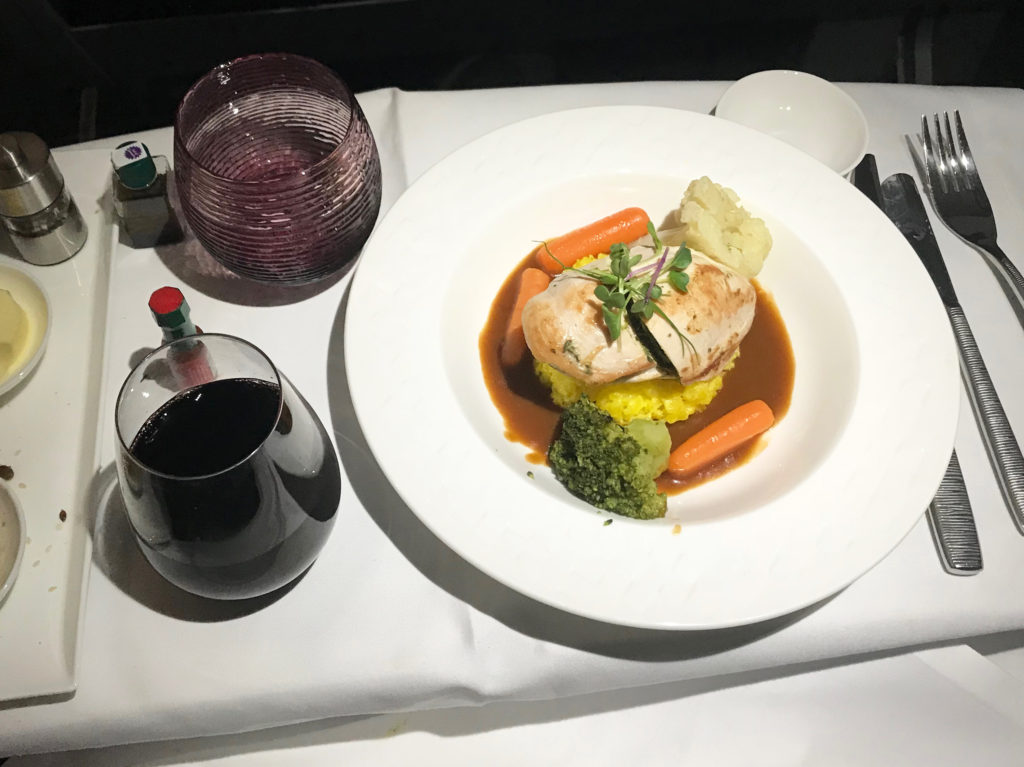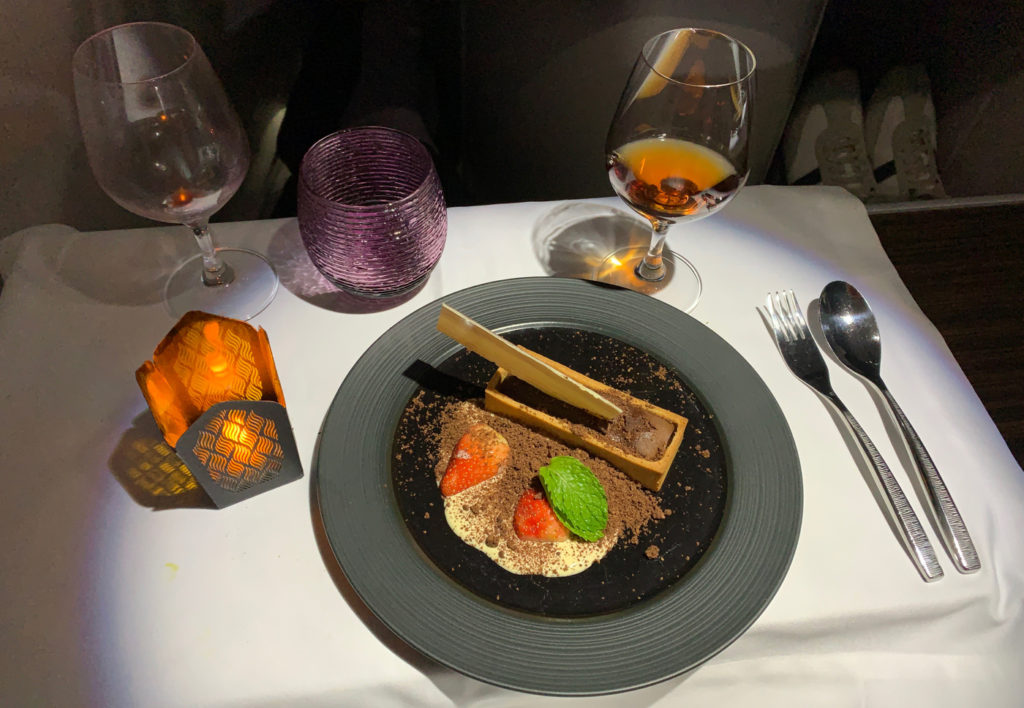 China Airlines
Back to China Airlines, this time in economy class between Tokyo-Narita and Taipei. As the kids say, it is what it is. This is the kind of food only someone like me would take a picture of.
Drukair
One of Bhutan's two airlines, Drukair flies smaller planes and offers a limited, if tasty business class menu. Here you see the lunch options on the daily run from Paro to Bangkok. It was breakfast on the outbound leg, featuring the fruit course shown below. My Drukair experience is further reviewed here.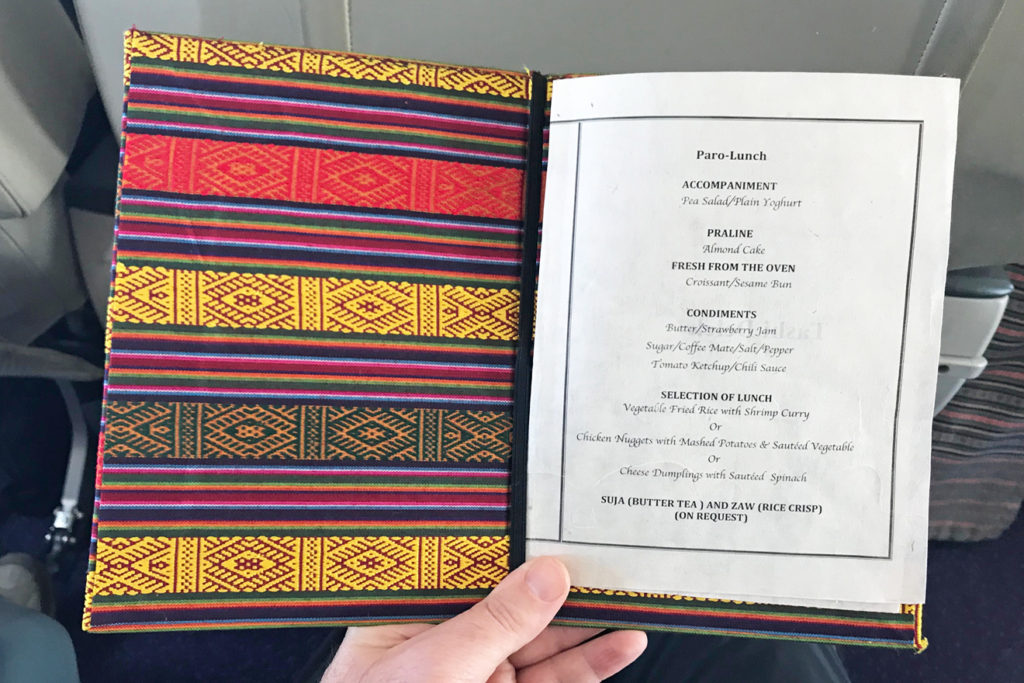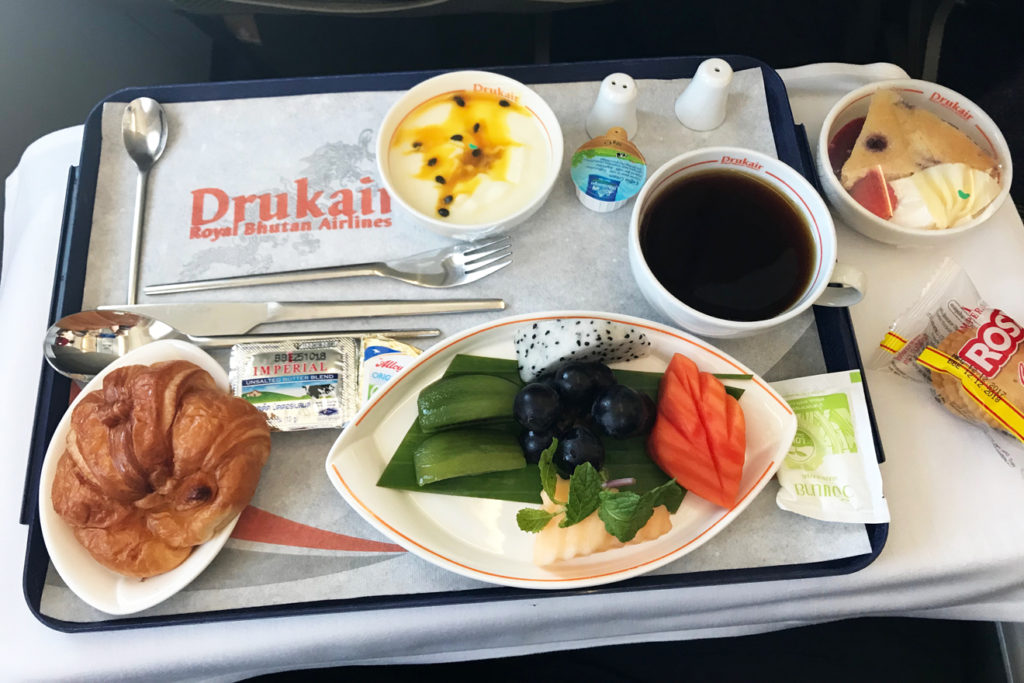 Japan Airlines
This was my first ride on the Boeing 787, from Boston to Tokyo-Narita not long after the route was introduced. The best thing you can say about economy class food is to call it "uneventful." This was no exception, though the ghastly lighting makes it appear less palatable than it was.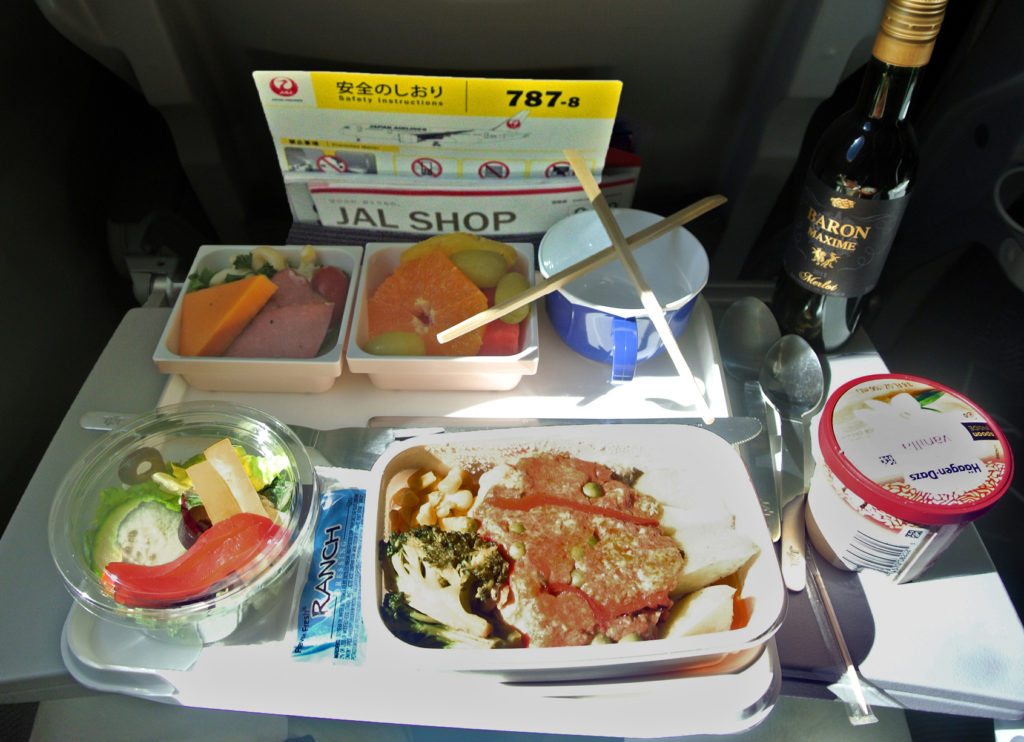 Qatar Airways
Here are the promised long-haul pics. Qatar's deluxe "Qsuite" menu is on-demand, meaning you order whatever you want, whenever you want it. There's no scripted service, per se, with trays and carts coming down the aisle. The top photo shows the menu between New York and Doha. I neglected to get a photo of the entrees. Instead you can see the appetizer or "lite bite" options — a delicious soup, a mezze platter, and a couple of mini-burgers — plus a wonderful dessert.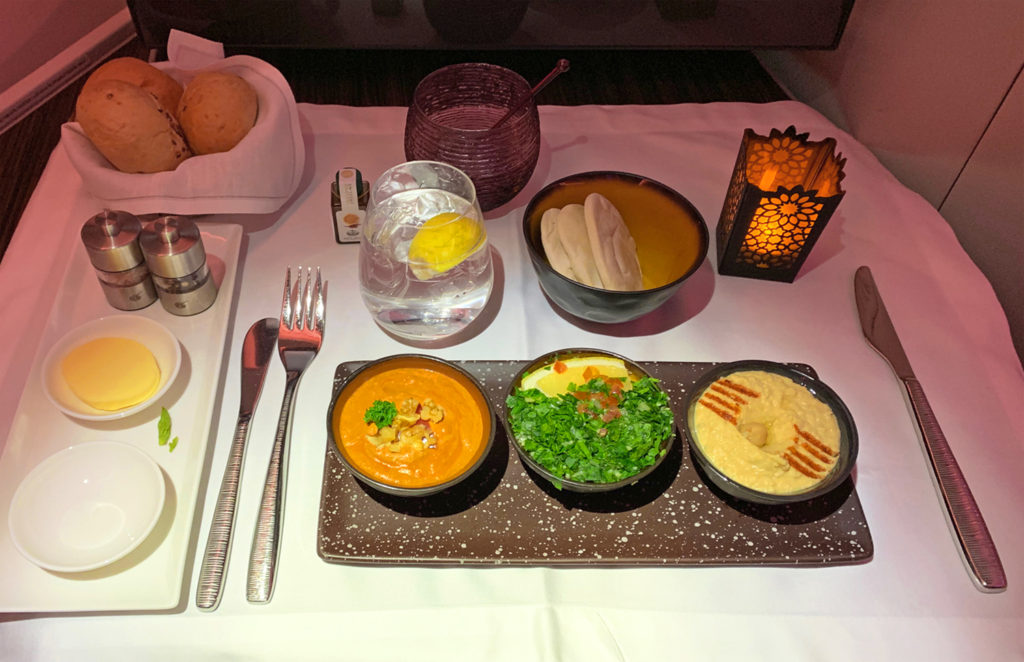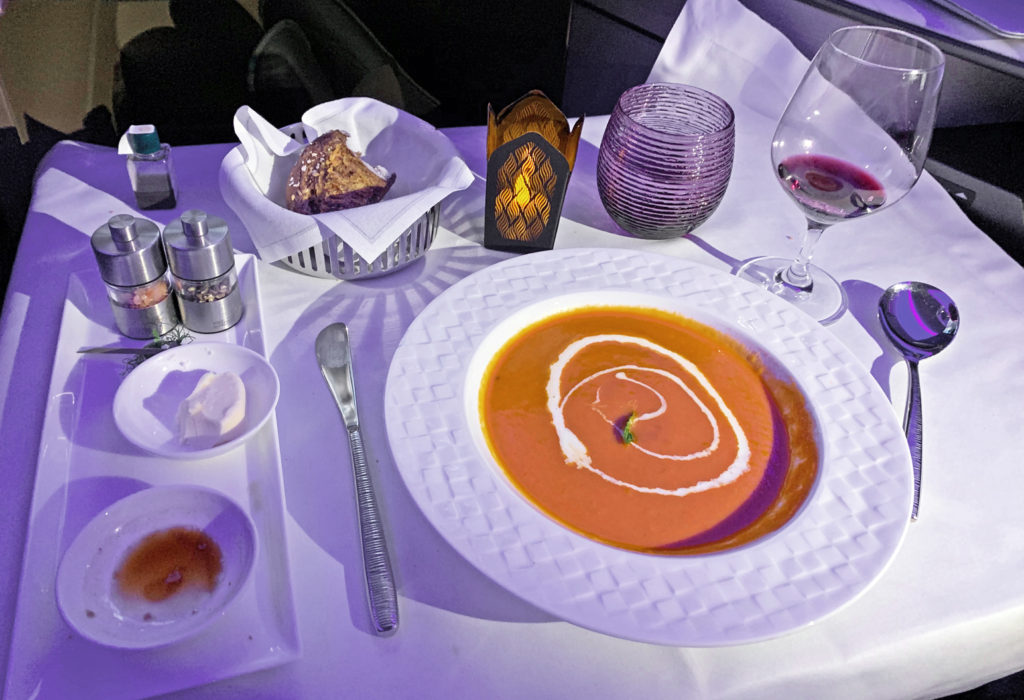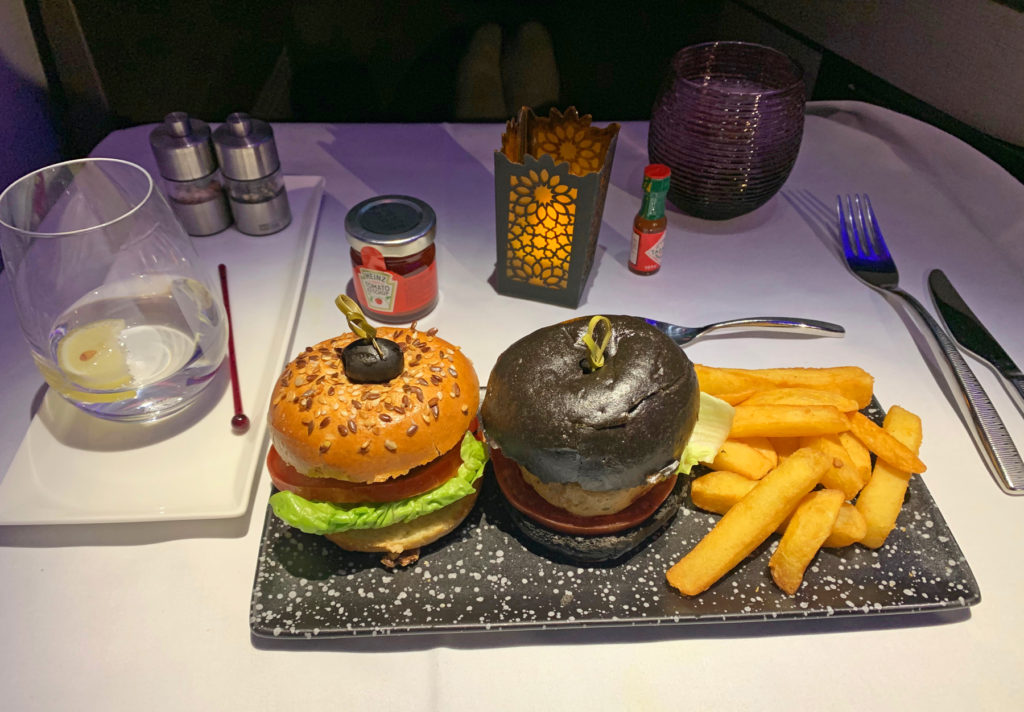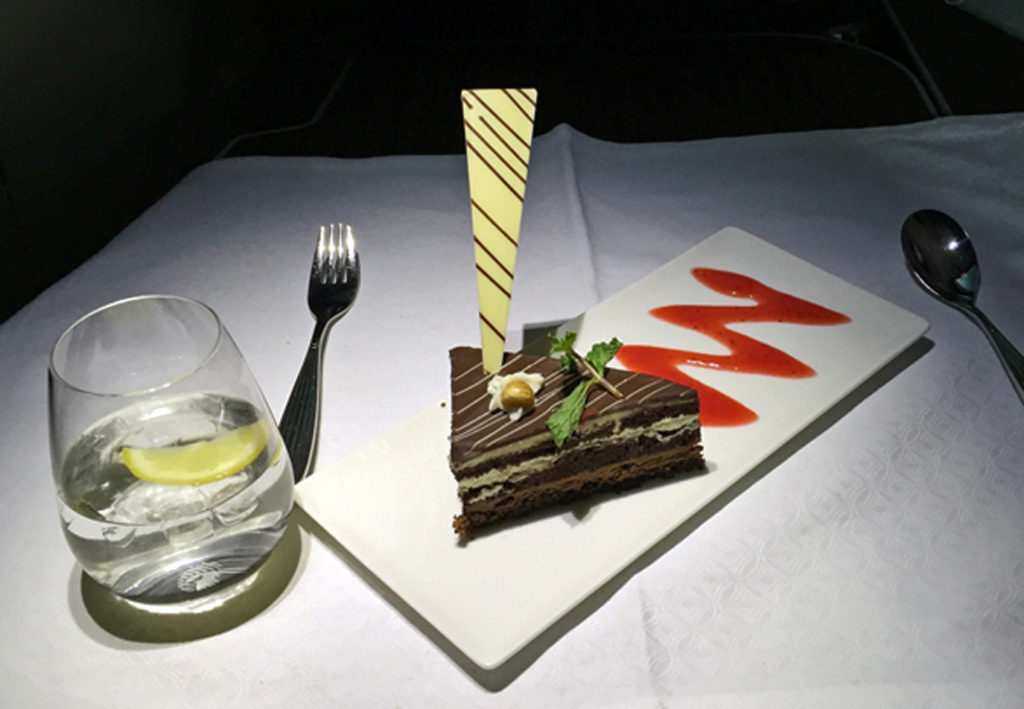 Korean Air
This was first class from Incheon to Bangkok in one of Korean's inter-Asia 747s with an older configuration that is no longer used. Notice the pull-out style entertainment screen and non-sleeper seat. Talk about slumming it! And if that noodle concoction looks a little too sloppy and greasy, that's because.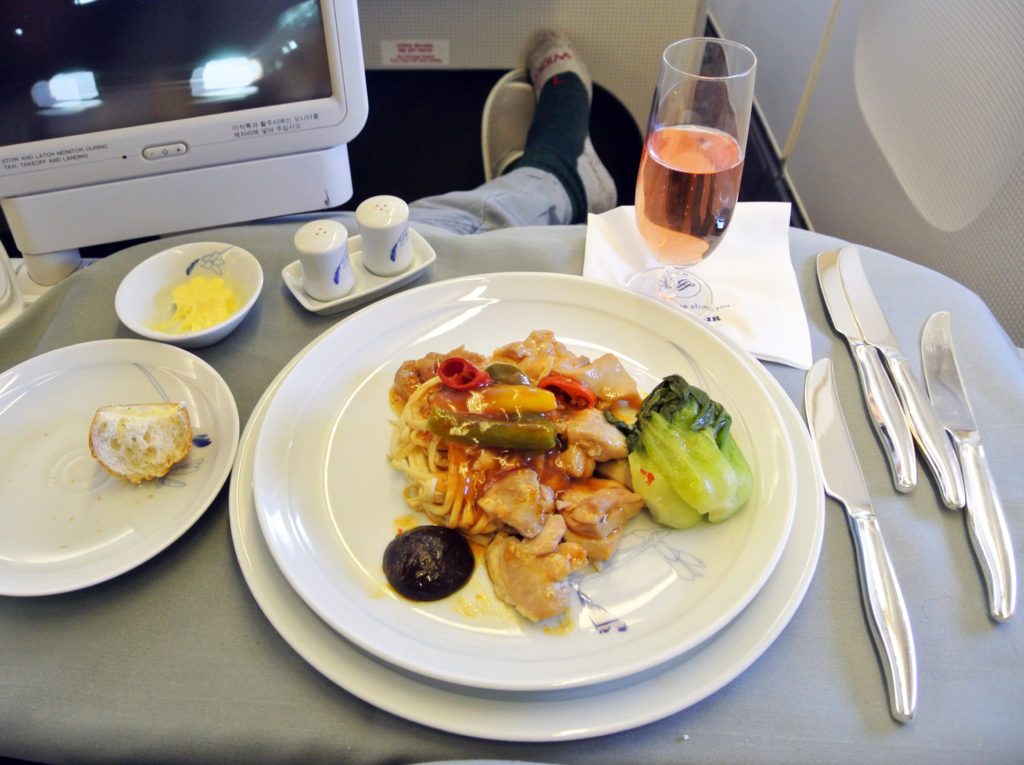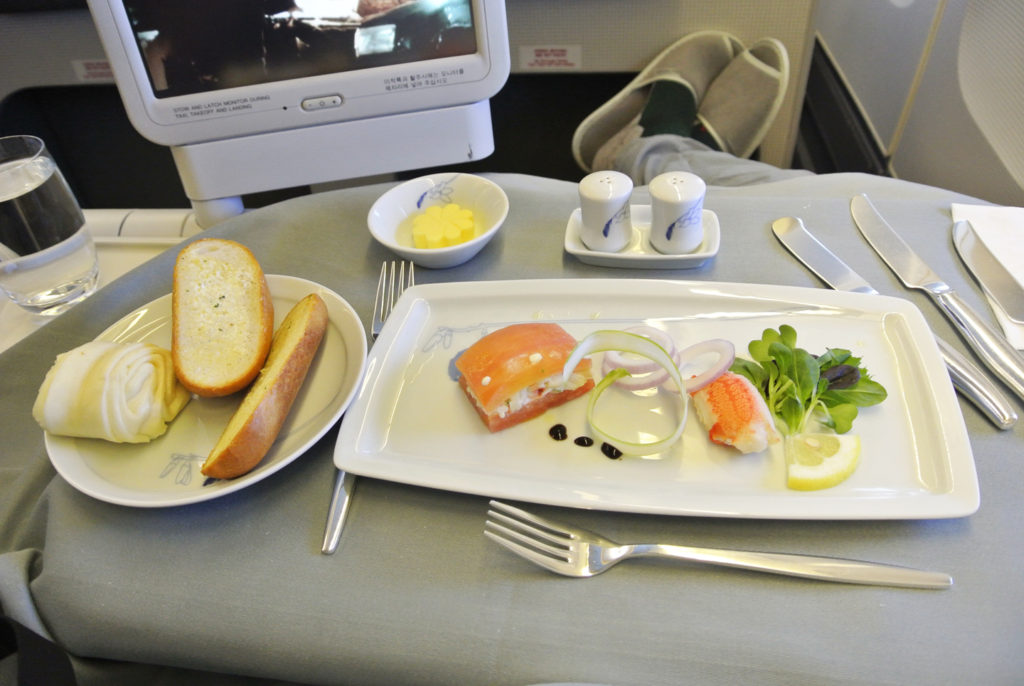 Singapore Airlines
For whatever reason, I failed to keep any photos of the business class delectables I enjoyed one night on the long ride from Singapore to Amsterdam. Instead I have this less interesting picture from a shorter flight. Like most of the airlines we've looked at, Singapore tailors its offerings depending on flight duration and market. This is what you get on an A330 between Singapore and Japan.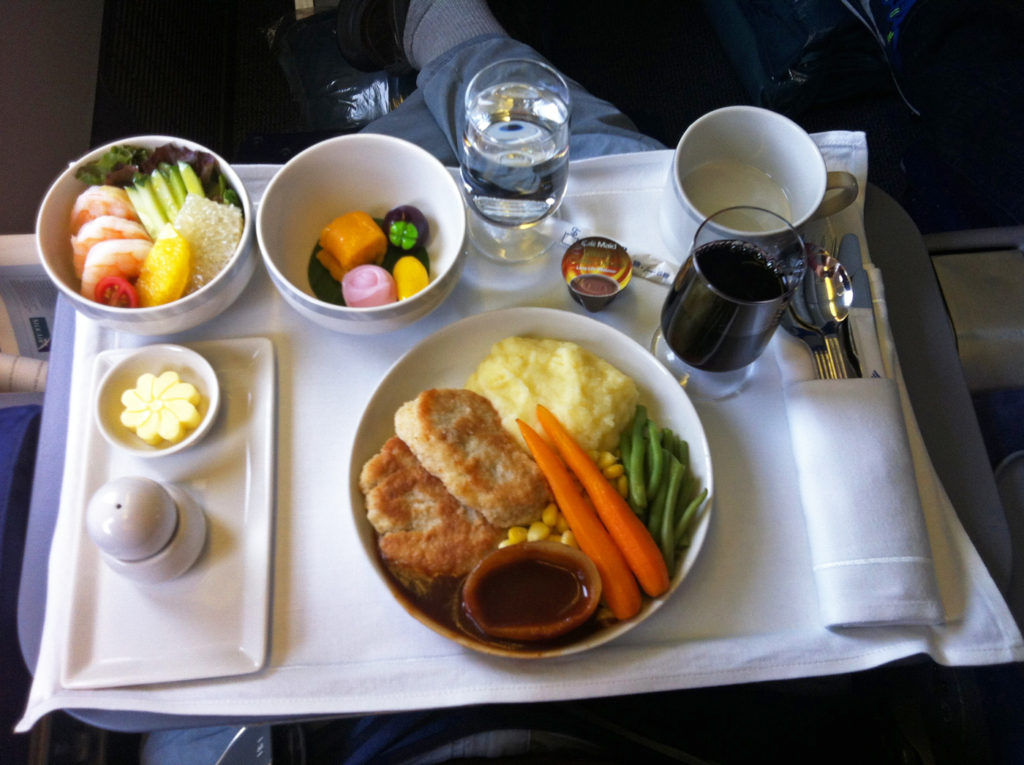 Kenya Airways
Bangkok to Hong Kong with Kenya Airways. A decent lunch and a can of Tusker — what's not to like? And although you can't see it here, this airline provides the world's most luxurious fleece blankets. The crew even let me abscond with one. Today it resides on my couch. What they didn't have, at least on this vintage 767 (since retired), is an entertainment system. I spent several perplexed minutes trying to locate my screen before realizing there wasn't one.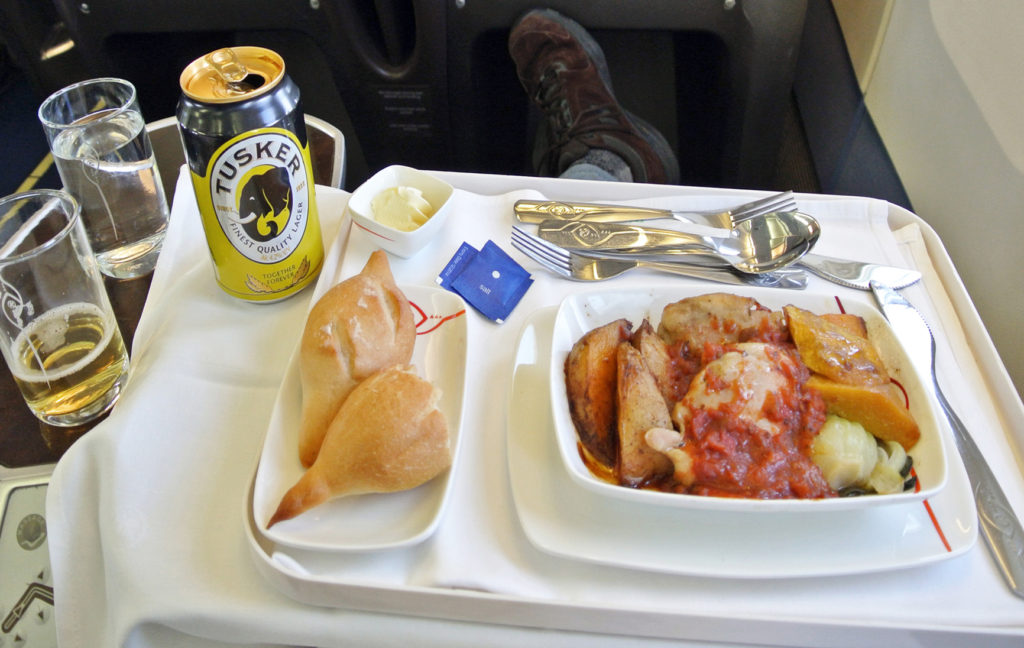 Thai Airways
On the red-eye from Bangkok to Incheon. Another satisfying yet unmemorable economy meal. Or, on closer inspection… that looks rather good.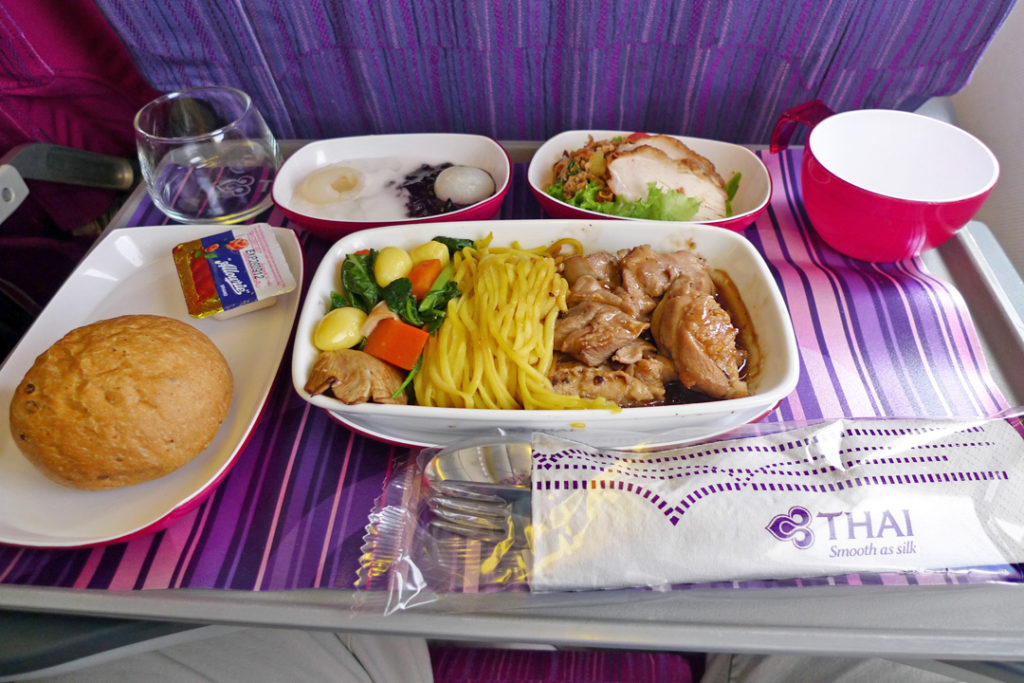 Air Malta
Like the aforementioned Drukair, Air Malta operates only smaller planes on shorter routes (pictured is Heathrow to Valetta). And like Drukair, they do what they can with limited time and space. This involves some improvising, such as folding down the center seat to create a kind of instant business class. The result, all things considered, is surprisingly pleasant. Read more about it here.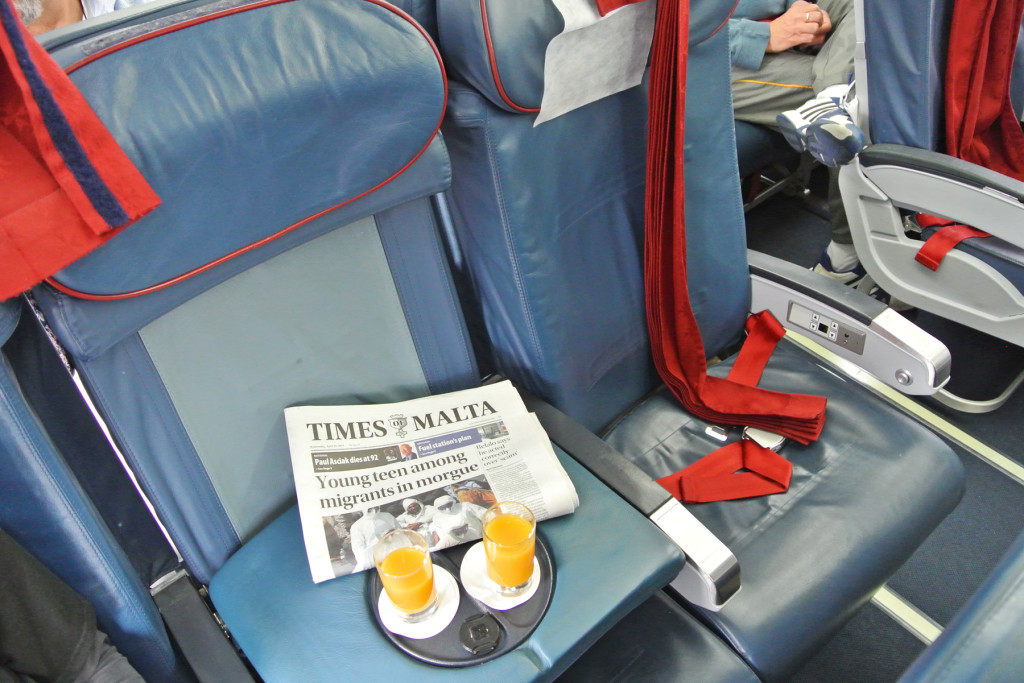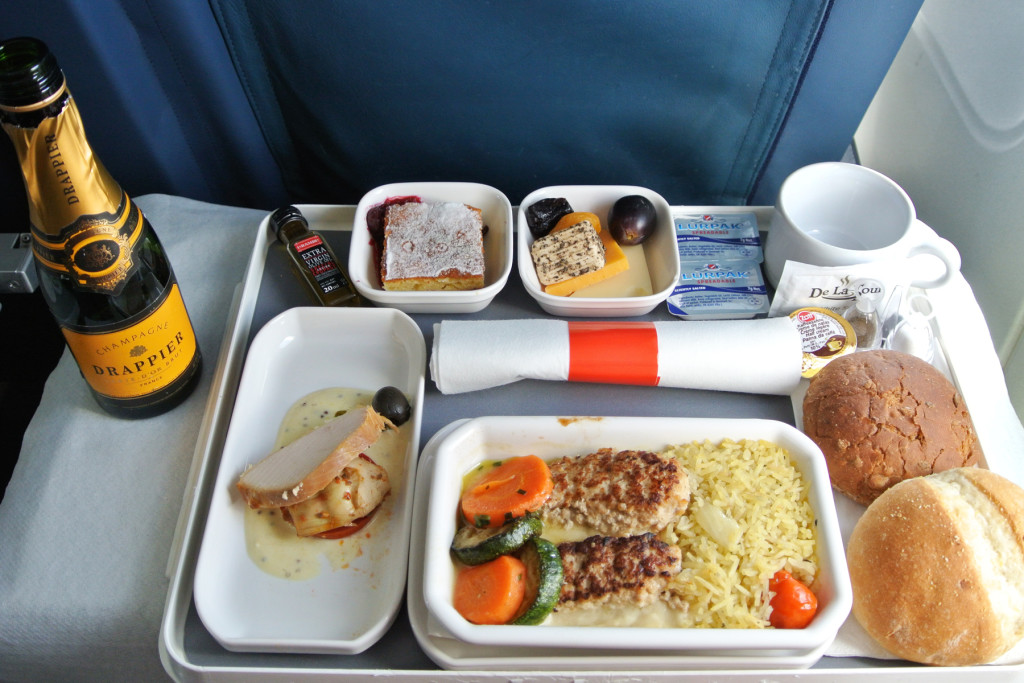 Emirates
Emirates first class is… well. You're looking at flights from San Francisco to Dubai, Dubai to Mauritius, and Johannesburg to Dubai, on both the 777 and A380. Similar to Qatar Airways, this is dine-on-demand, and you're free to mix and match entrees, appetizers, and desserts to your heart's content. Flying out of Johannesburg, I was intrigued by the ostrich filet (see the menu photo), but the pesto ravioli was tempting too. My cabin attendant prepared me both. The rest of the photos show the mezze appetizer spread (yes that's an appetizer), a shockingly delicious chicken biryani, and a salmon dish. The last two shots appear to be a before-and-after. Somehow I ended up with carafes of red and white wine. Again, this is first class. Emirates business class is a lot less lavish and, frankly, disappointing.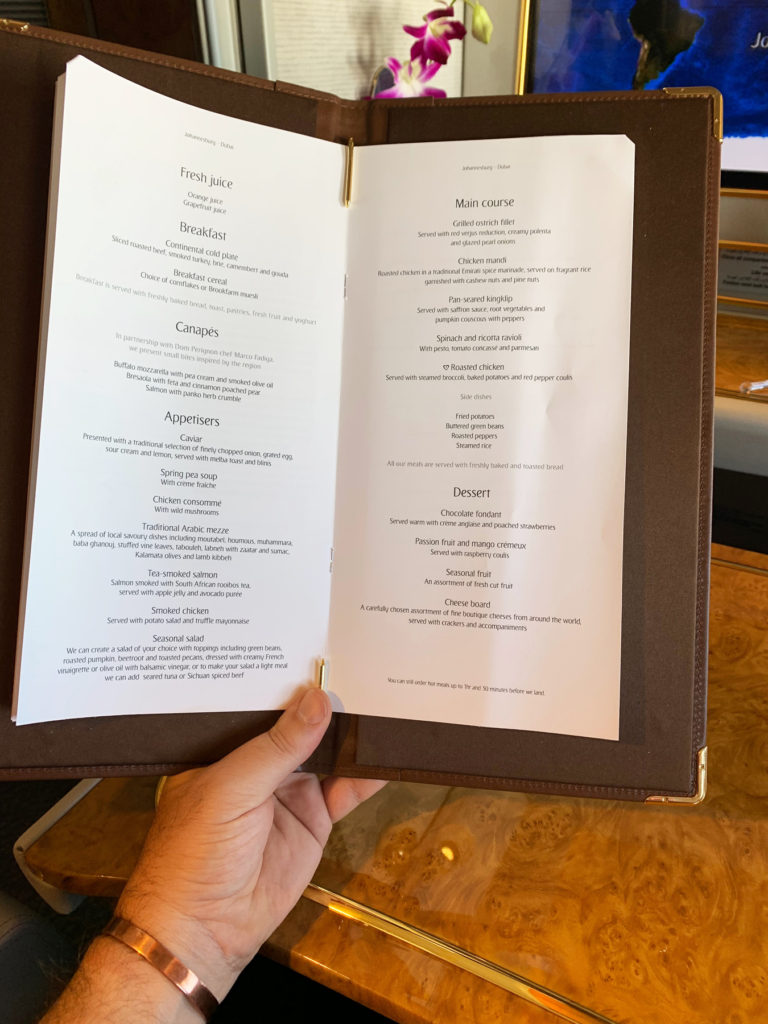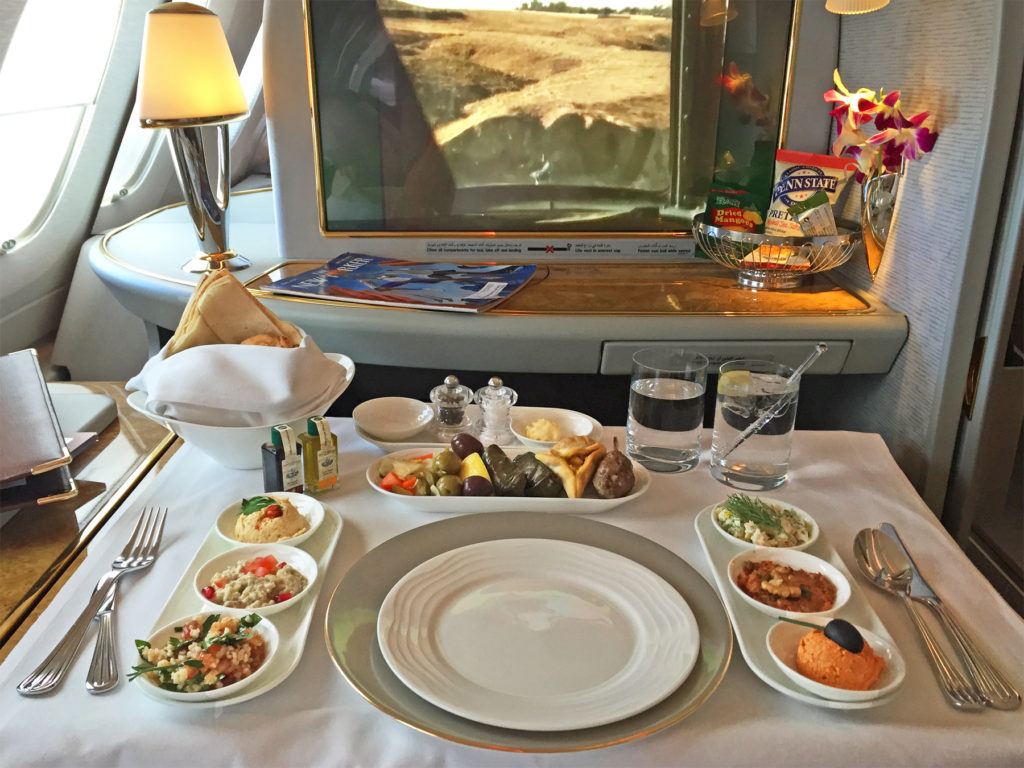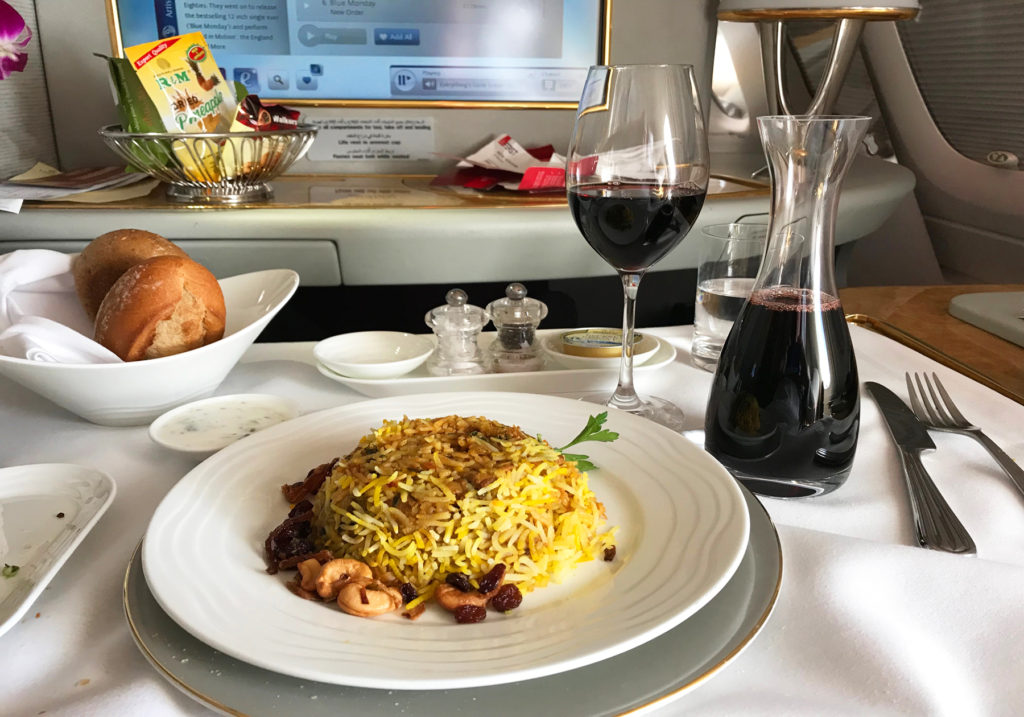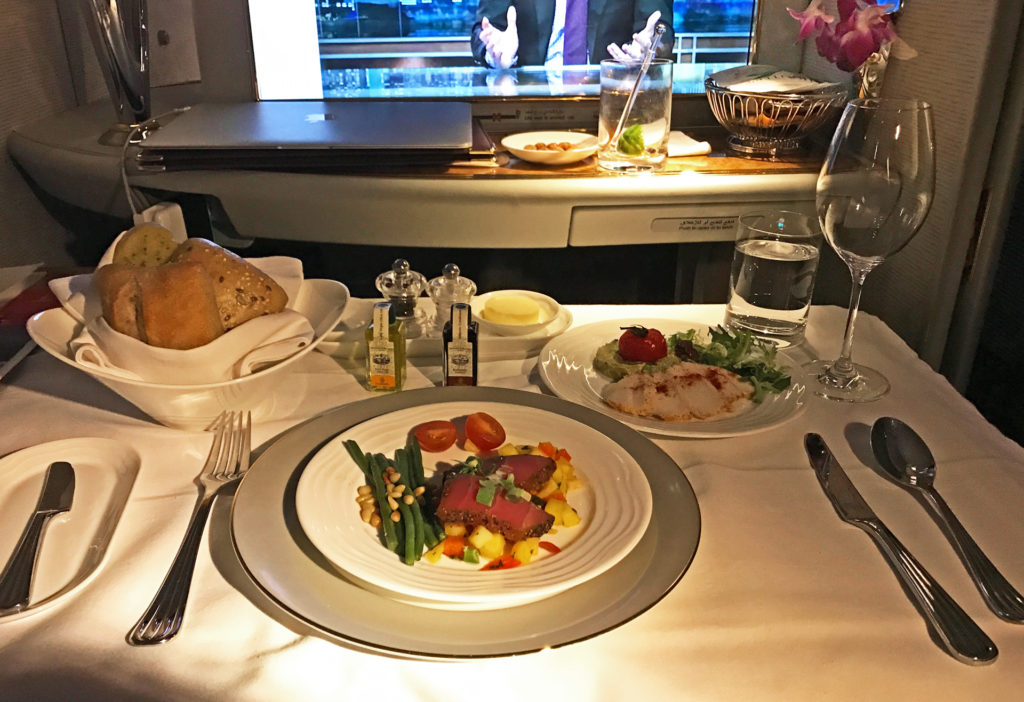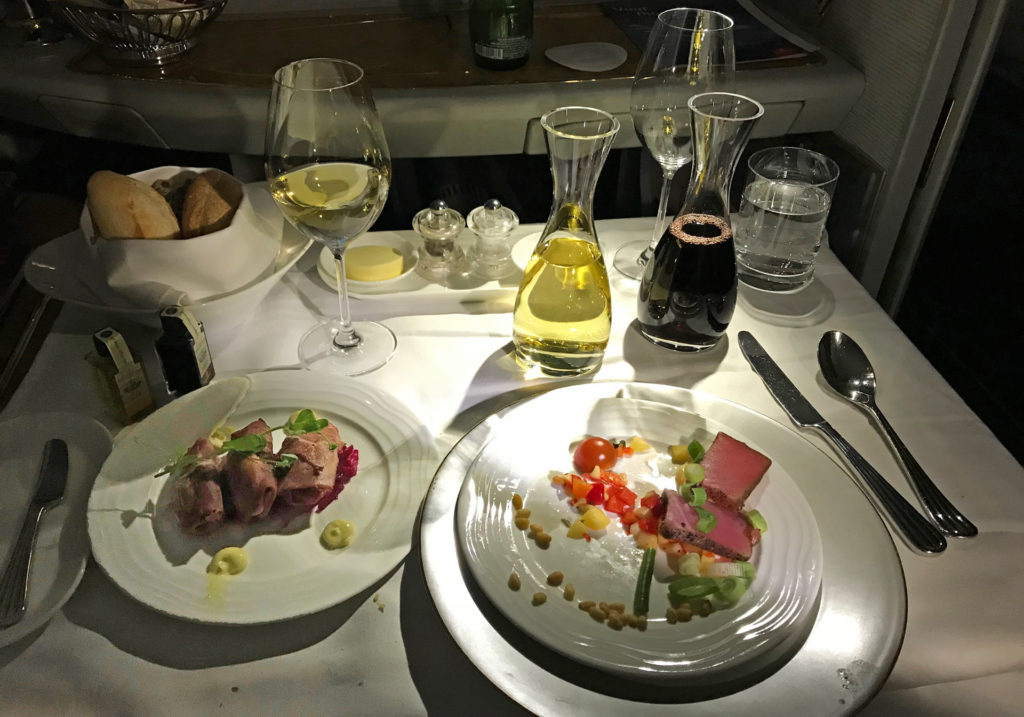 Battle of the Bars
The Airbus A380s at Emirates and Qatar both have onboard lounges. Qatar's is situated in the center of the upper-deck. The Emirates version is also upstairs, but in the back, behind business class. Emirates also has an exclusive upper-deck bar only for first class customers, located at the forward bulkhead between the shower spas. The lounge is staffed by a bartender, while the forward bar is serve-yourself (below, Julia chooses a bottle of Spanish white). Prior to arrival, the forward bar is taken down and a tea station is arranged in its place, backdropped by ornamental stones and waterfall. I mean, it's hardly an airplane without rocks and a waterfall.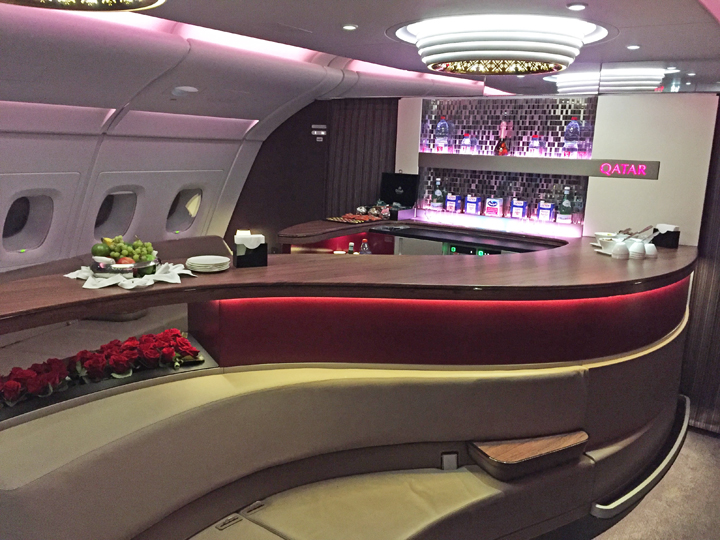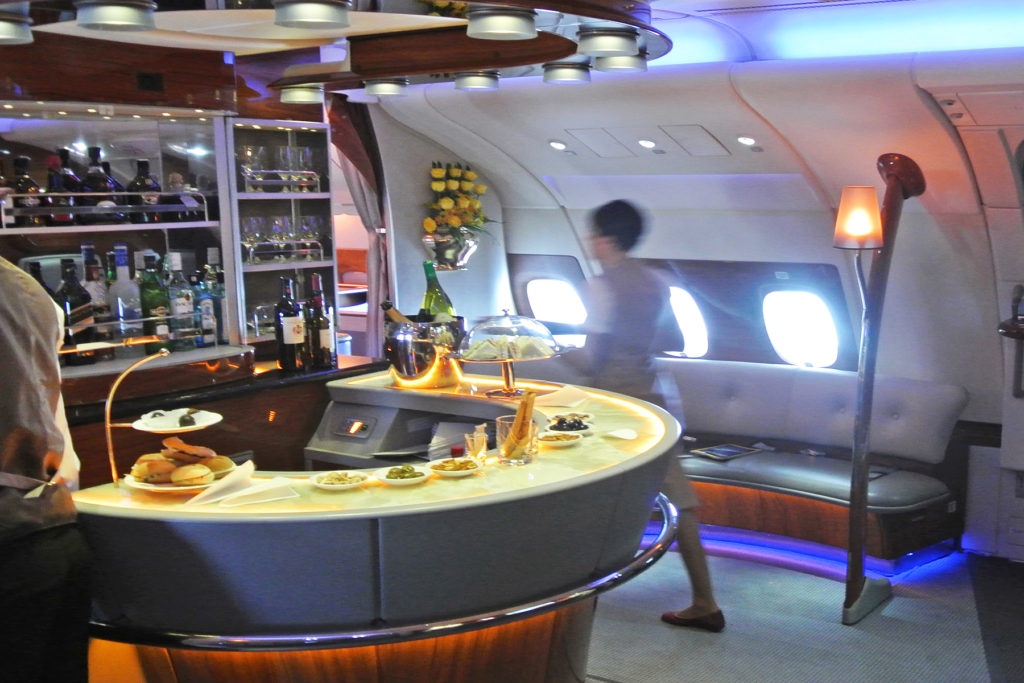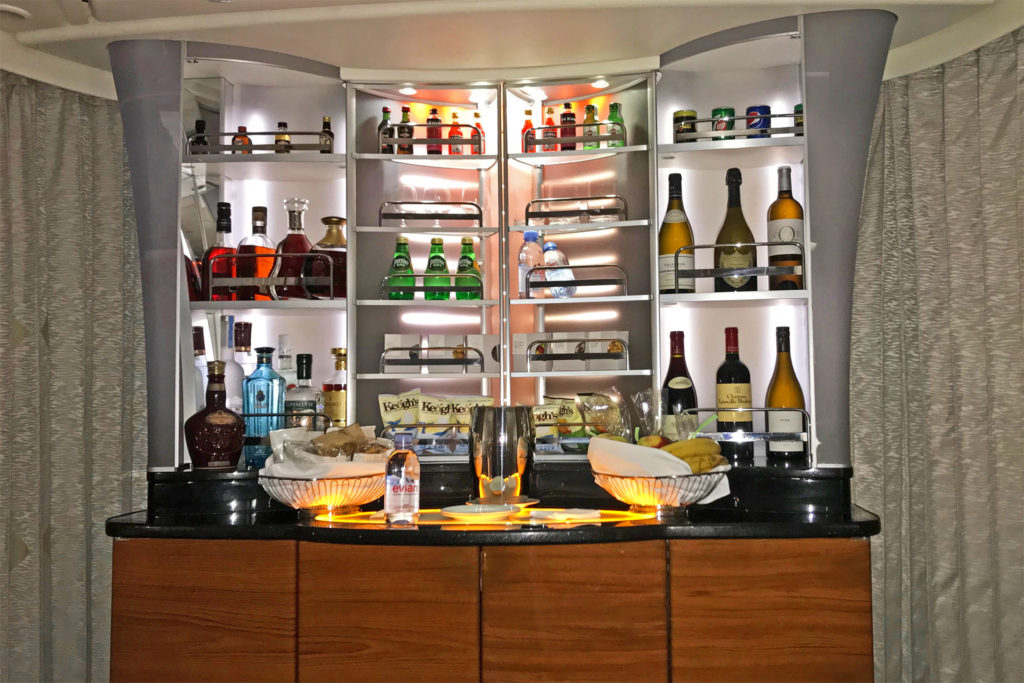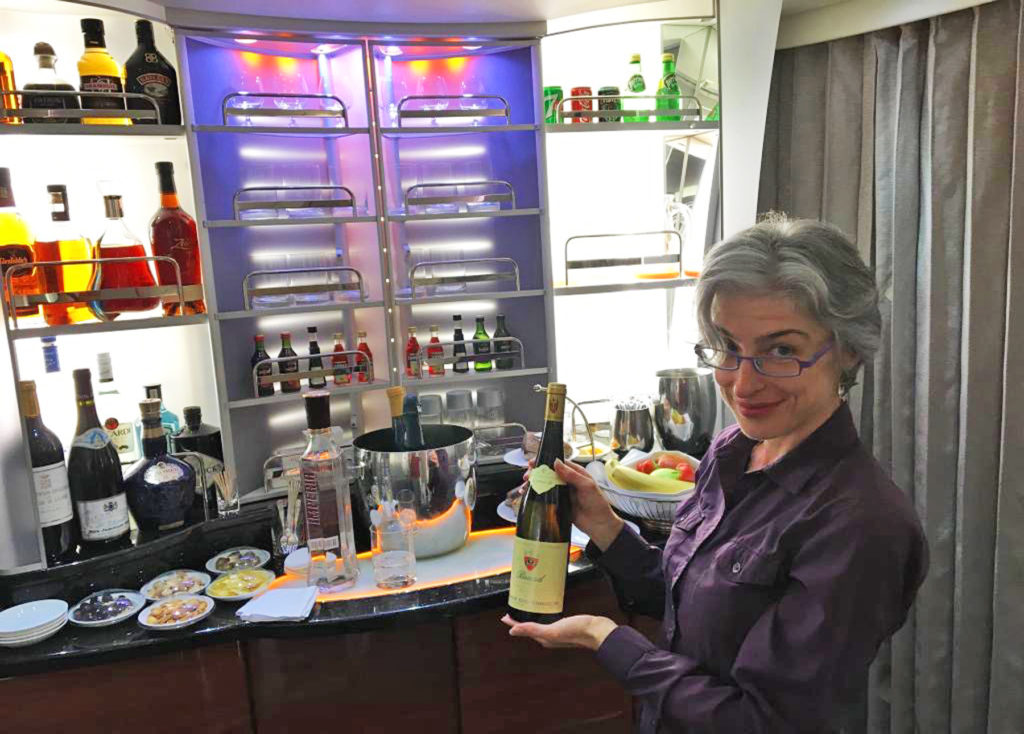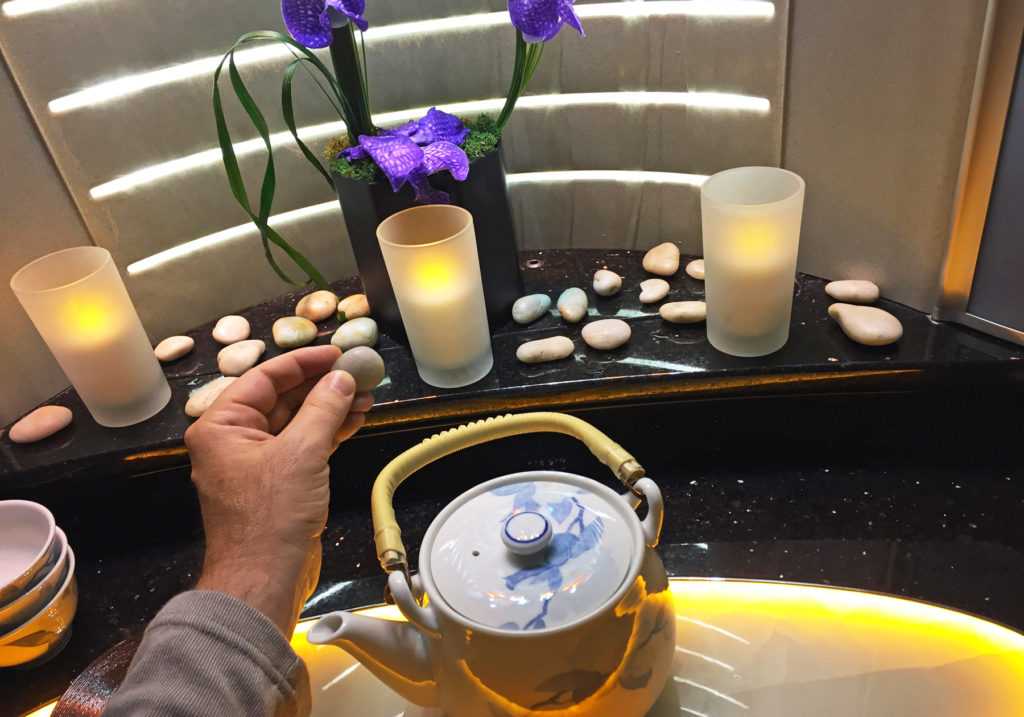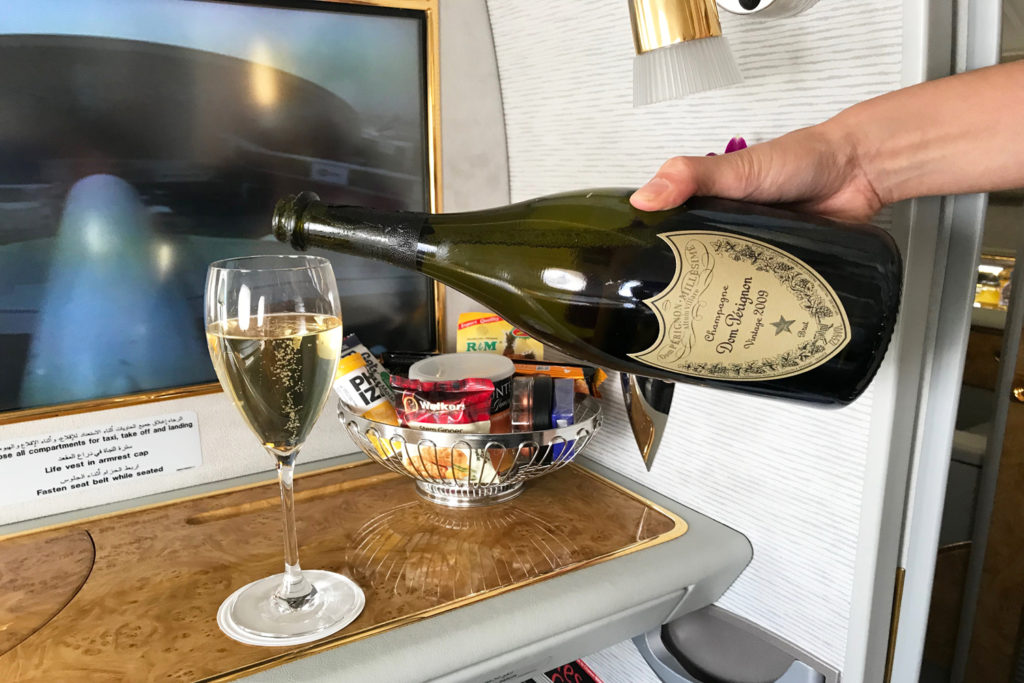 The Quiet Americans
Looking at those photos from the Gulf carriers, it's easy to see that none of this is fair. Competing with heavily subsidized, government-owned airlines is pretty much impossible for American, European, and even most Asian carriers. Which isn't to say their onboard products aren't good. My photo collection doesn't show it, but I've experienced most of them, and they hold their own. We've come a long way since the early 2000s, when broken seats, lousy food and terrible service were the standard. Let's hope the COVID fiasco doesn't re-set the clock.
If I had to choose a winner it'd be Delta. Its international business class, now branded as Delta One, offers good food and an elegant, choreographed presentation with appetizer, soup, and dessert courses all delivered separately. It's professional and gracious experience that United and American don't match, even with bigger planes. Heck, it even blows Emirates' business class away. Delta also has the world's best inflight entertainment system. It's not by accident that the airline keeps winning the most passenger choice awards among the U.S. big three.
I have no idea how much time it will take to claw our way back to normal, but if there's one thing I miss it's the guilty pleasure of sitting back with a movie, a good meal and some wine.
April 8, 2020
The COVID panic has reduced air travel to almost nothing. U.S. carriers have grounded up to 90 percent of their flights. Survival comes down to perseverance, bailout money, and innovation.
As to the latter, Alaska Airlines has a strategy to help it remain in markets where ridership has plummeted. Instead of relying on nonstop "spoke" flights from its Seattle hub, the airline will run consolidated, connect-the-dots style flights that take in multiple cities in a single run. For example, rather than operating one flight from Seattle to Pittsburgh, and another from Seattle to Baltimore, there's now a single aircraft going Seattle-Pittsburgh-Baltimore. Seattle-Dallas-Houston and Seattle-Minneapolis-Columbus are two others.
It's a useful way of adapting to the current environment. What it's not, however, is new. Back in the proverbial day, this is what most cross-country flying looked like. Flights going coast-to-coast would often make two, three, possibly four stops along the way. I have a collection of timetables from the 60s and 70s; even then, well into the jet age, multiple-stop itineraries were common. A Boston to Miami flight with Eastern, for instance, might have stopped in Philadelphia and Atlanta. In PHL or ATL, passengers destined for those cities would disembark while additional Miami-bound passengers came aboard. "Through" passengers, as they were called, remained in their seats. The same thing was common in long-haul markets overseas. A flight from London to Singapore might have gone via Rome, Istanbul, Karachi and Bombay. How about: London-Rome-Khartoum-Nairobi-Johannesburng? In the 1940s, Qantas' so-called "Kangaroo Route" made six stopovers between London and Sydney. When I traveled to Montana with my family in 1980, our Northwest flight went Boston-Detroit-Milwaukee-Minneapolis-Billings-Bozeman. The only change of planes was in in Minneapolis.
These were known as "direct" flights. Today the terms "direct" and "nonstop" are used interchangeably, but in the old days a "direct" flight merely meant there'd be no change of aircraft or flight number.
A lot of this was necessity. The range and payload constraints of older generation aircraft made nonstops unfeasible beyond a certain distance. But part of it, too, was efficiency. Carriers needed fewer planes and fewer crews.
Modern examples still exist. Southwest operates a number of multiple stop directs. Traveling to Bhutan in 2017, I boarded a direct flight from Bangkok to Paro. Along the way we spent 35 minutes on the ground in Gauhati, India, a city I had never heard of before. "Through" passengers like me stayed on board. On a recent flight from Phnom Penh to Doha on Qatar Airways, same thing, this time with a short stopover in Ho Chi Minh City. Ditto for an Emirates flight that went Phnom Penh-Yangon-Dubai. Plenty of examples are out there, but the remain-on-board option is increasingly rare.
The maps above (and below) are lifted from "Airline Maps, A Century of Art and Design," a new book by Mark Ovenden and Maxwell Roberts.
I've been infatuated by airline route maps my whole life. They are what turned my passion for commercial aviation into a love of travel as well: a way of graphically understanding the airplane as something bigger than a means to an end. There's something oddly meditative and Zen about them. As a kid, whenever I got hold of an airline timetable (back when such things existed) the first thing I'd do is open to the route map. The best were the center fold-outs, with the extra third page. I could spend hours studying those those arcs and lines. "Next time you're wedged in economy, flip to the map section in the back of the inflight magazine," I write in the introduction to my book. "Those three-panel foldouts and their crazy nests of city pairs were, for me, a kind of junior pilot porno."
Now there's 140 pages of them, spanning nine decades.
As you'd maybe expect, the authors spend most of their time in the decades between 1930 and 1970, when airline iconography and graphic design became an artform all its own. The selections from this period range from cartoonish to elegant, many of them nothing short of cartographic marvels. Almost all of them are colorful, whimsical, and historically evocative. Now departing for Leopoldville, Leningrad and Calcutta: it's the history of air travel, design, geography and geopolitics all at once.
Most carriers still produce route maps, viewable online or in their magazines. They've become a lot simpler, and the presentation can be confusing. Some have done away with lines and rely only color-coded dots for destination cities, giving you only half the story. Worse are the ones that include the flights of code share and joint-venture partners, leaving the maps so cluttered you can't make sense of them.
Related Story:
Boeing bet the future on a 50 year-old design. Did it lose?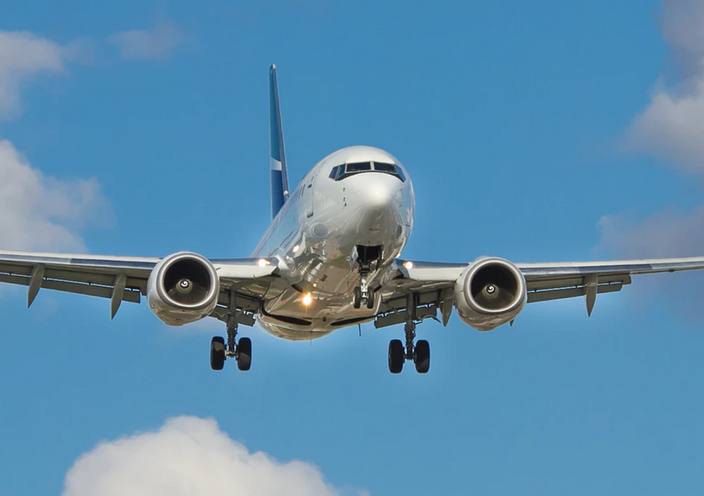 December 16, 2019
I'M DEPRESSED. I'm depressed because the word on the street has it that Boeing will not be moving forward with its so-called "new midsize airplane," or NMA, also known as the 797. That's the rumor, at any rate.
If built, the 797 would bridge the range and capacity gap between the narrow-body 737 family and the much larger 787 and 777 families — a slot occupied by the now-geriatric 757 and 767. The concept was formally unveiled at the Paris Air Show two years ago, and the planemaker has been mulling it over ever since. The uncertainty around the project has become a simmering backstory to the ongoing 737 MAX saga.
The two are not unrelated.
Back about fifteen years ago, Boeing had a decision to make. It's popular 757 was getting long in the tooth. Orders were drying up and the company would need to develop a replacement. This wouldn't be easy, because the 757 was, and still is, a very special machine. You might call it the most versatile jetliner Boeing has ever built: a medium-capacity, high-performing plane able to turn a profit on both short and longer-haul routes — domestic or international; across the Mississippi or across the North Atlantic. And along the way it meets every operational challenge. Short runway? Stiff headwinds? Full payload? No problem. With 180 passengers, the plane can safely depart from a short runway, climb directly to cruise altitude, and fly clear across the country — or the ocean. Nothing else can do that. And it's a great-looking plane to boot.
Essentially three options were on the table. The first was to come up with a plane from scratch — a brand-new jetliner of roughly the 757's size and capabilities. A second, less expensive option would be to equip the existing airframe with new engines, modern avionics and other upgrades — a 757-X, if you will. Option three would be to abandon the 757 template altogether and, instead, turn to the company's favorite cash-cow, the 737, and somehow push it, squeeze it, force it, into the role of the 757.
Although Boeing hasn't — at least not yet — officially abandoned the idea of new airplane, it is option three, if only by default, that seems to have won. Production of the 757 ceased for good in 2004, and the 737 remains Boeing's only non-widebdoy replacement option. Need a 180-ish seater? If you're buying from Boeing, it's a 737 or nothing: the -800, the -900, or the beleaguered MAX.
None of these, however, can do what the 757 does. The 737's range allows U.S. coast-to-coast and limited transatlantic pairings, but anything further is out of the question. And what it can do, it doesn't do particularly well. On longer routes it's often payload and/or altitude restricted, and for a jet of its size it uses huge amounts of runway with startlingly high takeoff and landing speeds.
I was jammed into the cockpit jumpseat — more of a jump-bench, actually — on an American Airlines 737-800 not long ago, flying from Los Angeles to Boston. Man, if we didn't need every foot of LAX's runway 25R, at last getting off the ground at a nearly supersonic 165 knots. What would it be like on the westbound leg, I wondered — a longer flight, from a shorter runway, in the face of winter headwinds?
By contrast, I recently piloted a 757 from Boston to San Francisco. At flaps 20, we lifted off at a docile 130 knots from Logan's stubby, 7000-foot runway 09, with nearly half the runway still remaining! With every seat full and seven hours' worth of fuel, we climbed directly to 36,000 feet and flew all the way to California. That's performance. A 737 cannot come close to that.
In the 737, Boeing took what essentially was a regional jet — the original 737-100 first flew in 1967, and was intended to carry a hundred or so passengers on flights of around 400 miles — and has pushed, pushed, and pushed the plane into roles it was never intended for. Bigger and bigger engines, fancier avionics, MCAS. Five decades and ten variants later, the MAX is a monsterized hybrid of a thing — a plane that wants, and needs to be something that it's not: all muscle and power and advanced technology, jammed into the framework of a fifty year-old design.
From the other side of the Atlantic, meanwhile, the Airbus line features a similar gap. The A310 died away a long time ago, and size-wise there's nothing between the A320 family and the long-haul A330.
Or is there? The biggest Airbus narrow-body is the A321 — a stretched-out version of the basic A320. Two upcoming variants, the A321LR (long range), and the A321XLR (extra long-range), are about to hit the market. With two-class seating for around 200 passengers and a range of almost 5,000 nautical miles, these aircraft have enormous potential. JetBlue is among airlines planning to use the LR on routes across the pond, serving Western Europe from New York and Boston.
Whether you're an airline CEO, a pilot, or a passenger, there's a lot to like about the A320 family generally, certainly when matched against the 737. It requires less runway, for one, and uses tamer takeoff and landing speeds. On the inside it's quieter and more spacious, A few weeks ago I rode aboard a 737 for the first time in a while. I normally find myself on an A320 or A321, and I was startled at how uncomfortable the 737 was in comparison. I had a window seat about a third of the way down, and the narrower cross-section meant my shoulder was pressed into the sidewall the entire time, forcing me to sit at an angle. And the noise. The 737 is a loud airplane. On a two, three, or four-hour trip such comfort levels are acceptable. But six? How about a seven-hour nonstop from Gatwick or Shannon?
And if you think it's noisy in the cabin, you should hear the cockpit, where the sound of the onrushing air must push a hundred decibels. Loud and tight, with barely enough room for the crew's hand luggage. It's interesting how both the A320 and the 737 families have roughly the same exterior dimensions, yet somehow the A320's cockpit is three times roomier and five times quieter. How can that be? Well, look closely at the nose section of the 737. Do you recognize that? The old-fashioned flight deck windows, the shapes of the radome and fuselage? It's the 707. Unchanged in over sixty years.
Take a MAX and put it next to an old 737-100 from the late sixties. It's at once the same and yet completely different. You can virtually see the airplane straining, stretching, reaching — trying so hard to become something else. And therein is the problem. Boeing desires the commonality, the simpler training footprint and all the good things that the 737 family offers. But it also wants a plane that can take 200 people across the ocean. What it's finding out is that perhaps, after all, they cannot be the same thing. You can only reinvent so many times.
Indeed the A321LR will be the closest thing out there to a 757. Comfort-wise it'll be equal, if not superior, with almost the range, almost the capacity, and almost the muscle. Sure, those are a lot of important almosts. Eventually, however, the last 757 will be put to pasture, and when that happens, the lack of a 797 all but assures the A321's domination of the mid-market niche.
Until that day, U.S. carriers continue holding on to their 757s. Hundreds remain in service on trunk routes and transcons. United and Delta have flown 757s from their East Coast gateways on eight-hour services to Western Europe, Scandinavia, even Africa. Of course, you'll also see it on 60-minute segments into Kansas City, Cleveland, Tucson and Tampa. Nothing can match it across such a wide swath of markets, with little or no concerns as to weather, payload or runway length.
As to its relunctance in committing to the 797, Boeing says that the sales potential for such a plane, estimated at anywhere from three-hundred to a thousand examples, is possibly too limited. As a point of comparison, the company claims that it won't break even on its 787 program until at least 1,500 aircraft have been delivered. If true, that's a sad testament to how expensive it has become to develop new aircraft. If a thousand airplanes can't justify a new line, what can?
Still, it seems that filling such a niche should be well within the technical expertise, and certainly the imagination, of the world's largest and most prolific plane-maker. Wouldn't the 797 borrow much of the 787's architecture, and thus be cheaper to produce? And isn't this the same company that, fifty years ago, created the 747, an airplane more than double the size of any existing plane, taking it from a napkin drawing to an actual, in-the-air prototype in less than two years! Forgive me for looking at this romantically, but what happened to that sprit and vision?
And if Boeing does press ahead with the 797, will they build the right plane? Preliminary renderings of the NMA from 2017 show us a jetliner seating between 220 and 270 passengers, with a composite fuselage and wings, and a range of around 5,000 nautical miles. Is it just me, or is this much too big? I like the twin-aisle idea; two aisles make for faster boarding and deplaning, and give the cabin a roomier feel overall. But, otherwise, how is this not just a 787 with a shorter range? A 757 replacement should be a plane that tops out at around 220 passengers, not one that starts there.
"It strikes me that the airplane Boeing ought to be putting out there is one that already exists, at least as a template," I wrote on my website about a year ago. I was talking about the 767, Boeing's venerable quasi-widebody that dates to the early 1980s. Although a passenger version hasn't been ordered in years, the jet remains in production as a freighter and as a military midair refueler. Why not upgrade it, I asked in my article, with new engines, a new cockpit, and overhauled internal systems? Is that not a better option — especially considering the limited market that Boeing sees — than spending billions on an all-new airframe? "Call it the 767-X," I wrote.
Well, in October of 2019 Boeing released a proposal for a 767 derivative called, guess what, the 767-X.
However, the 767 I had in mind as a baseline was the original -200. The -200, which debuted in 1982, is a long-since obsolete aircraft that, by today's standards, would be laughably uneconomical. In terms of size, range, and capacity, however, it'd be just about perfect. Imagine a modernized, re-engined version delivering twin-aisle comfort for 180-200 people, containerized luggage and cargo, and all the range and unbeatable brawn of the 757. What's not to like?
Boeing, though, says the -X would build not on the platform of the -200, but on that of the -400, and would be aimed at the cargo market. The -400, which sold very poorly, has seats for around 250 people. Again this is too big. In any case, Boeing eyes the 767-X chiefly as a freighter, not a passenger carrier.
Which leaves us… where?
While Boeing makes up its mind, the 737 MAX drama continues at center stage. And here's the part we hate to ask but need to: why did the MAX need to exist in the first place?
What if, back in 2004, Boeing had gone ahead with the 797 in lieu of yet bigger and heavier 737s? And were the MAX tragedies, on some deep-down level, an inevitable result of Boeing's decades-long obsession with its 737 — its determination to keep the production line going, variant after variant, seemingly forever? Where in the blame pie does poor corporate strategy and stubborness fall?
There's a place for the 737 and always will be. I just don't know if that place is as far and wide as Boeing would like it to be. And although you won't see it any reports, but what happened in Africa and Indonesia is, maybe, fate's way of telling Boeing that the time has come to move on.
This article appeared originally on The Points Guy website and is being used with permission.