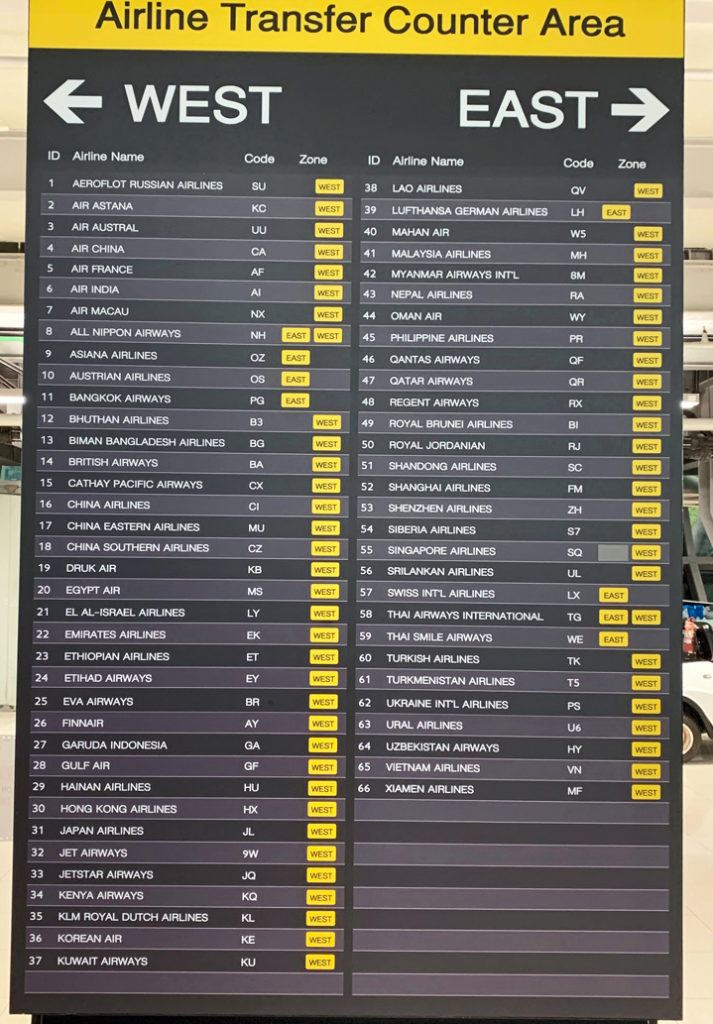 This picture was taken not long ago at Bangkok-Suvarnabhumi (BKK). It shows 66 carriers serving the airport. That is, one must admit, a lot of airlines. And it got me wondering: which airport has the most? Is it Bangkok? Heathrow? De Gaulle? JFK? I'm too lazy to research it myself, but maybe there's a reader up to the challenge.
It's not as easy as it sounds. What about regional carriers operating in the colors of a major affiliate? They can be hard to keep track of, and an argument can me made they shouldn't count. Subsidiaries and alter egos, too, are a gray area. Notice the BKK placard has "Thai Smile Airways" at number 59. That's just the short-haul leisure division of Thai Airways, which sits right above it at 58. Does it deserve a slot of its own? Is Air Canada and Rouge the same thing? Air France and Joon? Is it the name or the livery? And how about nonscheduled carriers that sometimes pay a visit? Each case, maybe, deserves its own judgment call.
Or, how about any name with its own IATA or ICAO code, regardless of the paint job or affiliation?
At BKK I would kick Thai Smile off the list, seeing that is shares Thai Airways' "TG" IATA tag. Also, India's Jet Airways, number 32 on the sign, has since gone bust. That puts the Bangkok total at 64. Let's start with that and see who can beat it.
As a bit of an aside, I'm a little startled that no American carrier flies to Bangkok. Delta and United, both which served the city for several decades (dating back to the Pan Am and Northwest routes those carriers inherited), recently pulled out. I realize that Thailand isn't an easy market. It's half a world away, and primarily a leisure destination with low yields and, as that sign attests, loads of competition. Still, the sheer number of Americans that visit the country — roughly a million each year, or 2,700 a day — convinces me there's a way to make it work.