On the Streets of Vietnam's Capital, it's Traffic as Art and Chaos. Plus: a Ride With EVA Air, Taiwan's "Other Airline."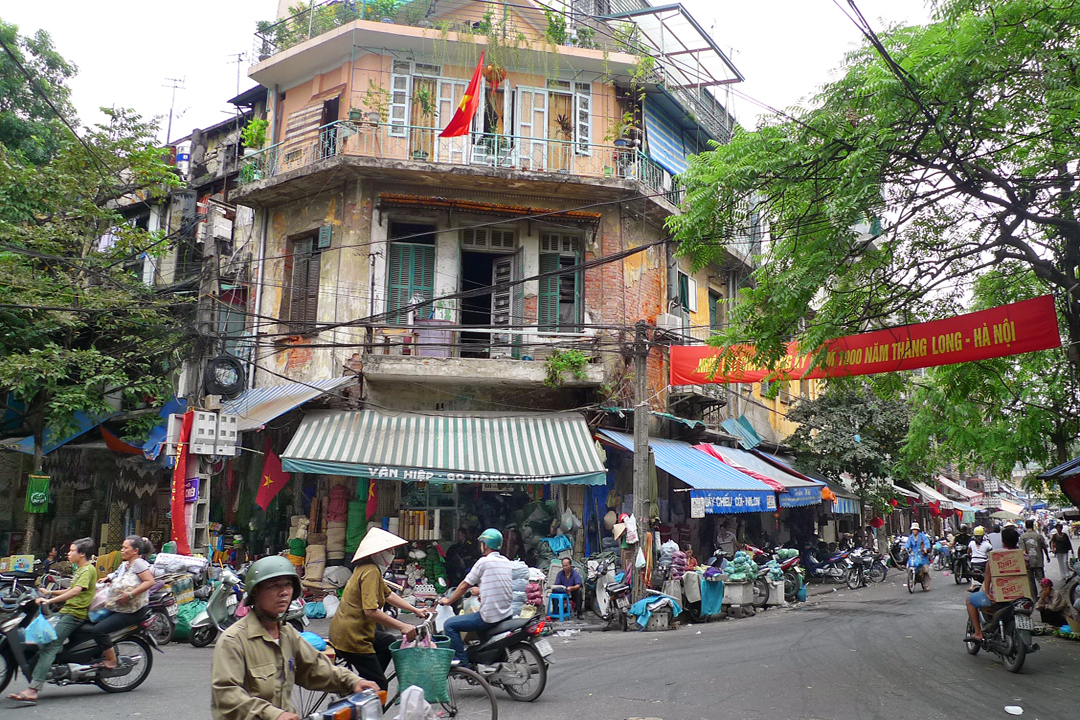 PHOTOS AND STORY BY PATRICK SMITH
HANOI, VIETNAM
THE GUIDEBOOKS will tell you that the highlight of a trip to Hanoi is an excursion to the Ha Long Bay, about three-and-a-half hours drive east of the city. And maybe they're right. Ha Long, a UNESCO World Heritage Site, is easily one of the world's most scenic places, with its insane vista of sawtooth karsts — thousands of them, each hundreds of feet high — jutting from the sea.
But it's the traffic, above and beyond anything else, that I'll best remember about Hanoi itself.
If all the world's travel writers joined forces to describe the capital's traffic, I reckon they wouldn't do it justice. I'll give it my own pedestrian take (pun intended), ill-equipped as my talents may be at coloring such a vivid spectacle.
It's a peculiar kind of traffic, unlike, say, the aggressive chaos of Cairo or the steam-cooked gridlock of Bangkok. It's not a traffic jam, per se, for the flow seldom stops. Rather, it moves as a river moves: unyielding, yes, but steady and predictable in both volume and velocity — an incessant whitewater of internal combustion.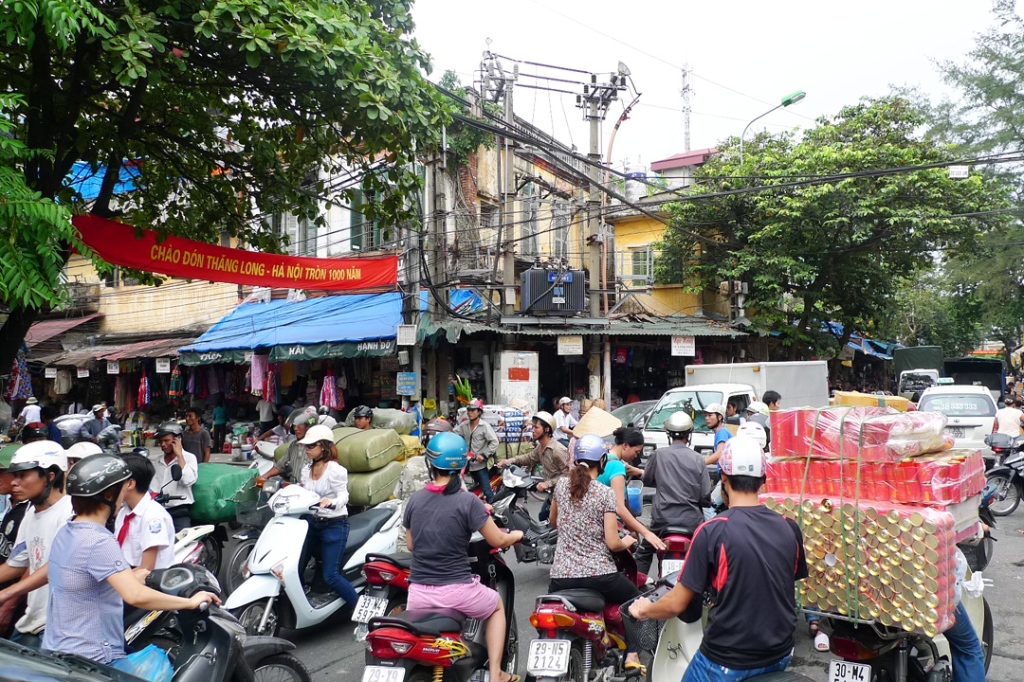 And the majority of vehicles are neither cars nor trucks, but hundreds of thousands of scooters, motorbikes and a dwindling number of bicycles. The people of Hanoi are in constant motion atop some form of two-wheeled transport or another: men and women; sidesaddle girls with parasols; toddlers (sans helmets) clutched to the backs of their parents.
Much, if not all, of Hanoi's commerce, too, moves this way, with bales, boxes and everything else towering above the driver (plus, often enough, a passenger or two). It quickly becomes a game of sorts, pointing out the various and impossible cargoes tottering around the city in great, center-of-gravity-defying loads: a foursome of 50-gallon drums; an outboard motor; a 300-pound pneumatic drill; stacks of caged chickens; a tree.
Everything but the kitchen sink, you'd say, except, wait, there it goes: an old Chinese two-stroke hauling not one but two porcelain sinks, complete with countertops and plumbing, their metal legs pointing dangerously at adjacent vehicles.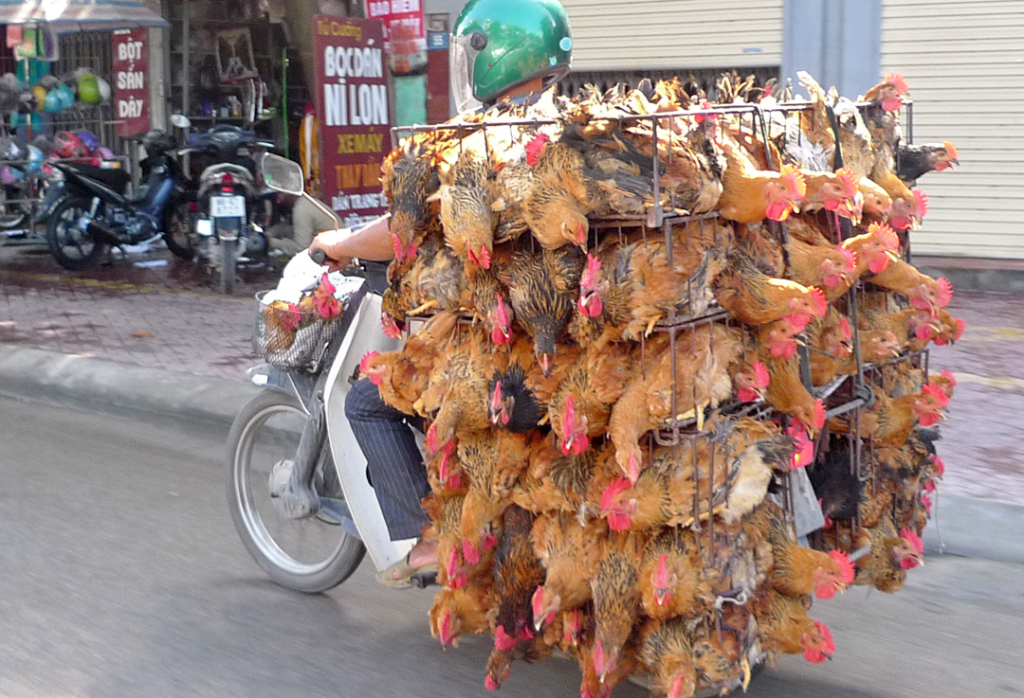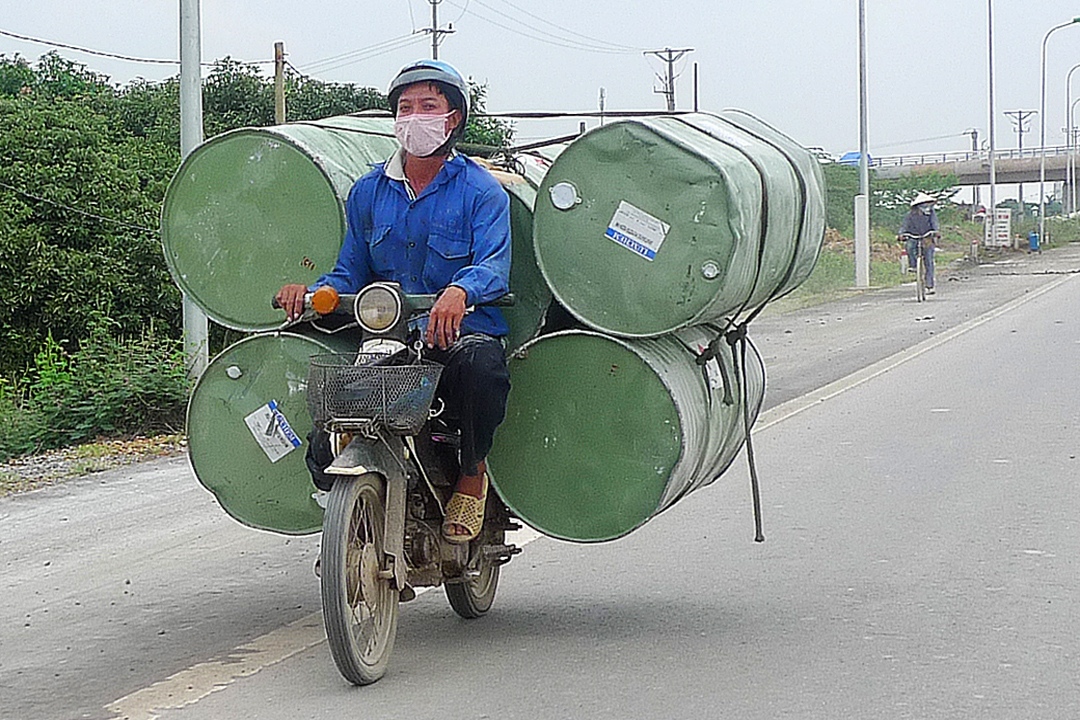 The rules of the road, if we can call them such, are pretty straightforward: go, go and keep going, eyes locked ahead. There is no slowing down, no veering for the benefit of other motorists — and certainly not for pedestrians. Every intersection is a hive of crisscrossing vehicles that somehow, against any logic and seemingly against physics as well, manage to miss each other.
Whatever forces keep the vehicles from crashing, it is invisible to the naked eye. Only in slow motion, perhaps, would some system of order, some measure of give and take, actually be revealed. The traffic acts as a single organic thing, with each participant, like the legs of a caterpillar, responsible for a series of rapid, almost imperceptible moves.
From the tourist's perspective, it's difficult to fathom how anybody is able to cross a street and survive to tell the tale. It's tempting to wonder if perhaps they don't: the people on either side of a road having spent their entire lives apart, separated by a kind of Berlin Wall of impenetrable traffic.
But they do cross. And the tourist, too, has little choice but to eventually give it a try. You creep ever so gingerly into the swarm. You do not wait or ask for the right of way, you take the right of way, in a steady procession of quick, head-to-head duels with each oncoming rider. The pedestrian moves slowly, but fluidly. It's a swim, a battle dance.
Of all the perilous, even hilarious things to see, few are more unnerving than the sight of young children, even entire families, crammed onto a single motorbike, swerving down the boulevards and racing through intersections. Most of the children are unhelmeted and many are unrestrained.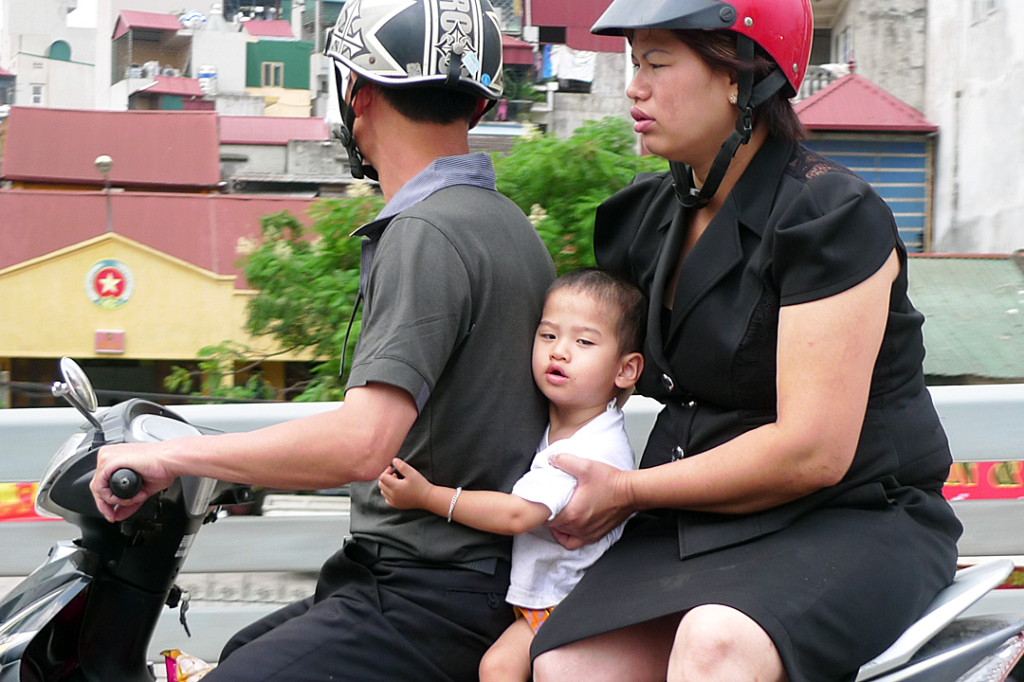 There is nothing remotely safe about this practice, don't get me wrong, but I feel there's a lesson in there somewhere — in the stark contrast it provides to the smothering, hyperprotective form of parenting we're accustomed to seeing in the U.S. This is the other extreme, of course, but in a way it makes you wonder where the sane middle ground might lie.
At one point, as a storm moved in, I watched as a woman frantically affixed a plastic rain slicker to her toddler as he hung precariously to the back of her Honda scooter. Moments later, mother and son were roaring through traffic again, neither with a helmet, the child grabbing on as best he could.
 __________
I'd flown to Vietnam on EVA Air. Economy class.
You don't hear much about EVA, Taiwan's "other airline" and chief rival of the better-known if not better regarded China Airlines. EVA was set up in 1989 as an affiliate of the Evergreen shipping conglomerate, and today operates a fleet of over 50 aircraft headquartered at Taipei's Taoyuan International Airport. It ain't quite Singapore or Cathay Pacific, but EVA was recently ranked ninth best international carrier in the world according to Travel & Leisure magazine.
The first leg was Los Angeles to Taipei aboard EVA's flight 001. Flight 1, how cool is that? There's something prestigious, almost glamorous about single-digit flight numbers. Carriers usually assign these identifiers to their highest-profile pairings. New York to London, say. Or in EVA's case it's LAX-TPE, a 13-hour run operated by a Boeing 777-300.
Stepping on board for the 1 a.m. departure, the first thing that struck me was the immaculate-ness of the airplane. You'd swear the thing had just rolled off the assembly line that morning. Not a spot, stain, smudge or single scrap of litter to be found. Of course, this kind of sparkle and shine isn't unique to EVA, and in sad fact such high standards of cleanliness don't normally apply to U.S. carriers. Heck, the heirloom DC-9 that I flew aboard in Venezuela a few years back was better groomed than most of the newest generation Boeings and Airbuses flying in the States. Our planes are cleaner — and service is better too — than was the case five or 10 years ago, but we still have a way to go.
EVA does its cabins in a muted gray-green — a decor that is somehow both earthy and industrial. This oddly calming, yin-yangy scheme, together with the 777′s beautifully sculpted ceiling and bins, give the jet a distinctly cozy feel. Cozy, need it be said, is not a word normally associated with commercial planes.
Ergonomic touches include contoured seatbacks, cloth fabric (temperature neutral and less slippery than leather), adjustable tray-tables with cup holders, and legroom a good two inches more than standard coach. There were slippers in the seat pocket and a big, tiltable video screen with actual headphones, not ear-buds. In the lavatory was an assortment of balms, sprays, creams and a bouquet of orchids (plastic, but still) sprouting from a wall-mounted vase.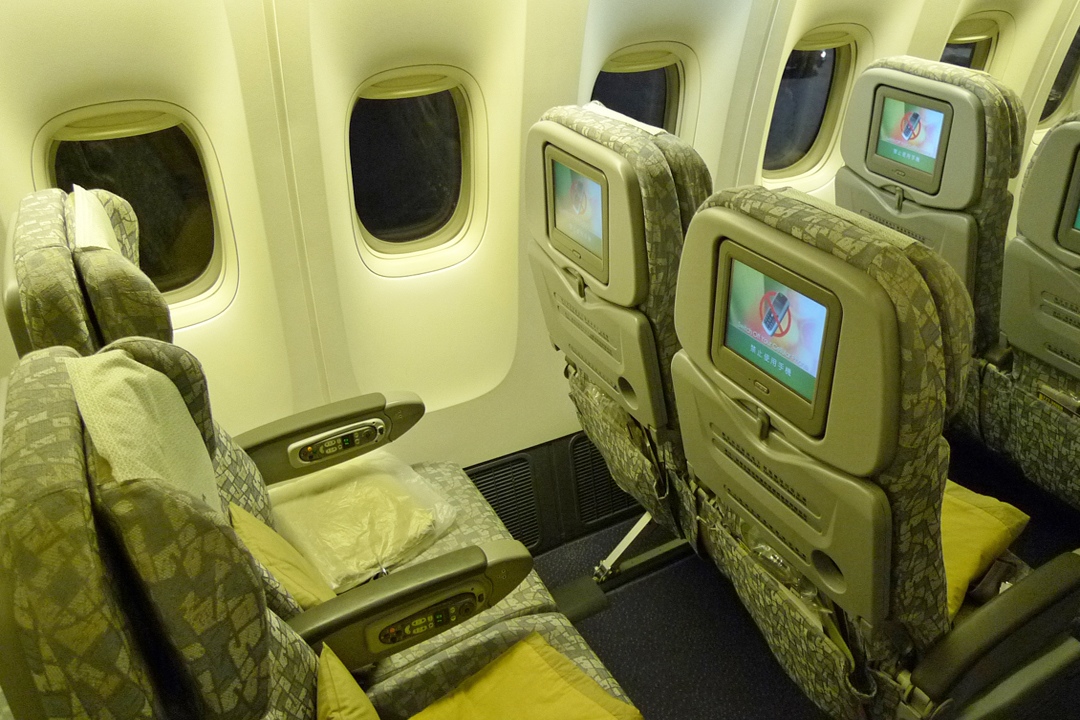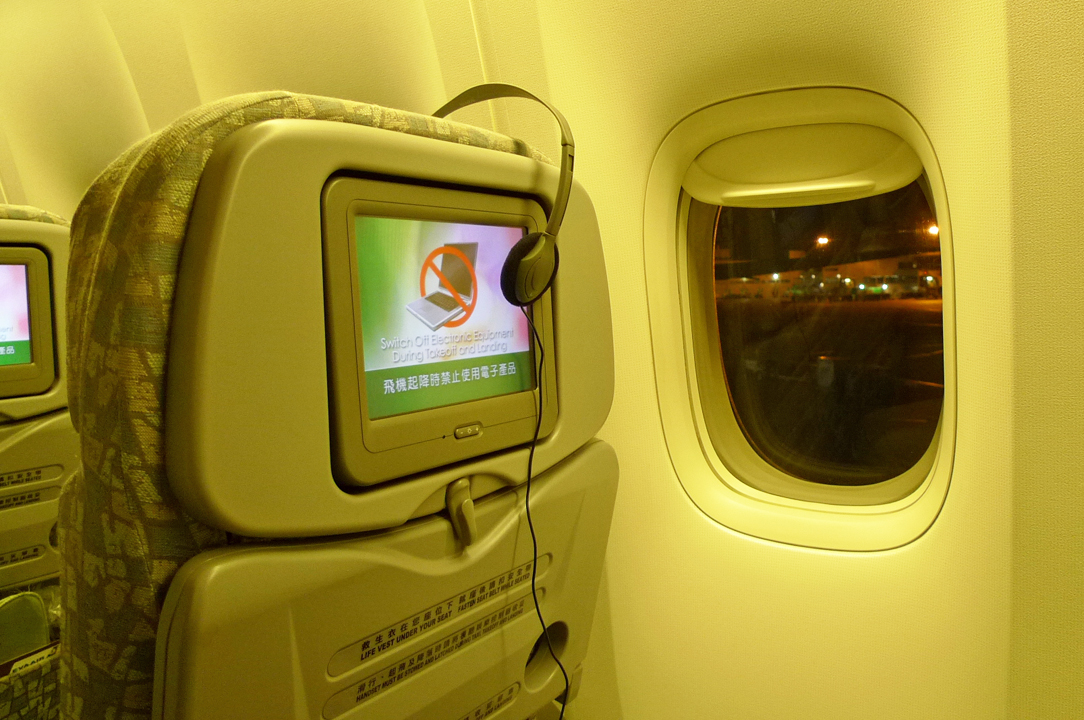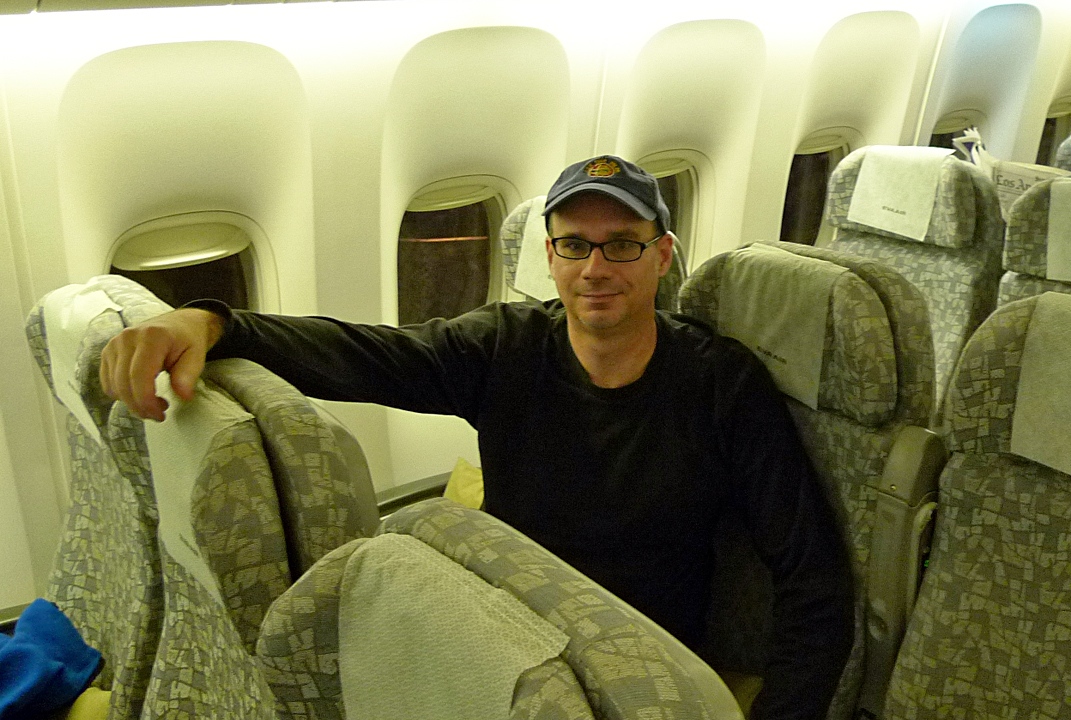 I will also mention, perhaps at my own peril, something that every passenger was duly aware of, whether or not he or she was willing or able to acknowledge it. That being the attractiveness of the EVA Air cabin staff, every one of whom appeared to be a Taiwanese beauty queen, impeccably uniformed and smiling.
Now, there were some kinks. That great big video screen is only useful when there's something worth watching, and EVA's video selections are even worse than those in the clearance bin at Target. (Air-to-ground camera views, now common on many overseas carriers and an exciting touch during takeoff and landing, also were absent.) And although the beauty queens came around repeatedly with drinks, and although a snack buffet had been set up in the rear of the cabin, the meals were bland and the portions lacking. Oddest of all, the trays came with no condiments whatsoever — no salt, no pepper, no dressing for the tiny cup of iceberg lettuce.
The key to surviving 13 hours in economy is compartmentalizing your time. Take the hours one-by-one, with a series of tasks for each. Eat, watch a movie, read an article, do some computer work, play a game. Repeat. Another proven method is to sleep for as long as you possibly can. For a lot of folks this technique requires ample doses of pills or alcohol, but it's a simpler (and less dehydrating) task on those rare occasions when the coach cabin is empty and you're able to lay claim to a block of three or four seats. Flip up the armrests and you've got yourself a pretty comfortable bed. It's funny, on underbooked flights, watching people stake out their territory, sliding over to the middle seat to ward off infiltrators from the left or right aisles, hoarding pillows and blankets.
I was one of those people en route to Taipei, and was fully horizontal within minutes of finishing my non-salad and papier-mâché noodles. It was that or watch "Toy Story 3."
I woke up about nine hours later, pretended to enjoy a tin of flavorless eggs, and soon enough we were nosing down over the mountains of old Formosa.
And as the plane touched down in the ashen, pre-dawn sky, something struck me — one of those moments when you're reminded of the remarkable capabilities of air travel, be they awe-inspiring or just plain weird: Between the time I'd landed in California and our arrival in Taipei, thanks to my consistent westward direction, it had been dark out for 19 hours and counting.
Click here to see more of the author's travel photos.
This story ran originally on the website Salon.