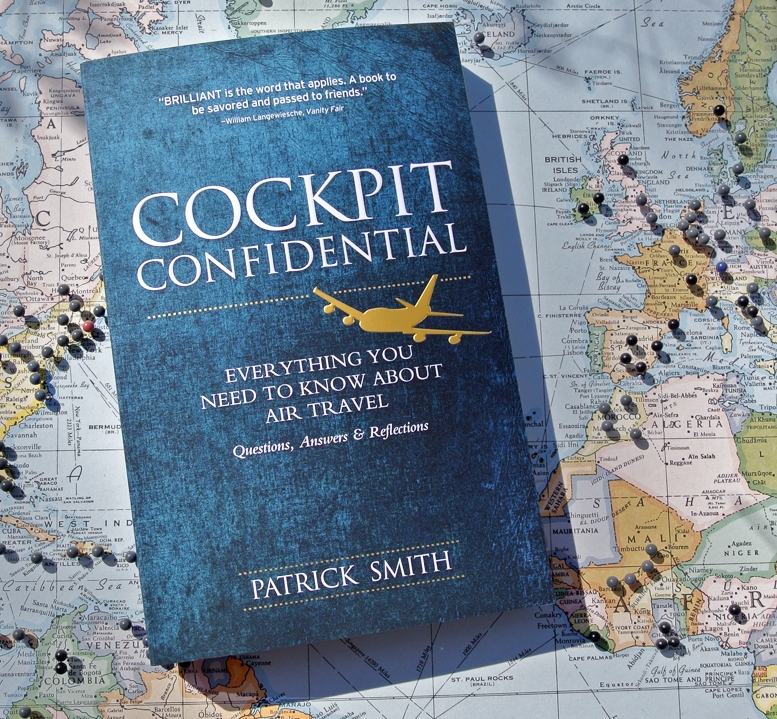 Patrick Smith and Sourcebooks are proud to announce publication of the second edition of
Cockpit Confidential:
Everything You Need to Know About Air Travel.
Questions, Answers & Reflections
NOW A NEW YORK TIMES BESTSELLER
The original version of Cockpit Confidential was published in 2013. Suffice it to say the world of air travel has seen major changes since then. All seven chapters have been updated, revised, and in some cases totally rewritten. Approximately 20 percent of the text is all-new.
"Brilliant is the word that applies. A book to be savored and passed to friends."
— William Langeweische, Vanity Fair
A wry, thoughtful, and at times provocative look into the confounding world of commercial air travel, this is the ideal take-along for frequent flyers, nervous passengers, world travelers, and anybody yearning for an enlightened, behind-the-scenes look at the strange and misunderstood business of commercial aviation. More than just a book about flying, its subject is everything and everything about the grand theater of air travel, from airport architecture to terrorism to the colors and cultures of the world's airlines.
Patrick Smith has been called the thinking man's pilot. For the better part of a decade, his Ask the Pilot column at Salon.com was a singular and remarkable sensation: an aviation column, for heaven's sake, that could offer up trenchant analysis of an air disaster one day, then the next day stride fearlessly into politics, culture, or even rock music, and somehow tie it all together. Cockpit Confidential features the best of that material, refreshed and adapted into a seven-chapter volume of FAQs, essays and personal memoir. Whether it's the nuts and bolts of cockpit operation or a hilarious critique of airline logos and color schemes, Cockpit Confidential is smart, funny, and brimming with useful information.
"Nobody covers the airline experience like Patrick Smith. And, he''s a damned good writer."
— Clive Irving, Condé Nast Traveler
• How planes fly, and a revealing look at the men and women who fly them
• Straight talk on turbulence, pilot training, and safety
• The real story on congestion, delays, and the dysfunction of the modern airport
• The myths and misconceptions of cabin air and cockpit automation
• Terrorism in perspective and a candid look at security
• Airfares, seating woes, and the pitfalls of airline customer service
• The colors and cultures of the airlines we love to hate
• The yin and yang of global travel
• Gratuitous references to 80s-era indie rock bands
"Cockpit Confidential is the document that belongs in the seat pocket in front of you."
— David Pogue
Look for the "Revised & Updated" seal in the upper left corner.
AVAILABLE IN PRINT, AUDIO, AND EBOOK FORMATS…
IN THE U.S.
IN CANADA
IN THE U.K. AND IRELAND
IN AUSTRALIA
IN INDIA