Boeing's new jetliner is quiet, sleek, and comfortable. Now, if they could please fix the windows…
STORY AND PHOTOS BY PATRICK SMITH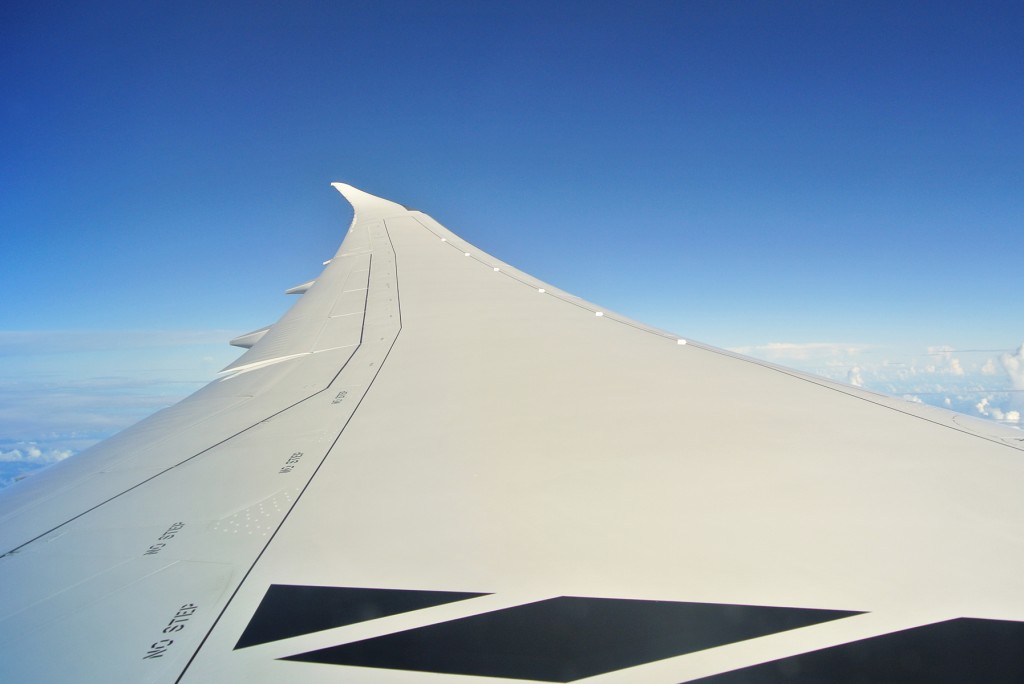 December 16, 2012
It's the pointy end of a spiffy new jet that piques the interest of most pilots. There's no denying that the 787 has a great-looking cockpit and some fascinating systems architecture. I can't imagine there's a pilot out there who wouldn't want to fly one.
However, I figure the various aviation magazines and websites have the jet's gizmos and plumbing well-enough covered.  (Plus, I'm protesting the glacially slow progress of cockpit ergonomics.  It's been how many years, and we still don't have an FMS or ACARS interface with a QWERTY keyboard?)
So, instead, here's a critique of the 787 from a passenger's point of view.  A few weeks ago I was fortunate to catch a ride from Boston to Tokyo-Narita on one of Japan Airlines newly delivered ships.
JAL's BOS-NRT flights were launched last spring; the first-ever nonstop service between Boston and Asia, and the first scheduled 787 service anywhere in North America.  (United has since taken delivery of its first of several 787s, and Ethiopian Airlines will soon launch the plane on its popular route between Washington-Dulles and Addis Ababa.)
Some impressions…
First, the airport. Call me a hometown cheerleader (I grew up in the Boston area and live there still), but Boston-Logan has to be the one of the most underrated airports in the country. It wasn't always this way, but following a decade of major renovations, including an expanded Terminal E and the construction of Delta's Terminal A, Logan has emerged as one of the most modern and functional major airports in North America.  It's clean, bright, easy to navigate, and who doesn't love the inter-terminal connector walkways, with their harbor and skyline views, and inlay sea-life mosaics?
JAL's flight 007 leaves from Terminal E.   When I was a kid, this was called the "John A. Volpe International Terminal," named after the former Massachusetts governor.  Then, as now, it is the only terminal at the airport with customs and immigration facilities, and it is home to all of Logan's overseas carriers. Though not exclusively: the cluster of gates at the eastern tip, once the home of Braniff and later Northwest, are today used by AirTran and Southwest.
The building has doubled in size.  The check-in hall is entirely new and arguably the airport's handsomest spot.  The spacious, wood-panel interior is softly lit and, unlike most US airports, blissfully quiet — free of the incessant PA announcements and infernal CNN monitors that plague most of America's terminals.  Passing the TSA checkpoint one enters the building's older section, which is more or less as I remember it from years ago, with lots of gray aluminum and segmented windows staring towards Revere.  Flight 007 left from gate 8, at the far western end.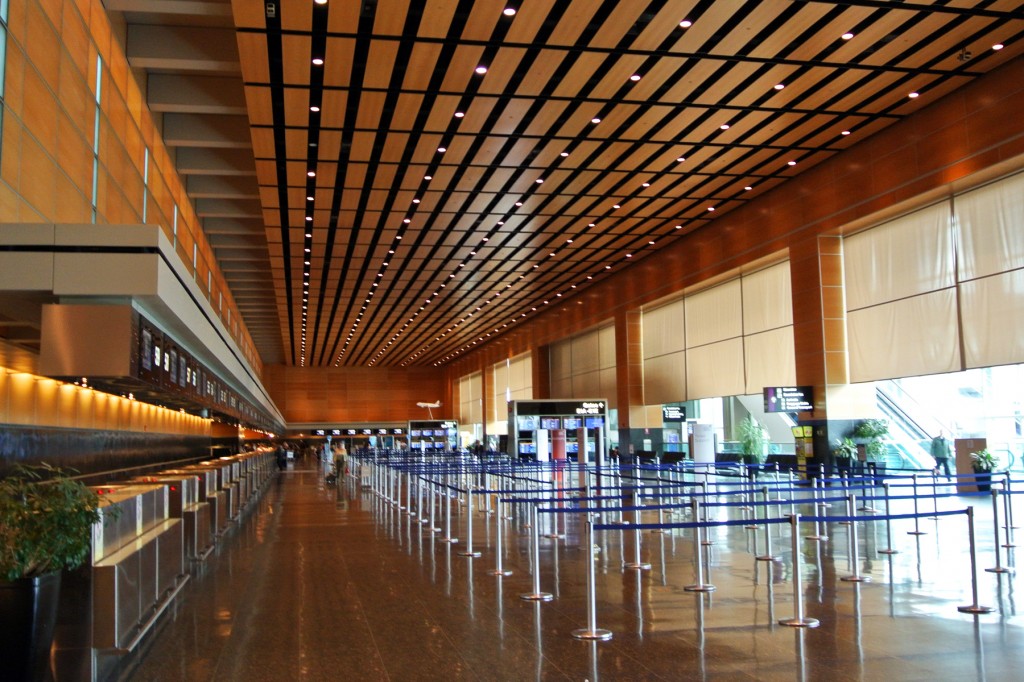 Somehow the JAL staff managed to begin boarding a fairly full, 13-hour flight only 25 minutes prior to departure, and actually pushed back early.  There wasn't even a bottleneck in the jetway.  I was in 23A, a window seat in the second row of economy.
The 787 isn't as large as other long-haul widebodies. I was a surprised by the stubbiness of the cabin.  In terms of range and capacity, the plane falls between the 767 and 777.  But it feels a lot closer to the former, albeit with 777-style overhead bins and a bevy of new accouterments.
Though it can hold up to 300 passengers, JAL uses a roomy, two-class layout, with extended legroom in economy, for a total of only 186 seats — about 20 fewer than the average 767.
The sidewalls and consoles are sculpted in that rounded, organic, vaguely futuristic style that reminds me of the caves of Turkish Cappadocia (think of Eero Saarinen's landmark TWA terminal at JFK).  The mid-cabin lavatory is big enough to hold a party in — with cool blue moodlighting to boot.
JAL's Recaro economy chairs have generous legroom,11-inch video screens (Ethiopian's are 15 inches!) cup holders, coat hooks, AC power ports and a USB connection.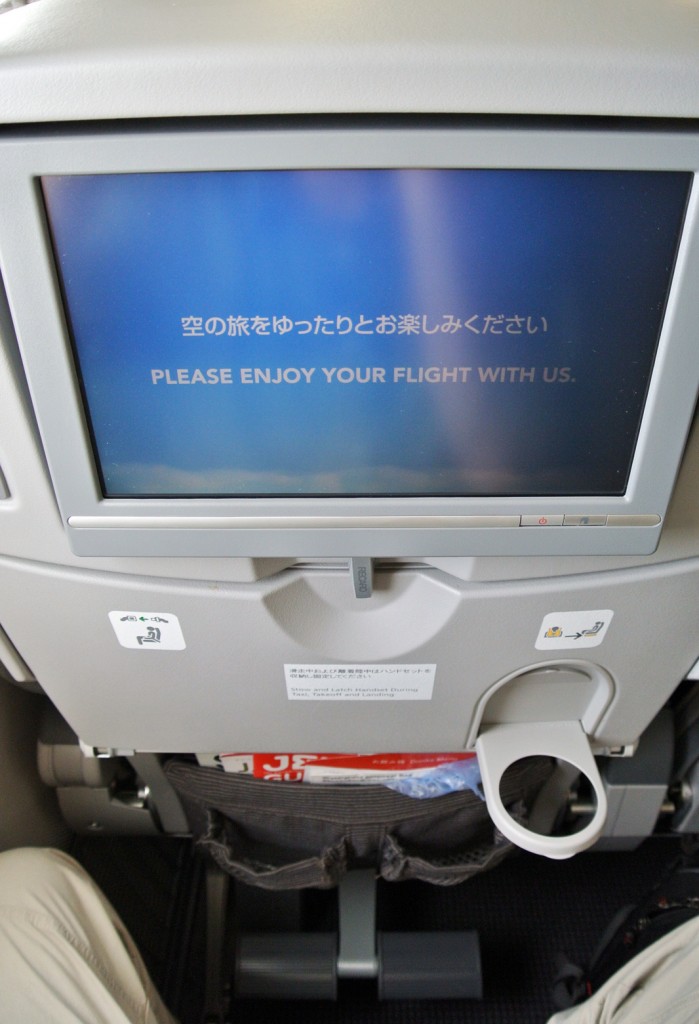 Despite these goodies, I wondered how many of the passengers had any idea they were riding on the world's newest and most sophisticated jetliner.  It's different, but it's not that different.
If one thing gives it away, it's the windows.  The 787's cabin windows are a good 40 percent bigger than normal.  They're of equal width, but almost double the height of typical windows.  These skinny ovals are perhaps the most distinctively shaped cabin windows since those of the DC-8 or the Caravelle, 45 years ago.
Instead of a traditional draw-down shade, the glass is tinted electronically, with a push-button.  It never fully opaques, and at full tint the effect is a bit like being under water: you can make out certain details, but most of the color and sunlight are filtered away.  The world is rendered in a leaden bluish-gray, similar to the way things look under a very bright full moon.
It's a nice idea in that you always have a view.  Unfortunately, in direct sun, much of the heat still leeches through, even at maximum tint.  My window pane became painfully hot to the touch, and the radiant heat grew uncomfortable.  At one point I stuck one of the seat-pocket briefing cards into the frame to help stay cool.  When a flight attendant saw this, she came over and gave me a black, self-stick window blotter.  Apparently I'm not the only one to find this bothersome.
In addition, the tinting is not instantaneous.  When the plane banks and suddenly you've got the sun bearing down on you, it takes several seconds for the glass to go dark.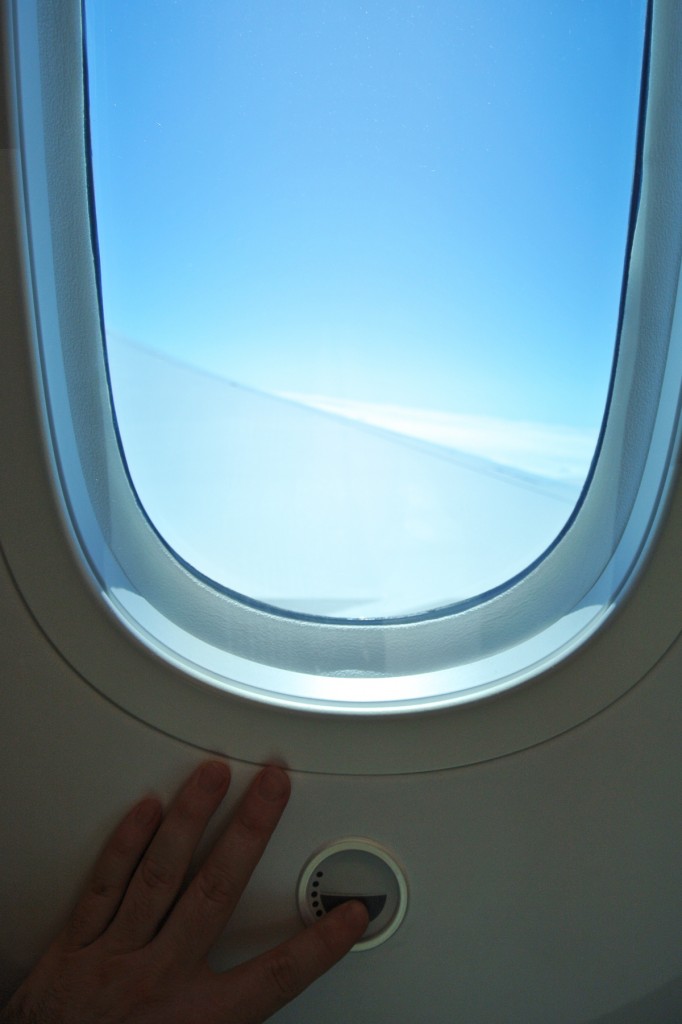 All Nippon Airways, the launch customer of the 787, has reportedly complained to Boeing about the heat issue and malfunctioning of the tinting mechanisms. The electronic system struck me as a novelty – technology for the sake of itself — and something that, in the end, isn't as useful or reliable as the good old manual version.
On the brighter side, as it were, the 787's cabin is whisper-quiet thanks to advanced insulation and an active noise reduction system.  This makes long flights less fatiguing, saves battery life on your iPod, and makes it easier to hear the movies.  It also amplifies the conversations of your neighbors and the wails of nearby children.
The pressurization and air recirculation systems, meanwhile, are designed to maintain higher humidity levels and lower cabin altitudes than are customary.  (The plane's composite construction ensures that moisture levels won't be corrosive.)  These are welcome changes, but after landing at Narita I'm not sure that I felt any less weary or dehydrated than I normally do after a 13-hour journey.
JAL's onboard service was very good overall, if not quite on the level of other leading airlines from Asia, Europe, or the Middle East.  There were two hot meals and a snack service.  During the in-between hours, a buffet was set up in the mid and rear galleys with snacks and bottled water.  The lavatories were stocked with toothbrushes and other amenities.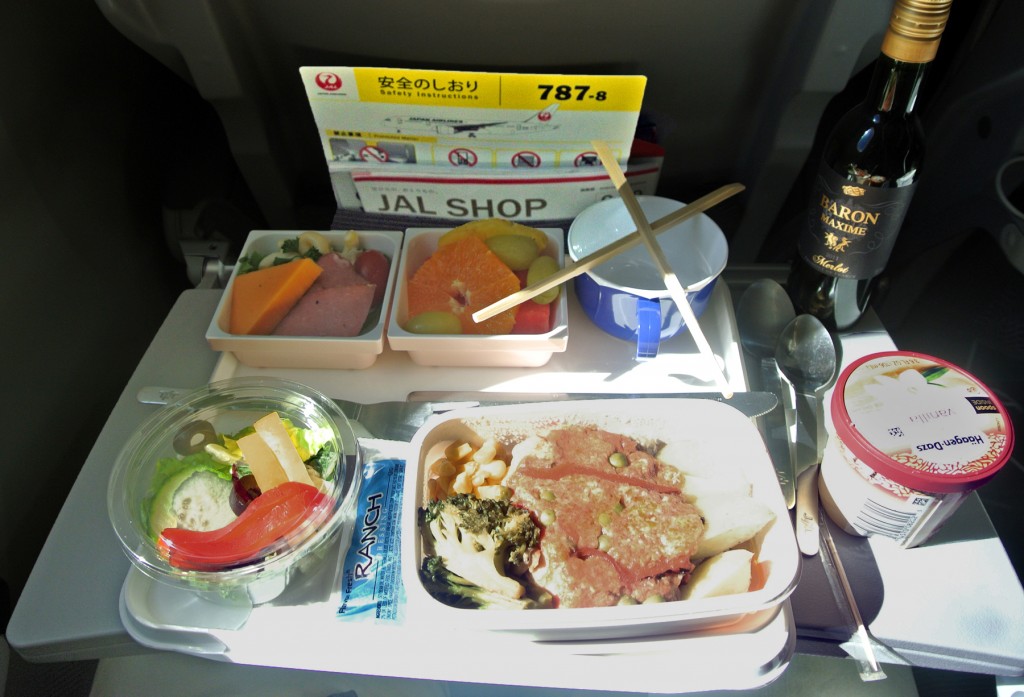 One thing that JAL and most other foreign airlines understand better than their US counterparts, is that service is a continuous thing.  Whether it's premium or economy class, you don't hand out a meal and then go hide for seven hours.  JAL's flight attendants made continuous rounds, serving beverages, collecting trash, etc.
There were two hot towel services: one after takeoff and a second one about an hour before landing.  Yes, in economy.
One complaint is that JAL's inflight entertainment options could use an upgrade.  That big video screen is only useful if there's something worth watching.  Delta offers a far better choice of movies and TV, even in economy.  Also, the video handset controls are inset into the armrests in such a way that your elbow digs painfully into the well.
But if you ask me, the coolest thing about JAL's 787 isn't on the inside, but on the outside.  I'm talking about the airline's reintroduction of the tsurumaru, the circular red-and-white logo used since 1960.  Possibly the most elegant airline logo ever conceived, it's a stylized depiction of the crane, lifting its wings into the circular suggestion of the Japanese rising sun.  Beginning in 2002 this ageless symbol was phased out in what had to be the most regrettable makeover in the history of airline identity, replaced by a "rising splotch" – a blood-red blob that evoked pretty much nothing at all.  It was a terrible decision on aesthetic merits alone, and still worse considering the crane's cultural importance in Japan.  Apparently enough people complained, however, and the tsurumaru has since been resurrected.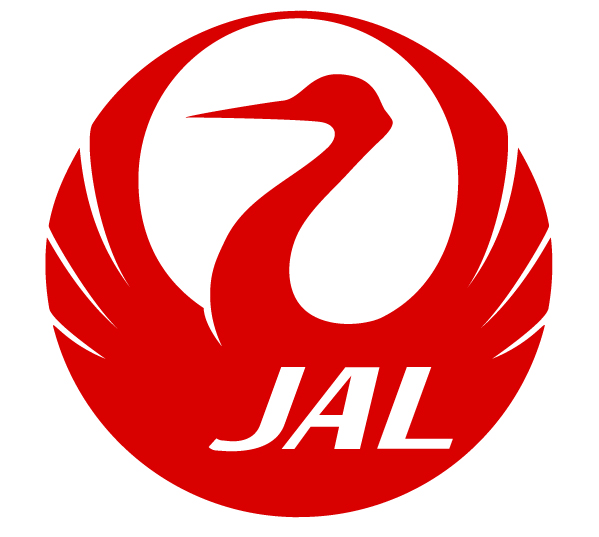 Similar to the A380, the lines of the 787 give it a somewhat anthropomorphic profile.  But while the A380 looks like a steroidal beluga, the 787 is a sleeker species. The tail is awkwardly undersized, but those scalloped engine nacelles (for noise reduction; similar to those on the new 747-8) and sharply tapered wingtips are definitely cool.
As for the name, kudos to Boeing for sticking with the numerical sequencing that began 60 years ago with the 707.  However, I'm not especially fond of the "Dreamliner" designation.  Somehow the imagery there is a little too wobbly and ethereal.  People don't want their planes (or their pilots) nodding off.
It could have been worse.  Initially, before Boeing had settled on a name, Dreamliner was in contention with three other possibilities.  They were: Global Cruiser, Stratoclimber, and eLiner.  Global Cruiser sounds like a yacht, or a really big SUV.  Stratoclimber sounds like an action hero, and eLiner is almost too awful to contemplate — sort of like "iPlane."
If you haven't caught a glimpse of the 787 yet, you will soon.  Boeing's order book stands at more than 800.
Related Stories:
LOGAN REDUX: THE PILOT GOES HOME AGAIN
THE YIN AND YANG OF AIRLINE IDENTITY