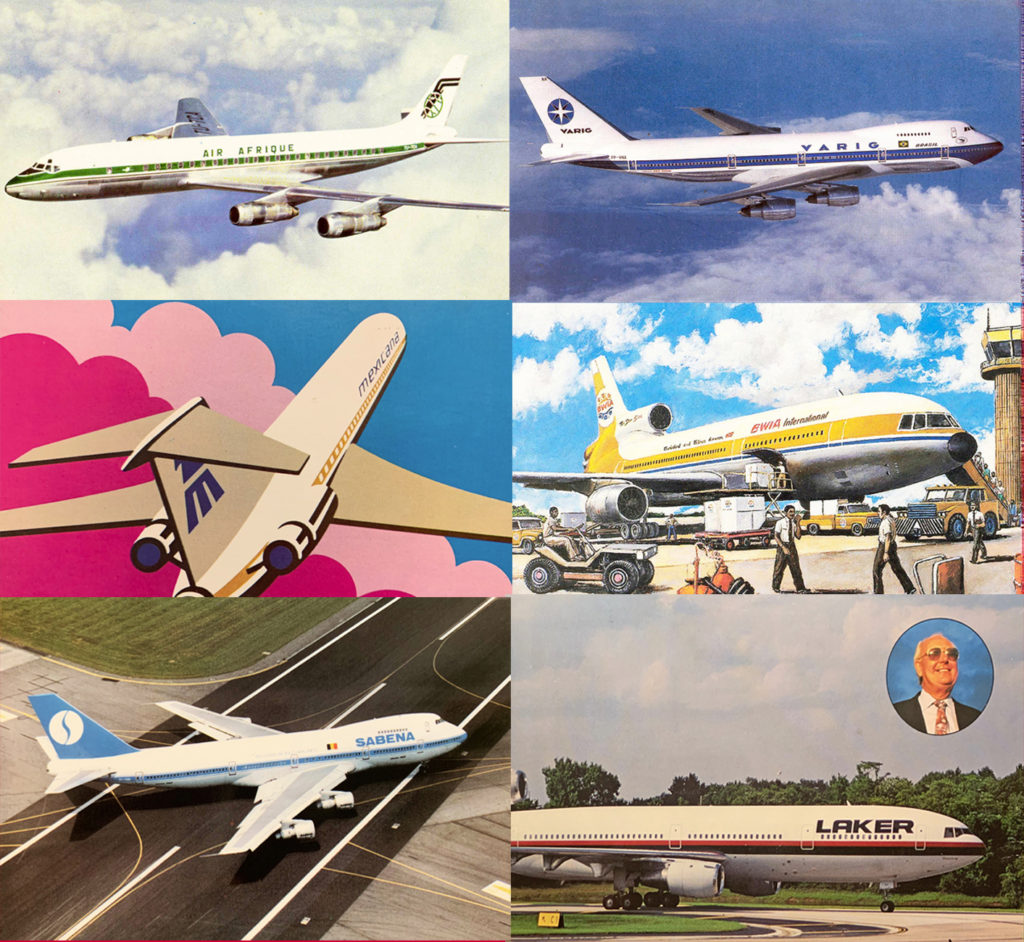 WELCOME TO the second installment of our round-up of airlines from the past — a greatest hits list of the defunct, demised, and disappeared. In part one we focused on carriers of the United States: Eastern, Pan Am, Braniff, and all the others that went bust, were bought out, or found themselves Frank Lorenzoed into the history books. This time we'll venture overseas.
As in part one, this isn't a simple grab-bag listicle of names. We're restricting it to what I'll call "classic" carriers. We can skip the likes of VASP, AeroPeru or Dan-Air, much as they, and many others, are missed. We'll concentrate instead on carriers of historical significance, and whose presence, in its time, in some way helped shape the business.
Once again the accompanying photos are from my personal collection of airline postcards. They help give a vintage and look and feel to the piece, and I've chosen those that, to me, most quintessentially represent each carrier.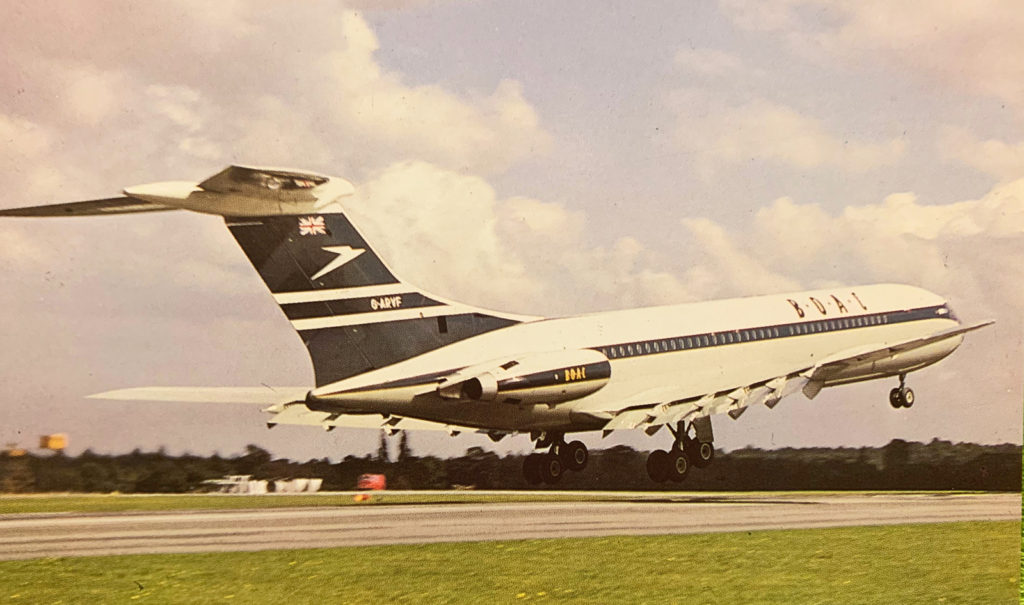 BOAC
Today's British Airways was formed in the early 1970s with the merger of British European Airways (BEA) and the British Overseas Airways Corporation (BOAC). The latter, best known to some as a Beatles lyric, is among the most important players in commercial aviation history. A pioneer of long-haul travel (think Bristol Britannias, 707s and VC-10s), its network covered the globe from end to end. BA recently painted a 747 in a beautiful BOAC throwback livery.
Postcard: The elegant lines of a BOAC VC-10, its tail sporting the iconic "Speedbird" logo.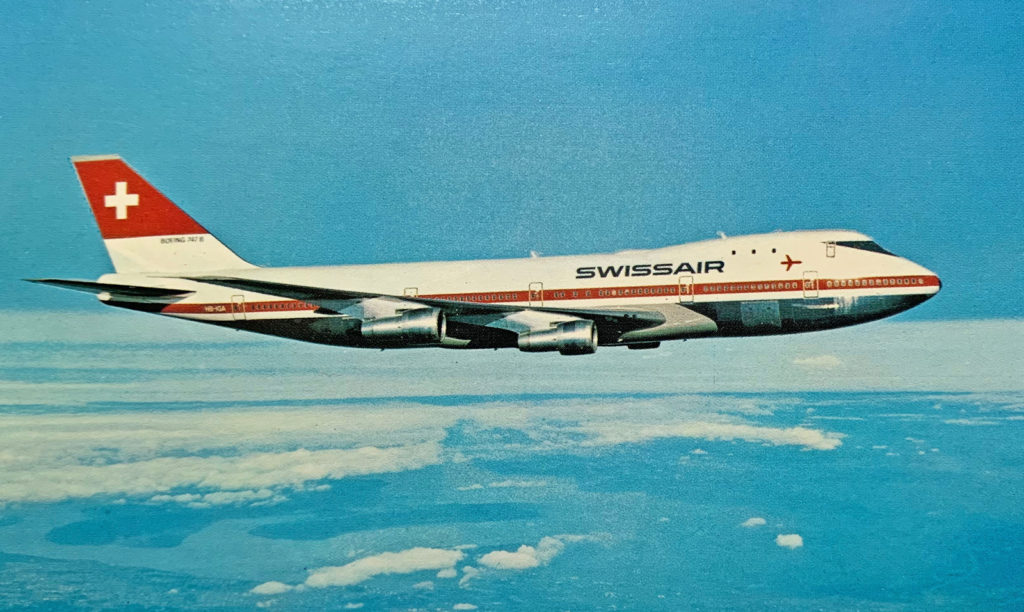 SWISSAIR
It's interesting that little old Switzerland would become home to one of aviation's most recognized brands. For 71 years Swissair flew throughout Europe, Asia, Africa and the Americas, and was always highly regarded for its impeccable service and — it being Switzerland — punctuality. But just as so many American carriers were brought down in the 1980s by the forces of deregulation, so went Swissair after European skies were liberalized in the 1990s. That, and a corrupt management group that would eventually face a criminal trial for its role in the airline's demise. The crash of flight 111 in 1998 didn't help. Swissair ceased operations in March, 2002. Today's Swiss International Air Lines is often referred to as "Swissair," and has even appropriated the Swissair URL for one of its web addresses. It's not.
Postcard: A Swissair 747 in one of the all-time great liveries.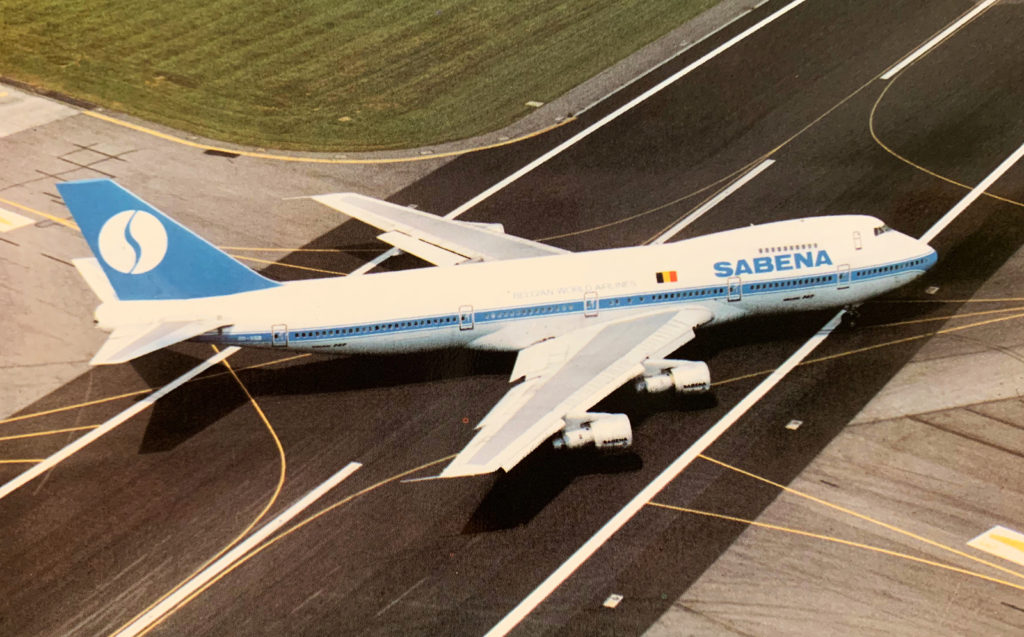 SABENA
Belgium is another small country to host a globally known carrier. Sabena and Swissair would in fact join forces when the latter took over management of both companies in 1995. Neither would survive. After nearly 80 years of operation, SABENA closed its doors in November, 2001. A beautiful word unto itself, "SABENA" was an acronym for Societé Anonyme Belge d'Exploitation de la Navigation Aérienne (Belgian Corporation for Air Navigation Services). Its successor is the blandly named Brussels Airlines.
Postcard: SABENA's flew throughout Europe, North America, and deep into Africa.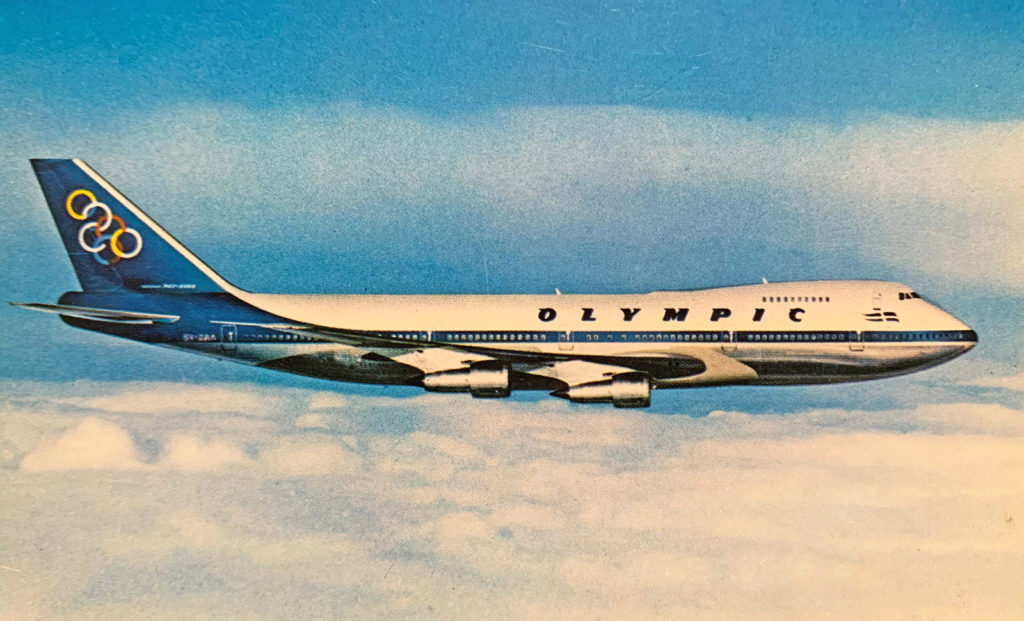 OLYMPIC
It's peculiar that a country as prominent as Greece no longer has a national carrier. Such is the era we live in. Once upon a time there was Olympic Airlines, whose Boeings, wearing one of the prettiest liveries ever conceived, connected Athens to Europe and North America. The carrier flew from 1957 until 2009. There's a present-day Olympic Air that purchased rights to the defunct original's name, but is otherwise unrelated.
Postcard: Now that's just gorgeous. An Olympic 747-200.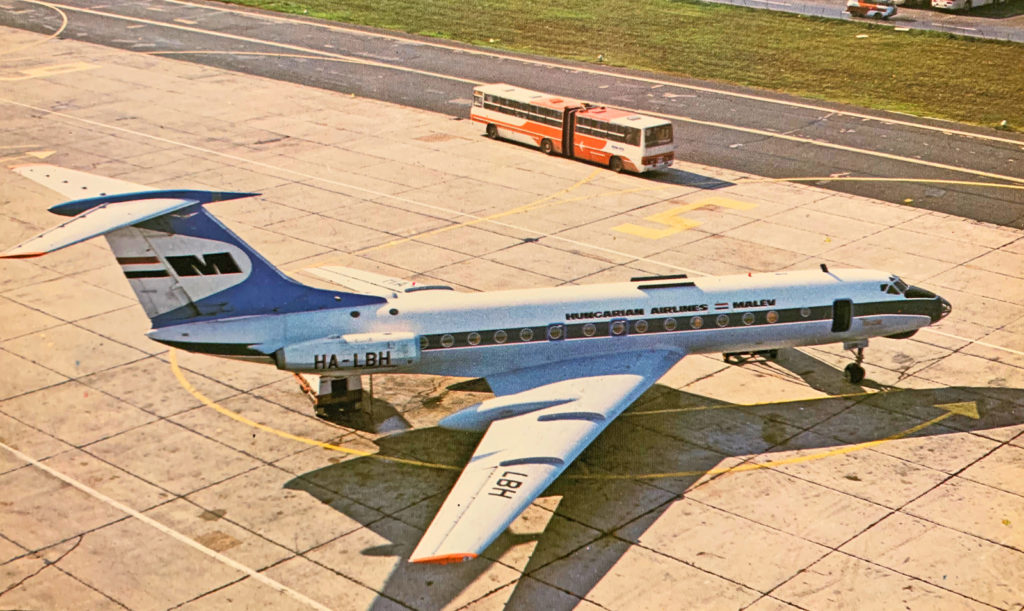 MALEV
Malev, the airline of Hungary, got its start just after World War II and eventually became one of the first Soviet bloc carriers to operate Western-built aircraft (Romania's Tarom was the first). In 1988 it began phasing in 737s to fly alongside the standard Tupolevs and Illyushins of the time. Boeing 767s later connected Budapest with Toronto and New York. After Hungary's entry to the European Union, however, courts declared that government aid to Malev had been illegal and ordered the airline to repay millions in subsidies. Unable to do so, the company folded in 2012 after 66 years of operation.
Postcard: Malev's Tupolevs, like this Tu-134, were later joined by Boeings.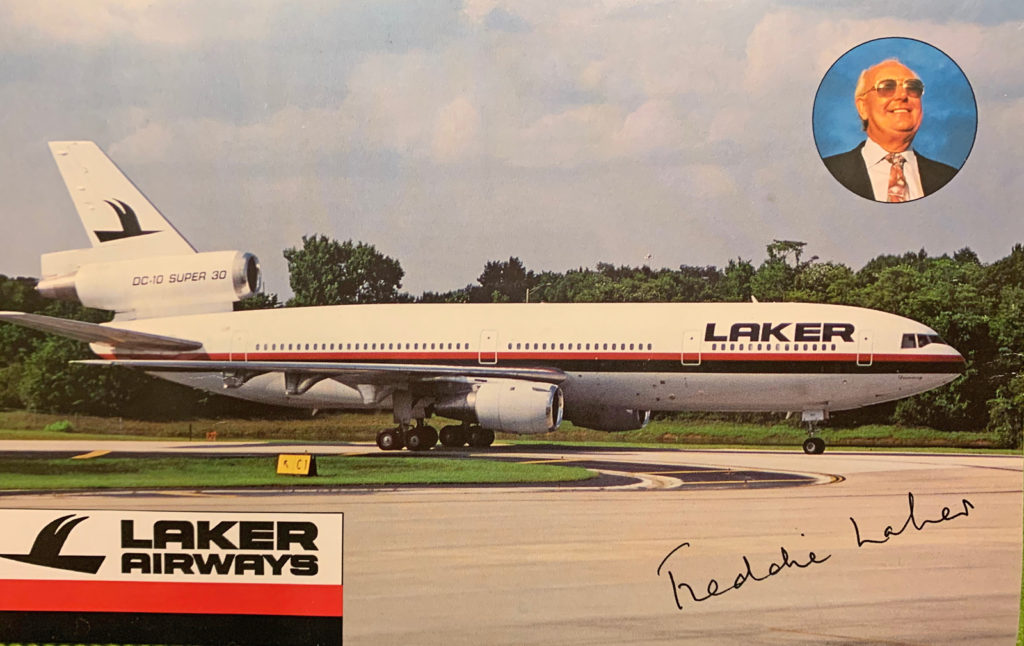 LAKER
This list just wouldn't be legit without a nod to Freddie Laker. The inimitable Sir Freddie, who passed away in 2006, was a high school dropout who showed the same kind of entrepreneurial panache that would later make Richard Branson famous (both received knighthoods). In 1977 he launched the Laker "SkyTrain" between London and New York in 1977, cramming 345 people into DC-10s and charging $236 per round trip. Flight were packed, but margins were microscopic and the airline was bankrupt by 1982. People Express (see last week's post) and Tower Air were two others that tried and failed in the no-frills, long-haul arena. The rise and fall of Laker should stand as a cautionary to the likes of Norwegian Air, Air Asia X, and all the others trying to make a go of the long-haul, low-cost model.
Postcard: The irrepressible Freddie Laker was an airline celebrity in the late '70s.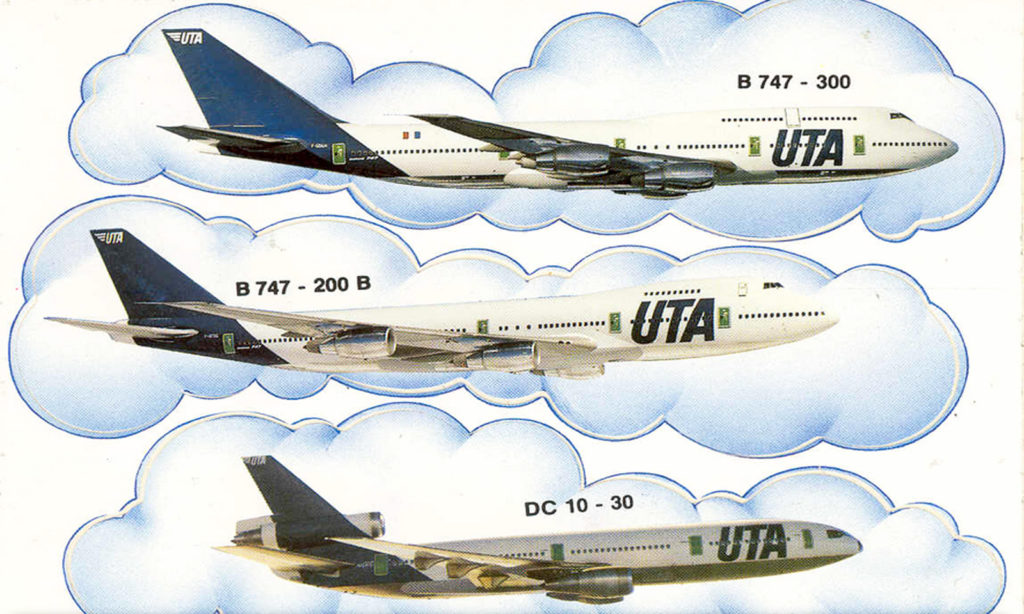 UTA
Absorbed into Air France in 1992, UTA (Union de Transports Aériens) was France's second airline, with a far-flung network that focused on the more remote of France's former colonial outposts, particularly in Africa, Asia, and the South Pacific. UTA's history was marred by the bombing of flight 772 in 1989. The DC-10, bound from N'Djamena (Chad) to Paris was blown up by Libyan operatives less than a year after Pan Am 103 met a similar fate. The aircraft fell into the Tenere region of Niger, one of the planet's most remote areas. A remarkable monument, constructed from pieces of the wreckage, marks the spot to this day.
Postcard: UTA, "Le spécialiste des longues distances."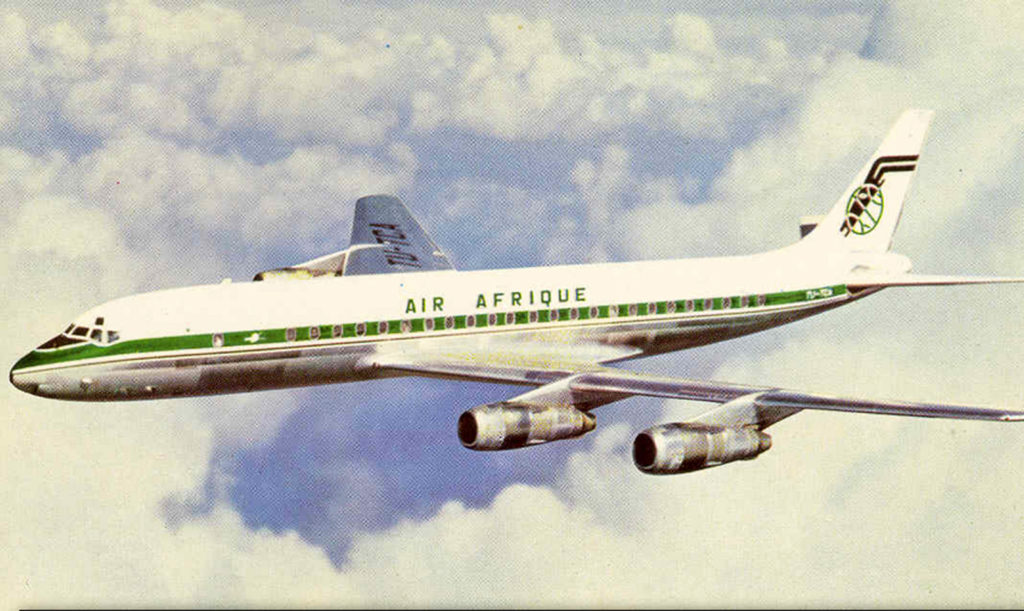 AIR AFRIQUE
Founded in 1961 and based in Abidjan, Ivory Coast, Air Afrique was the collective flag carrier of over a dozen West African countries, including Ivory Coast, Senegal, Mali, Chad, and Niger. Its green and white livery could be seen across the African continent, Europe, and westward to New York. There's an old movie, "The Passenger," starring a young Jack Nicholson, in which Air Afrique makes a cameo.
Postcard: An Air Afrique DC-8.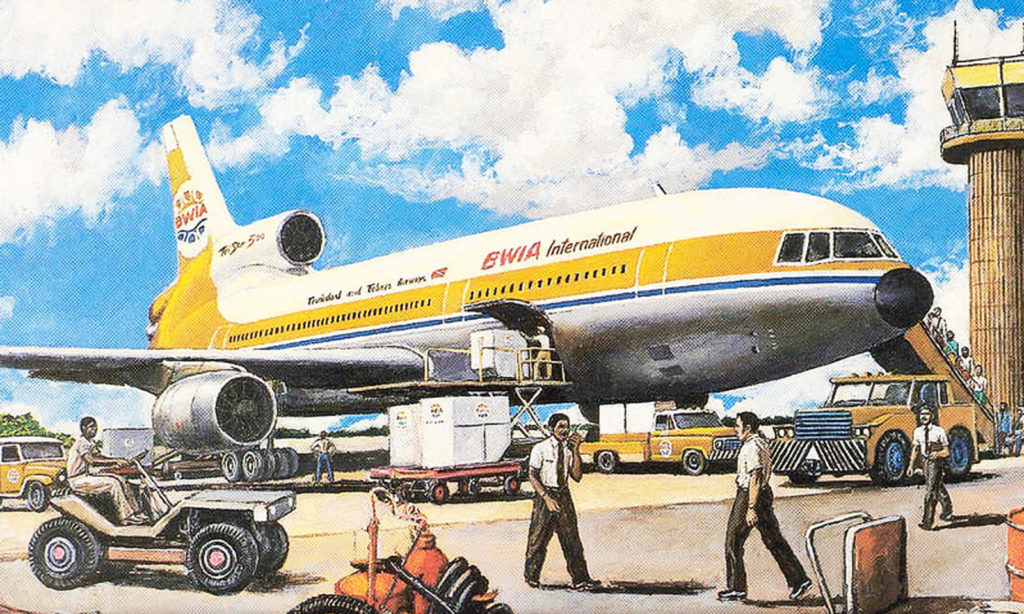 BWIA
British West Indian Airways, the airline of Trinidad and Tobago, was founded in 1939 by Lowell Yerex, a New Zealander who also started TACA in El Salvador. BWIA's L-1011s, DC-9s and 707s wore a steel drum logo on the tail, and could be seen in New York, Miami, London, and all around the Caribbean. The company was dissolved in 2006 and restarted as Caribbean Airlines.
Postcard: Artist's rendering of a BWIA TriStar at Port of Spain, Trinidad.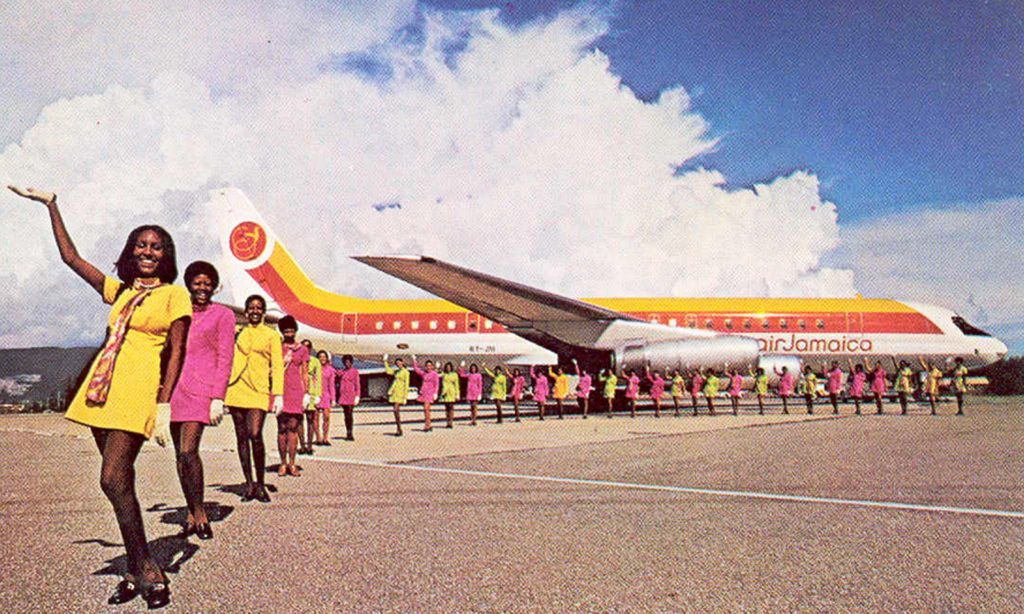 AIR JAMAICA
Another colorful Caribbean mainstay that we miss. Air Jamaica had been flying since the late 1960s, until it was taken over by the aforementioned Caribbean Airways in 2011. I always thought Rasta colors would've been a better choice than the airline's overwrought yellow and orange, but there's no denying its hummingbird logo was a classic.
Postcard: One love. An Air Jamaica DC-8 circa 1970.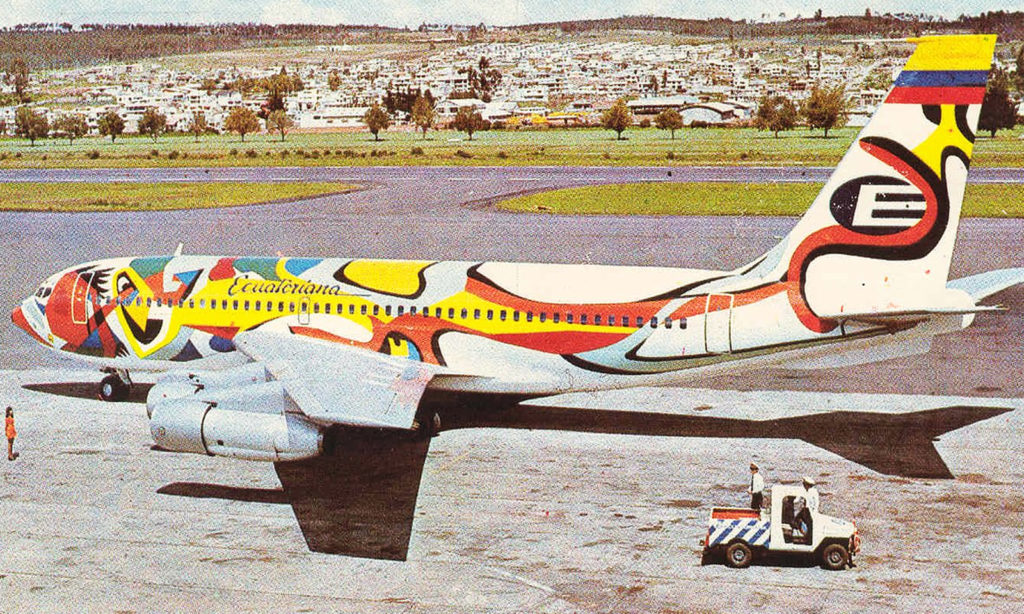 ECUATORIANA
Speaking of colors. This one doesn't quite meet our "historically significant" criteria, but I'm including it anyway, because it'd be a shame to leave out one of aviation's most memorable paintjobs. Ecuatoriana's swirling, psychedelic livery was inspired by the visions of the carrier's executives, who would gather after dark in the Ecuadorian rainforest and dose themselves on ayahuasaca, the potent Andean hallucinogen. Or maybe I made that up.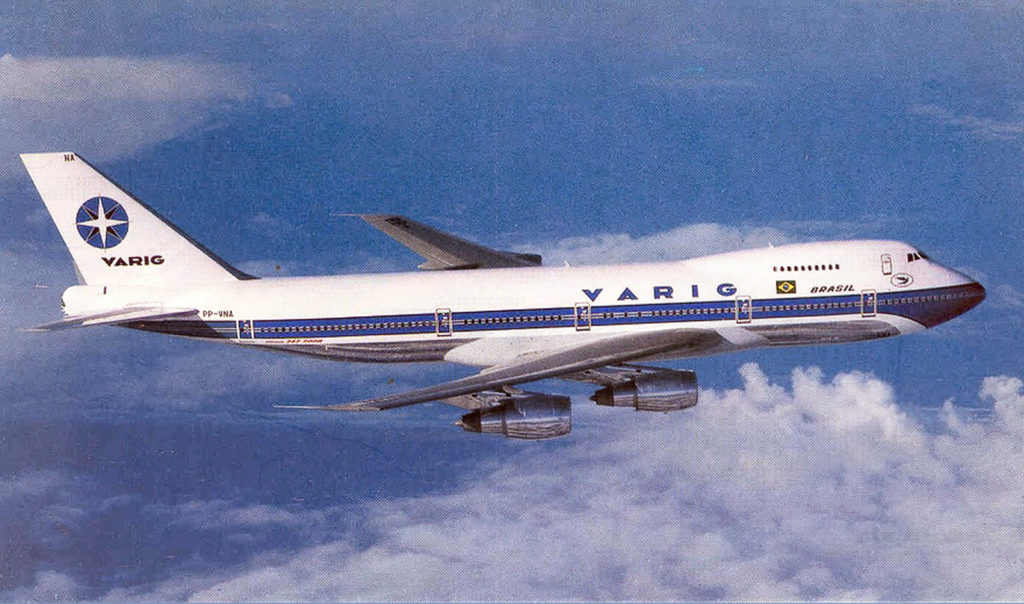 VARIG
Brazil's former flag carrier was founded in 1927 by a German immigrant who'd been a World War I flying ace. VARIG became a global brand and was by far the biggest airline in South America, with routes to five continents. Its final flight took place in 2006.
Postcard: Varig's stylish, 80s-era uniform seen on a 747-200.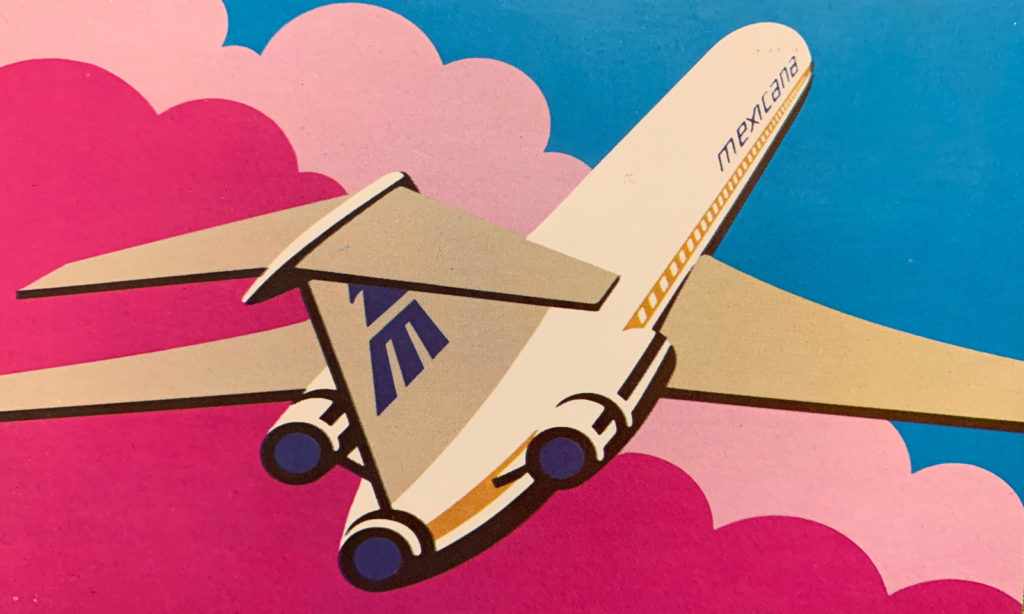 MEXICANA
Among the saddest entries in our list, Mexicana de Aviacion first flew in 1921 and was the fourth-oldest continuously operating airline in the world, up there with KLM, Avianca and Qantas. Heavily in debt, hobbled by labor disputes, and under heavy pressure from low-cost upstarts, Mexicana filed for bankruptcy in August, 2010, and was gone within a month.
Postcard: A Mexicana de Aviacion 727.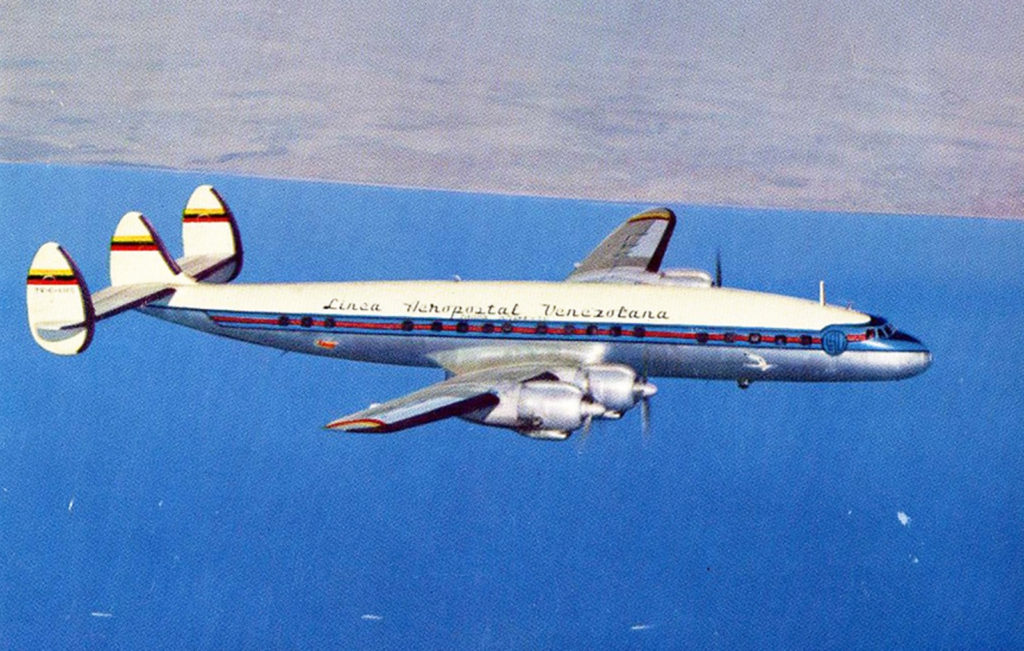 AEROPOSTAL
Venezuela is a political basket case, but the nation has what is arguably Latin America's richest aviation heritage and was home to three memorable airlines. The most historic of those was Aeropostal. Aeropostal Alas de Veneuela, as it was officially known, operated from 1929 until 2017. That's 88 years. One of my favorite aviation memories is a flight I took aboard an Aeropostal DC-9 in 2004, in the airline's final decade. (There also was Viasa, the Venezuelan flag carrier, and Avensa, established in 1943 with the help of Pan Am.) In 2017 the Venezuelan government relaunched Aeropostal with a small fleet of MD-80s, but whether this is the "real" Aeropostal or merely an in-name-only copycat is open to argument. Correct me if I'm wrong, but I say the latter.
Postcard: A Lockheed Constellation of Aeropostal Alas de Venezuela.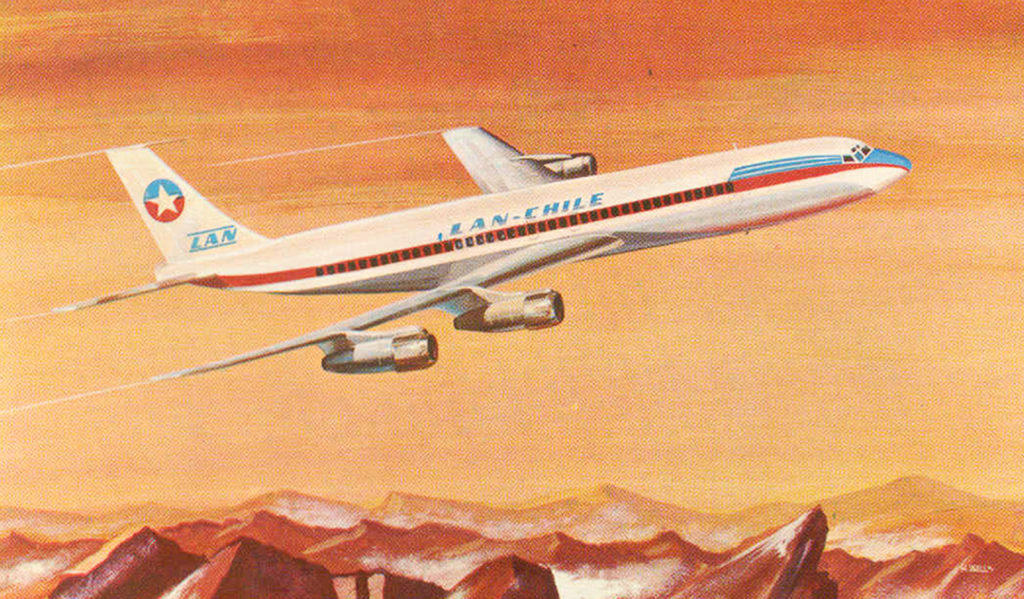 LAN-CHILE
Today there's LATAM, which is what TAM and LAN became after deciding to team up. LAN was itself a collection of regional spinoffs: Lan Peru, Lan Ecuador, Lan This, Lan That. In the beginning, there was only LAN-Chile. Dating back to 1929, the name translates as Línea Aérea Nacional de Chile, or, National Air Line of Chile. I'm old enough to remember LAN-Chile 707s parked side-by-side at Kennedy Airport. LATAM might be a formidable carrier with an impressively modern fleet, but LAN-Chile had mystique.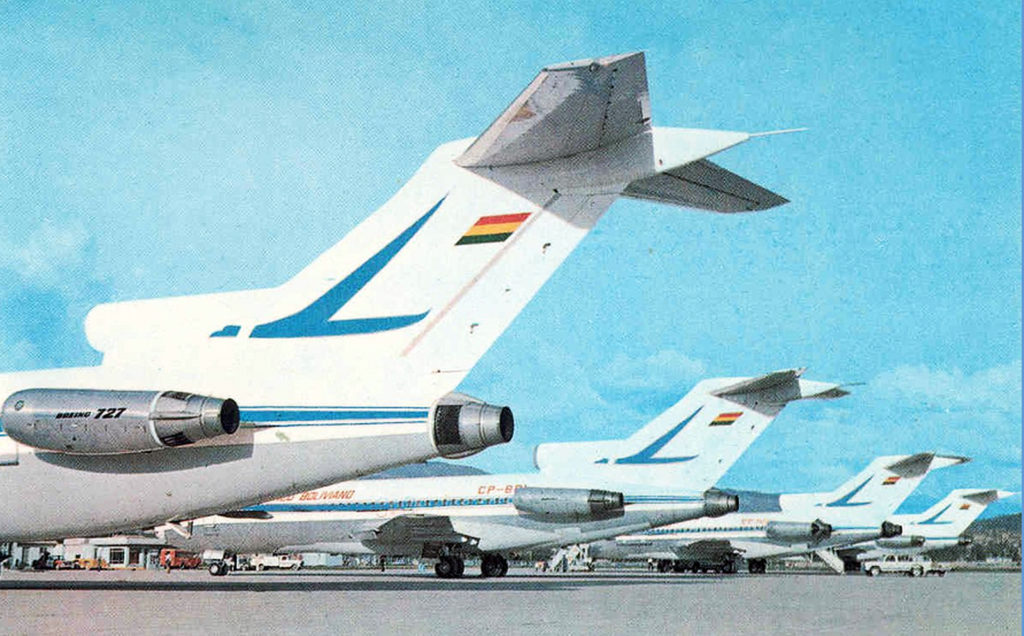 LAB
We can't leave South America without paying our respects to Lloyd Aéreo Boliviano (LAB), which plied the high Altiplano, and beyond, from 1925 until 2008. The carrier was founded by German-Bolivian immigrants who, according to legend, chose the "Lloyd" moniker because it reminded people of Lloyd's of London, the famous insurance company, thus implying safety and security. True to its name, despite hailing from one of the continent's poorest countries and operating amidst some of its most treacherous terrain, LAB flew for 83 years and maintained an excellent safety record.
Postcard: 727s of Lloyd Aereo Boliviano (LAB), one of South America's earliest airlines.
ANSETT
Down Under we go, and a toast to Ansett. The airline first flew in 1935 and would grow to become Australia's second-largest carrier until collapsing in 2001. Ansett's early Boeing 767s included a flight engineer station and were the only ones to fly with a three-pilot cockpit.
Postcard: Ansett Australia was named for its founder, Reginald Ansett.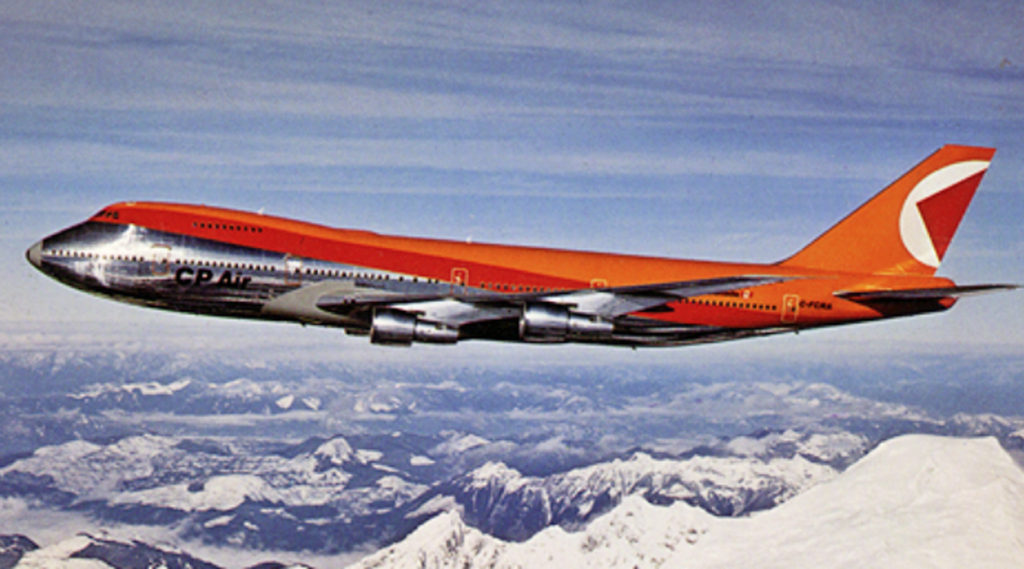 CP Air
And lastly, northward to Canada, where we remember CP Air. Canadian Pacific Air Lines, as it was originally known, was formed in Vancouver in 1942 by the Canadian Pacific Railway Company (later called CP Rail). From Winnipeg and Edmonton to Bangkok and Fiji, its vast network connected Canada to Europe, Asia, Australia and South America. CP Air was the first North American airline to launch scheduled service to mainland China, with a Vancouver-Shanghai flight in 1986. The company later became known as Canadian Airlines, and in 2000 was merged into Air Canada.
Postcard: Each of CP Air's planes carried an "Empress" designation. The "Empress of Japan" is shown here over the Canadian Rockies.
And a shout-out to some of the others. Dan-Air of London. British Caledonian. Wardair of Canada. Indian Airlines. VASP and Cruzeiro of Brazil. The German charter carrier LTU. Air Inter, the domestic French airline that was the world's only operator of the Dassault Mercure jetliner. Interflug of the old East Germany. And CAAC, the Chinese national carrier. And so on. There's not enough room to acknowledge them all.
Here's hoping the list doesn't get much longer. Just this month, South African Airways was placed under "business rescue" — the South African equivalent of bankruptcy protection. There's the perennial mess that is Alitalia, always on the brink, and several others whose futures are in question.
The takeaway, as it was at the conclusion of our first list, is that nothing in commercial aviation is sacred or permanent. There's never a guarantee that even the largest, most successful or most influential airlines of today will last into the decades ahead. At least we have pictures.
PART ONE: THE LOST AIRLINES OF THE USA.
This article appeared originally on The Points Guy website and is being used with permission.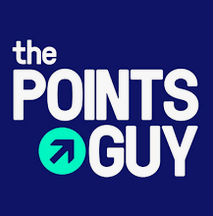 Back to the Ask the Pilot Home Page
Visit the Blog Archive
Back to Top!