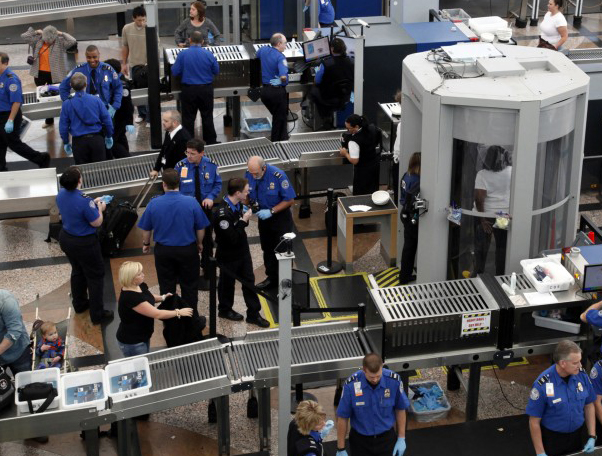 June 9th, 2015
THIS WILL BE BRIEF, because there's little that I might say about TSA that I haven't said already, multiple times. Over the past dozen or so years, particularly during my tenure as a columnist at Salon, I've blogged (which is to say whined, ranted, and vented) about airport security more than any other topic. If you're new to this site or you need a refresher, the points expressed in this essay, a version of which also appears in my book, sum things up pretty well.
Little about the recent TSA scandal surprises me. I found the story boring, frankly. Are we supposed to be shocked or outraged to learn that guards failed to detect contraband that was smuggled through checkpoints in tests? On the contrary, this is exactly what we should expect. Of course guards are going to fail when you've assigned them an impossible and unsustainable task: the detection and confiscation of every conceivable weapon, from screwdrivers to automatic firearms, from more than two million air travelers every single day of the week. Until the screening process is rationalized and streamlined, it is doomed to such embarrassments. Do the failures highlight the incompetence of individual screeners, or are they are a ringing indication that the entire system is broken?
Furthermore, our obsession with "weapons," be they real or perceived, continues to be wasteful and self-defeating. The September 11th hijackers relied not on weaponry, but on the element of surprise. What they took advantage of was not a weakness in airport security, but a weakness — a loophole — in our mindset: our understanding and expectations of what a hijacking was, and how one was likely to unfold, based on years of precedent. That the men possessed boxcutters, knives, mace, or whatever devices they brought with them, was all but irrelevant. They were dependent on surprise, not on hardware. In any case, a potentially dangerous weapon can be fashioned out of just about anything, including countless items found on commercial planes. Even a child could make a deadly knife from, say, a shattered first class dinner plate wrapped with some masking tape. Yet here we are, fifteen years on, still rummaging through roll-aboards for hobby knives and scissors. And let's not get started on the soda bottles and four-ounce tubes of toothpaste.
Ultimately, it's not weapons that bring down planes, it's terrorists that do, and we need to come up with a more effective way of screening people themselves rather than their luggage. We need to get past the idea that every single person who flies is a potential terrorist. I understand the weaknesses of passenger profiling and the value of a strategy that subjects everybody to equal scrutiny. It's a nice idea. But it does not and can not work in a system as massive as ours. Racial or ethnic profiling is not the answer, but some form of risk-based passenger assessment is needed. Would it be perfect? Not at all. Would it be better than what we have? Absolutely. TSA's PreCheck program is an excellent step in that direction.
Some form of baggage screening, also, will always be required, but the focus should be on two things: firearms and bombs. It's true that guns were among the items sneaked through in the latest tests, but perhaps if screeners weren't burdened with so much other nonsense, they'd be better at finding the truly dangerous items. And with respect to bombs, remember that explosives in checked luggage pose an equal or greater threat than anything smuggled aboard in carry-ons. It was bombs in the underfloor holds that brought down Pan Am 103, UTA 772, Air India 182, and so on. Have we become so hyper-focused on carry-ons that we're neglecting the graver threat? To that end, I recommend redeploying TSA staff from the front lines on the concourse to the parts of the airport we don't normally see, for a more thorough scanning of checked luggage and cargo.
And lastly, let's face it, there will always be a way for a determined and clever enough saboteur to bypass whatever physical safeguards we have in place. It's the job of law enforcement and other government entities, not the job of airport screeners, to prevent and break up plots in the planning stages, stopping attackers before they get to the airport.
We will never be a hundred percent safe, and our system will never be perfect. But it can be and ought to be better than it is today.