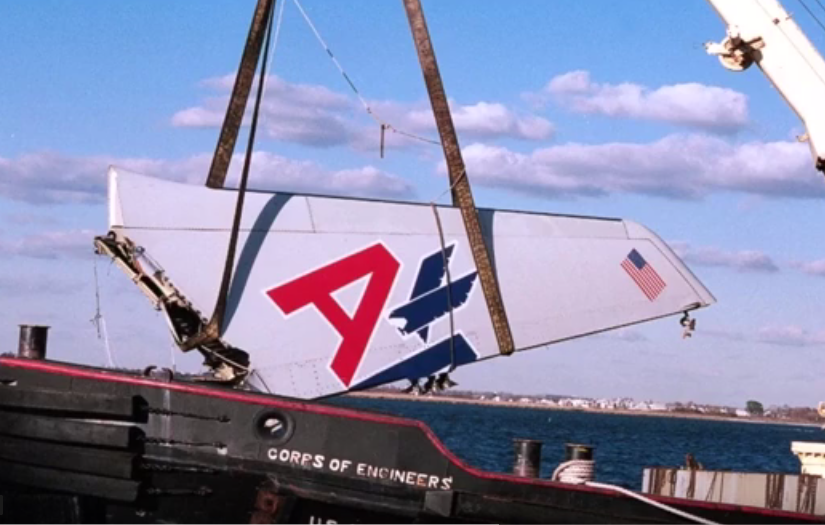 November 12, 2020
NINETEEN YEARS AGO today, on the sunny morning of November 12th, 2001, American Airlines flight 587, an Airbus A300 bound for the Dominican Republic, crashed after takeoff from Kennedy Airport in New York City.
Seconds into its climb, the flight encountered wake turbulence spun from a Japan Airlines 747 that had departed a few minutes earlier. The wake itself was nothing deadly, but the first officer, Sten Molin, who was at the controls, overreacted, rapidly and repeatedly moving the widebody jet's rudder from side to side, to maximum deflection. The rudder is a large hinged surface attached to the tail, used to help maintain lateral stability, and Molin was swinging it back and forth in a manner it wasn't designed for. Planes can take a surprising amount of punishment, but airworthiness standards are not based on applications of such extreme force. In addition, the A300's rudder controls were designed to be unusually sensitive, meaning that pilot inputs, even at low speeds, could be more severe than intended. In other words, the pilot didn't realize the level of stress he was putting on the tail. The vigor of his inputs caused the entire tail to fracture and fall off.
Quickly out of control, the plane plunged into the Belle Harbor neighborhood of Queens, a skinny section of Rockaway only a few blocks wide, with ocean on both sides. All 260 passengers and crew were killed, as were five people on the ground. It remains the second-deadliest aviation accident ever on U.S. soil, behind only that of American flight 191 at Chicago, in 1979.
Flight 587 was well known among New York City's Dominican community. In 1996, merengue star Kinito Mendez paid a sadly foreboding tribute with his song El Avion. "How joyful it could be to go on flight 587," he sang, immortalizing the popular daily nonstop.
This was a catastrophe to be sure. It was also the last multiple-fatality crash involving a major American airline. Since the crash of flight 587, more than twenty billion passengers have flown safely aboard our largest airlines.
To get a sense of how momentous a streak this has been, one needs only too flip through the accident archives of the 1960s, 1970s, 1980s and 1990s. Rarely did a span of two or three years pass without a legacy airline recording at least one major accident. In some years there were two, even three. In the eighteen years prior to November, 2001, and not counting the September 11th attacks, the American majors suffered ten major accidents, plus many more involving regional and supplemental carriers. The idea that nearly two decades would pass without another disaster would have been unthinkable.
Yet here we are.
To be clear, there have been a number of post-2001 tragedies involving regional carriers and freighters, from the UPS accidents in Dubai and Birmingham, to the Colgan Air and Comair crashes, in which dozens died. In 2005 a young boy in a car was killed when a Southwest Airlines 737 overran a runway in Chicago, and in 2018 a woman on a Southwest Airlines 737 was killed after being partially ejected through a blown-out cabin window. Some will argue that it's unfair to gerrymander statistics in this fashion, separating airlines into categories of convenience. However, it's necessary. Regional carriers, for instance, can have substantially different cultural and operational environments than their legacy carrier affiliates. It's the majors that set the standard, and it's only fair that we measure from there. Despite seething public contempt for the industry at large, and despite the fiscal devastation it has been through (at least five bankruptcies during the 2000s), the nation's mainline carriers have nevertheless maintained an almost perfect safety record.
When we expand the context globally, the trend is even more astonishing. Between the 1980s and the mid-2000s there were literally dozens of air disasters worldwide — sometimes five or more in a year. In 1985 alone, twenty-seven major crashes — twenty seven! — killed almost 2,400 people.
How we got here is mainly the result of better training, better technology, and the collaborative efforts of airlines, pilot groups, and regulators. Yes, we've been lucky too, and lack of a headline tragedy does not mean we should rest on our laurels. Complacency is about the worst response we could have. Air safety is all about being proactive — even a little cynical. Our air traffic control system needs upgrades, our airports need investment. Terrorism and sabotage remain threats, and regulatory loopholes need closing. The ongoing saga of the 737 MAX is a cautionary window into just how fortunate we've been, and has exposed some glaring weaknesses.
Duly noted, but a congratulatory moment is, for today, well earned. This isn't a minor story. On the contrary, it's one of the most significant and impressive accomplishments in U.S. aviation history.
Predictably, however, the media is silent. Plane crashes, not a lack of them, are usually the juicer news. At the five-year mark, the ten-year mark… nowhere along the way has this streak been acknowledged. Neither will it be acknowledged, I'm afraid, when the inevitable accident finally comes. So, let's acknowledge it now.
And, knock on wood, we hope to be revisiting this story twelve months from now. The streak now enters its most critical year. While getting to twenty would be spectacular in its own right, the current state of the airline business makes avoiding a major accident imperative. The airlines, bleeding tens of millions of dollars daily, simply cannot afford a crash right now. It would be particularly sad, and particularly damaging, for the streak to end on the cusp of such an historic milestone, and with so much in the balance.
Fingers crossed.
History's Worst Disasters Involving Major U.S. Carriers
1. 1977. Two Boeing 747s, operated by Pan Am and KLM, collide on a foggy runway at Tenerife, in Spain's Canary Islands killing 583 people, 335 of them on the Pan Am plane. The KLM jet departed without permission and struck the Pan Am jet as it taxied along the same runway. Confusion over instructions and a blockage of radio transmissions contributed to the crash.
2. 1979. As an American Airlines DC-10 lifts from the runway at Chicago's O'Hare airport, an engine detaches and seriously damages the wing. Before its crew can make sense of the situation, the plane rolls 90 degrees and disintegrates in a fireball beyond the runway, killing 273. The engine pylon design and airline maintenance procedures are faulted by investigators, and all DC-10s are temporarily grounded.
3. 1988. Two Libyan agents are later held responsible for planting a bomb aboard Pan American flight 103, which blows up in the night sky over Lockerbie, Scotland, killing 270 people, including 11 on the ground.
4. 2001. American Airlines 587 goes down outside JFK airport in New York killing 265.
5. 1996. Shortly after departure, a fuel tank explosion destroys TWA flight 800, a 747 carrying 230 passengers and crew from JFK to Paris. There are no survivors.
6. 1995. A navigational error causes American Airlines flight 965, bound from Miami, to Cali, Colombia, to wander off course during arrival. The 757 hits a mountain 25 miles from its destination. There are four survivors of the plane's 163 occupants.
7. 1987. A Northwest Airlines MD-80 crashes on takeoff at Detroit. The pilots had neglected to properly set the flaps and slats, and for reasons unknown the jet's warning system failed to alert them. A four year-old girl was the only survivor of the 155 passengers and crew.
8. 1982. A Pan Am 727 goes down seconds after departing from New Orleans, Louisiana. There are 153 fatalities, including eight people on the ground. The plane had taken off into a rare and deadly microburst — a localized, high-power windshear produced by a violent thunderstorm.
9. 1978. A Pacific Southwest Airlines (PSA) 727 collides over San Diego with a small private plane. A total of 143 people die including 7 on the ground.
10. 1985. Delta flight 191, a Lockheed L-1011, crashes in Dallas after encountering a severe microburst on approach to landing. Thirty people survive;137 do not.
Related Stories:
AMERICA'S DEADLIEST AIR DISASTER, 40 YEARS LATER
THE HORROR AND ABSURDITY OF HISTORY'S WORST CRASH
This article appeared originally on The Points Guy website and is being used with permission.