December 20, 2018
THE PROLIFERATION of drones has moved from an "emerging threat," as I described it not long ago, to an established one. The number of close encounters between airplanes and drones continues to grow. Here in the United States, the FAA says it receives over a hundred new reports every month — and it's perhaps just a matter of time before we see a collision.
The FAA, with its unquenchable enthusiasm for mind-paralyzing acronyms and abbreviations, now refers to all remotely piloted flying machines as UAS or "unmanned aerial systems." Whatever you call them, they're potentially lethal.
The amount of damage a collision might cause depends on two things: the speed of the plane and the size, which is to say the mass (weight), of the drone. The heavier the drone, the greater the potential damage from the impact forces, shrapnel, etc. Most hobby drones weigh less than ten pounds and don't fly very high, but bigger, heavier machines are out there, and we'll be seeing more of them: paramilitary border patrol drones; police department surveillance drones; Bezos and his fleet dropping iPhones and toaster ovens from the sky. It's these larger drones that are of greatest concern. If an operator should lose control of one of these things, or it otherwise wanders into airspace it shouldn't be in, the results could be deadly — particularly if the collision were to damage the plane's control surfaces, stabilizers, tail or cockpit. A jetliner traveling at 250 miles per hour (in the U.S., that's the maximum speed when flying below 10,000 feet), hitting a 25-pound UAS creates about 40,000 pounds of impact force.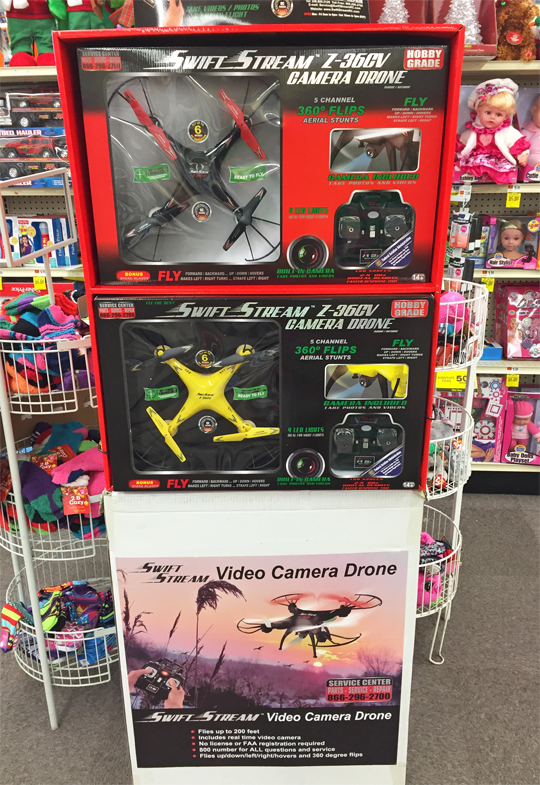 A collision with even a lightweight drone could result in serious and expensive problems. A small drone impacting an engine would be unlikely to cause a crash, but it could easily cause the failure of that engine and millions of dollars of damage. Windscreens and other components are vulnerable as well. Small drones are invisible to air traffic control and onboard radar.
Rules have been on the books from the start. For instance, in the U.S. it is illegal to fly a drone higher than 400 feet or within five miles of an airport. But many operators either haven't known about these regulations, or have flouted them. "The FAA's near-total ban," reads one Associated Press story, "has been ignored by operators ranging from real estate agents to farmers who use them to monitor crops." One way or another, this has to change. The FAA can't be patrolling our parks and streets, of course, so it's going to need help from local law enforcement.
Ultimately, though, it's up to users policing themselves. In 2015, the FAA enacted a mandatory registration process for all UASs weighing more than half a pound. The fee is five dollars. Will all hobbyists comply with this program? Probably not, but its purpose is less about tracking drone users than it is about creating awareness. The problem all along has been mostly one of ignorance: most users whose drones wander into flight paths aren't trying to be reckless or to cause mayhem; they simply don't realize how hazardous a collision between and airplane and a drone could be. This mindset needs changing, and the registration program is a step in that direction. More than coming up with technical fixes or enforcing complex airspace rules, we need to encourage common sense.
More info is available on the FAA's website, here.
Related Story:
LASERS, LASERS, EVERYWHERE!
Back to the Ask the Pilot Home Page
Visit the Blog Archive
Back to Top!