STORY AND PHOTOS BY PATRICK SMITH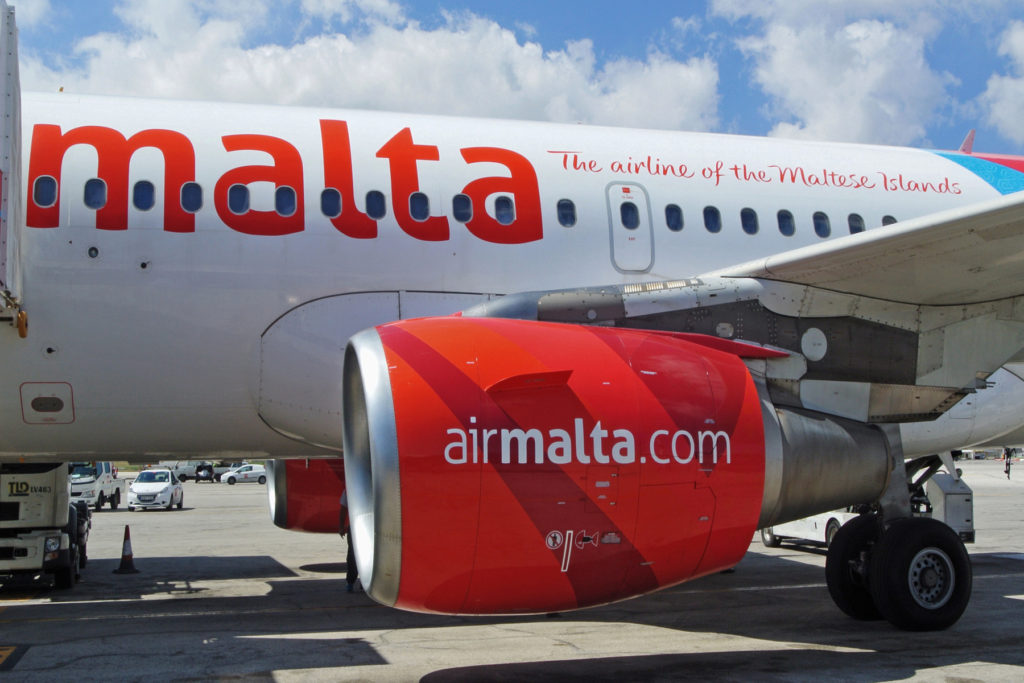 I'm introducing a new feature, the "Pilot Report," in which I review and grade my flights aboard different airlines. Welcome to the first installment: a trip with Air Malta.
Flight KM397, Amsterdam to Malta
Business Class, Airbus A319
Duration: 2.5 hours
Let's start with a disclaimer: we hereby acknowledge that experiences aboard a given carrier can vary flight to flight, depending on the class of service, the temperament of the crew, and so on.
I wasn't sure what to expect from Air Malta, particularly after lackluster flights on SAS and Air Portugal recently, but I came away duly impressed.
The online booking process was quick and hassle-free. I set out to book in economy, but decided to splurge when I was offered an upgrade to business class for only a couple of hundred dollars extra, round-trip. The carrier's website is user-friendly and allows for advance seat selection even with last-minute reservations like mine.
The check-in staff at Amsterdam were contract employees, but friendly and helpful nonetheless. We departed right on time. The Airbus A319 was packed almost full in economy, but was mostly empty up front. Air Malta doesn't have a formal business class, per se. Instead, in the forward rows, the center seat of each three-seat block folds down, forming a table between the remaining two seats. It's a kind of on-the-fly business class that allows them to adjust the number of rows based on demand. Other European carriers do the same thing.
Juice or champagne were offered prior to push-back, along with a selection of newspapers. There was a hot towel service shortly after takeoff, followed by a hot lunch. The meal was served economy class style, with everything together on a single tray rather than separate courses. Neither the presentation nor the food itself was anything fancy, but it was perfectly satisfactory for a short-haul airline whose network doesn't expand beyond Europe, with flight times seldom exceeding three hours. (Hell, in the U.S., on a flight this short, chances are you'd be on a 70-seat regional jet with little or no service at all.) The personal-sized champagne bottles (see photos) were a nice touch. Cabin attendants were gracious and attentive.
After landing, I was walking through the arrivals hall when I realized that I'd left my passport in the seat pocket. Air Malta's airport staff were patient and helpful, and I had the passport back within fifteen minutes.
Air Malta's uniforms are stylish and professional, both for ground and inflight employees. In fact the carrier's whole identity — its uniforms, its Maltese cross logo and its colorfully painted aircraft — is handsome and distinctive.
There was just a good feeling to the whole experience, start to finish. To satisfy fussy fliers, both the creature comforts and the human touch have to be done right, and Air Malta seems to understand this.
Here's hoping they survive. Malta is a huge leisure destination for Europeans, meaning that margins are very thin on most fares. The discount carriers are making things tough. On the return flight to Amsterdam, the Air Malta check-in line was mostly empty. Just across the lobby, the lines for Ryanair, EasyJet and Air Berlin were teeming. And for those headed further afield, Emirates now flies to Malta via Cyprus.
Air Malta was founded in 1973. It operates only ten aircraft, all of them narrow-body A319s or A320s, serving about 35 destinations throughout Europe and the Mediterranean, some of them seasonally.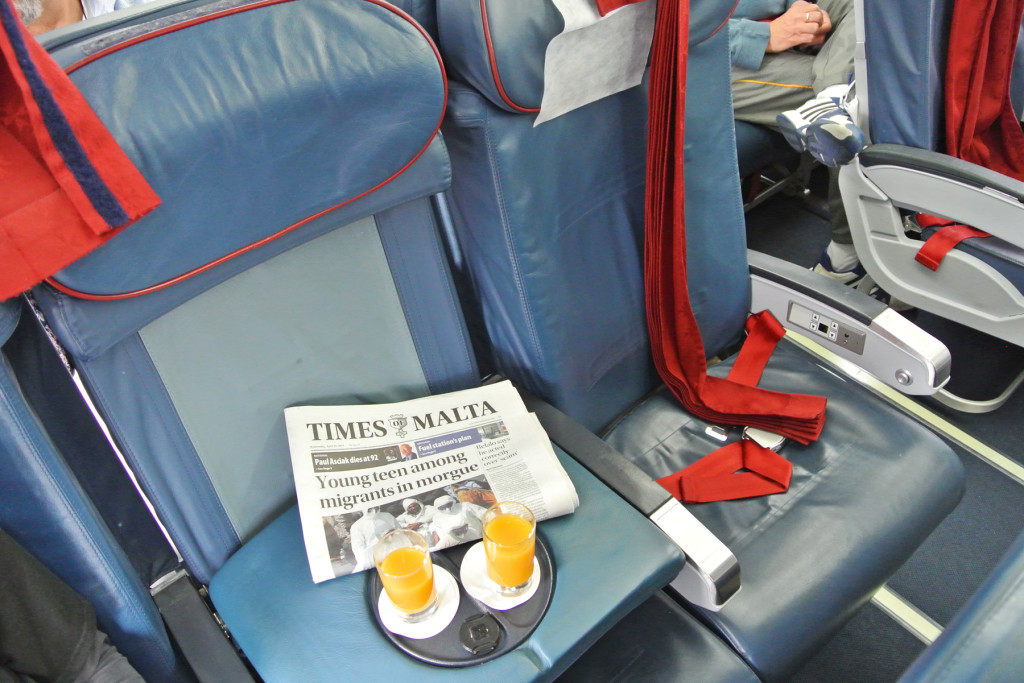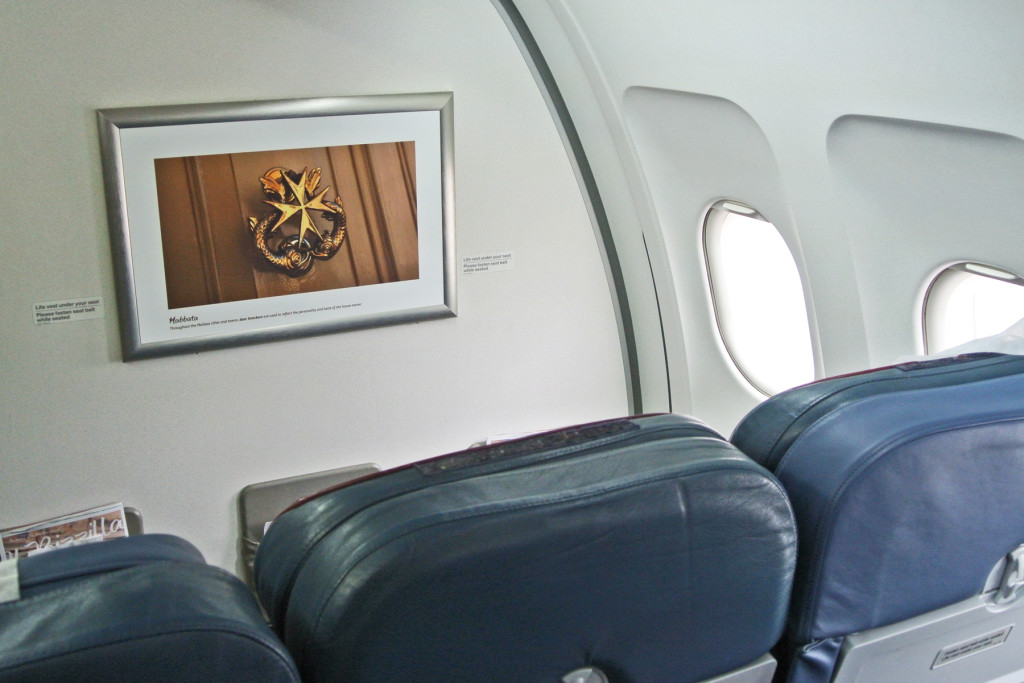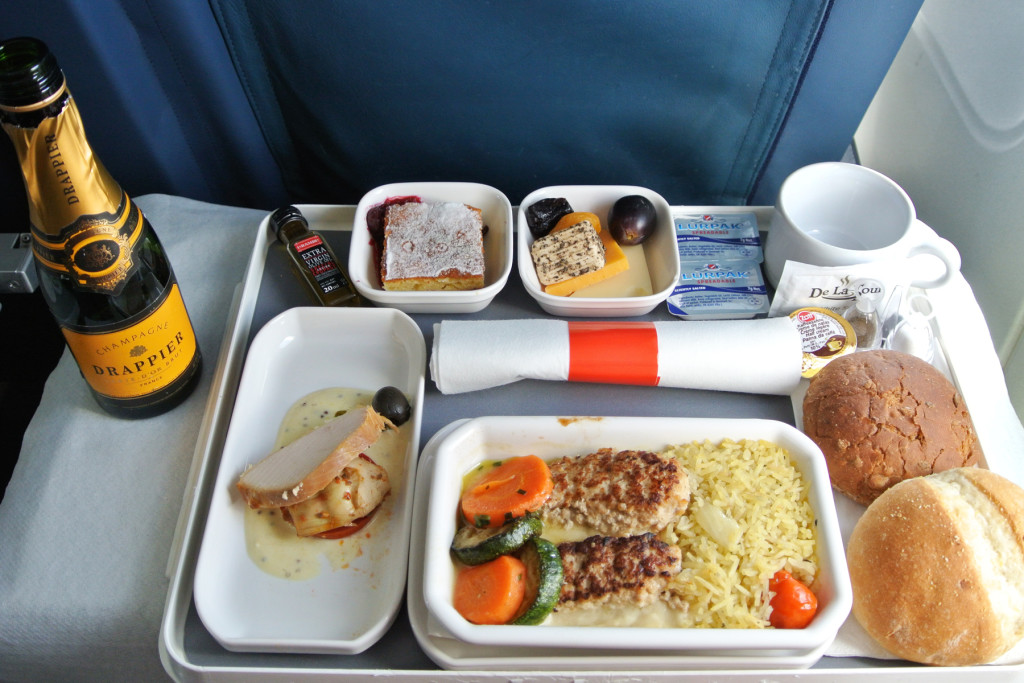 It's maybe unfair to mention this, but Air Malta also played a role, albeit unwittingly, in one of the worst terrorist attacks in aviation history. It was an Air Malta 737 onto which Libyan operatives smuggled the bomb destined to blow up Pan Am flight 103 over Lockerbie, Scotland, in 1988. The explosive device, hidden inside a Toshiba radio and packed into a suitcase, traveled from Malta to Frankfurt, where it was transferred to flight 103, bound for London and then to New York.
The two men who stood trial for the Lockerbie bombing, Abdelbaset al-Megrahi and Lamin Khalifah Fhimah, had been employees of Libyan Arab Airlines. Fhimah was the station manager in Malta. Much of the investigation into the bombing took place on the island. During my vacation there, it was a little eerie walking past the Libyan Airlines ticket office, just inside the gate to the old city of Valletta.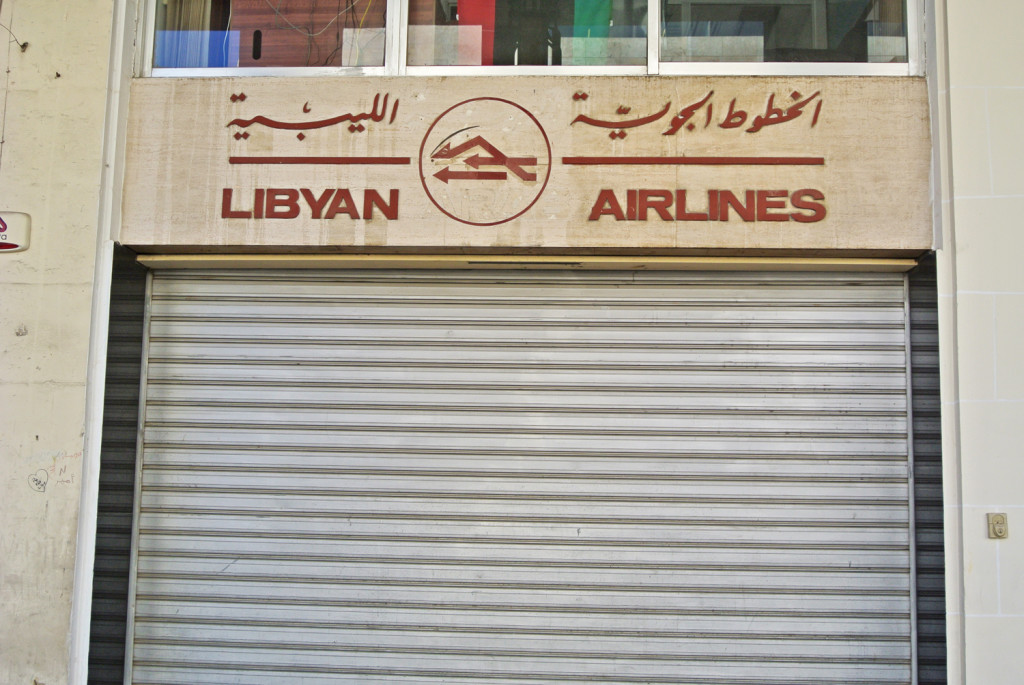 Additional photos from my trip to Malta can be viewed here.
By the way, the term "pilot report," which I'm adapting into a gimmick for my blog, is in fact a technical term quite familiar to aircrews. PIREPs, as they're known in shorthand, are reports of meteorological phenomena encountered in flight. Conditions are passed along to company dispatchers or air traffic control, and made available to other aircraft. If a captain comes over the public address system to warn of impending rough air, often he's acting on the advice of a fresh PIREP.
PIREPs make their way into the pre-departure paperwork as well, topping off a hefty and at times indecipherable sheaf of charts, bulletins and forecasts. Approximately three-quarters of a pilot's training is devoted to unraveling the secrets of weather coding, which come in the form of byzantine transcriptions like this one:
KCMH UA / OV APE 230010/10TM 1516/FL085/TP
BE20/SK BKN065/WX FV0 SM HZ FU/TA 20/TB LGT
That's a single, simple PIREP (something about smoke or haze near Columbus, Ohio). The archaeologists who figured out the Rosetta Stone practiced for years on aviation weather packets. Unless you're a professional cryptographer, you'll have to agree my own PIREPs are more enjoyable.