Logan redux. From terrazzo floors to exploding soda cans, here's Boston's airport like you've never seen it.
STORY AND PHOTOS BY PATRICK SMITH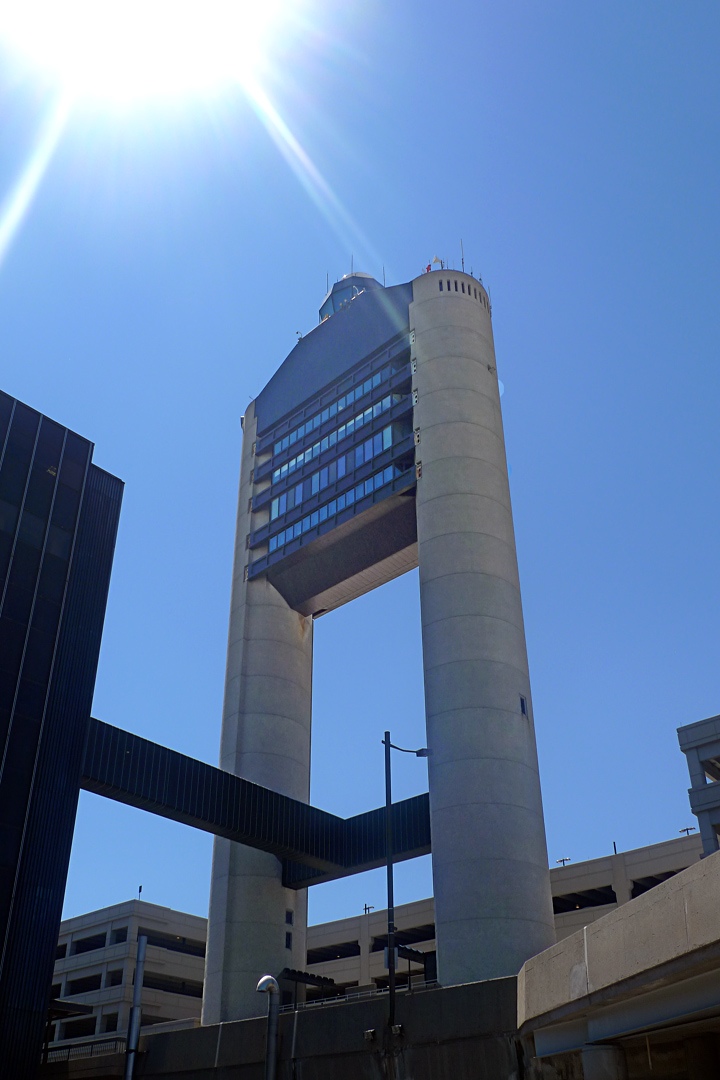 THERE AREN'T A LOT OF GOOD THINGS to say about US airports in general. They're noisy, dirty, confusingly laid out, often in poor repair, and sorely lacking in public transport options. We've got nothing on the airports in Europe or Asia, many of which are architecturally stunning and jam-packed with amenities. If you've ever been to Singapore, Incheon, Munich, or Amsterdam, among many others, you know what I'm talking about.
But if we had to pick one of our own…
Washington's Reagan-National has an excellent subway connection, and the terminal, with its sun-splashed central hall and vaulted ceilings, is one of America's greatest airport buildings. The international terminal in San Francisco is similarly impressive. Orlando is clean, green, and well laid-out. Portland, Oregon, is many people's favorite.
Nobody, though, ever mentions my hometown airport, Boston's Logan International. And I don't think that's fair. It's squeaky clean, well organized, and unlike the vast majority of US airports, it has an efficient public transport link to the city. It's even got some flair: what's not to like about the inter-terminal walkways, with their skyline views, terrazzo floors, and inlay mosaics?
A tour:
As an adolescent airplane nut in the late 1970s, I spent many a weekend at Logan. The place has come a long way since then. Large-scale renovations began in the 1990s with the third harbor tunnel project, and continue still.
The overall plan-view – a sprawling handprint of four independent buildings, terminals A, B, C, and E – remains mostly unchanged (what used to be terminal D is still there, but today it serves as a connector between C and E). Everything, however, has in one way or another been remodeled, rebuilt, or enlarged. Annexes and appendages sprout everywhere, covering what used to be vacant space. BOS has never been among the biggest or busiest airports, but it sees many more passengers than it used to. Some 29 million people fly through Logan each year, placing it 48th among airports worldwide. By number of takeoffs and landings, it ranks 26th globally and 17th in the United States.
Terminal C is probably the least altered. When I was a kid, this was the home to Delta, United, and TWA. Today, it belongs to JetBlue and United. JetBlue is currently the largest carrier at BOS, and has invested heavily in renovations. Still, there's only so much room to expand, and the two main concourses are somewhat claustrophobic and overcrowded.
Terminal B, on the other hand, is substantially larger than it once was, its main tenants – American and US Airways – having spent millions over the years on expansion.
It's gate B-32, incidentally, from which American Airlines flight 11 pushed back on the morning of Sept. 11, 2001. An American flag flies atop the jet bridge. Slightly to the north is gate C-19, similarly adorned by the Stars and Stripes – the departure point of United's flight 175 that same morning.
The connector walkway between B and C, by the way, is one of Logan's friendliest spots. I don't mean the newer, elevated walkway; I'm referring to the old main-level passageway that begins near the gates used by Virgin America. Massport has installed a series of whimsically painted rocking chairs that face floor-to-ceiling windows with a view of the runways. There's little foot traffic and, best of all, it's blissfully quiet. It's one of very few places at Logan – or any other airport for that matter – where you can completely escape the PA announcements, CNN monitors, and all the other noise pollution that that plagues America's terminals. It's a peaceful, sunny location to read, send texts, or otherwise relax.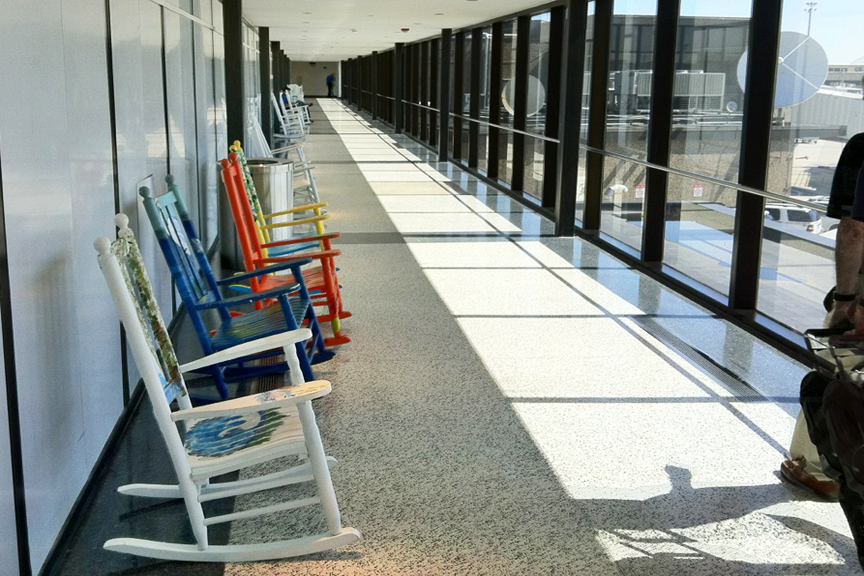 Terminal E, as we know it today, used to be called the John A. Volpe International Terminal, named after the former Massachusetts governor. The building has doubled in size. The spacious, wood-paneled check-in hall is entirely new and arguably the airport's handsomest spot.
Passing the TSA checkpoint, one enters the building's older section, which is clean and functional, if otherwise unglamorous, with lots of gray aluminum and segmented windows staring toward Revere. This is the only terminal with customs and immigration facilities, and so it's home to all of Logan's overseas carriers. Though not exclusively: the cluster of gates at the eastern tip, once the home of Braniff and later Northwest, are today used by AirTran and Southwest.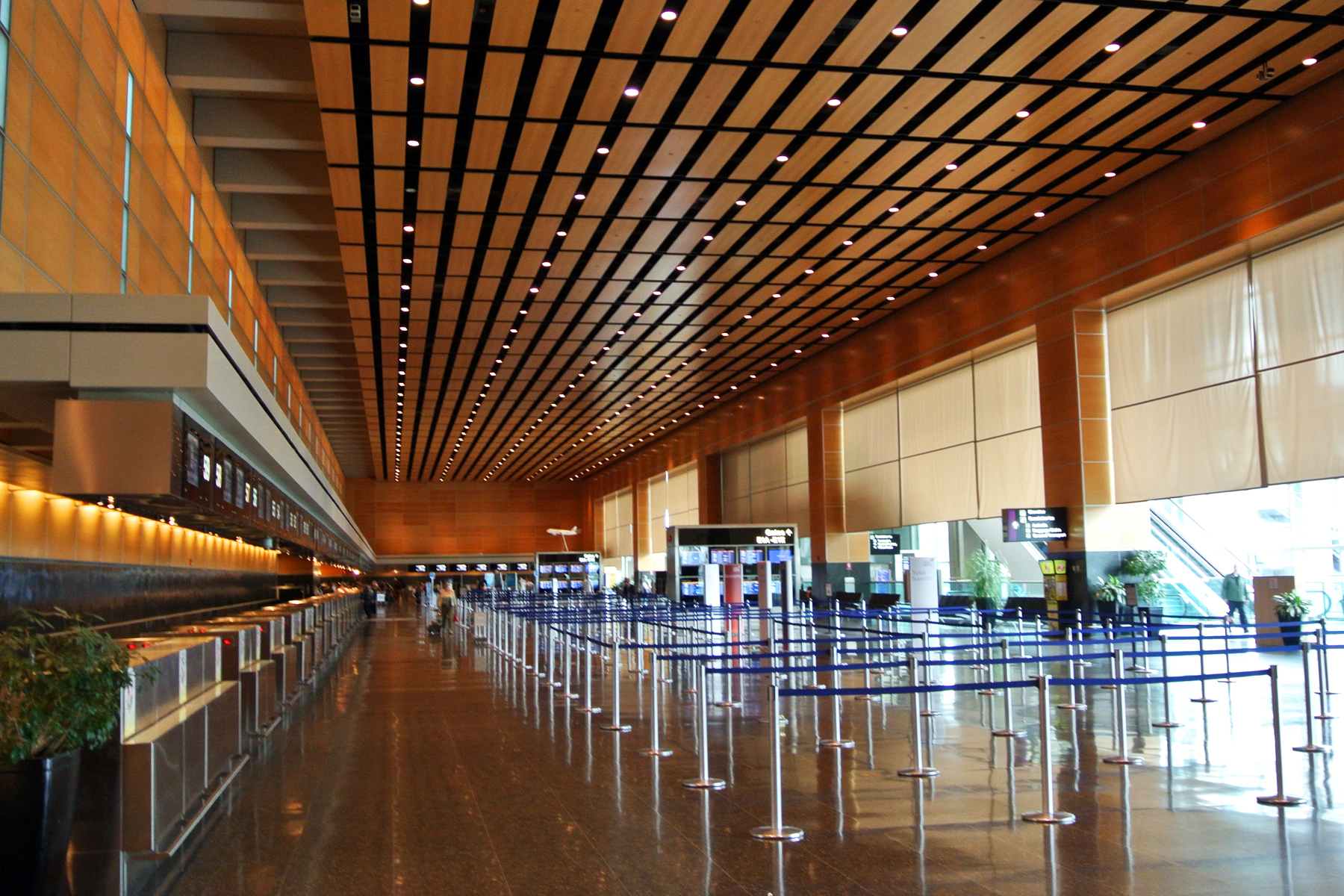 On Logan's south side is Terminal A. Completed in 2005, this is home to Delta (and to United's Houston and Newark flights). On the outside, the structure is low-slung and unspectacular. From the roadway, one approaches a kind of airport glacier – a hulking slab of whiteness and glass that looks more like an office park or a mall.
On the inside, though, it's sleek, roomy, efficient, and has the best harbor and city views of any of the four terminals (though somebody needs to explain the chocolate-colored carpeting). There's state-of-the-art everything, including a laser-guided aircraft docking system and, airports being airports, an impressive gauntlet of shopping and dining venues.* The architecture is white, but the verve is green: Terminal A was the first LEED-certified airport building in America.
Terminal A rests on the site of the old Eastern Airlines terminal – a stately edifice of brown masonry that opened in 1969. Its replacement was perhaps overdue, but one thing I miss about the original is a certain drama, inside and out. Stepping into the lobby, your gaze was drawn upward toward a soaring, vaulted ceiling. It wasn't beautiful, but it did something not many terminals do these days, imparting a sense of exhilaration and theater. The latticed façade and five-story archways bore a certain likeness to the lower curtain wall of the World Trade Center – and not by accident, for both were the work of architect Minoru Yamasaki.
One thing nobody misses, on the other hand, is the old MBTA Blue Line station. Logan was America's first airport with a rapid transit connection (1952), and by the 1990s, the platform was literally falling to pieces. Its replacement is one of the T's finest stations – even if few will be reminded of places like Hong Kong or Kuala Lumpur, where one is whisked to and from the city center without the need to step outside.
Alternately, the T's Silver Line bus takes you directly to and from South Station. Though in either direction the trip takes longer than it needs to. There ought to be a designated airport bus that skips the intermediate Courthouse and World Trade Center stations. Another good idea would be to run two buses – one that goes to Terminals A and B, another to C and E. Passengers in a rush could take either and use the inter-terminal walkways.
The T connections aren't ideal, but they're far better than what most U.S. airports offer. And, inbound on the Silver Line, it's free.
If you're driving, Logan's roadways aren't as easy to navigate as they once were. In the old days, the terminal complex was linked by horseshoe-shaped highway that made a simple, one-way loop. You never got lost, but traffic jams were common. On busy evenings or holidays, making the circuit from A to E could take half an hour. The new roads are a Rube Goldberg affair of overpasses, underpasses, and switchbacks, but at least the gridlock is gone.
Then we have those climate-controlled pedestrian bridges, fetchingly inlaid with sea life mosaics designed by Somerville artist Jane Goldman. Previously, airline-to-airline transfers meant several minutes of sidewalk time and a ride on Massport's shuttle bus. With the walkways now in place, there's covered access – and a smidgen of ancient Rome – between any two carriers.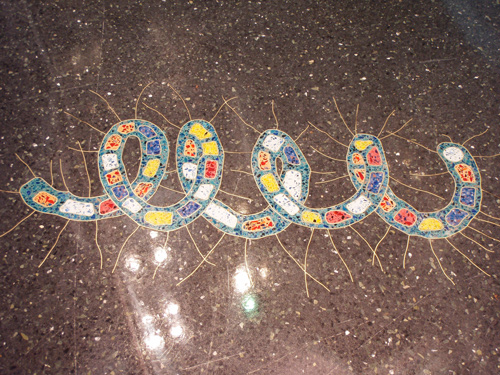 And rising above it all is Logan's iconic control tower. This building opened in the early '70s and is one of, if not the most, widely recognizable structures in all of Boston:
Segmented elliptical pylons that soar 250 feet into the air. They are sand-colored, but often turn amber in the sunset. Trussed between them, two-thirds of the way up, is a six-story platform of offices and workspace – an office building hung between two great goalposts. Its shoulders taper inward, and perched at their apex, like the head of a giant robot, is a 12-sided cupola crowned by a porcupine array of antennae and radar dishes.
I'll tell you what I miss, though. I miss the old 16th floor observation deck.
On the bottom level of the tower's workspace – either the 1st or 16th story, depending how you see it – used to reside one of Boston's most unique public spaces: the airport observation deck.
The spectacularly poised lookout featured opposing sides of knee-to-ceiling windows and, arguably, the best view in town. To the north and east was a commanding vista of terminals, runways and taxiways; to the south and west, a sweeping panorama of the Boston skyline and waterfront. It's a scant two miles from Logan's perimeter seawall to the center of downtown, and thus, from the 16th floor, you observed the city and its airport in a state of working symbiosis.
From here, as an 8th grader in 1979, I saw Pope John Paul II touch down in a green-and-white Aer Lingus 747 named St. Patrick, then watched his motorcade disappear into the Sumner Tunnel before emerging again downtown. Passengers relaxed on carpeted benches while kids and families came on the weekends, feeding coins into the mechanical binoculars and picnicking on the floor. The idea of an airport evoking civic togetherness is hard to fathom these days, but the 16th floor possessed an element of that spirit, clinging to the now-vanished idea of an airport as a destination unto itself, like a park or a museum.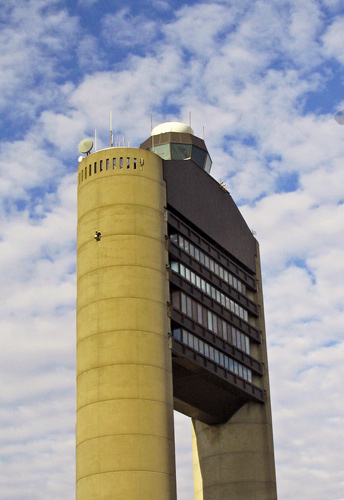 The deck had its regulars, and as a young teenager I was one of them. My friends and I would hop the Blue Line at Wonderland and spend the better parts of Saturday and Sunday at Logan. The 16th floor was our office, where we'd check in to unpack bag lunches and plan the day's activities, which tended to blend our nerdier infatuations – taking pictures, logging registration numbers of planes – with the type of activities you might expect from adolescents: assorted rummaging, ransacking, and trouble-making.
We navigated our turf with a kind of muscle-memory intimacy. We knew the keypad combinations to most of the secure areas, and were on a first-name basis ("here come those pain-in-the-ass kids again") with some of the airline ground staff. We'd sneak behind kiosks and dig through drawers and closets, helping ourselves to anything and everything affixed with an airline logo: stickers, stationery, boarding passes, and timetables. (At home, most of this detritus was tossed into a large aluminum foot-locker – a stash of collectible aerobooty that would doubtless garner thousands on eBay had I not thrown it away in the 1980s.) The parking lot atop the old Terminal A was another prime zone for pranks. More than one Eastern 727 or DC-9 had its wings and tail bombarded with snowballs from our rooftop launching pad.
Getting onto parked aircraft was something we accomplished regularly and with little resistance. It was an easy process of meandering through security, then staking out an arriving flight. After all the passengers had exited, we'd request a cockpit tour from the agent or crew. I remember a flight attendant taking us to see the lower-deck galley in a Delta L-1011 — riding down in the little elevator. Another time, a North Central pilot brought us into the tailcone of a DC-9 and showed us the data recorder.
Tired crews occasionally sent us down the jet bridge unattended. "Just don't steal or break anything." Or, if need be, it wasn't beyond us to wander aboard without asking. We'd sit in the cockpit, going through imaginary takeoffs or pretending to be aloft over the ocean somewhere. Hunkered down over their desktop simulators, kids today think they have the edge on realism, but will never savor the visceral thrill of moving the actual throttles, knobs, and levers. Two friends and I once spent an entire hour sitting in the cockpit of a Northwest Orient DC-10. We'd simply walked down the jet bridge after everybody disembarked. Nobody had any idea we were there.
Once bored with the flight deck, we'd head back to the cabin, loading up our backpacks with barf bags, magazines, briefing cards, and cans of soda from the galley. We'd guzzle down that soda and were careful to save the cans. After amassing a six-pack or two, it was back to the 16th floor. There, in the bathroom sink, we'd fill the cans with water before sneaking into the fire escape. Within the tower's north pylon, directly between the elevators, is a top-to-bottom spiral staircase. We'd learned to jimmy the door without triggering the alarm. Once inside, we'd lean over the railing and drop our water-filled cans the entire, 200-plus foot height of the shaft.
The cans would wobble, twist, and twirl, depending on the angle at which we released them. Like a pitcher feeling out the seams of a baseball for a slider or a curve, we had the different trajectories down to a science: hold it this way for a flat spin; tilt slightly for an end-over-end rotation. Off they'd go, and you'd hear the cans hissing as they accelerated toward terminal velocity, disappearing into a barely visible speck before impacting the concrete floor. Then came the sound, like a rifle shot echoing up the column. Often the cans would drift sideways and strike the lower floor railings or slam against the plumbing. Out of control, these wayward projectiles would ricochet madly, disintegrating in a white spray. Then we'd hop in the elevator for the post-crash investigation, marveling over the bizarrely crumpled cylinders and slivers of torn aluminum.
Over and over and over we'd let loose our water-bombs, emerging only for occasional quick scans of the tarmac, lest we miss Lufthansa's daily departure for Frankfurt (flight 421, I still remember), or Swissair's DC-10 (flight 129).
We'd also figured out a way, using wedges of cardboard, to raid the snack machines. Our heists were restricted to the lower shelves of the machines' rotating dispensers, where the vendors, apparently catching on, began stocking some of the world's most revolting treats. Back in Revere, my family's kitchen cabinets held a year's supply of stale Canada Mints that even our dog wouldn't eat.
Up on the 17th floor, incidentally, was a lounge called Cloud Nine. For us, as 14-year-olds, it was one of Logan's few decidedly off-limits spots, but itinerant flyers and off-duty employees were able to take in that same majestic view, enhanced by the buzz of an overpriced cocktail.
All of this is gone now. The observation deck, and Cloud Nine with it, were shuttered for good in 1989, ostensibly for security concerns.
The observation deck has become Massport's Communications and Operations Center, with a suite of monitors and consoles that make it look like a miniature NASA command room. This is the headquarters of airport logistics, where a full-time staff of four coordinates everything from snow removal to emergencies. In the spot where I used to sit with binoculars, a Massport employee hovers in a telescoping chair, a display of incoming flights over his shoulder.
But the tower itself remains.
If an airport has one aesthetic obligation, it's to impart a sense of place: you are here and nowhere else. And the Perini Construction Company's lumbering control tower does this better than any airport building in the country. Looming overhead with anthropomorphic bravado (it really does resemble a giant robot) and staid New England resilience, this nameless old building is, then and now, the traveler's touchstone and one of the city's most exclamatory fixtures of identity. It says one thing, and says it perfectly: Logan Airport, Boston.
__________
* COMPLAINT: The sandwich wraps at the "Legal Test Kitchen" (LTK) annex are, in my opinion, terrible and overpriced. Nine dollars for a slab of chicken hidden in a tasteless padding of lettuce? And a lobster wrap…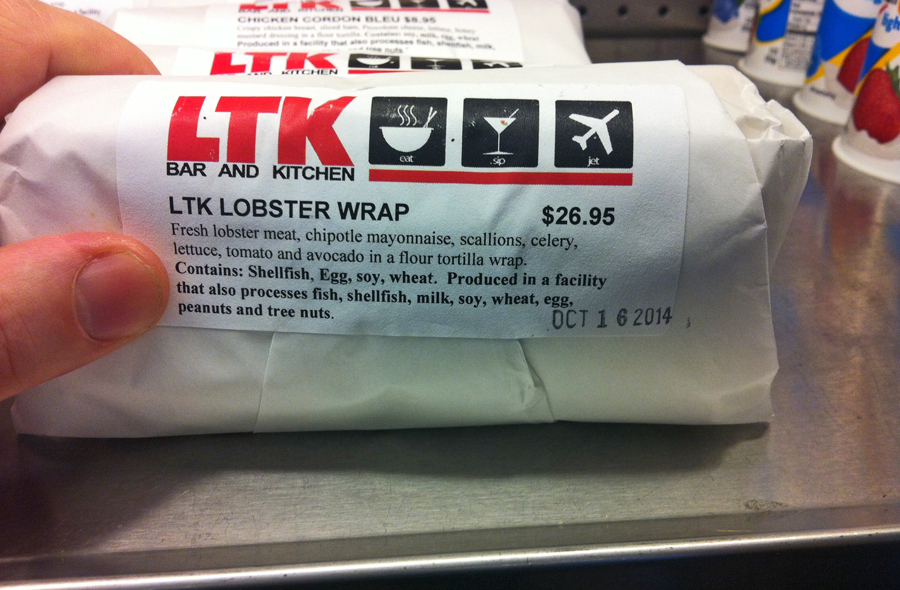 Related Stories:
WHAT'S THE MATTER WITH AIRPORTS?