September 3, 2020
HERE ARE some pictures of airline food.
Pardon such a vapid diversion, but there's little else to talk about these days that isn't crushingly depressing. If nothing else, these photos take us back in time — to the days when an airplane ride didn't feel like a medical evacuation. Back before flight attendants began dressing like astronauts and planes became flying hospitals. Already it seems so long ago. Plus, I'm hungry.
Before the coronavirus madness began, we'd reached a point where, at least on some airlines, the food in international premium class could rival that of a fancy restaurant. All carriers took pride in their onboard product: not merely the food itself, the presentation and choreography of the service — the whole indulgent kabuki of premium class, from the menus to each carrier's signature cutlery. It could be pretentious, but always it was fun.
Here, in no special order, are some examples. New and old, fancy and not so fancy. There are many that I'm missing: Royal Air Maroc, Cathay Pacific, EgyptAir, Turkish and so on. I'll be adding to the list as my photo archives cough up forgotten snapshots. And, hopefully, through future travels.
These weren't employee freebies. I've spent a lot of money on these seats. Maybe let me show off a little…
ALL PHOTOS BY THE AUTHOR
Philippine Airlines
A business class meal aboard a Philippine Airlines A330, Singapore to Manila. Adequate if underwhelming. This was a three-hour, intra-Asia service; presumably the airline's long-haul routes have a more lavish spread. Appetizer salad in the top photo was followed by the chicken and noodle thing below. Not visible here are my second and third helpings of garlic bread. Yum.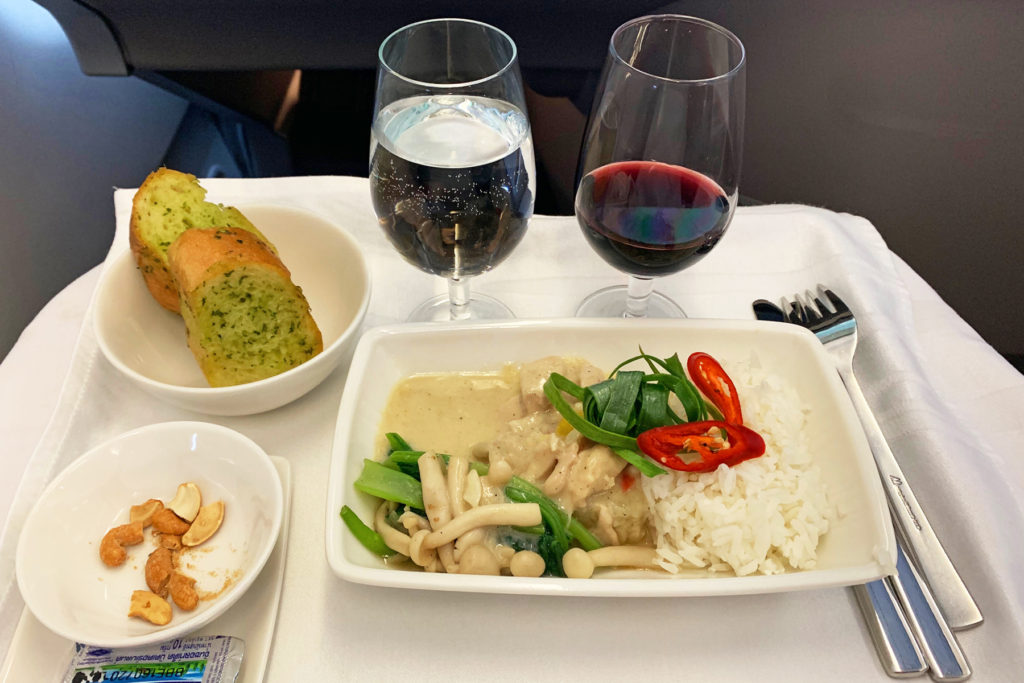 China Airlines
The upper photo shows a business class dinner aboard a China Airlines Airbus A350, en route from Taipei to Amsterdam. The cabin decor on this aircraft was strikingly handsome, gold highlights and elegant wood tones. The food, however, was less impressive, and they were super stingy with the wine. The second two pics showcase the carrier's shorter-haul service on the A330.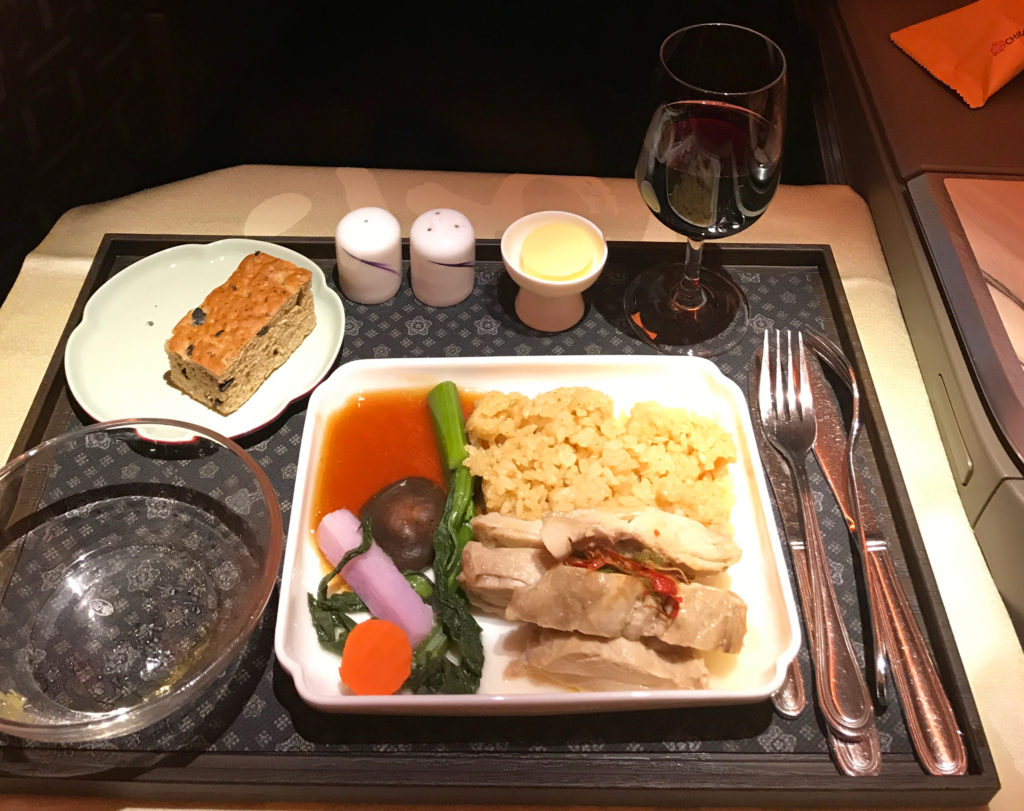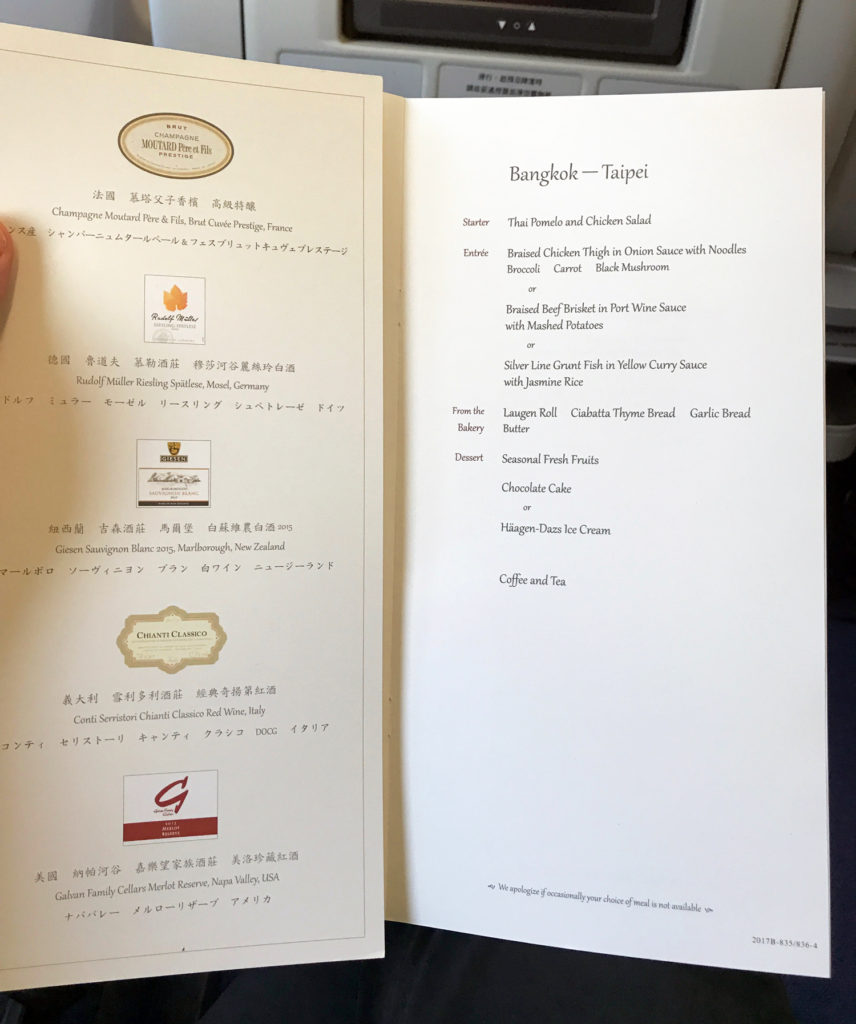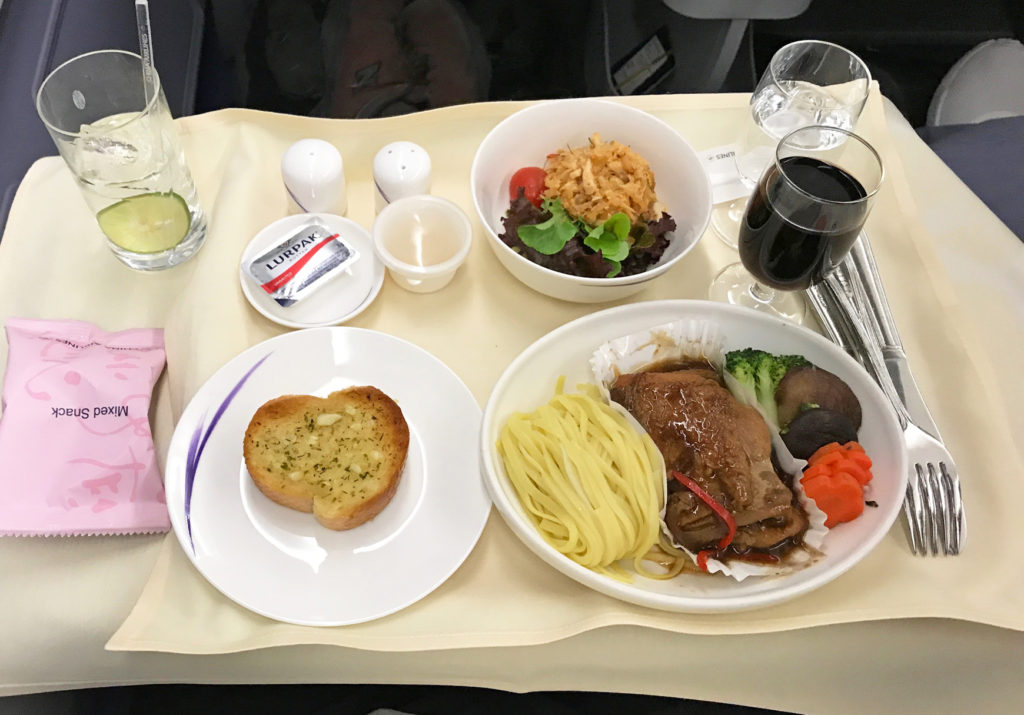 South African Airways
Economy class dinner on the now-defunct South African Airways. Not a bad offering on the quick hop from Lusaka, Zambia, to Johannesburg. The second pic beholds one of the sadder things I've seen on a plane. Believe it or not, this was the business class vegetarian entree, served on the Johannesburg-Victoria Falls route. Click here for a detailed review of this flight.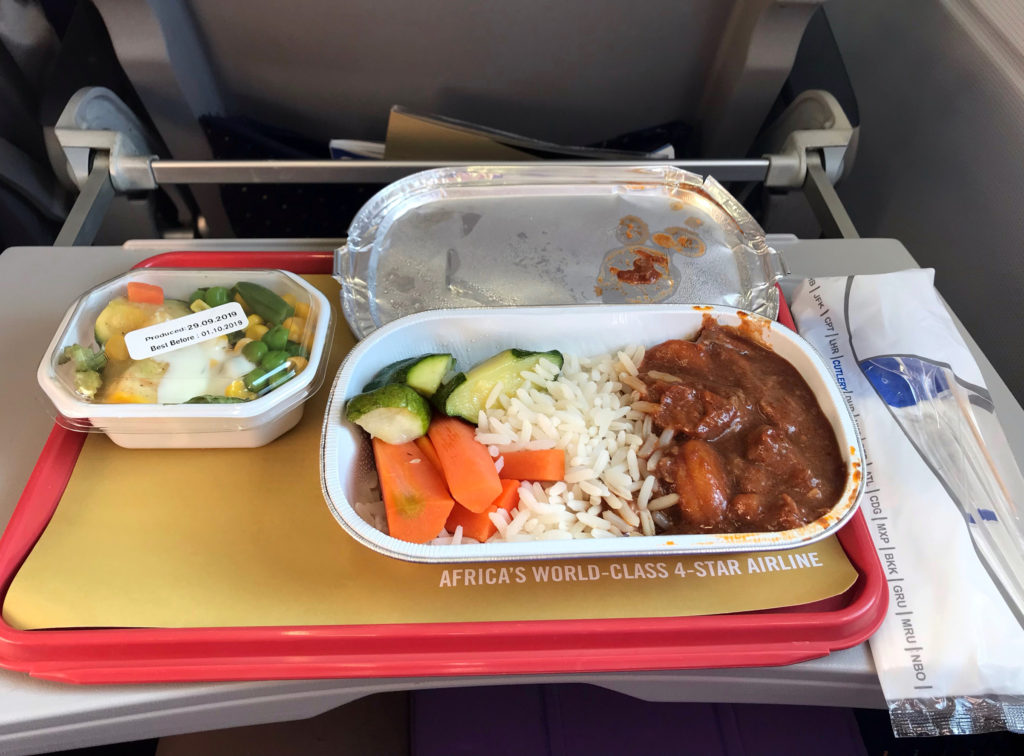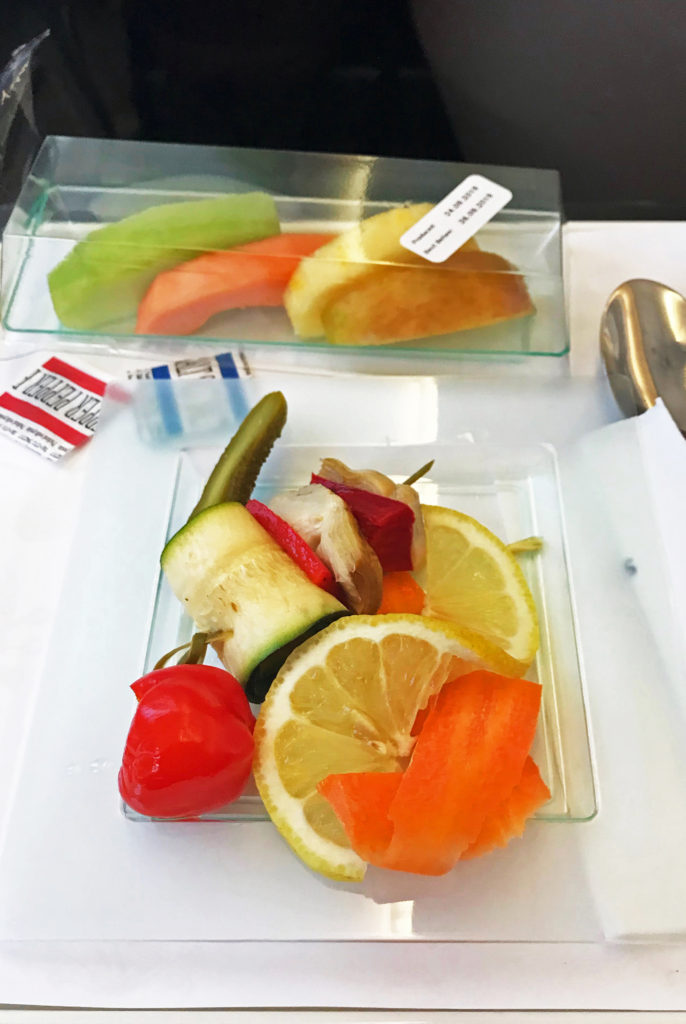 Sky Airline
Sky Airline (there is no "s") is a Chilean carrier, and this was the economy meal on a 737 between Santiago and Punta Arenas. Let's just say that I loved the paper tray liner, and leave it there. The green plastic silverware was a curious and, some would say, unappetizing touch.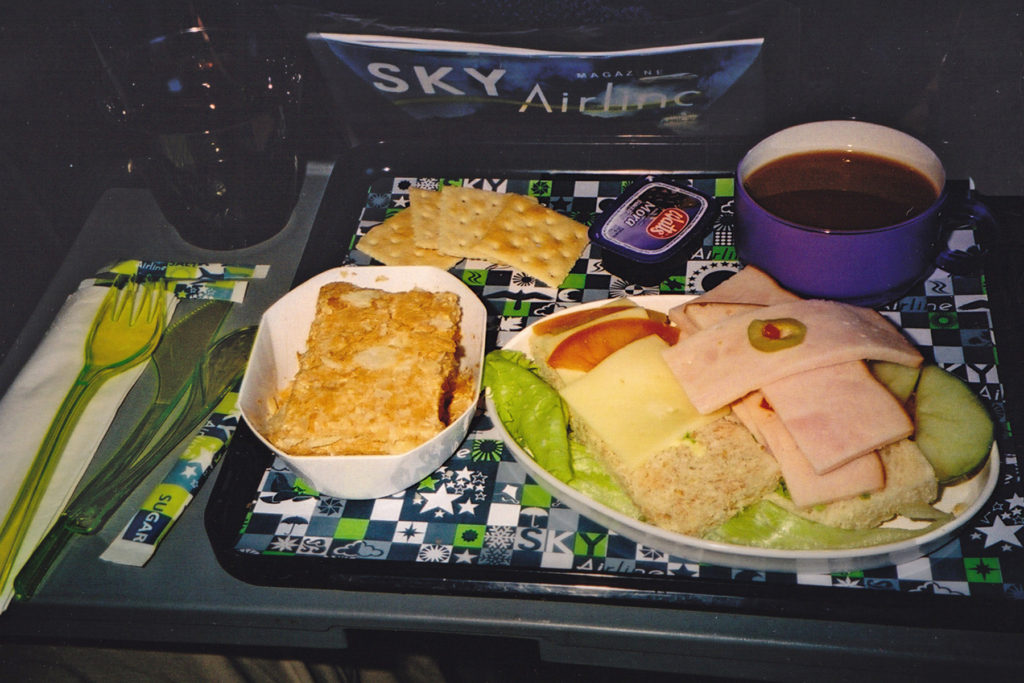 Sri Lankan Airlines
A beautiful little menu to whet your appetite on way from Bangkok to Colombo. The meal itself was standard economy fare, which is to say equal parts adequate and unspectacular. The seat-pocket magazine is called Seredib. This is a sanskrit term from which the word "seredepity" comes from.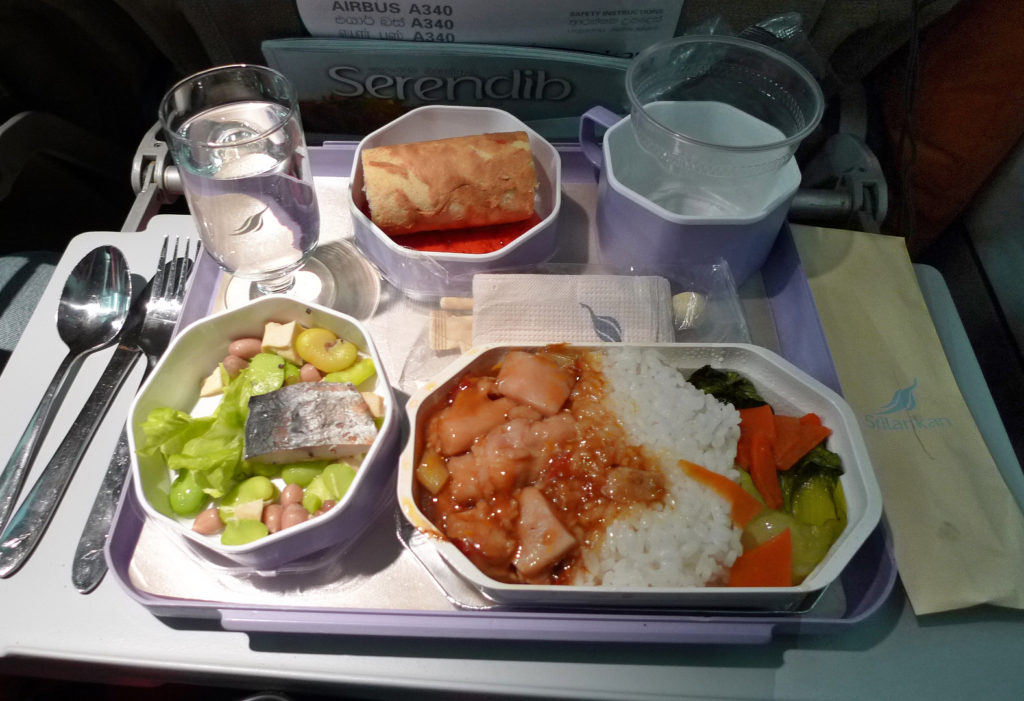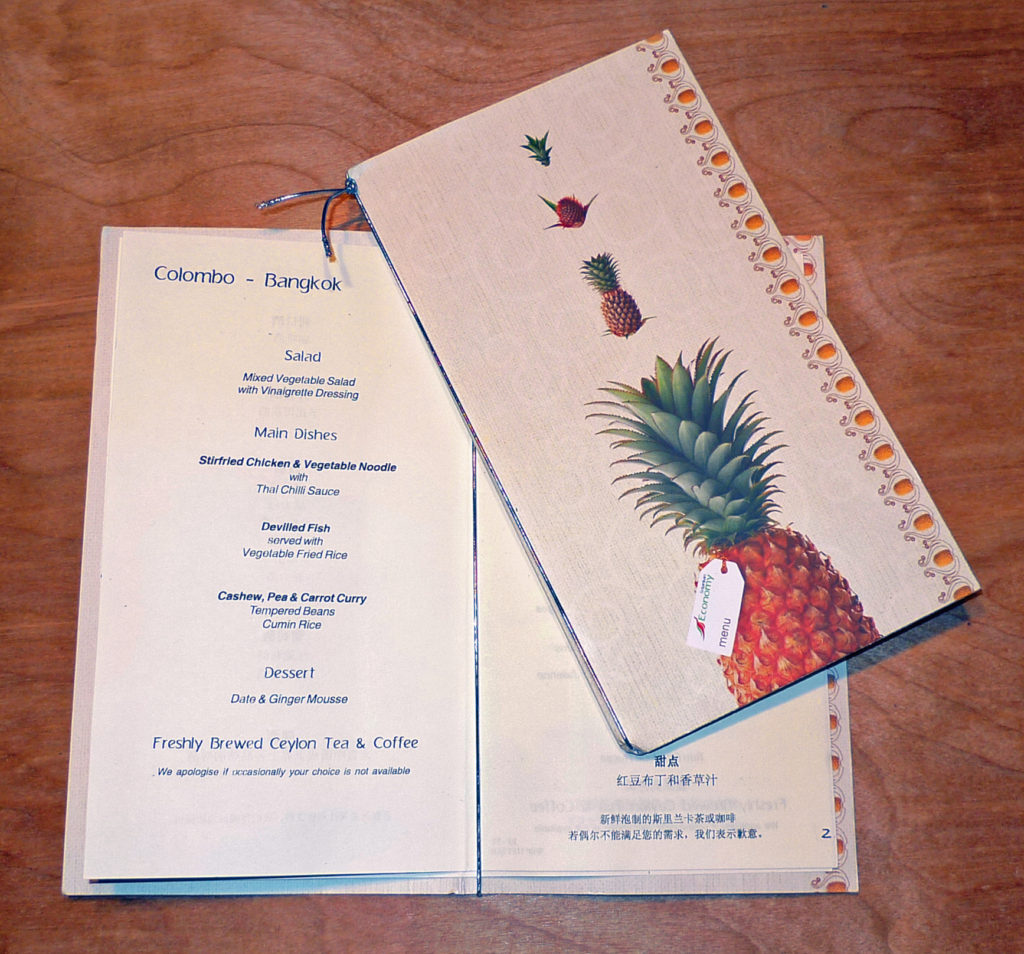 Qatar Airways
Qatar's premium class food is arguably the best in the world. And what you see here is the short-haul version, served on a two-hour flight from Doha to Yerevan, Armenia. Keep scrolling for a peek at long-haul.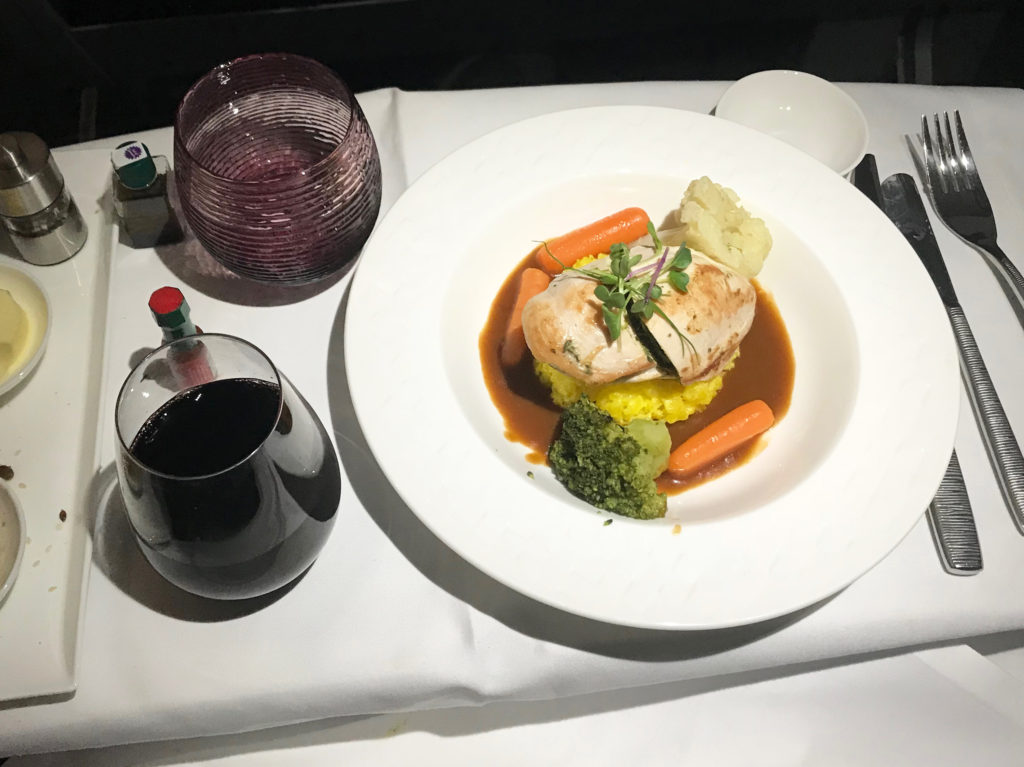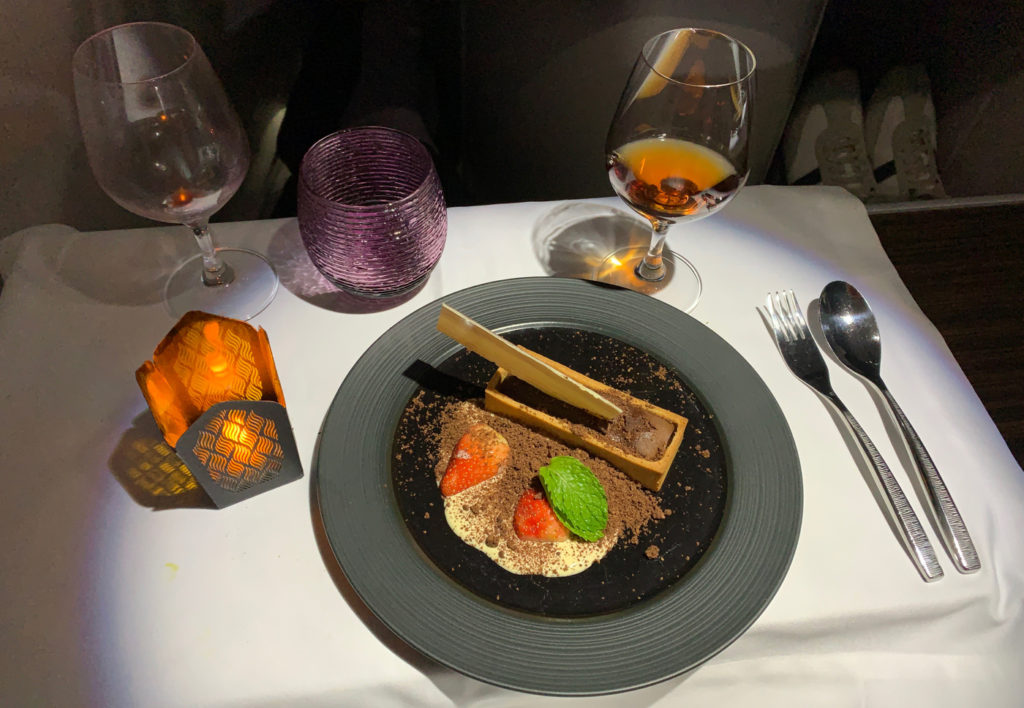 China Airlines
Back to China Airlines, this time in economy class between Tokyo-Narita and Taipei. As the kids say, it is what it is. This is the kind of food only someone like me would take a picture of.
Drukair
One of Bhutan's two airlines, Drukair flies smaller planes and offers a limited, if tasty business class menu. Here you see the lunch options on the daily run from Paro to Bangkok. It was breakfast on the outbound leg, featuring the fruit course shown below. My Drukair experience is further reviewed here.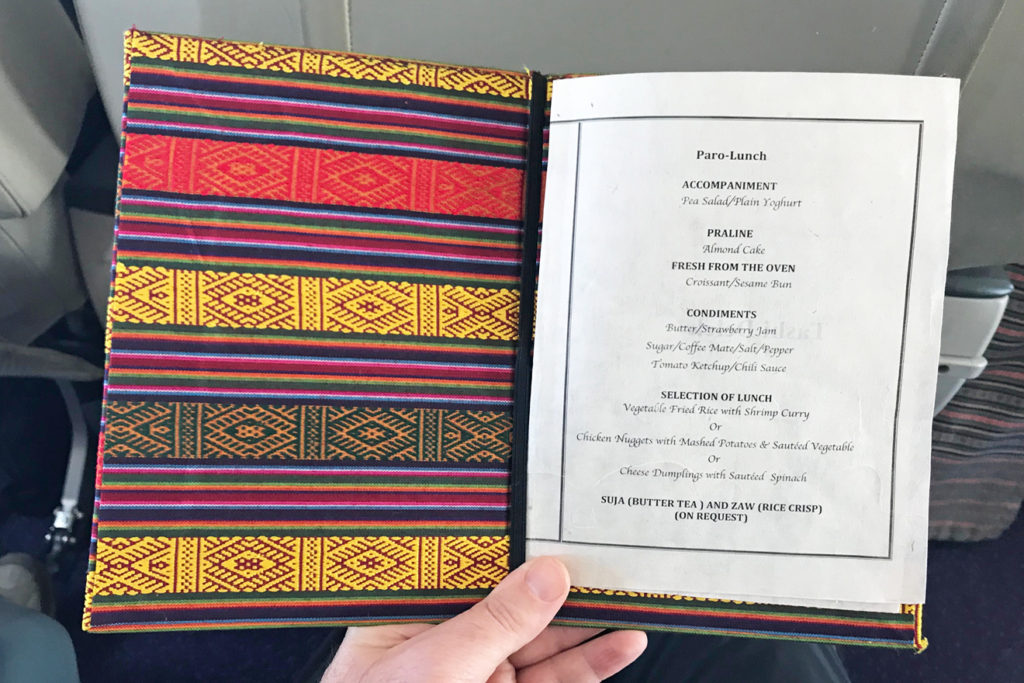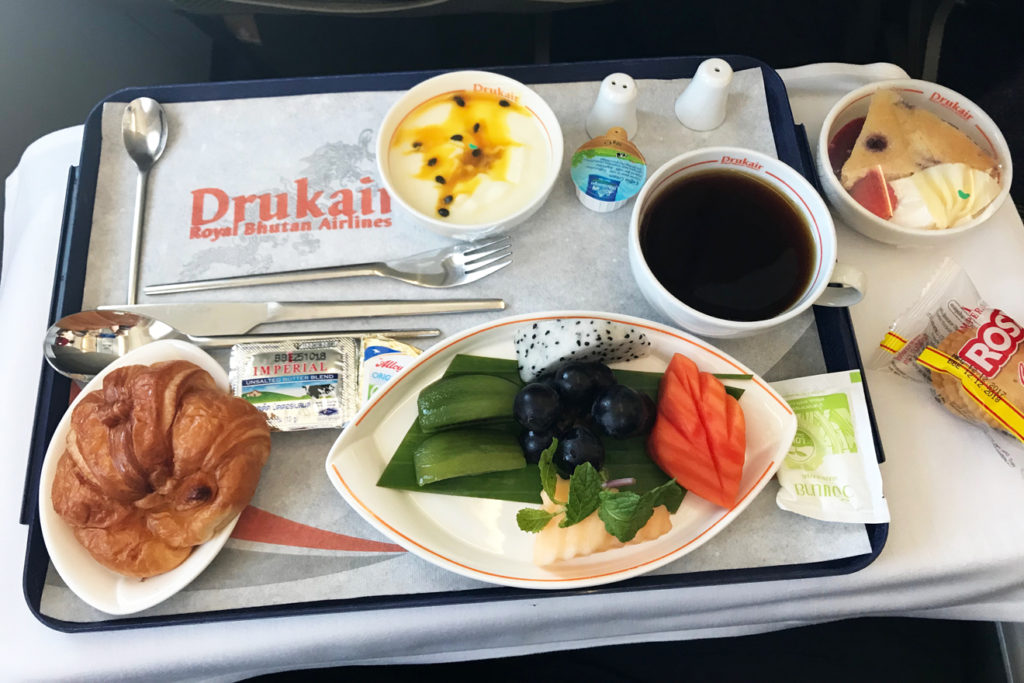 Japan Airlines
This was my first ride on the Boeing 787, from Boston to Tokyo-Narita not long after the route was introduced. The best thing you can say about economy class food is to call it "uneventful." This was no exception, though the ghastly lighting makes it appear less palatable than it was.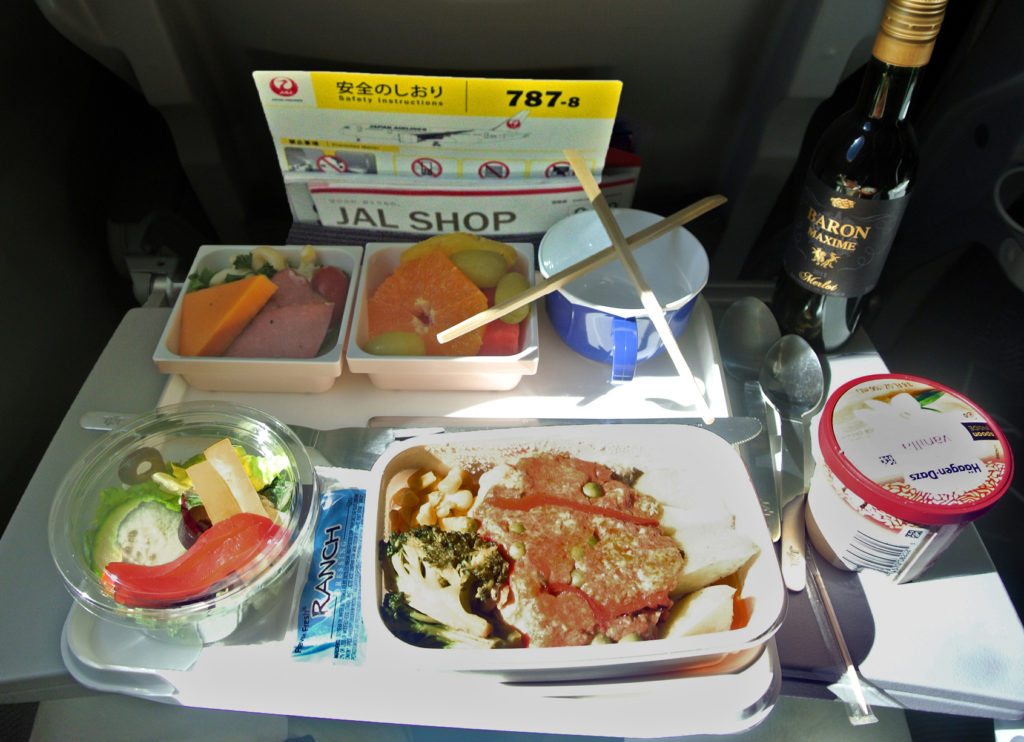 Qatar Airways
Here are the promised long-haul pics. Qatar's deluxe "Qsuite" menu is on-demand, meaning you order whatever you want, whenever you want it. There's no scripted service, per se, with trays and carts coming down the aisle. The top photo shows the menu between New York and Doha. I neglected to get a photo of the entrees. Instead you can see the appetizer or "lite bite" options — a delicious soup, a mezze platter, and a couple of mini-burgers — plus a wonderful dessert.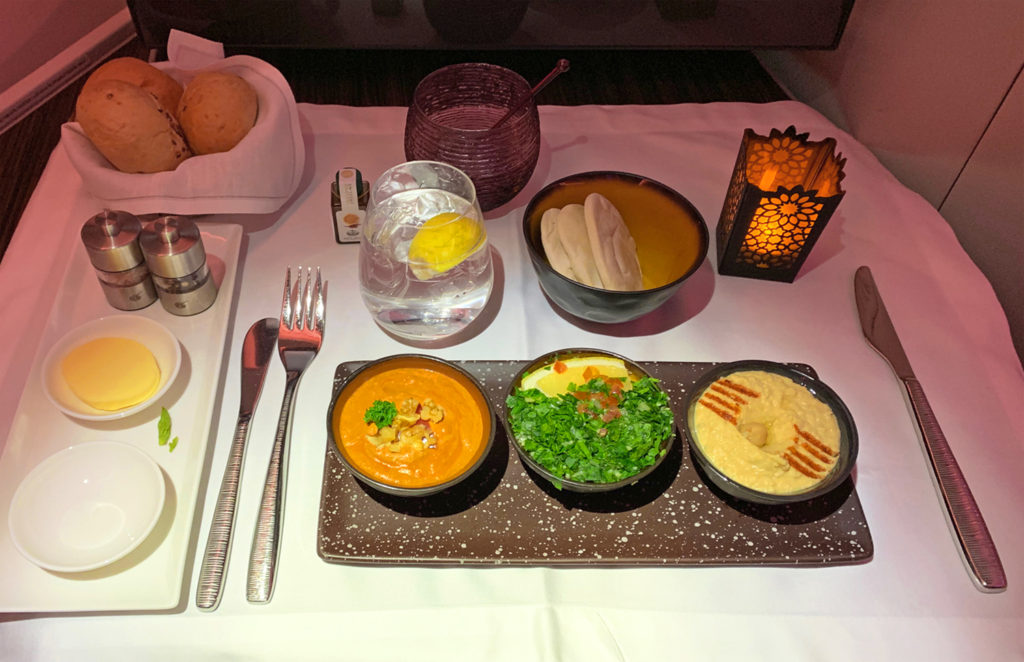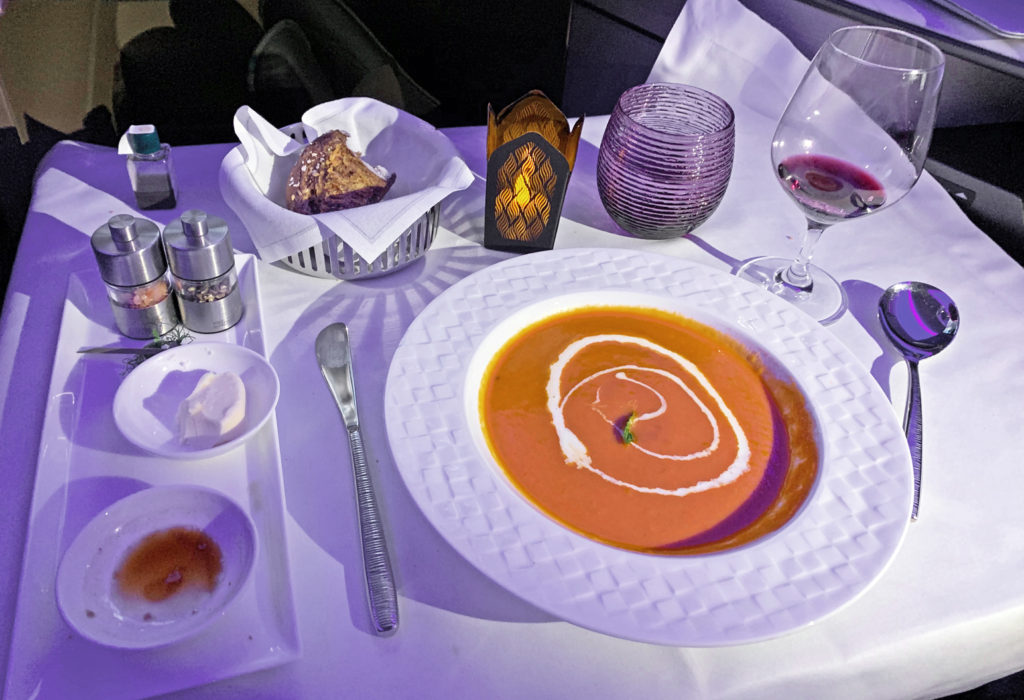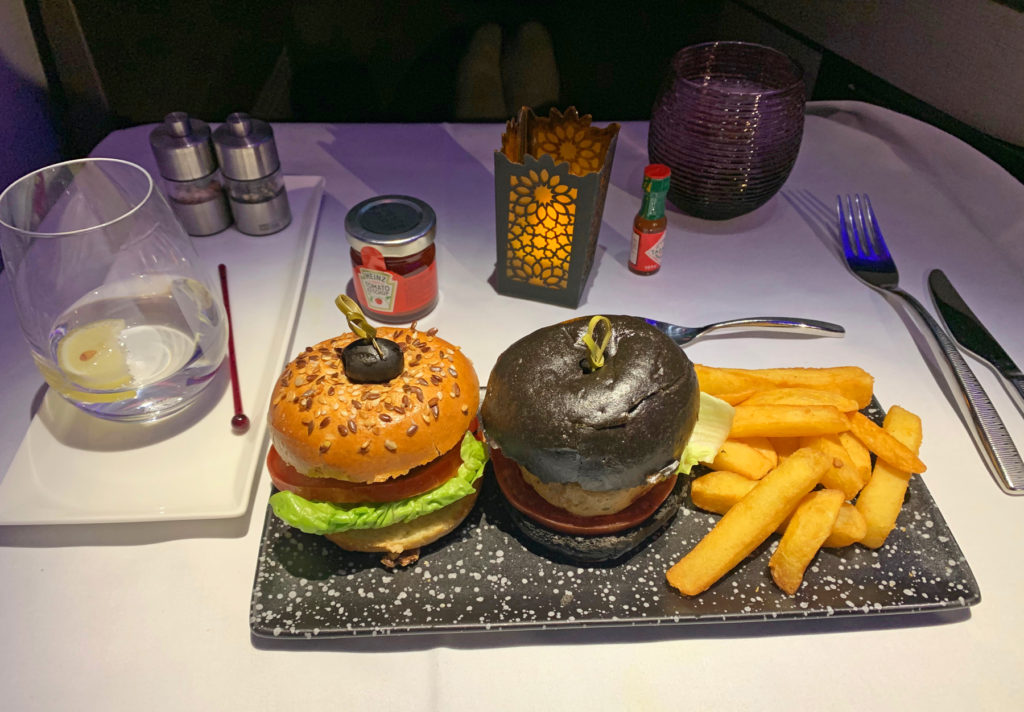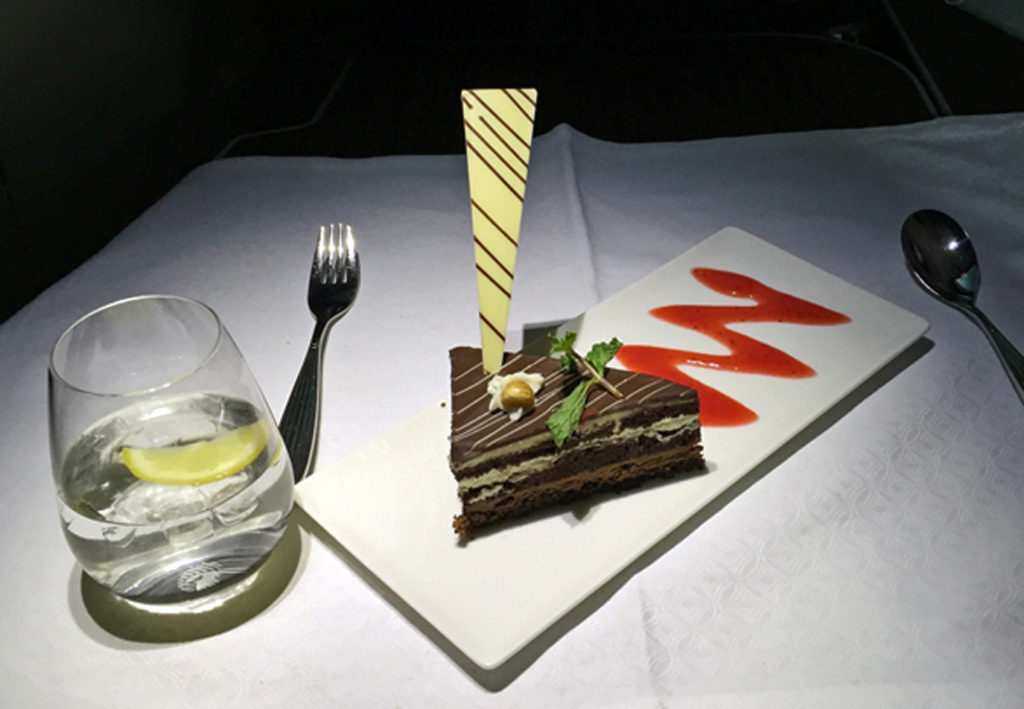 Korean Air
This was first class from Incheon to Bangkok in one of Korean's inter-Asia 747s with an older configuration that is no longer used. Notice the pull-out style entertainment screen and non-sleeper seat. Talk about slumming it! And if that noodle concoction looks a little too sloppy and greasy, that's because.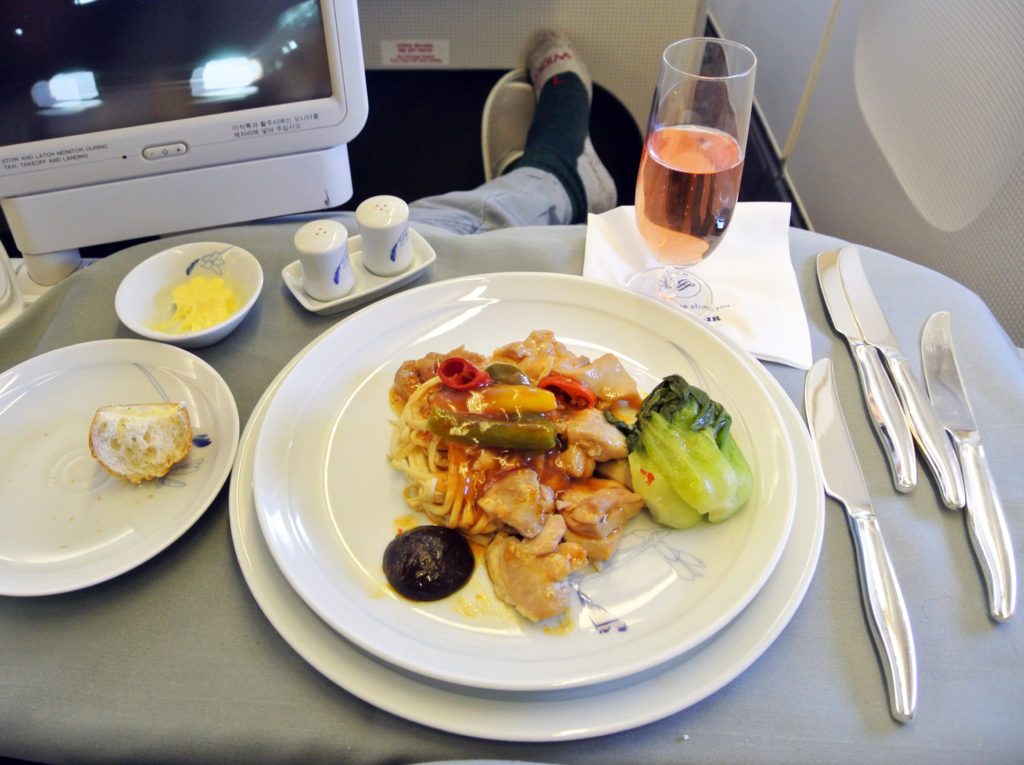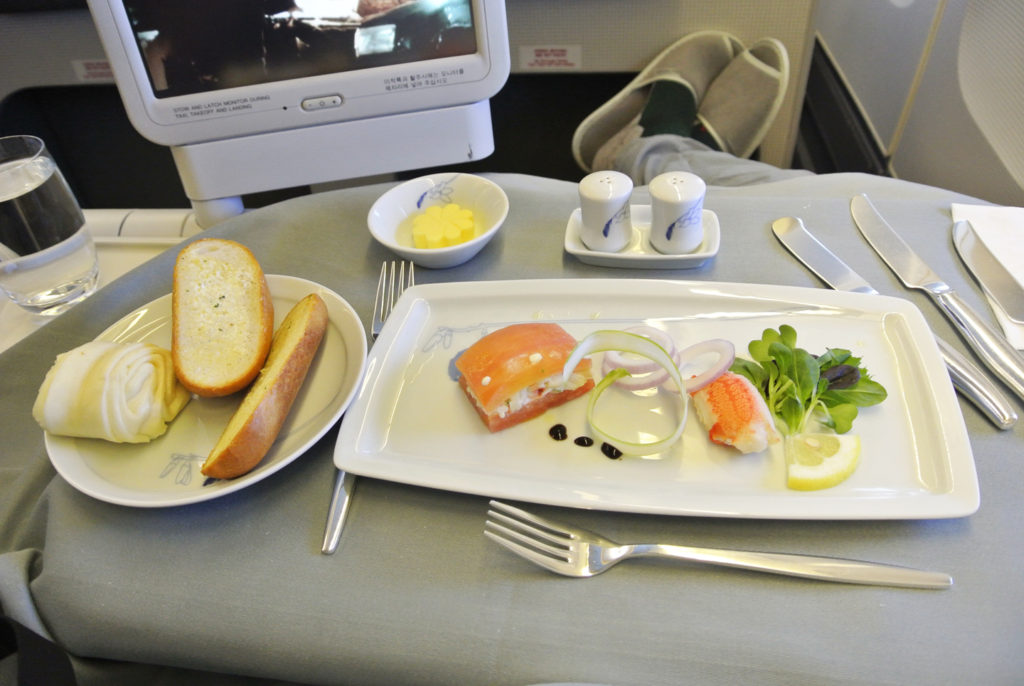 Singapore Airlines
For whatever reason, I failed to keep any photos of the business class delectables I enjoyed one night on the long ride from Singapore to Amsterdam. Instead I have this less interesting picture from a shorter flight. Like most of the airlines we've looked at, Singapore tailors its offerings depending on flight duration and market. This is what you get on an A330 between Singapore and Japan.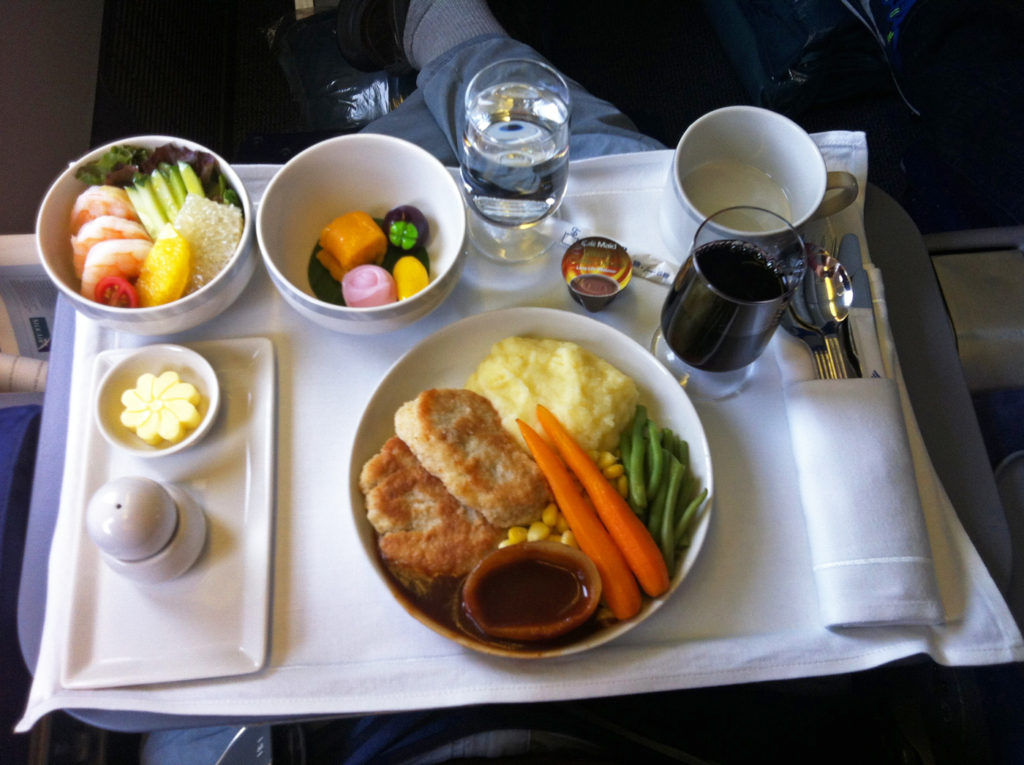 Kenya Airways
Bangkok to Hong Kong with Kenya Airways. A decent lunch and a can of Tusker — what's not to like? And although you can't see it here, this airline provides the world's most luxurious fleece blankets. The crew even let me abscond with one. Today it resides on my couch. What they didn't have, at least on this vintage 767 (since retired), is an entertainment system. I spent several perplexed minutes trying to locate my screen before realizing there wasn't one.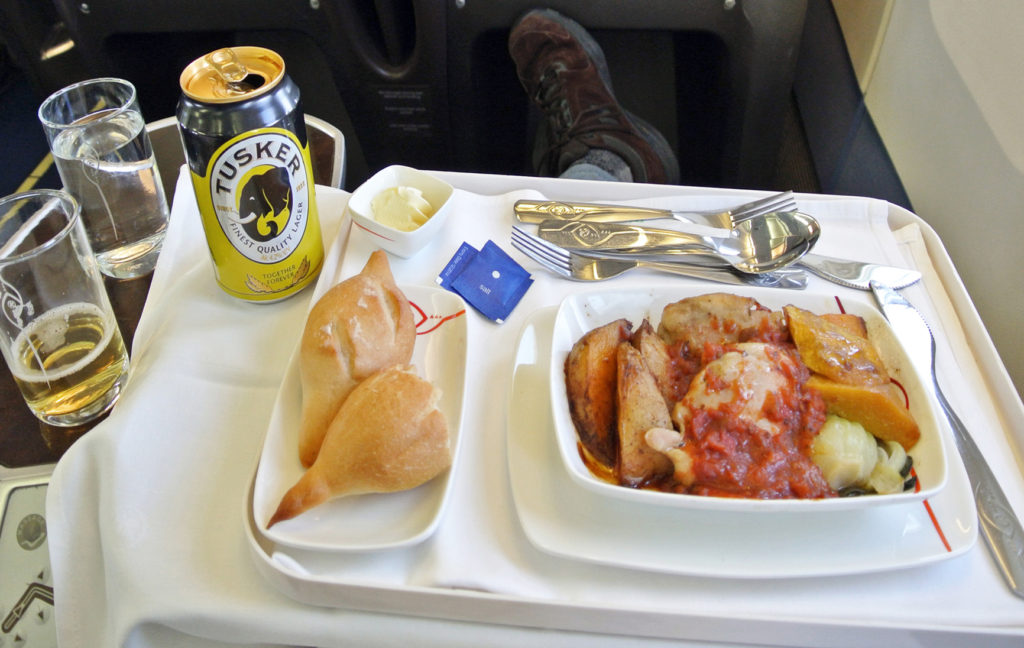 Thai Airways
On the red-eye from Bangkok to Incheon. Another satisfying yet unmemorable economy meal. Or, on closer inspection… that looks rather good.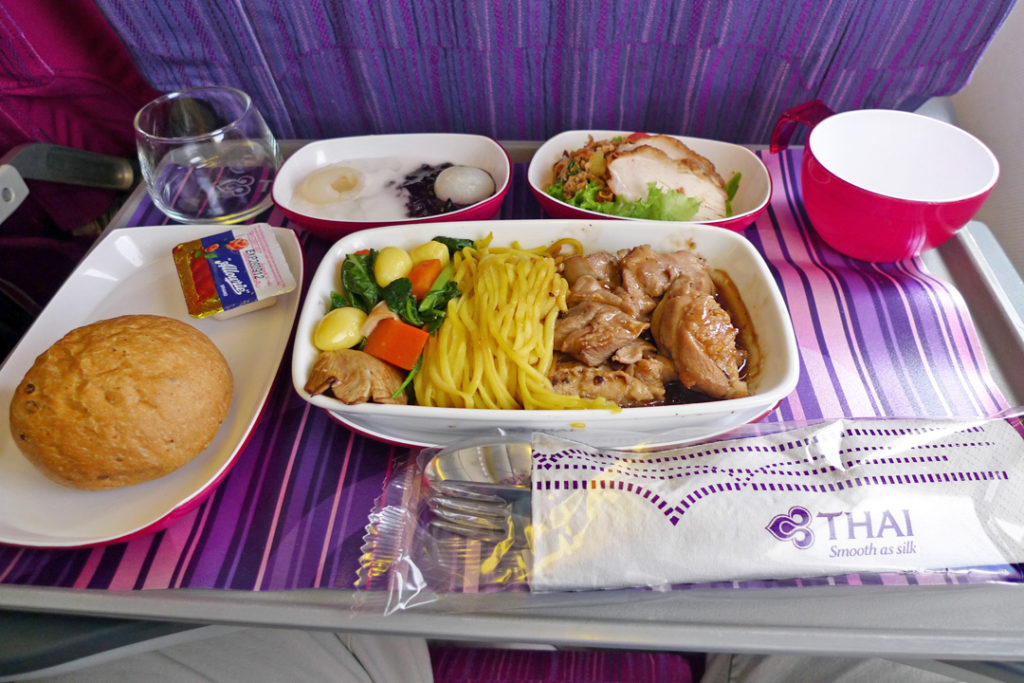 Air Malta
Like the aforementioned Drukair, Air Malta operates only smaller planes on shorter routes (pictured is Heathrow to Valetta). And like Drukair, they do what they can with limited time and space. This involves some improvising, such as folding down the center seat to create a kind of instant business class. The result, all things considered, is surprisingly pleasant. Read more about it here.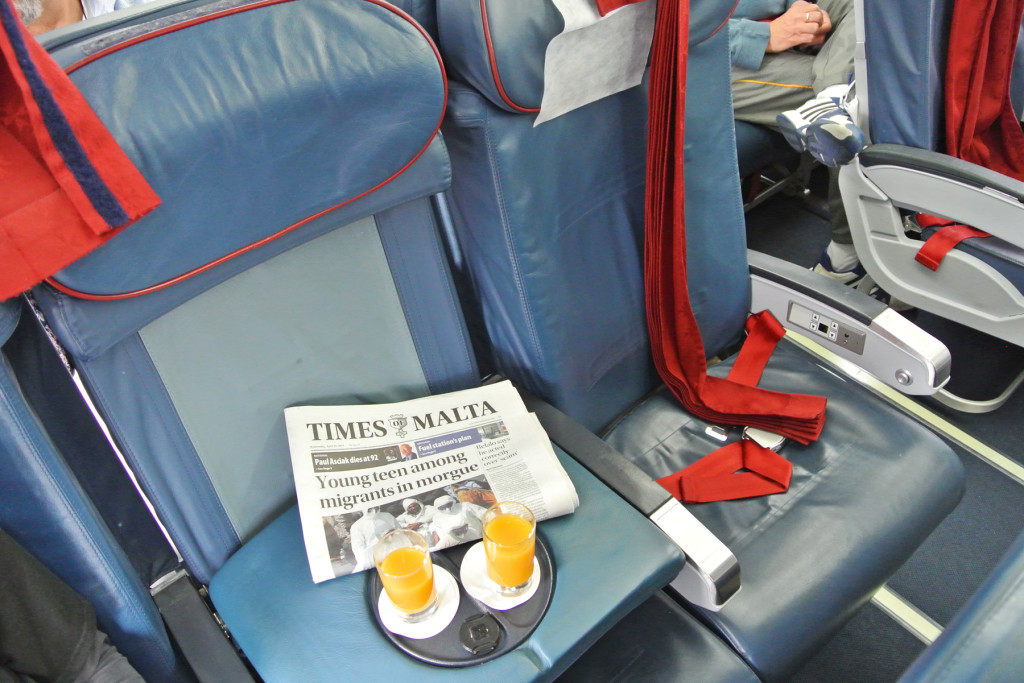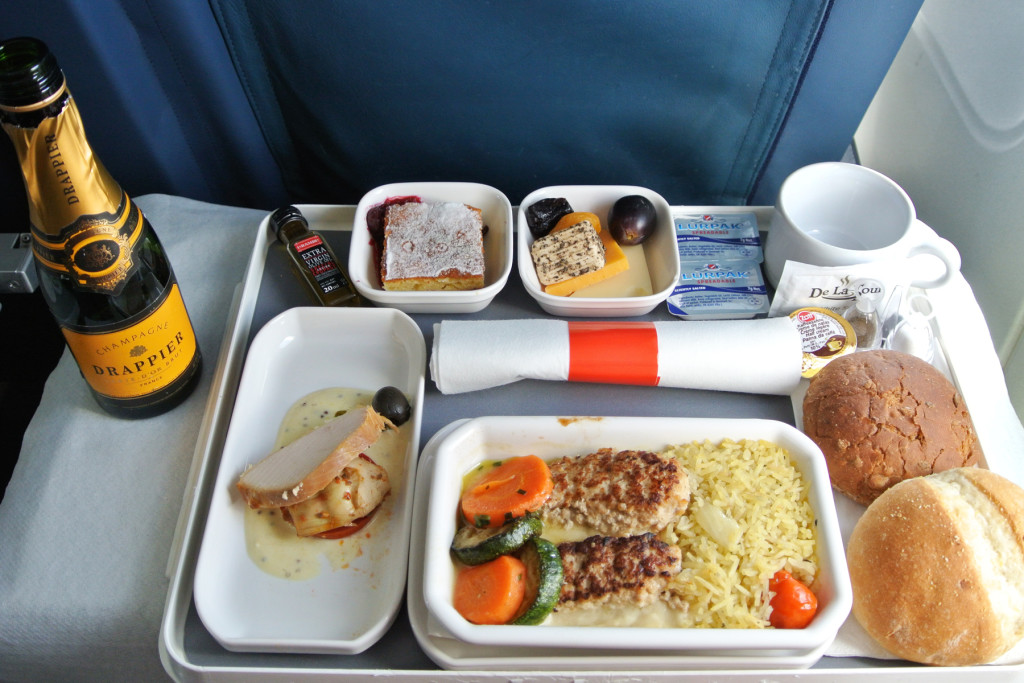 Emirates
Emirates first class is… well. You're looking at flights from San Francisco to Dubai, Dubai to Mauritius, and Johannesburg to Dubai, on both the 777 and A380. Similar to Qatar Airways, this is dine-on-demand, and you're free to mix and match entrees, appetizers, and desserts to your heart's content. Flying out of Johannesburg, I was intrigued by the ostrich filet (see the menu photo), but the pesto ravioli was tempting too. My cabin attendant prepared me both. The rest of the photos show the mezze appetizer spread (yes that's an appetizer), a shockingly delicious chicken biryani, and a salmon dish. The last two shots appear to be a before-and-after. Somehow I ended up with carafes of red and white wine. Again, this is first class. Emirates business class is a lot less lavish and, frankly, disappointing.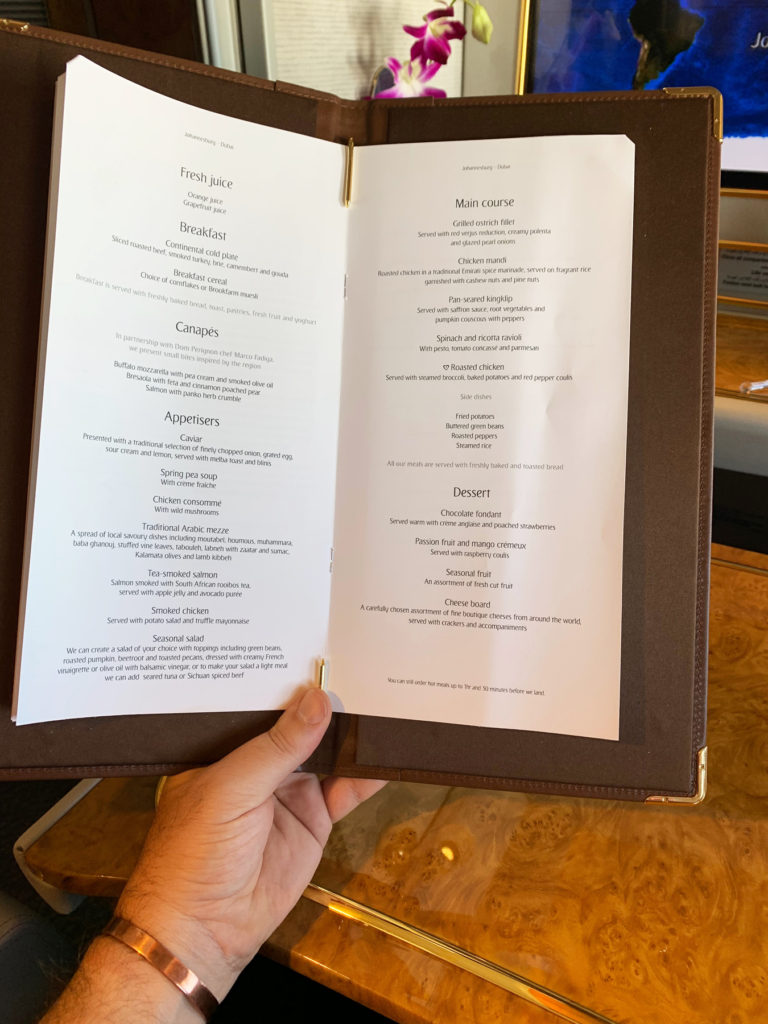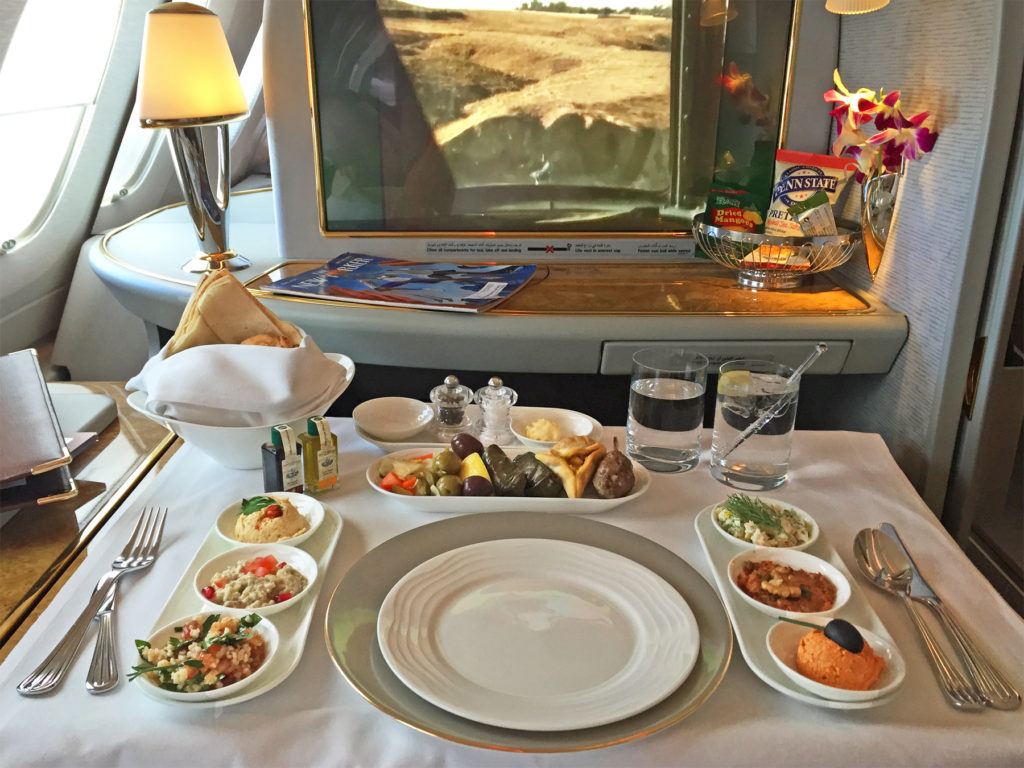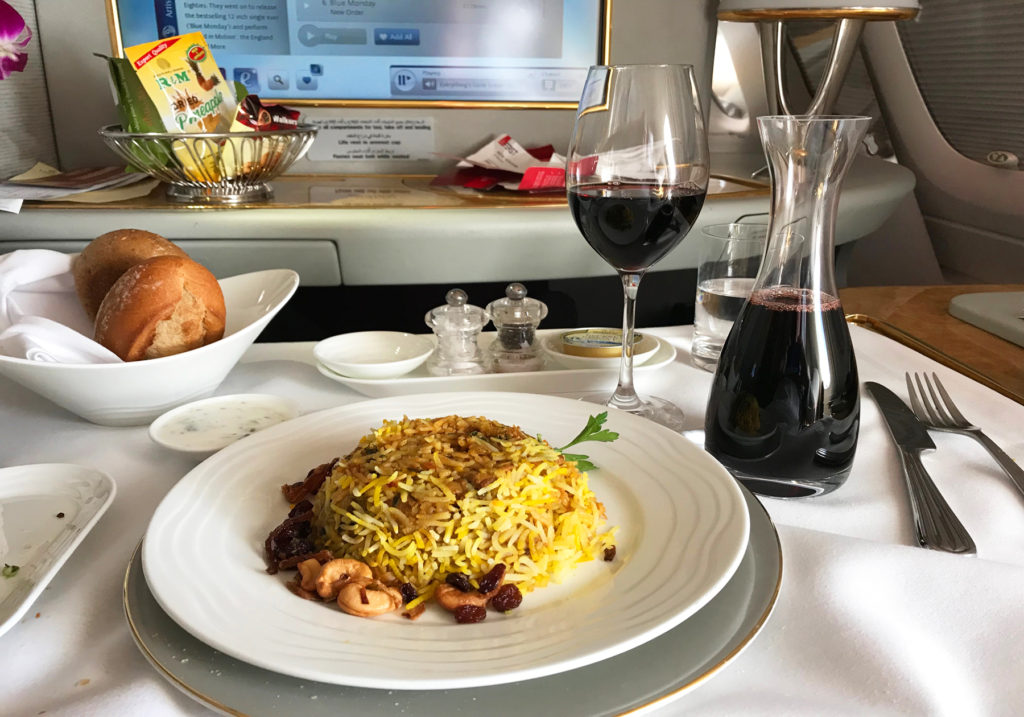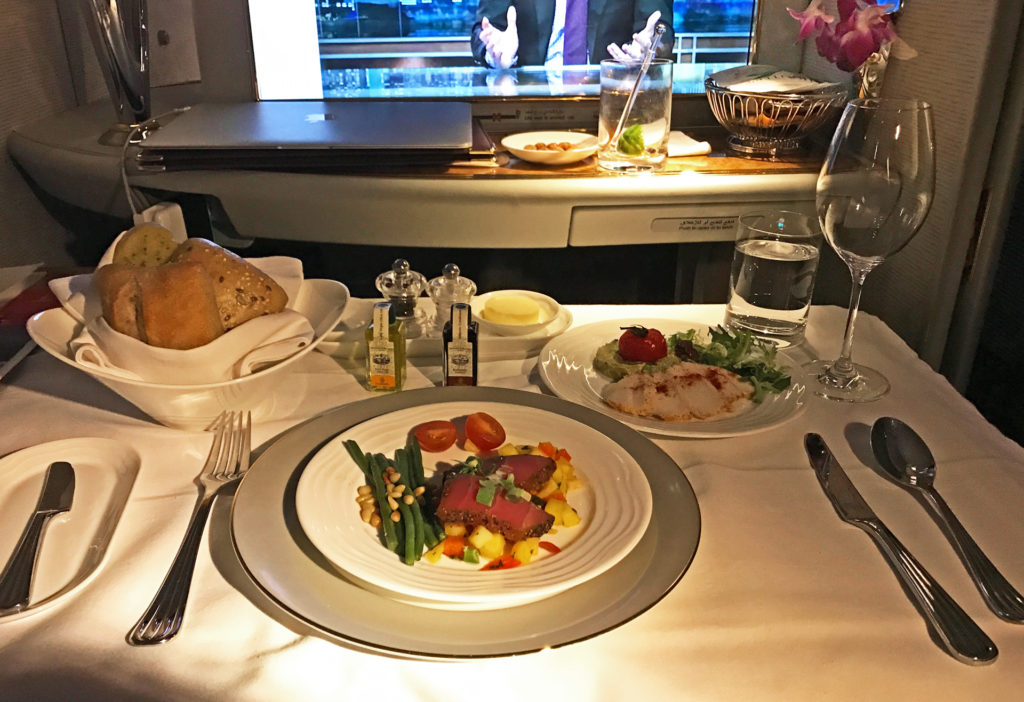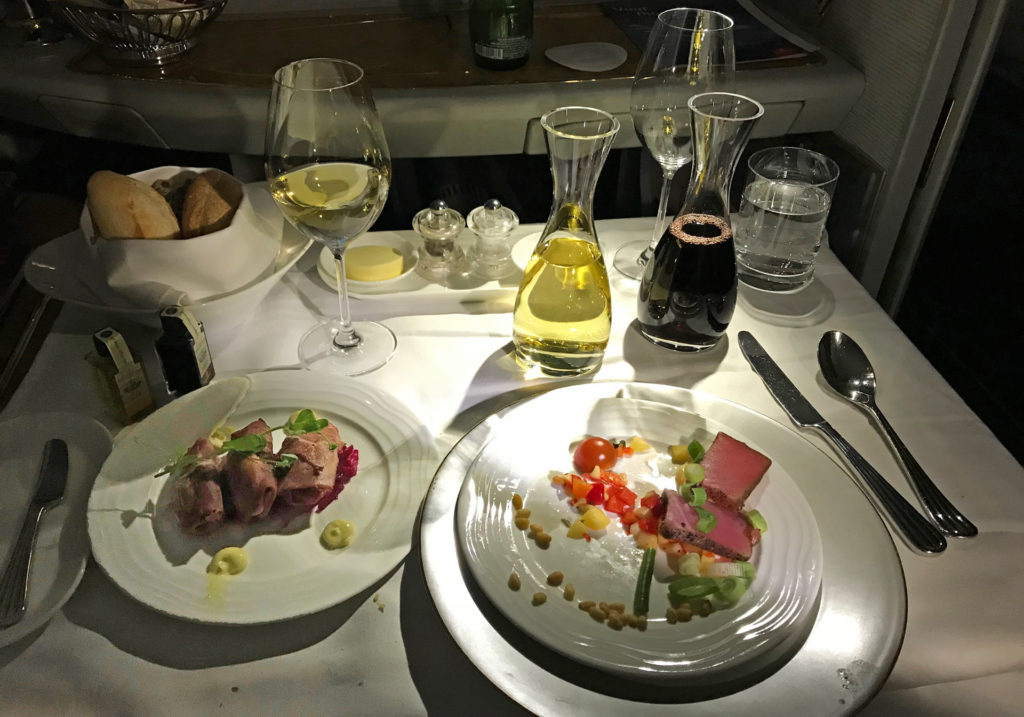 Battle of the Bars
The Airbus A380s at Emirates and Qatar both have onboard lounges. Qatar's is situated in the center of the upper-deck. The Emirates version is also upstairs, but in the back, behind business class. Emirates also has an exclusive upper-deck bar only for first class customers, located at the forward bulkhead between the shower spas. The lounge is staffed by a bartender, while the forward bar is serve-yourself (below, Julia chooses a bottle of Spanish white). Prior to arrival, the forward bar is taken down and a tea station is arranged in its place, backdropped by ornamental stones and waterfall. I mean, it's hardly an airplane without rocks and a waterfall.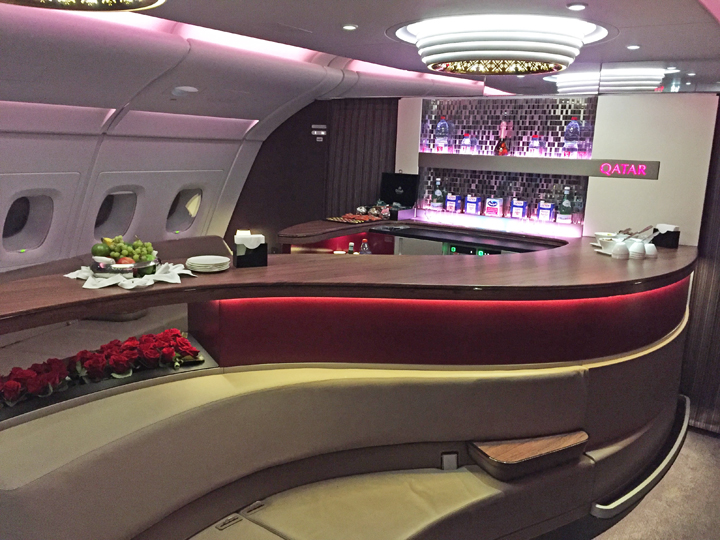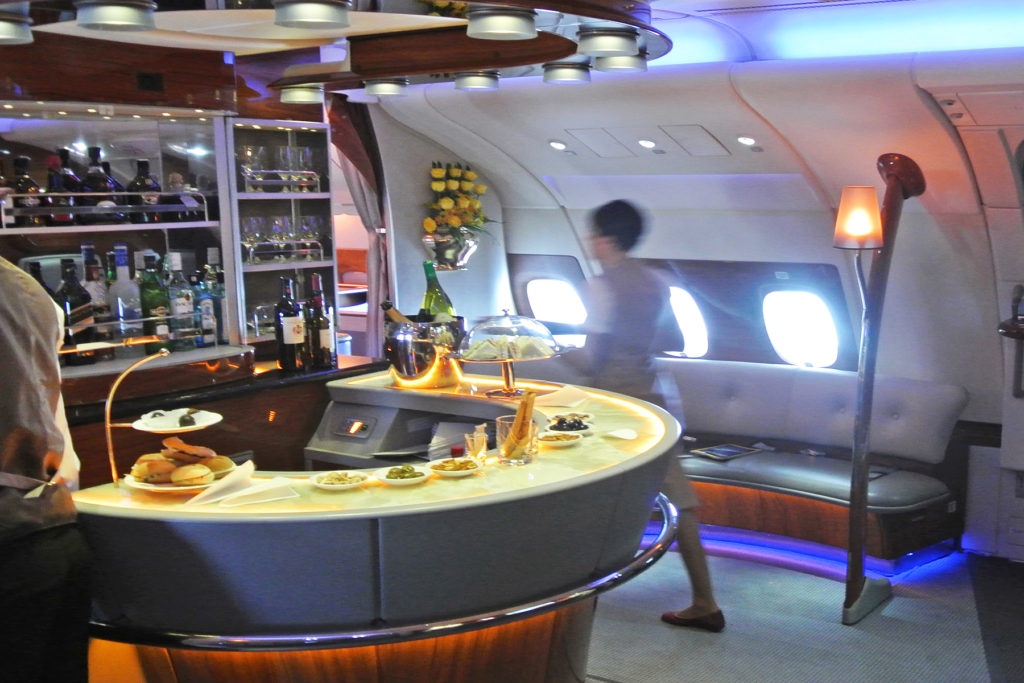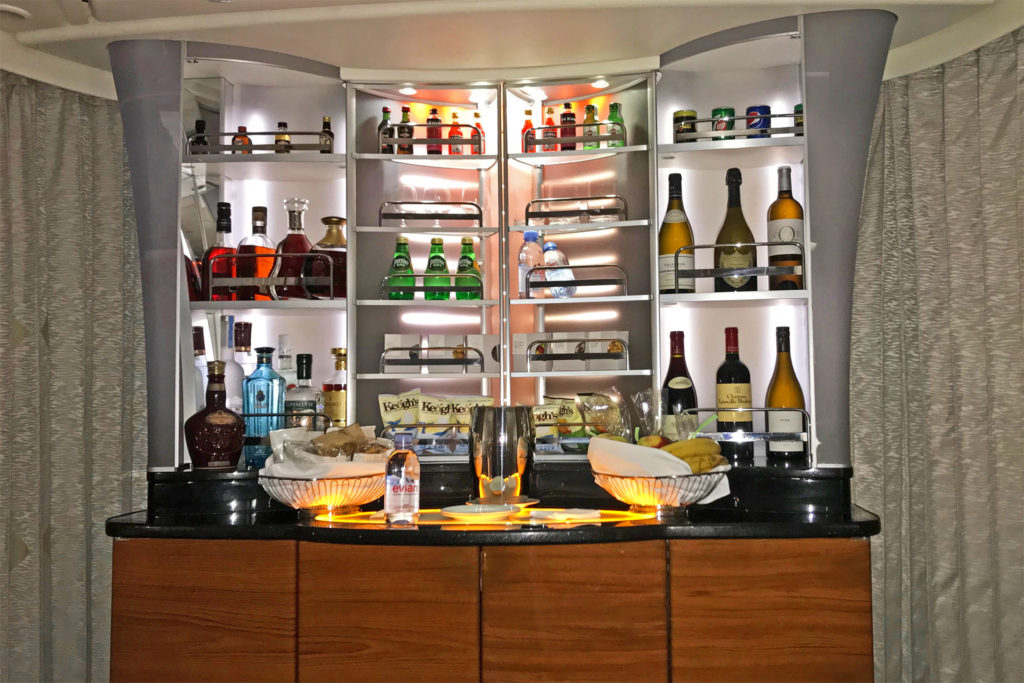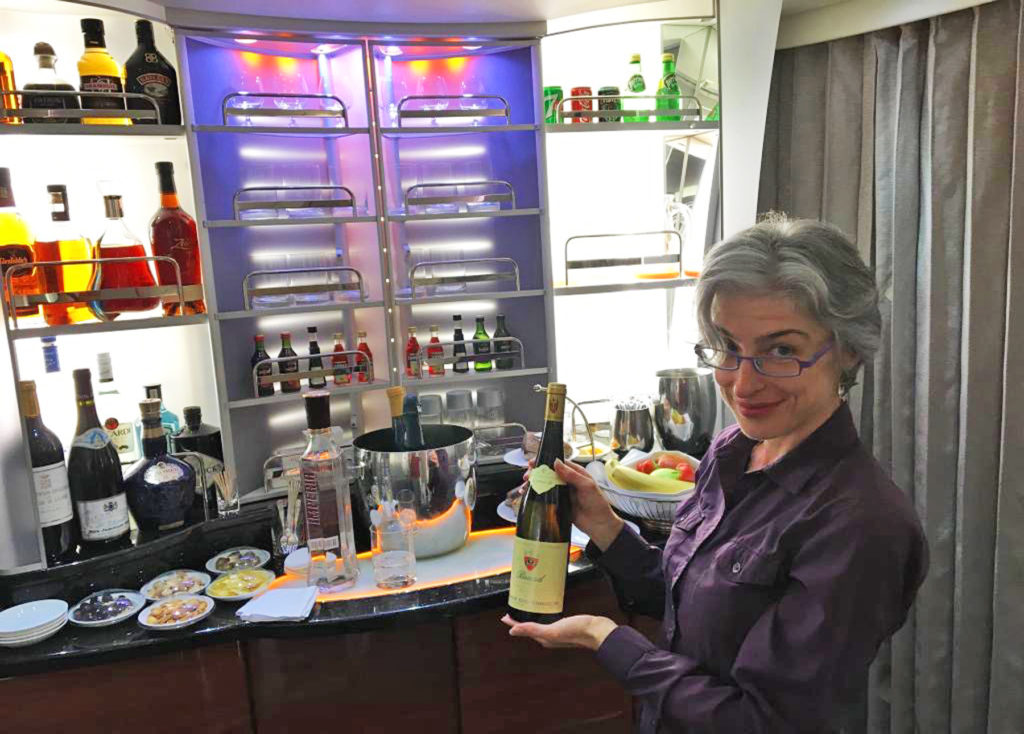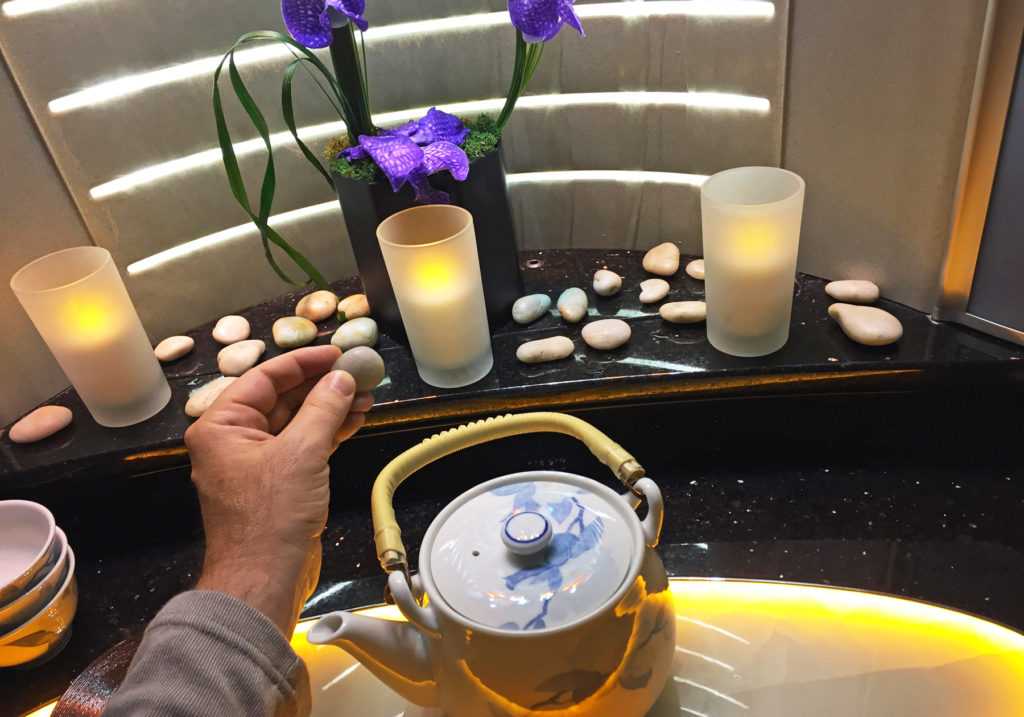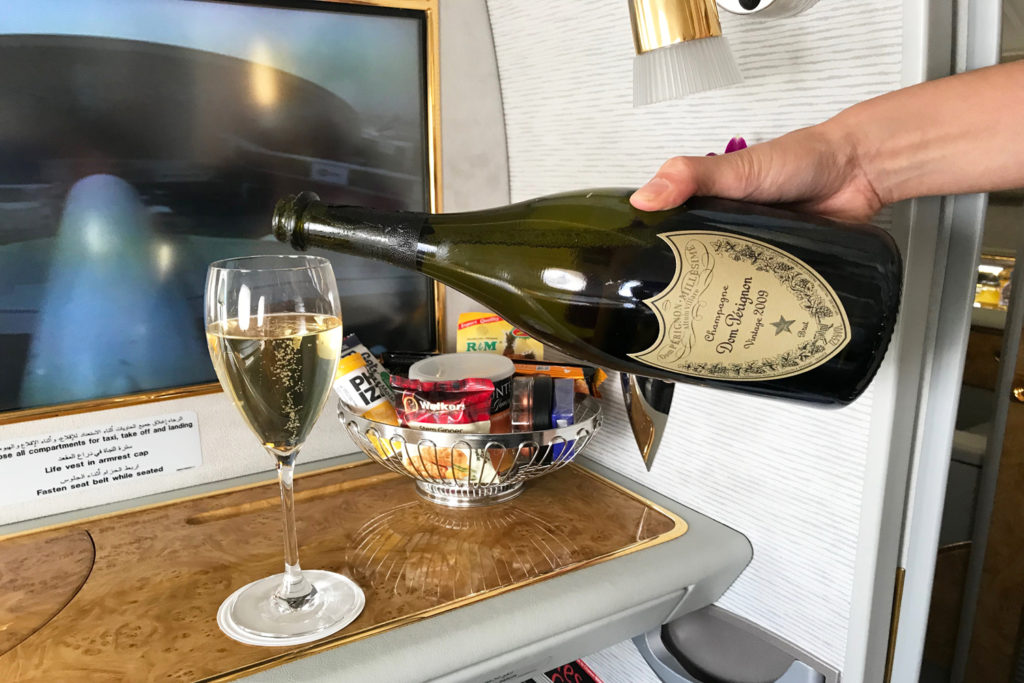 The Quiet Americans
Looking at those photos from the Gulf carriers, it's easy to see that none of this is fair. Competing with heavily subsidized, government-owned airlines is pretty much impossible for American, European, and even most Asian carriers. Which isn't to say their onboard products aren't good. My photo collection doesn't show it, but I've experienced most of them, and they hold their own. We've come a long way since the early 2000s, when broken seats, lousy food and terrible service were the standard. Let's hope the COVID fiasco doesn't re-set the clock.
If I had to choose a winner it'd be Delta. Its international business class, now branded as Delta One, offers good food and an elegant, choreographed presentation with appetizer, soup, and dessert courses all delivered separately. It's professional and gracious experience that United and American don't match, even with bigger planes. Heck, it even blows Emirates' business class away. Delta also has the world's best inflight entertainment system. It's not by accident that the airline keeps winning the most passenger choice awards among the U.S. big three.
I have no idea how much time it will take to claw our way back to normal, but if there's one thing I miss it's the guilty pleasure of sitting back with a movie, a good meal and some wine.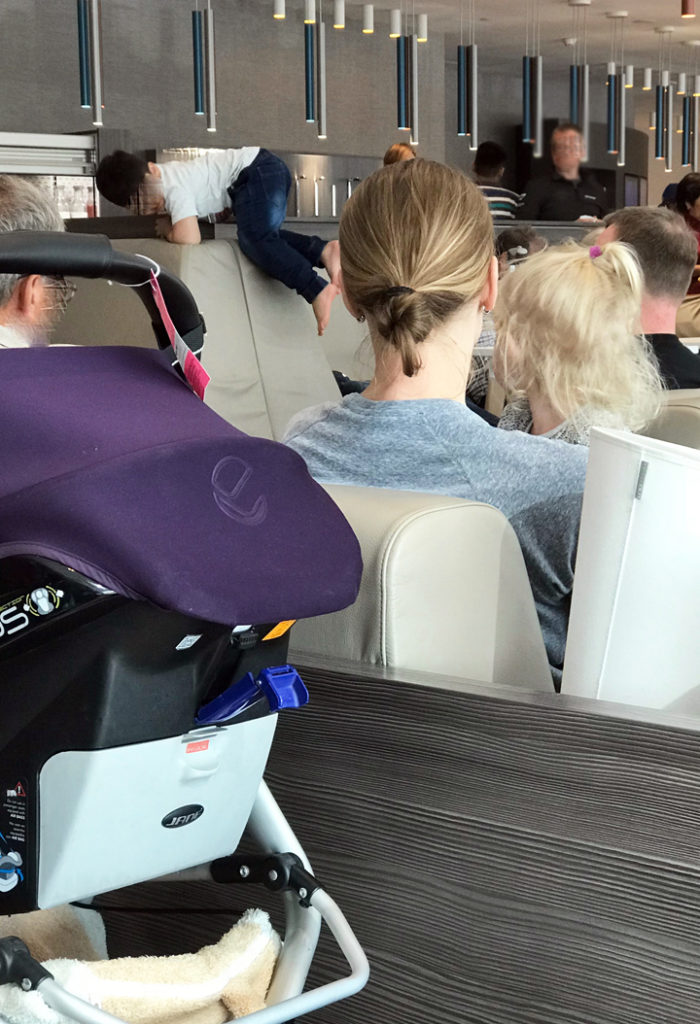 UPDATE: February 12, 2020
MAYBE MY EXPECTATIONS are out of whack, but I've always thought the airport lounge was supposed to be an exclusive sort of place. A place of luxury and comfort, where premium class passengers could escape the noise and bustle of the terminal. In my younger days, before I could afford to travel in the forward cabins, I'd walk past those smoked-glass doorways and think, wow, it must be pretty luxe in there. I mean, isn't that the point?
Well, as anyone who travels regularly and visits these lounges will attest, this is increasingly not the case.
The main issue is overcrowding. Lounges are often so jam-packed that customers are forced to stand. I've seen lines going literally out the door. Noise levels, meanwhile, are off the charts, often because the property is overloaded with babies and toddlers.
One night I'm at the airport in Bangkok, at the Thai Airways' Royal Orchid Lounge, which is shared by the various Star Alliance members. Access to the lounge is part of the whole premium class experience, and I left the hotel extra early to enjoy it. In the entryway vestibule, everything is peaceful, elegant and quiet. The hostess scans my boarding card and welcomes me. But when I turn the corner into the main hallway, everything changes. There must be five-hundred people inside. Literally every seat is taken. There's trash all over the floor and it's louder than a football stadium.
After standing around for ten minutes I finally score a seat. I'm wedged between four other visitors. My table is cluttered with the last person's cups and plates, but if I wait for it to be cleaned, someone else will grab it. There are kids everywhere, and they will not shut up: yelling and crying and running around like it's recess on the school playground.
The centerpiece of this chaos is an obnoxious guy in a Russian soccer shirt and his belligerent offspring. He's something of a Vladimir Putin lookalike, sprawled sockless on a sofa with his naked feet hanging over the rail, playing a game on his phone. Around him is a spray of plastic toys deposited by his five — count 'em, five — preschool-age children, who when they aren't tossing toys around are shrieking and throwing chips at each other. Every so often Vlad claps his hands and scolds them in lazily indignant Russian. They ignore him and carry on.
And here come the waitstaff with their carts. They're flinging dishes into the bin, rapid-fire, and it's BANG, CLANG, SMASH, BANG, SMASH, CLANG.
I try not to let it get to me. I distract myself with the buffet, helping myself to a gin and tonic, a miniature pastry-pillow labeled "chicken roll," and some finger sandwiches made with institutional-looking white bread. But it's so noisy and crowded that it's impossible to relax. At one point I look up and can hardly believe my eyes. Walking past me is a mom and her two year-old toddler… in a diaper.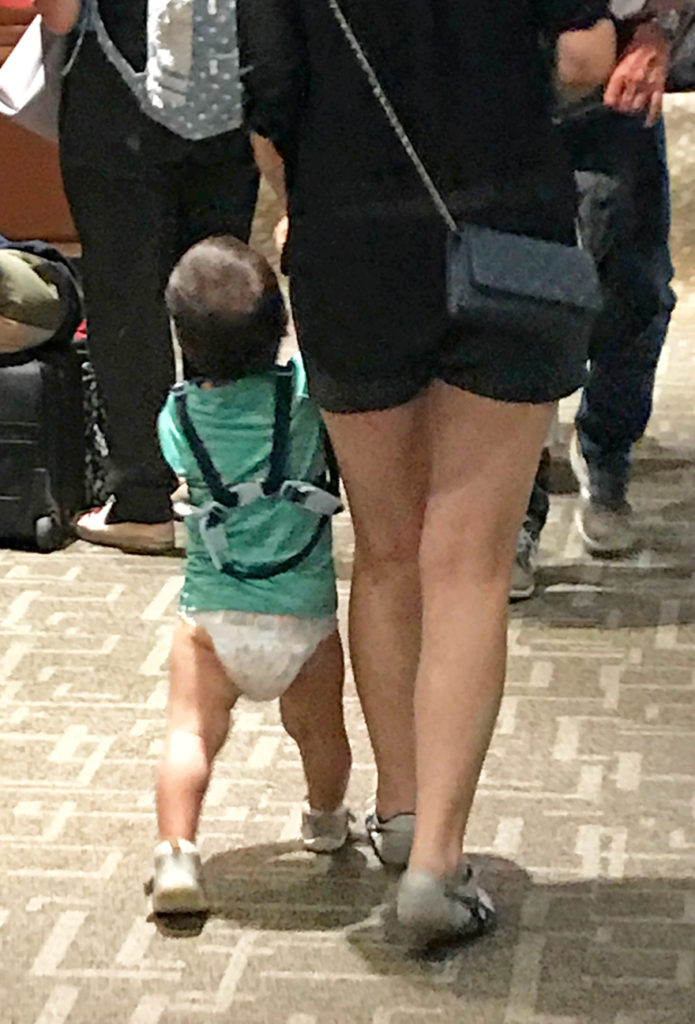 The photo at the top of this post was taken at the Aspire lounge (shared by multiple carriers) at Amsterdam-Schiphol. Every seat was occupied and the morning sun was blasting through the unshaded windows, heating the room like a sauna. At least a dozen babies could be counted, half of whom were shrieking at any given time, while a group of rambunctious, slightly older kids ran amok, throwing themselves over the furniture. Aside from the free food — which kept running out — what exactly was the advantage of being here versus any random spot in the terminal?
What was intended to be a place of comfort and relaxation has become a cross between a day-care center and a cafeteria. Silly me. I remember the first time I stepped into the Cathay Pacific business lounge in Hong Kong, and how, not knowing better, I was literally nervous. I had this idea that I was stepping into some rarefied chamber of privilege where everyone inside would like like James Bond. I'd be seen as an interloper and asked to leave. Instead, here was a room overflowing with the same people you'd see in any shopping mall, most of them younger than me, in cargo shorts and ballcaps, jostling with baby strollers and wolfing down beer and noodles.
I was in the Avianca lounge at Miami International not long ago. There was a guy, early thirties, sitting across from me, with his headphones cranked so high that everybody within fifty feat could sing along. The music was obnoxious enough, but then I noticed his t-shirt. It was black and emblazoned with two simple words in large block letters. It said… well, here's a picture of it: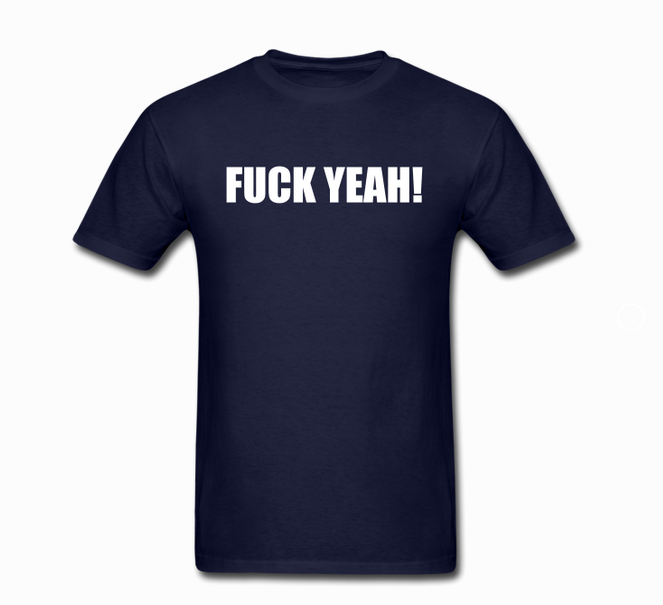 If that's not an indicator of just how far air travel — even premium class air travel — has fallen, I don't know what is.
This is by no means across the board, of course. It's hit or miss, depending on the airport, the airline, and the time of day. The trend, though, isn't a good one. There are a lot more loud, dirty, and overcrowded ones these days than pleasant or luxurious ones.
The cause is twofold. For one, more people are flying than ever before, in all classes, and/or with whatever mileage or frequent flyer status gets you in. On top of that, a growing number of passengers are using third-party perks to gain entry. Credit cards, mainly. Having an American Express platinum card, for example. (In the interest of full disclosure, I'm as guilty of this as anybody, my Platinum AmEx and Priority Pass benefits getting me in to the same lounges I'm apt to then complain about.)
I should point out, too, that the same thing is happening in hotels. Have you been to the executive lounge in a Marriott or a Hilton or a Hyatt lately? A topic for another time, maybe, but the mechanics of the issue are no different.
This won't be an easy one to fix. Operators have little choice beyond tightening up their entry qualifications or building bigger lounges. The latter is difficult, if often impossible. The former risks alienating a large number of customers who've gotten used to easy entry.
If I was running an airline, I'd have a few rules:
1. Lounge access is for first and business class passengers only. No third-party (Amex, etc.) entry unless capacity is below 75 percent.
2. One guest per passenger.
3. No guests for third-party customers.
4. No children under four years-old. Period, no exceptions.
That first one, I admit, is a non-starter. Airline lounges restricted only to premium class passengers do exist, but they're uncommon, and carriers make a lot of money from those credit card deals.
I'm not optimistic. Look at airport security as an example, whereby a tediously inconvenient, jury-rigged system became the new normal. Sure there's PreCheck, but the basic structure of the system is irrational and frankly chaotic. If you could time-travel back twenty years and describe our security protocols to a passenger, he or she wouldn't believe you. The whole thing would be seen as ridiculous and unacceptable. Yet here we are. It's amazing what we grow accustomed to and eventually accept with a shrug.
Ask the Pilot lounge awards…
BEST: The Emirates first class lounge in Dubai, concourse A. The private boarding bridges, the gourmet food, sumptuous surroundings and complimentary massage. Where to start, and what's not to like? And no, your Amex ain't getting you in here.
MOST DISAPPOINTING: The Wingtips lounge at JFK's terminal 4. Another of those shared lounges, which tend to be worse than the airline-specific ones, this is a singularly awful space. Cramped seating, noisy kids, rickety unwashed tables, and it's always a hundred degrees inside. As for the food…
All photos by the author.
Related Stories:
FIRST CLASS, LOW CLASS, NO CLASS. THE PASSENGER HALL OF SHAME
THE SCOURGE OF INFLIGHT GARBAGE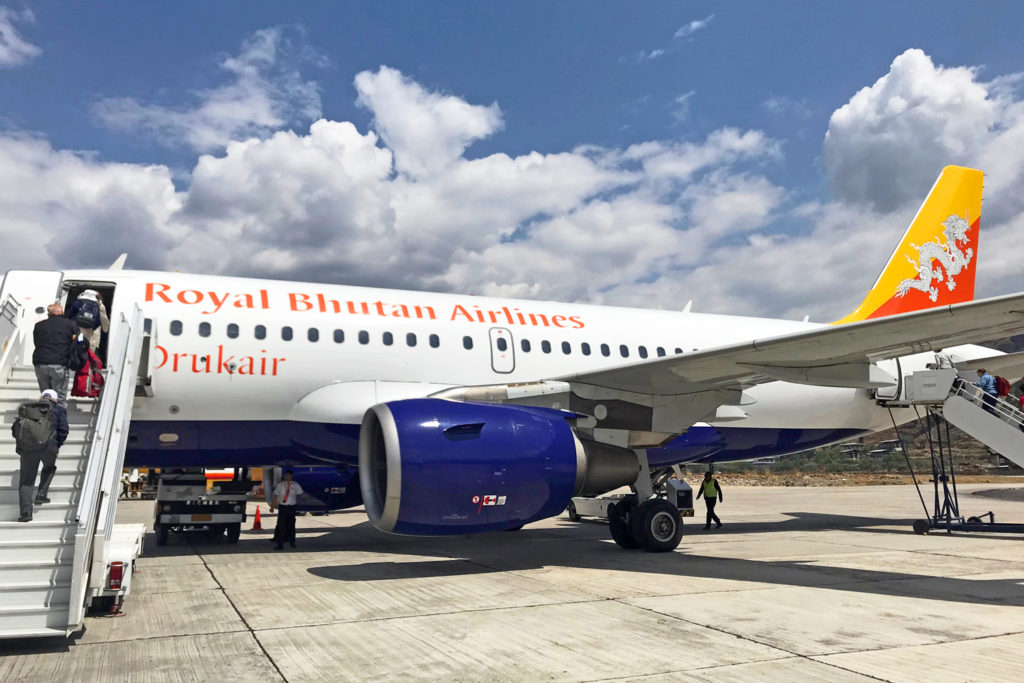 All text and photos by Patrick Smith.
April 30, 2018
"Bhutan? Never heard of it." This I heard over and over again during the weeks leading up to the trip. So, presuming you need an introduction, Bhutan is a small Himalayan kingdom nestled between Tibet and India. "It's near Nepal," is how I explained it most of the time. This is true, though it doesn't actually border that country, a small sliver of India rising up to separate the two.
Our route to Bhutan, encompassing just over 29 hours of flying, went like this: Boston-San Francisco-Dubai-Bangkok-Paro. It was Emirates to Bangkok, and then the little-known Drukair onward to Bhutan. (If you're traveling to this part of the world, Bangkok, Southeast Asia's megahub, is the best jumping off point.)
Boston to Bangkok:
You'll notice some backtracking in that itinerary on the front end, between Boston and San Francisco. This was done for no other reason than to maximize the flight time with Emirates. I had a bucket full of miles to cash in, and the Emirates flight from SFO to Dubai was the longest flight from the U.S. with upgrade seats available. If flying six hours in the wrong direction, with an overnight stay at the SFO Marriott, sounds insane, you've probably never flown first class on the Emirates A380: the onboard showers, the fully enclosed suites with your own private closet, the two onboard bars, the caviar and Dom Perignon. And so on.
I'm not claiming that Emirates competes on a level playing field with other carriers. We'll save that controversy for later. In the meantime, if like me your favorite guilty pleasure in life is sampling the world's luxury airline cabins, the experience is tough to beat.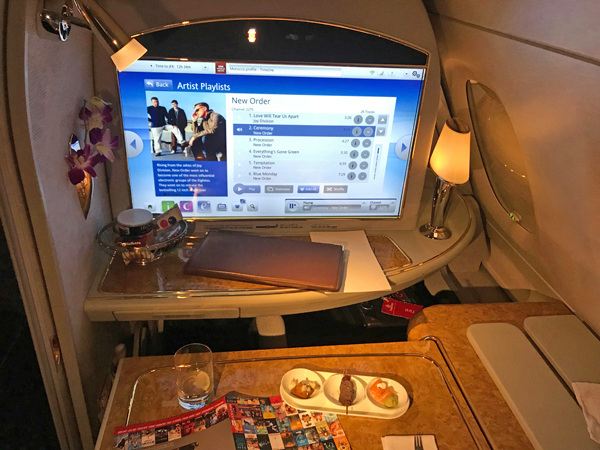 Bangkok to Paro:
We airline geeks have lists; airlines that we hope to someday fly on. Drukair, the government-run carrier of Bhutan, was on my list for years, so it was especially exciting to finally be walking up the airstairs and onto a Drukair A319 at Bangkok's Suvarnabhumi Airport. The carrier also goes by the name Royal Bhutan Airlines, but the local name has more character. The "Druk" (dragon) prefix is a popular trade name in Bhutan, and you'll see it on banks, hotels, restaurants — and the national airline.
Drukair's network, centered at Paro airport in the western part of Bhutan, extends to Bangkok, Singapore, Delhi and Mumbai. For years the company was operating the four-engine British Aerospace 146, but has since upgraded to the more modern Airbus A319. The Airbus has good high-altitude, short-runway performance, which is important when your hub airport sits at 7,300 feet with a stubby, 6,400-foot runway. It's pretty unusual when an airport's elevation exceeds the length of its longest runway!
I'd splurged for business class, which on Drukair is a four-abreast, four-row cabin. The seats are the old-fashioned, semi-recliner types; a bit blandly upholstered and perhaps not cleaned as often as they should be. I was appalled when I lifted the center armrest console and discovered a verifiable dune of peanut crumbs and dust. That aside, the experience was perfectly pleasant. The food was tasty and the cabin crew attentive. The menus, stitched with a Bhutanese cloth design, were simple but very pretty.
This was a one-stop flight, with a half-hour layover in Gauhati (Guwahati), India. This was the first time in my life that I boarded an international flight headed to a city that, prior to showing up at the airport, I had never heard of before. I'm very good at geography, which made it all the more mystifying. I stared up at the check-in monitor for a few seconds — Gauhati? — wondering vaguely where I was and where I might be going. I'd later discover that Gauhati has a population of almost a million people. I guess that's India for you.
During the descent into Paro they played traditional Bhutanese music over the PA. This was an evocative touch, adding a certain exotic-ness to the arrival, especially once the mountains came into view. The initial descent had been through a heavy overcast, occluding that view of Everest I'd been dying to catch, but suddenly the rainclouds gave way to an almost fairy tale panorama of jutting emerald peaks. The lower we got, the more exhilarating it got. The landing gear clunked down at what felt like 15,000 feet, and suddenly we were doing hairpin turns in sheer mountain valleys, with 17,000-foot summits on three sides.
Yeah, I'd read about the arrival into Paro and watched a couple of videos, but that doesn't prepare you for the visceral thrill of it. Especially that last, very low-altitude turn toward the numbers of runway 33. The expressway visual at LaGuardia has nothing on the landing at Paro. This was the closest I've ever come to being truly white-knuckled on a commercial airplane.
Only two scheduled carriers operate into Paro — Drukair's privately owned competitor, the unexcitedly (and confusingly) named Bhutan Airlines is the other — and only a few dozen pilots are qualified to fly there. Frankly, this is how it should be. I'd be quite uncomfortable flying into Paro with any crew that wasn't intimately familiar with the local terrain and its complex arrival and departure patterns.
(So, to be clear, there's Drukair, a.k.a Royal Bhutan Airlines, and the privately held Bhutan Airlines. If the names aren't confusing enough, they both fly A319s, in similar paint schemes, on overlapping routes.)
In addition to the dirty seat consoles, two more gripes against Drukair: First, the carrier's business class lounge in Paro is located outside security and immigration. I imagine this is due to space constraints; the airport is very small. Just the same, nobody wants to relax in a lounge, then have to get their passport stamped and stand in a security line.
And speaking of lines, during check-in, the queue for business class was extraordinarily slow, to the point where virtually all of the economy passengers were able to check in ahead of us. When I attempted to use the economy line, which by that point was empty, I was rudely sent back to the business line and forced to wait another fifteen minutes. Several agents on the economy side now sat behind their podiums with nothing to do, yet refused to check us in.
Paro's arrival and departure halls are crowded and noisy (departure in particular), but they're charming in that way of certain small airports. The architecture is in the style of a traditional Bhutanese home, and the decor riffs heavily on the artwork and ornate craftsmanship seen in the country's many temples, monasteries and dzongs (fortresses).
In country:
"Life is suffering." That's the first of the Four Pillars of Buddhism, which is somewhat ironic when you discover that Bhutan, in addition to being perhaps the most intensely Buddhist country on earth (prayer flags cover the Bhutan landscape from end to end, like a sort of heavenly confetti), is also one of the most content. This is the country that invented the Gross National Happiness index, and which frequently tops those "world's happiest countries" lists.
And for a poor nation in an isolated area, little Bhutan seems to have its act together in ways that few developing nations ever do. As Lonely Planet puts it: "Bhutan is one of the few places on earth where compassion is favored over capitalism. Issues of sustainable development, education and health care, and environmental and cultural preservation…are at the forefront of policy making." The people of Bhutan are happy and comparatively well educated; healthcare is decent and universal. The roads are in good condition, mobile phone service is everywhere, and 98 percent of citizens, even in remote locations, have clean drinking water — an astonishing statistic, as anyone who has traveled in the developing world will acknowledge.
Granted, these things are comparatively easy for a country with fewer than a million people. An honest, uncorrupt government and a Buddhism-based sense of civic responsibility doesn't hurt.
The Bhutanese government is also acutely concerned about the effects of climate change. The swelling and potential bursting of glacial lakes, for one, threatens to destroy some of the country's most historic sites. Doing its part, Bhutan currently the only carbon-negative country in the world. It has banned the of chemical fertilizers and no longer imports food that was grown with them. Thus almost all of the country's produce is organic.
In nearly a week in the country, I never saw a person smoking. Turns out the import or public use of tobacco products is against the law. As are western-style commercial billboards and advertising. There are, for now, no global consumer chains anywhere in Bhutan. No Starbucks, no KFC, no Ikea.
And bring your Tums, or your Prilosec. Pretty much all Bhutanese food, even breakfast, is centered on the chili pepper.
It was all the more surprising, meanwhile, once in the country, after so many friends and acquaintances of mine seemed to have no idea what or where Bhutan was, to encounter so many Americans. Only India, which shares the country's southern and western borders, sends more tourists. Americans accents were everywhere: in the temples, dzongs, hotels and restaurants. In an age when many Americans seem aggressively incurious, this was encouraging.
Short of turning this into a full-on travelogue, here are a few of the better pictures from the trip. Sightseeing highlights were the beautiful Punakha Valley, and, it hardly needs saying, the thousand-foot climb to the breathtaking Taktshang Goemba — the famous Tiger's Nest Monastery.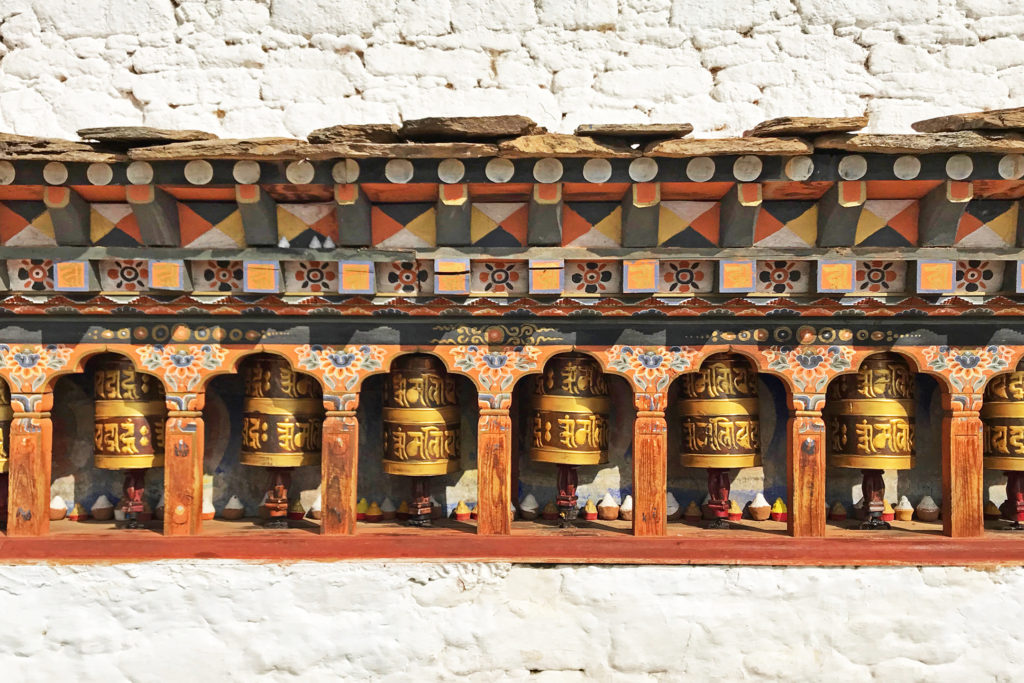 STORY AND PHOTOS BY PATRICK SMITH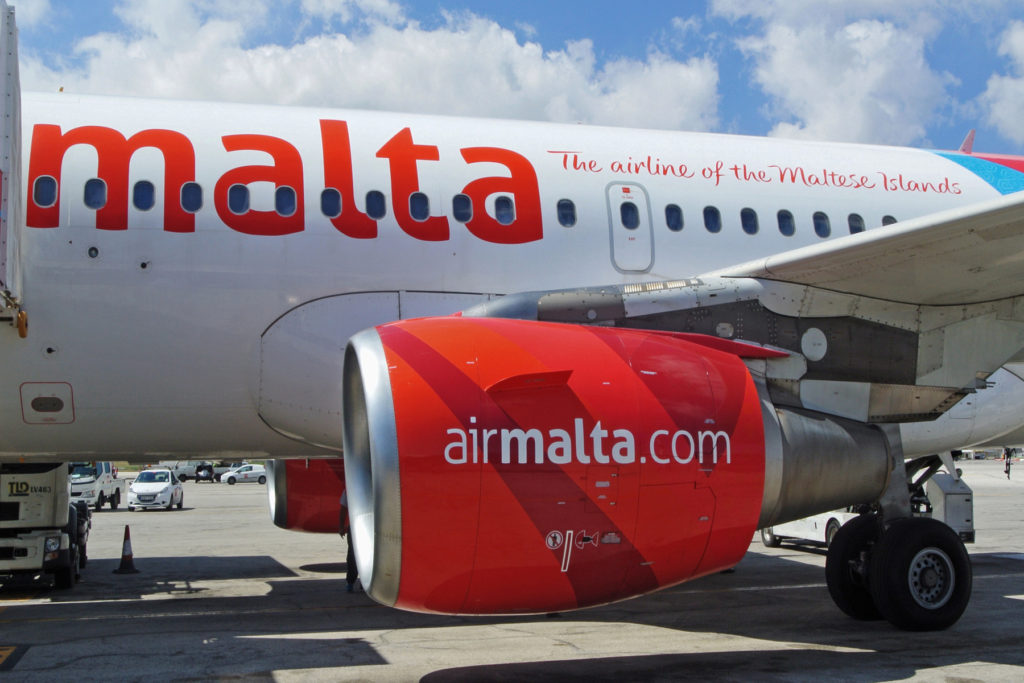 I'm introducing a new feature, the "Pilot Report," in which I review and grade my flights aboard different airlines. Welcome to the first installment: a trip with Air Malta.
Flight KM397, Amsterdam to Malta
Business Class, Airbus A319
Duration: 2.5 hours
Let's start with a disclaimer: we hereby acknowledge that experiences aboard a given carrier can vary flight to flight, depending on the class of service, the temperament of the crew, and so on.
I wasn't sure what to expect from Air Malta, particularly after lackluster flights on SAS and Air Portugal recently, but I came away duly impressed.
The online booking process was quick and hassle-free. I set out to book in economy, but decided to splurge when I was offered an upgrade to business class for only a couple of hundred dollars extra, round-trip. The carrier's website is user-friendly and allows for advance seat selection even with last-minute reservations like mine.
The check-in staff at Amsterdam were contract employees, but friendly and helpful nonetheless. We departed right on time. The Airbus A319 was packed almost full in economy, but was mostly empty up front. Air Malta doesn't have a formal business class, per se. Instead, in the forward rows, the center seat of each three-seat block folds down, forming a table between the remaining two seats. It's a kind of on-the-fly business class that allows them to adjust the number of rows based on demand. Other European carriers do the same thing.
Juice or champagne were offered prior to push-back, along with a selection of newspapers. There was a hot towel service shortly after takeoff, followed by a hot lunch. The meal was served economy class style, with everything together on a single tray rather than separate courses. Neither the presentation nor the food itself was anything fancy, but it was perfectly satisfactory for a short-haul airline whose network doesn't expand beyond Europe, with flight times seldom exceeding three hours. (Hell, in the U.S., on a flight this short, chances are you'd be on a 70-seat regional jet with little or no service at all.) The personal-sized champagne bottles (see photos) were a nice touch. Cabin attendants were gracious and attentive.
After landing, I was walking through the arrivals hall when I realized that I'd left my passport in the seat pocket. Air Malta's airport staff were patient and helpful, and I had the passport back within fifteen minutes.
Air Malta's uniforms are stylish and professional, both for ground and inflight employees. In fact the carrier's whole identity — its uniforms, its Maltese cross logo and its colorfully painted aircraft — is handsome and distinctive.
There was just a good feeling to the whole experience, start to finish. To satisfy fussy fliers, both the creature comforts and the human touch have to be done right, and Air Malta seems to understand this.
Here's hoping they survive. Malta is a huge leisure destination for Europeans, meaning that margins are very thin on most fares. The discount carriers are making things tough. On the return flight to Amsterdam, the Air Malta check-in line was mostly empty. Just across the lobby, the lines for Ryanair, EasyJet and Air Berlin were teeming. And for those headed further afield, Emirates now flies to Malta via Cyprus.
Air Malta was founded in 1973. It operates only ten aircraft, all of them narrow-body A319s or A320s, serving about 35 destinations throughout Europe and the Mediterranean, some of them seasonally.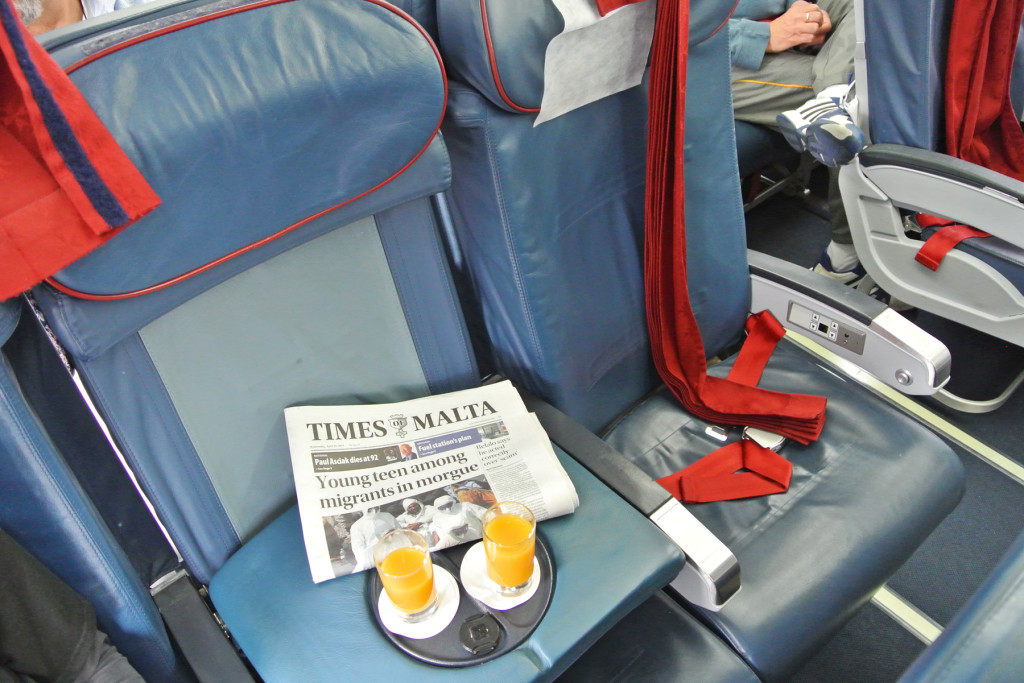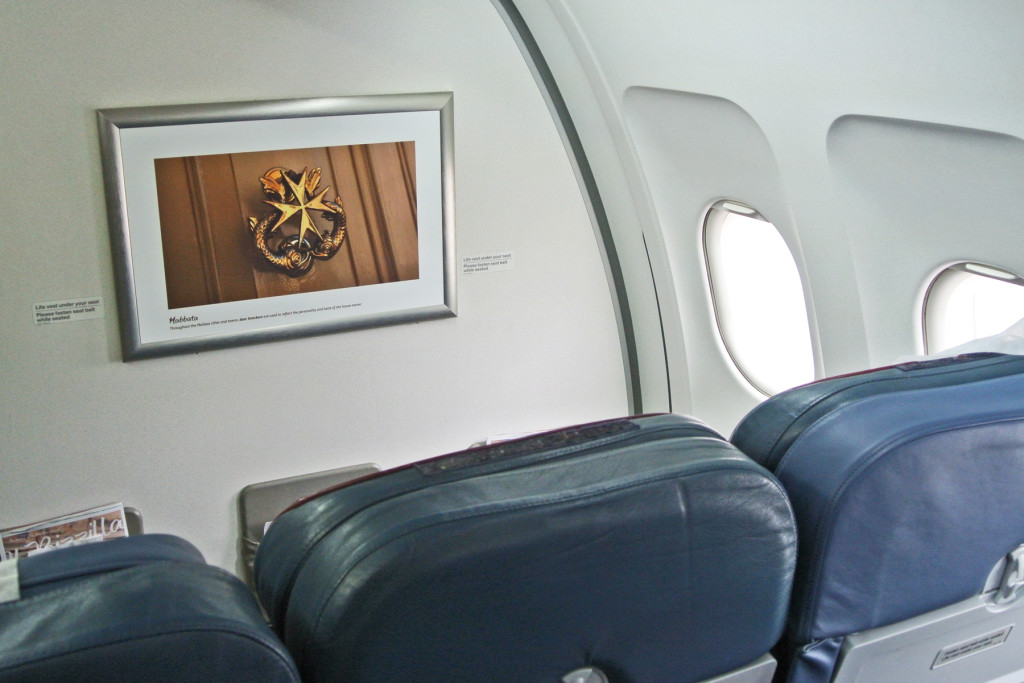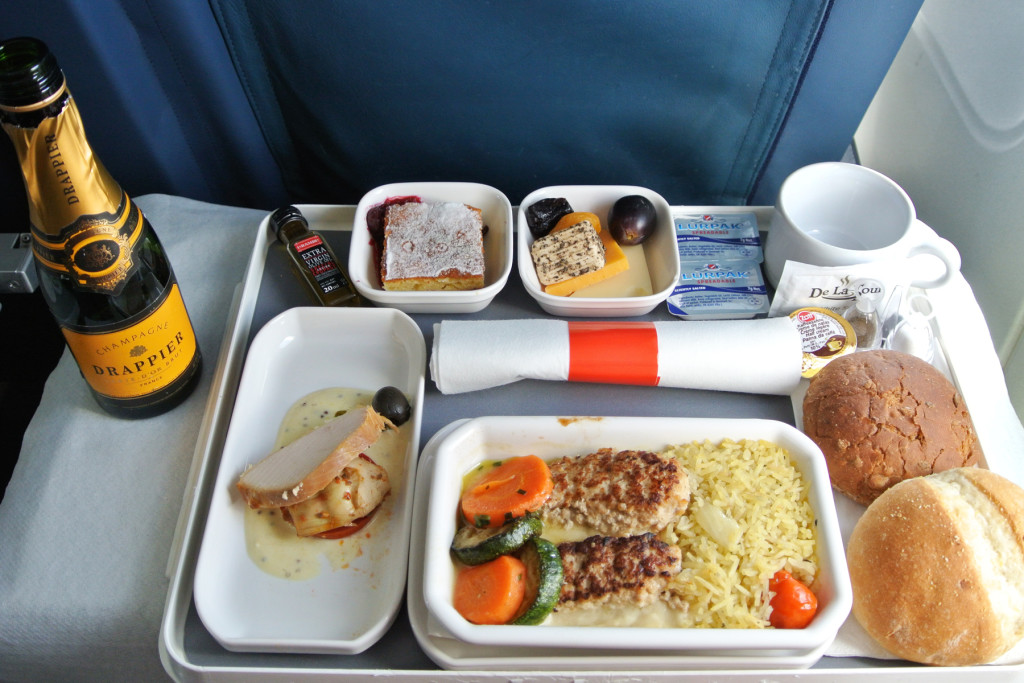 It's maybe unfair to mention this, but Air Malta also played a role, albeit unwittingly, in one of the worst terrorist attacks in aviation history. It was an Air Malta 737 onto which Libyan operatives smuggled the bomb destined to blow up Pan Am flight 103 over Lockerbie, Scotland, in 1988. The explosive device, hidden inside a Toshiba radio and packed into a suitcase, traveled from Malta to Frankfurt, where it was transferred to flight 103, bound for London and then to New York.
The two men who stood trial for the Lockerbie bombing, Abdelbaset al-Megrahi and Lamin Khalifah Fhimah, had been employees of Libyan Arab Airlines. Fhimah was the station manager in Malta. Much of the investigation into the bombing took place on the island. During my vacation there, it was a little eerie walking past the Libyan Airlines ticket office, just inside the gate to the old city of Valletta.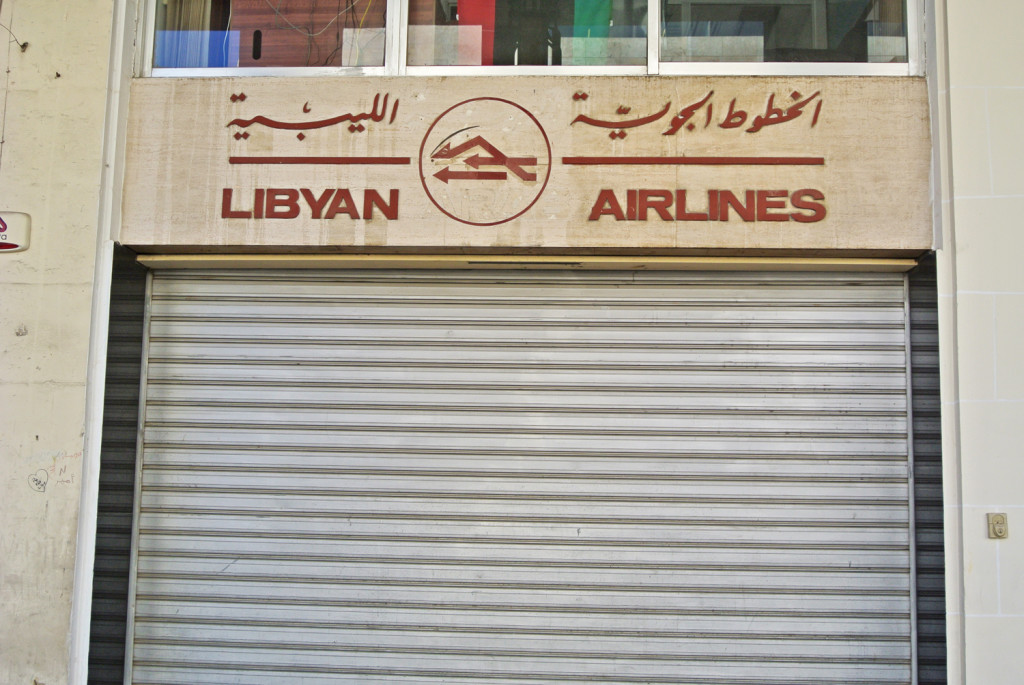 Additional photos from my trip to Malta can be viewed here.
By the way, the term "pilot report," which I'm adapting into a gimmick for my blog, is in fact a technical term quite familiar to aircrews. PIREPs, as they're known in shorthand, are reports of meteorological phenomena encountered in flight. Conditions are passed along to company dispatchers or air traffic control, and made available to other aircraft. If a captain comes over the public address system to warn of impending rough air, often he's acting on the advice of a fresh PIREP.
PIREPs make their way into the pre-departure paperwork as well, topping off a hefty and at times indecipherable sheaf of charts, bulletins and forecasts. Approximately three-quarters of a pilot's training is devoted to unraveling the secrets of weather coding, which come in the form of byzantine transcriptions like this one:
KCMH UA / OV APE 230010/10TM 1516/FL085/TP
BE20/SK BKN065/WX FV0 SM HZ FU/TA 20/TB LGT
That's a single, simple PIREP (something about smoke or haze near Columbus, Ohio). The archaeologists who figured out the Rosetta Stone practiced for years on aviation weather packets. Unless you're a professional cryptographer, you'll have to agree my own PIREPs are more enjoyable.