March 20, 2016
ROYAL BRUNEI AIRLINES might have a hideous new livery, but they're a proud little airline, and you can't say they don't have nerve — or at least a sense of humor? Last month, coinciding with Brunei National Day, the country's independence holiday, the carrier operated its first-ever flight with an all-female cockpit crew. Captain Sharifah Czarena, assisted by first officers Sariana Nordin and Dk Nadiah Pg Khashiem, piloted flight 81, a Boeing 787 Dreamliner on the regularly scheduled route from Brunei's capital, Bandar Seri Begawan, to Jeddah, Saudi Arabia.
It'd be wrong to describe Brunei as a progressive Muslim nation, but at least they allow their women some important freedoms, and it's hard not to assume that the choice of destination for this flight — Saudi Arabia being arguably the most woman-unfriendly nation in the world — wasn't on some level a political statement.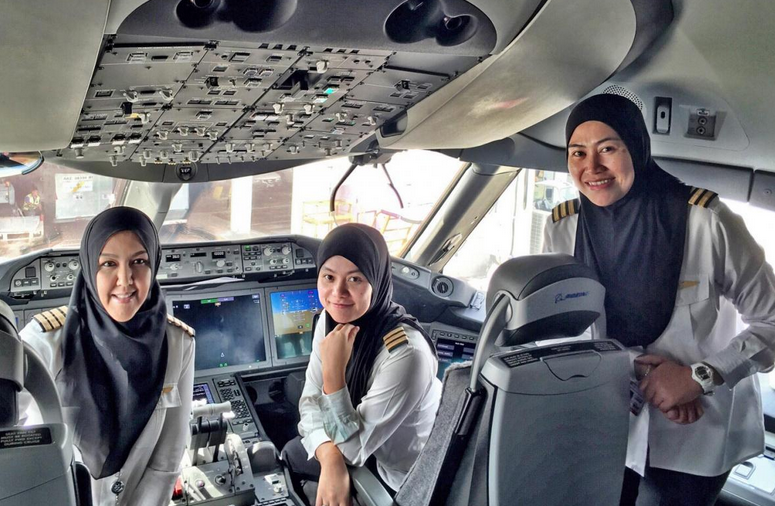 Which this gets me thinking…
in South Africa during Apartheid, many of you will recall, the nation's white minority government ruled over a black majority population, and the people of that black majority were denied important rights and generally treated as second-class citizens. It was a system completely deserving of worldwide condemnation. Which it got. The outcry over the policies of Apartheid is unforgettable. For years it went on and on. There were marches and boycotts and celebrity pronouncements galore. You would buy an album, and on the cover it would righteously be stamped: THIS RECORD IS NOT FOR SALE IN SOUTH AFRICA. Nelson Mandela, the African National Congress chief who spent most of his adulthood in the Robben Island prison off the coast of Cape Town, was hailed as a saint. When, after the fall of Apartheid, Mandela became the president, crowds measuring in the hundreds of thousands greeted him around the globe.
All duly noted. But now, here in 2016, let's turn for a minute to the Kingdom of Saudi Arabia. Am I mistaken, or are women in Saudi Arabia at least as oppressed and marginalized as any black person in South Africa was. This, in the name of the country's state religion — an ultra-conservative brand of Sunni Islam known as Wahabbism, as expressed under the dictates of Shariah.
Never mind the right to drive; it was only in 2013 that Saudi women were granted the right to ride a bicycle! And this right can only be exercised in designated parks, under the supervision of a male relative. Saudi women are not allowed to be seen in public with a man who is not her husband or male relative. Nor can they travel abroad without permission from a husband or male guardian. Saudia, the national airline, hires Moroccan flight attendants because its own female citizens are forbidden to hold such a job.
When a Saudi woman is raped, it is generally seen as a stain on her family's honor. As a result, most rapes in the Kingdom go unreported and unprosecuted. The Saudi government, meanwhile, holds "sorcery-awareness workshops," in which citizens are encouraged to turn in "witches and sorcerers," almost all of whom are alleged to be women. Just this year the nation's law enforcement apparatus introduced a new unit dedicated to "witchcraft investigations."
No, this isn't the 14th century. It's 2016 and this is our supposed regional ally. I'm still waiting for the protests, the marches, the songs and celebrity outrage; the charity concerts and boycotts. I'm still waiting for Bono or Sting to weigh in, and for the campus protests to start.
Cockpit photo courtesy of Royal Brunei Airlines.
I flew Royal Brunei between Bandar and Singapore a few years ago. The service was decent if unspectacular. For photos from that trip, visit the Brunei archive here.