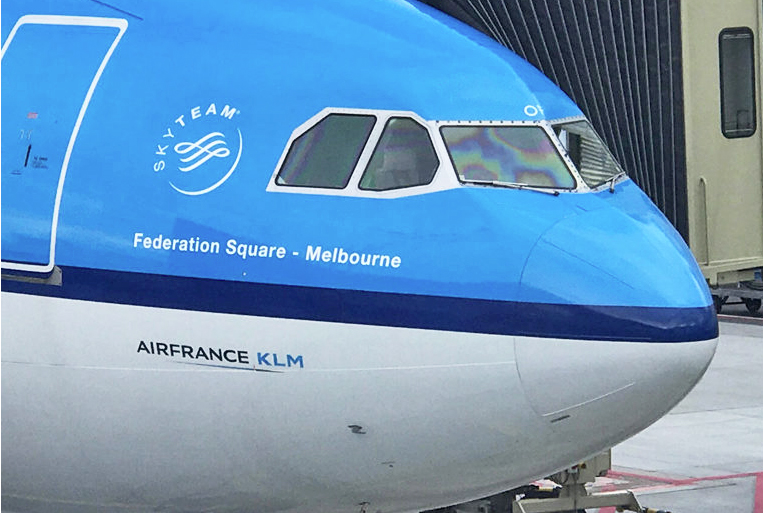 All photos by the author.
May 30, 2019
MAYBE YOU WERE a fan of United's old "Channel 9," the IFE conduit through which passengers could eavesdrop on the chatter between pilots and air traffic control. Channel 9 is gone now, but online sites like LiveATC.net allow you to listen in on thousands of air-to-ground frequencies around the globe. And if you're into this sort of thing, you're likely familiar with some of commercial aviation's more colorful radio call signs.
While private aircraft use their registration numbers for radio identification, commercial flights use a call sign and flight number. Usually that call sign is simply the airline's name. "Delta 202, descend and maintain eight thousand feet." Many, though, have adopted idiosyncratic handles. Pan Am's "Clipper" was probably the most famous example. Tune in today and you'll hear Speedbirds, Shamrocks, Springboks and Dynasties, among others. Who are these airlines, and what do these names mean?
A lot of them are obvious cultural associations. The "Shamrock" call belongs to Are Lingus, as you probably figured. "Dynasty" belongs to China Airlines, while "Springbok" — a species of antelope — is the handle of South African Airways. British Airways' "Speedbird" refers to the nickname of an old corporate logo: a black, delta-winged bird originally used by Imperial Airways, one of BA's predecessors, as far back as 1932.
Others from the past include New York Air's "Apple," America West's "Cactus," Air Florida's "Palm," and ValuJet's unfortunate choice of "Critter."
I confess to being a call sign purist. "Air France," "United," "Emirates." What's wrong with simply calling it like it is, so to speak? Sure, most of the examples above are pleasantly evocative, even a little poetic ("Shamrock" and "Springbok" are probably my favorites). But it's a slippery slope into the awkward and contrived. If you insist on being creative, you do so at your peril. Too many airlines seem to have come up with nicknames simply for the sake of it.
Republic Airways, one of the larger U.S. regionals, uses the clunky moniker "Brickyard." The company is headquartered in Indianapolis, where "the Brickyard" refers to the Indianapolis Motor Speedway, home of the Indy 500. It's a little odd, if you ask me, calling your airplanes after a place dedicated to cars.
Trans States Airlines, another big regional, goes with "Waterski," because… who the hell knows. I flew for that carrier briefly in the 1990s, and every time I clicked the mic and had to say that goofy word aloud, my body would tense in protest.
Not to be outdone, Cape Air couldn't leave well enough alone and go with, well, "Cape Air." Instead they created the ghastly contraction "C'Air."
Then we have PSA, the American Airlines affiliate based in Ohio. They go with "Blue Streak," the meaning of which — other than evoking an airplane lavatory — is unfathomable. Their planes are painted gray, not blue. The sky, of course, is blue, but an airplane streaks in contrast to the sky. I suppose "Gray Streak" is a nonstarter, but at least it makes sense.
Norwegian Air uses different call signs for each of its different divisions. You might hear "Nor Shuttle," or "Nor Trans," which mean…something. Meanwhile its UK division answers to "Rednose." This is a reference to the carrier's phallic-like paint job. It's also, just maybe, the worst radio call sign of all time.
On the other hand, some airlines have missed a golden opportunity. Although I encourage restraint, there are those that clearly should have gotten creative, yet for whatever reason chose not to. For example, there is no excuse for Scandinavian Airlines (SAS) to use boring old "Scandinavian," when it obviously should be "Viking." And the heck with "Air New Zealand." As anyone with an ounce of sense would agree, it needs to be "Kiwi." That's the informal name for the country's citizens, after all, and there's an entertaining irony in the fact that kiwis can't actually fly.
There are the names you say over the air. Even more fun, though, are the names you paint on the side.
All jetliners wear registrations (numbers or letters that also indicate a plane's nation of origin) on the rear fuselage, but some also carry names. If a plane has been christened in honor of a place, person, or thing, look for titles on the forward fuselage. It's an old school practice, and one that I'm quite fond of. It makes flying a touch less impersonal and a touch more dignified. And any airline that bothers to name its planes, I feel, is one that takes its mission to heart.
Nobody did this with more panache than Pan Am, where each aircraft sported a distinctive Clipper designation — a carryover from the airline's grandiose earlier years when its flying boats pioneered routes across the oceans. There were nautical references (Sea Serpent, Mermaid, Gem of the Ocean), including a particular fascination with waves (Crest of the Wave, Dashing Wave, Wild Wave.) There were nods to Greek and Roman mythology (Jupiter, Mercury, Argonaut) and the inevitable heaping of faux-inspirational piffle (Empress of the Skies, Glory of the Skies, Freedom). A few of them made you wonder if Juan Trippe and his boys weren't tippling too much scotch in the boardrooms over on Park Avenue: Water Witch? Neptune's Car? Young Brander? Turns out those were taken from old sailing vessels.
When the wreckage of Pan Am 103 fell onto Lockerbie, Scotland, in 1988, the only part of the plane to remain somewhat intact was the very front – a decapitated portion of the forward fuselage including the cockpit and first class cabin. It was crushed when it landed, on its side, but still it looked like a piece of an airplane, which is more than you can say for the rest of the jet. It was widely photographed and became a news icon in the days and weeks that followed. There it was, on the front of every newspaper and magazine, and it is easily found on the Internet today. The photo shows detritus and debris everywhere, wires and shredded metal, all surrounding this impossibly still-dignified chunk of a Boeing 747. There's the blue stripe, the paint barely scratched. And there, just above the oval cabin windows in frilly blue lettering, you can still read clearly the words Clipper Maid of the Seas.
Most airlines don't bother with this sort of thing anymore, but a few still do. Here you can see a couple of KLM examples, photographed recently at Amsterdam-Schiphol. KLM names its jets after capital cities, national parks, waterfalls, famous inventors, explorers, and so on. At the top of this page we see the Federation Square, Melbourne, an Airbus A330 preparing to depart to Kigali, Rwanda. (The carrier also has a 747 dubbed City of Melbourne.) And here's the Nahanni National Park, a 777 destined for Kilimanjaro, Tanzania (Nahanni is in Canada, which in this case adds a peculiar incongruity). Just down the concourse, this Kenya Airways 787, The Great Rift Valley, is readying for a flight to Nairobi.
KLM has retired its fleet of MD-11s, each of which was named after a famous woman. There was the Marie Curie, the Florence Nightingale, the Audrey Hepburn, and several others. In years past, KLM's 747s all were named after rivers. In 1977, the Rhine collided with Pan Am's Clipper Victor on the Spanish island of Tenerife, in history's deadliest air disaster.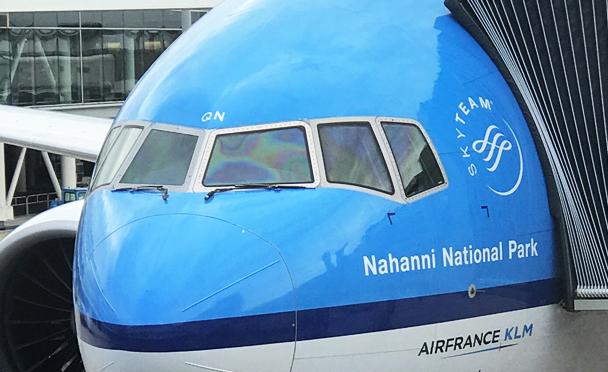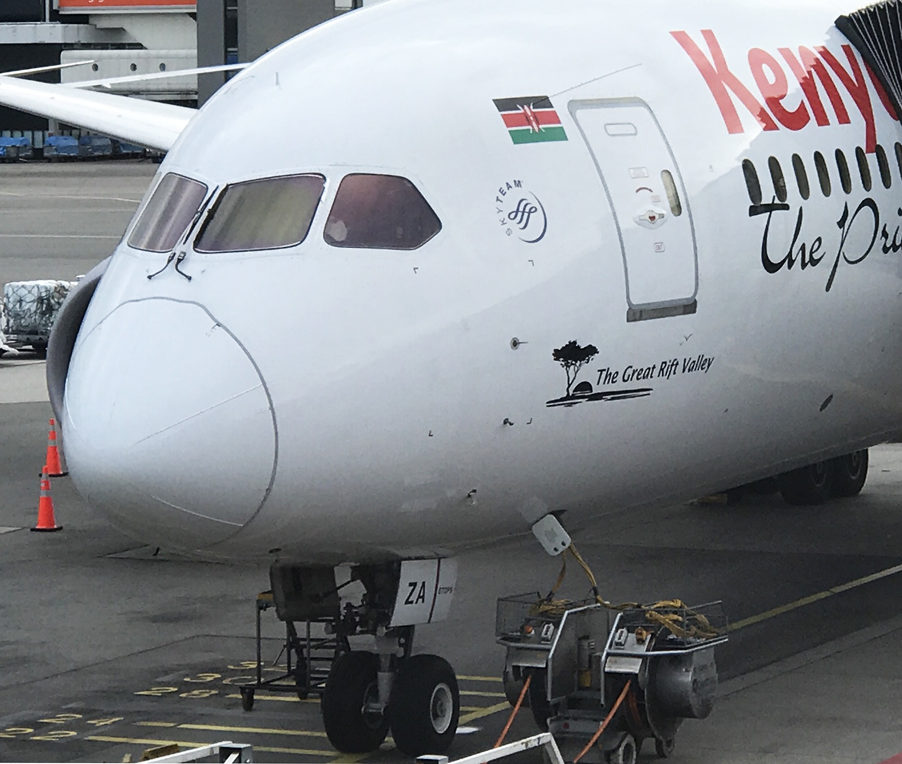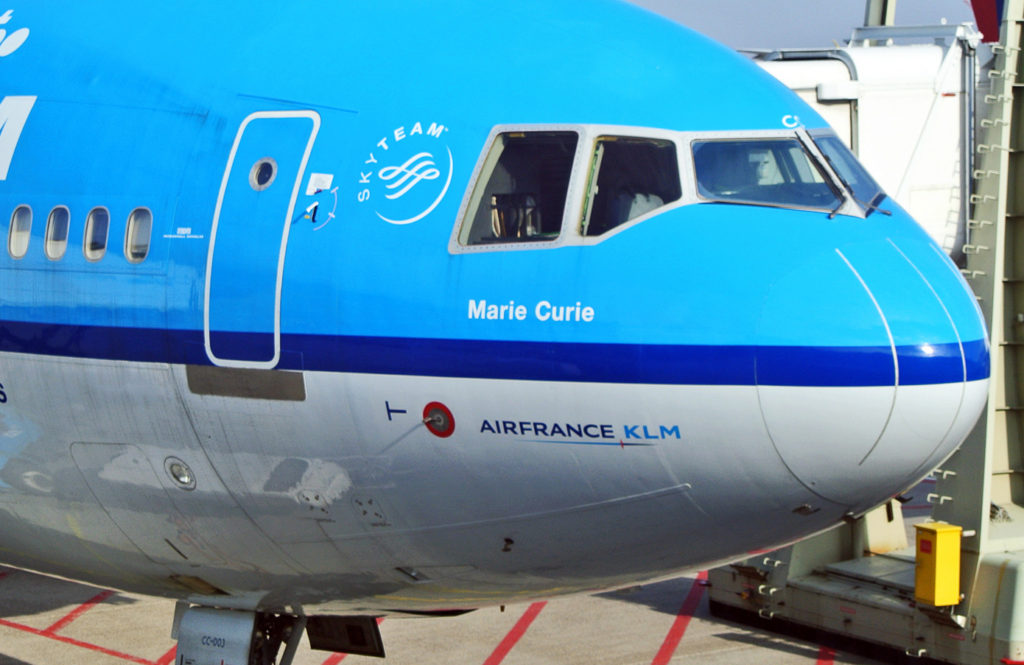 Turkish Airlines names its spotless Boeings and Airbuses after Anatolian cities. You can ride aboard the Konya, the Goreme, or the Isparta. Flying Virgin Atlantic, which styles itself a bit more provocatively, you might have a seat on the Tubular Belle, the Barbarella, or maybe the Varga Girl. Lufthansa does cities, Hawaiian Airlines does seabirds and constellations. Aer Lingus goes with Irish saints, no surprise there, with the names both in English and Gaelic. Each aircraft at Scandinavian Airlines wears a Viking name. For a while, Air Namibia was flying a 747 named Welwitschia, homage to a strange desert succulent that grows in the Namibian wilds and can live for centuries.
I rode aboard a pair of South African Airways 747s some years ago. Outbound it was the Durban, and the Bloemfonetein on my return (cities in South Africa). If unsure, I needed only to check the wooden plaque near the upper deck stairs, emblazoned with a crest and scroll. I thought the plaque added an elegant, ocean liner sort of touch.
I miss the Austrian carrier Lauda Air, now part of Austrian Airlines, which remembered artists and musicians with the Gustav Klimt, the Miles Davis, and even a 737 named Frank Zappa.
On the other hand, enough already with jetBlue's insufferable, too-cute riffs on the color blue. I don't advocate hurling tomatoes at Airbuses, but here are some deserving targets. I can live with Idlewild Blue (Idlewild is the old name for Kennedy Airport, jetBlue's home base), and even Betty Blue. But That's What I Like About Blue, Fancy Meeting Blue Here, or Bippity Boppity Blue are too much to take. What was I saying about dignity?
Some years back, United christened several jets in honor of its highest-mileage frequent flyers. Imagine not getting an upgrade on the very plane with your name on it.
And, while it wasn't a commercial transport (and before somebody brings it up), we should probably mention the Spirit of St. Louis. Or, even more historically significant, we shan't forget the Enola Gay.
Most famous of all, however, was the L'Esprit de Moncton — the Spirit of Moncton — the 19-seat turboprop captained by a swashbuckling young idiot in an ill-fitting uniform. Plane and pilot are immortalized in the historic photo below, taken on the apron in Providence, Rhode Island, in 1993.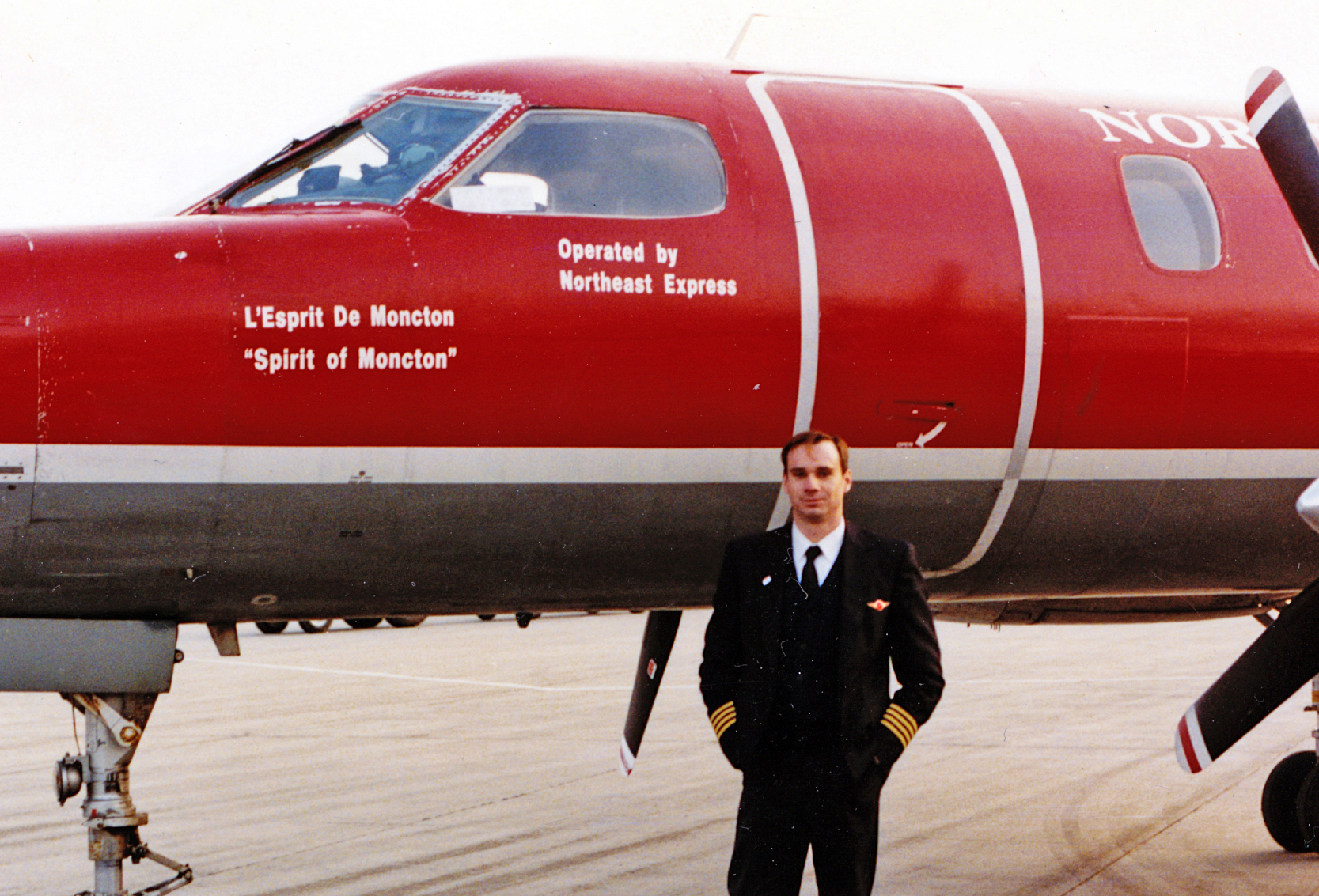 So now let's play a game. When Donald Trump had his airline, the Trump Shuttle, its Boeing 727s weren't named. Indeed, back then, the owner kept a fairly low profile. I have a feeling, though, that if the Donald still had his airline today, things would be different. Surely he'd give each plane a name, don't you think? As to what those names might be, leave your suggestions in the comments section below. The Trump Shuttle. Make Aviation Great Again!