Pilots, Copilots, Heroics and Hyperbole. Will the Media Ever Get it Straight?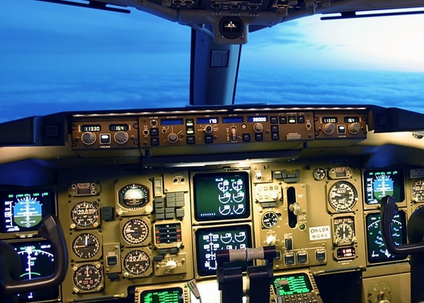 October 5, 2015
ON MONDAY, the captain of an American Airlines jet bound from Phoenix to Boston passed away during flight. The first officer took command and landed the Airbus A320 in Syracuse, NY.
This isn't at all anything I felt like writing about, but the media's predictable butchering of the story has my frustration meter pegged, and leaves me little choice.
The New York Times coverage was emblematic, describing the incident under the headline of, "Co-Pilot Lands Jet in Syracuse After Pilot Dies." This is extremely misleading, not to mention insulting to copilots like me, as it implies that copilots are somehow not pilots.
Those of you familiar with my ranting on this topic are free to stop reading. For the rest of you, let's cue the broken record:
There are always at least two qualified pilots on board a commercial flight, a captain and first officer, both of whom are able to operate the aircraft in all regimes of flight, in good weather or bad. The first officer is known colloquially as the copilot, but he or she is not an apprentice or a helping hand. Copilot lands jet in Syracuse? That is hardly anything unusual. First officers perform just as many takeoffs and landings as captains do. I land my jet all the time — and never once has the New York Times been there to cover it.
The Times story also states that "If the captain of an airliner has become incapacitated, the first officer is expected to take control of the aircraft." Well, I should hope so. And he or she would know exactly what to do; first officers are routinely at the controls of their aircraft.
The reason for requiring two or more pilots is not because of scenarios like this one. Commercial flying has always been a team effort, and the main reason for having two pilots is because the business of flying a plane is difficult and often complicated. Contrary to what everybody seems to think, planes do not "fly themselves," and even a two-pilot cockpit often becomes a surprisingly busy place.
For the copilot in Syracuse, I can imagine it was a bit disorienting to have found himself alone at the controls. Putting aside the trauma of the person sitting next to you suddenly dying, there's a familiar choreography to a normal, two-pilot operation, and the absence of the captain would have thrown off this choreography and substantially increased the copilot's workload. In some past cases of pilot death or incapacitation are, the remaining pilot might ask for assistance from an off-duty colleague in the cabin, or even from a flight attendant. While not a necessity, it's a good idea to have a second person on hand to help with radio communications, the reading of checklists, or the manipulation of certain switches or controls (deploying the landing gear, setting flaps, etc.). However, while the workload might be higher and the routines out of synch, the tasks themselves, including the landing, are nothing the average copilot hasn't executed thousands of times in the course of a career.
Reportage on this latest incident isn't quite as bad as it was in 2013, after the 63 year-old captain of a United Airlines flight suffered a heart attack en route to Seattle. One prominent media outlet urged calm, reminding readers that copilots, like captains, are in fact "trained pilots." You don't say?
In 2009, the captain of a Continental Airlines 777 died during a flight from Brussels to Newark. Because it was long-haul oceanic crossing in which the crew works in shifts, that flight was carrying three pilots — a captain and two first officers. When the plane touched down at Newark, there were two fully rated pilots at the controls — exactly as there would be normally. The mayor of Newark referred to them as a "heroes."
I don't mean to downplay the unfortunate fates of the American, Continental, or United captains. But that's not what this is about. Is there a reason that the New York Times, and for that matter everybody else in media, cannot get things straight? Story after story, year after year, and always it's the same. The industry needs to revise its style guides or something. I'm not opposed to "captain" and "first officer." The latter is a little technical sounding, but these are the best options, I think. Even, if you must, "captain" and "copilot." The problem is when they use "copilot" and "pilot." Go back to that Times headline for a minute: The copilot landed the plane after the pilot died. Therefore, the copilot is not a pilot. Some will cite the difficulty of coining new terms as an excuse for the media's bad habits, but this wording is terrible.
When somebody on board falls ill, the crew will communicate with company personnel and medical specialists on the ground, while also soliciting help from doctors, nurses or any other health professionals who happen to be on board. Commercial planes carry a cardiac defibrillator and EEMK (enhanced emergency medical kit). Flight attendants are not paramedic certified, but they do receive limited emergency medical training.
The mandatory retirement age for pilots in the United States was recently increased from age 60 to 65. Pilots over 60 need to meet fairly stringent, twice-yearly medical exams.
Overnight and long-haul flights are in some ways more physiologically demanding, but whether or how this was any factor on Monday, or in the earlier incidents, it's impossible to know.
Related Stories:
PILOTS & COPILOTS. WHO ARE THESE PEOPLE?
PILOTLESS PLANES? THE FACTS AND FALLACIES OF COCKPIT AUTOMATION.
Thanks to James Fallows for linking to this post in his own report on the American Airlines story, which you're invited to read here.