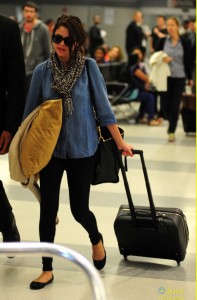 LET'S TALK FOR A MINUTE ABOUT PILLOWS.  I'm vexed and perplexed by the widespread phenomenon of teenage girls carrying giant fluffy pillows onto airplanes. I'm uncertain when exactly this trend got started, but you see it everywhere.
Granted it's a helpful idea, now that many carriers no longer dispense even tiny, non-fluffy pillows on all but the longest flights.  In a window seat, putting a pillow between your body and the sidewall creates a comfy sleeping surface.
The trouble is, people like me are out of the club.   Grown-up men can't walk through airports with giant fluffy pillows unless we're willing to get laughed at.  I've seen thousands of girls carrying pillows, but I'm not sure that I've ever seen a man or boy carrying one.  We're stuck with those stupid inflatable neck brace things.  The other night I watched a flight boarding for Barcelona.  Like most midsummer flights to Europe, it was loaded with kids between ages 17 and 25.  No fewer than 25 girls had brought oversized pillows from home.  Total count for the guys: zero.
This isn't right. To hell with dignity, it's time to rise up and break the pillow barrier.   Who will be first?
I'm thinking we should organize a march — a line of men strutting proudly through the concourse, giant pillows proudly in hand.
"We're men, we're strong, this is true,
Fluffy pillows aren't just for you!
Downy soft, pastel blues,
Come on girls, let us snooze!"
Later, in the parking lot, we can toss a few of those neck braces into a bonfire.

I smell a gold here mine for airport merchants.  Why not a pillow shop right there in the terminal?  Unlike most of the high-end crap sold at airports (watches, jewelry, massage chairs), here would be something genuinely useful.  Instead of lugging those pillows from home, the girls could pick one up gate-side for a few bucks.  You'd have a choice of foam or feather, and a selection of cotton pillowcases to pick from. To entice the guys, cases could be emblazoned with sports team and beer logos.
Passengers wouldn't need take-along pillows, maybe, if airlines tried a little harder to make their seats more comfortable. There's only so much you can do with an economy class chair, but as I've written in the past, some inexpensive tweaks would go a long way. The problem with economy isn't a lack of legroom or even a lack of space, per se. The problem is the often gruesome ergonomics of the space that exists. There's no lumbar support; arm-rests are at the wrong height, tray tables are the wrong size and shape, etc.
And headrests. Lots of planes feature headrests in economy nowadays. It's a nice idea, but almost always the things are flimsy and poorly designed. The wedges don't fit snugly enough around, and so your head simply rolls over them. They're useless, basically. Instead of investing slightly more for a product that works well, airlines spend slightly less for something that doesn't work at all. Not sure that I see the strategy there.
And here's some advice: if you're going to have pillows on your aircraft, they should be good pillows. On most Asian or European airlines, economy class riders get a comfortable pillow wrapped in attractive fabric. It's neither a significant nor expensive item, but it's a nice one that you can actually sleep against. On an American carrier, assuming there are pillows at all, they tend to be flimsy wedges of foam about the size of a slice of bread, with coverings that tear apart like tissue.