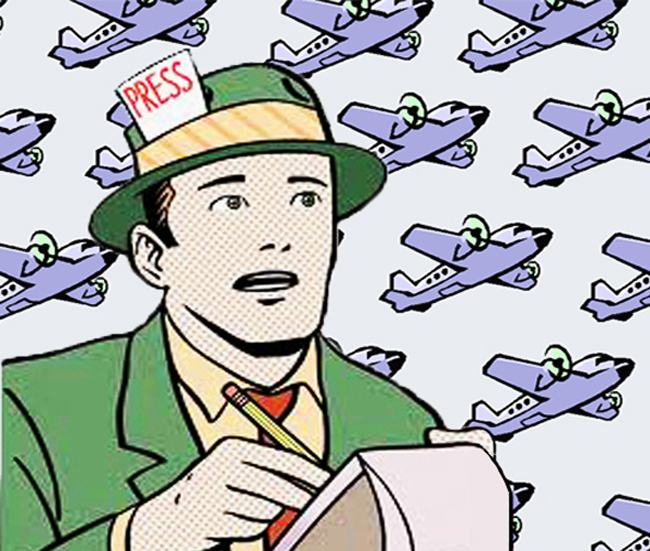 August 6, 2013
Did the Gray Lady not learn its lesson after the Noah Gallagher Shannon debacle?
Now comes a story in the Times's "Frequent Flier" column, in which reporter Joan Raymond recounts a tale from business traveler Greg Hill. Hill gives us the following….
We were supposed to be flying into Midway International and the pilot's approach was long and slow. As we were coming in for the landing, not more than 1,000 feet off the ground, the pilot made a sharp turn to the right. The turn was so tight that he seemed to bank at a 90-degree angle. I had the window seat and was looking straight down at the ground. I could hear alarm bells going off in the cockpit. Just as I was convinced we were going to flip over on our back like a turtle, and any turtle can tell you that is not a good thing, the plane went into another 90-degree turn. But this time, it was to the left. I looked out the window again and I saw stars. It seemed the pilot confused Chicago O'Hare with Chicago Midway and was landing at the wrong airport. At the last minute either he or the control tower realized the problem and he tried to correct his mistake. When we finally did land at Midway, the pilot bolted off the plane. I have never seen anyone move that fast. I haven't flown on that particular airline since.
I cannot say for certain why Greg Hill's airplane may have made a pair of sharp turns on its approach to Midway, or why its approach was "long and slow." There are several possibilities, none of which are terribly exciting: spacing vectors, for instance, or a last-minute runway change And as several emailers have pointed out, the circle-to-land approach to Midway's runway 22L typically includes a series of low-altitude turns. This is normal, if potentially unsettling to some passengers. (The "Expressway Visual" to runway 31 at La Guardia is a similarly action-packed, and perfectly routine arrival pattern.) Hill says he hasn't flown this airline since. That's rich: avoiding an airline because its pilots did exactly what they were supposed to do.
Whatever was going on, I am relatively certain that the crew mixing up O'Hare and Midway airports was not it. Hill's clever disclaimer here is the phrase, "it seemed," which, despite his having no idea what actually happened, grants him license to indict an airline crew for making a stupid mistake.
As for those "alarm bells," that could have been the autopilot disconnect alert, or a simple trim-in-motion alert, neither of which means anything unsafe or unusual.
And don't get me started on Hill's use of the term, "the pilot." How many times have we been through this? There would have been at least two fully qualified pilots in the cockpit, either of whom, captain or first officer, may have been at the controls. And the notion that one of these pilots went dashing off the plane in a fit of embarrassment is too silly to entertain. (If one of the pilots did exit quickly, more likely it was because he was trying to catch a commuter flight home.)
I can also assure you that the angle of bank was nowhere remotely close to 90 degrees. This gets into something I call PEF or Passenger Embellishment Factor, the tendency for people to grossly exaggerate the sensations of flight (there's more about PEF in chapter two of my book). A commercial airliner will almost never bank at more than about 25 degrees. That doesn't sound like much, but a 25-degree turn appears awfully steep to the typical passenger, just the way a 20-degree climb or a five-degree nose-down descent appears much steeper (yes, five degrees is a fairly sharp descent angle). In a 60 degree bank, never mind 90 degrees, the G-forces would be so powerful that a passenger would barely be able to lift his or her feet from the floor.
Over and over we see this in the media: when it comes to flying, anything goes, no matter how ignorant, untrue, or ill-informed. Call me uptight, but it angers me that passengers are routinely taken at their word. In this case, Greg Hill clearly knows nothing about flying, yet the most prestigious newspaper in the world will go ahead and print an account in which, despite having no credible evidence, he accuses airline pilots of being lost and making reckless maneuvers. He couches it with the likes of "it seemed," and surely the paper will say that his subjective observations are just that, and fair game. (For the record, I'm not a Times-basher the way some people are; if I didn't think so highly of the paper to begin with, I wouldn't be so offended.) But of course this story will be quoted and passed along as fact. And it's precisely this kind of thing that helps perpetuate the many myths and fallacies of commercial air travel.
Related story: A Flight of Fancy
Composite artwork by Patrick Smith
Photo of Greg Hill by Ian Gutzmer for the New York Times