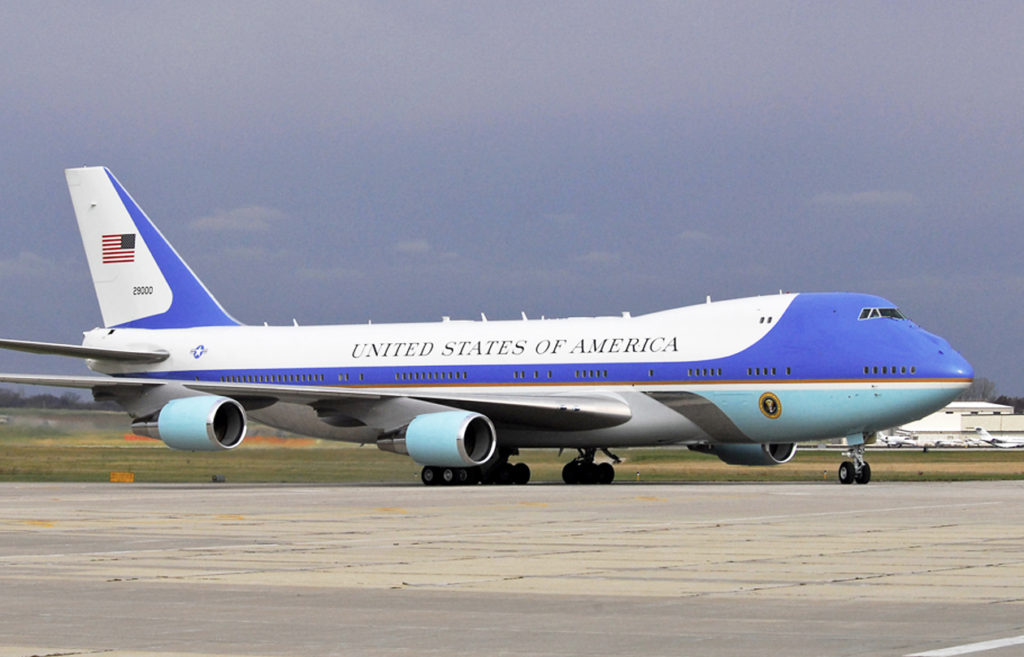 June 13, 2019
THE FIRST TIME I saw it was in the fall of 1992, walking along the Revere Beach seawall in the company of our family Weimaraner. It approached from the northeast, head on, lumbering down the coastline. My initial though was Aer Lingus. The afternoon sun had turned blue into green, the forward fuselage taking on the distinctive mossy hue of the Irish national carrier, whose 747s were a regular sight at Logan. But then, as the jet swung closer and into profile, green went blue and I could see, clearly and with some astonishment, that it was Air Force One.
The plane passed less than a thousand feet overhead, then sank past the hills of Beachmont toward runway 22L. I remember it fishtailing slightly — a wobble and a yaw — and silently chuckling. Not even the President's plane is immune to the push of a good crosswind.
It was a handsome sight. One thing that has always pleased me about Air Force One is the modesty of its livery. Conceived by the famous industrial designer Raymond Loewy during the JFK administration, it's a look that has gone mostly unchanged for six decades. And for good reason. If you ask me, Air Force One is easily the most elegant state aircraft in the world. The current version, a modified Boeing 747-200 (there are two of them, actually), carries virtually the same markings as the old 707 it superseded: the sweeping forward crown, the Caslon typeface and simple tail hash. The old-timey window stripe and subtle gold highlights, in concert with a couple of judiciously placed flags and the Presidential seal, give the plane a dignified, statesmanlike demeanor. It's patriotic in the best sense of the word: proud but a little humble.
Then, last summer, Donald Trump announced his intentions to change Air Force One's livery. He wants to change it because of course he does. Declaring the plane's robin's egg blue under-trim a "Jackie Kennedy color," Trump said he'd prefer something "more American" instead.
Understandably, this made a lot of people nervous. While the paintjob could stand some updating, this is a man whose aesthetic leans heavy on the gold and gaudy — more Saddam Hussein than Jackie Kennedy — and isn't remotely humble. The resulting scheme was bound to be garish.
Among those who found the idea distressing were U.S. Air Force Brass, countless Americans with good taste, and presidential historian Michael Beschloss. "Why would anyone want to discard an Air Force One design that evokes more than a half-century of American history?" asked Beschloss in Axios magazine. "Every time you see that blue trim and the words 'UNITED STATES OF AMERICA' spelled out in the same typeface as an early version of the Declaration of Independence, it brings back JFK landing in Germany to speak at the Berlin Wall, Richard Nixon flying to China, Ronald Reagan stepping off the plane to see Gorbachev in Iceland, and a thousand other scenes of Presidents in our past."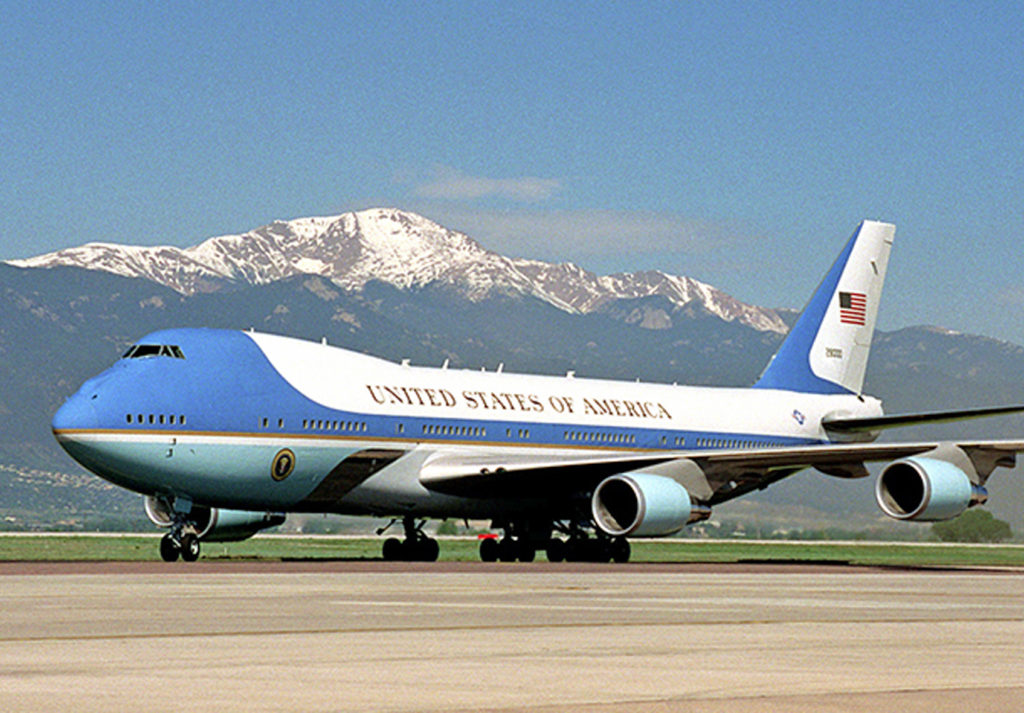 This week, a new design was revealed. On Wednesday, in an interview with ABC News, Trump held up a poster showing a revised Air Force One, in a livery timed to debut with the delivery of two replacement 747-8 aircraft, on schedule for 2024.
Seeing the headline, I held my breath. I was ready for all manner of over-the-top Trumpian fanfare: star-spangled banners, angry eagle talons, fireworks, maybe a portrait of the Donald himself on the tail. But when I clicked and took a look, I almost couldn't believe it. It's completely inoffensive. Boring, but inoffensive.
The fuselage is navy blue across the bottom, with a bold red cheatline riding above. The "United States of America" font appears mostly unchanged. I'm a huge fan of old-fashioned cheatlines — that's the horizontal striping that runs across the windows — and this one is handsome.
Is it better than the design we already have? No. And if a change was really necessary, any of a dozen other designs would have been better. But it's respectful, dignified, and it could have been a lot worse. Indeed, one doubts that Trump himself had much or any input, other than to sign off what, most likely, was created by a team somewhere.

The biggest negative is the tail. A jetliner's tail design is arguably the most critical part of any livery, and here they didn't even try. There's nothing there. Just a too-big flag. I recommend a simple tweak to the existing tail instead. Turn the blue hash mark (what do you call that thing?) to red, and there you go. The blue bottom, meanwhile, is too heavy and too rigidly defined. The blue should curve as it meets the forward wing root, similar to the Kennedy hue that's there today, then reverse-taper beneath the tail. See my rendering, below. I've also added a nose swoosh.
Like it or hate it, there's no guarantee this thing will ever see the light of day. No sooner did Trump show his poster on television when U.S. House of Representative Democrats passed an amendment requiring Congress to approve any changes to Air Force One's design. Trump himself could well be out of office before the new 747s enter service, and the whole thing could easily be scuttled.
Trump, though, told ABC's George Stephanopolos that he's doing this "for other Presidents, not for me." Maybe, but nonetheless Congress is doing the right thing. This shouldn't be any President's call. Air Force One belongs to the nation, not to the President, and its livery shouldn't be subject to the whims of whomever is holding office at the time. (A Fox News host said, on air, that the amendment was passed by Democrats "because they hate freedom.")
Trump also says the new 747-8s will be "much bigger" than the current, 747-200 variant. That depends on the definition of "much," I guess. The 747-8 is 18 feet longer than the -200. The wingspan difference is just under 29 feet, or about fourteen feet per wing, which isn't a lot when the total span is 225 feet.
Officially, "Air Force One" is merely a radio call sign, not the name of a particular aircraft. Any United States Air Force plane with the President on board is Air Force One. Normally this is the 747 we're familiar with, but occasionally it's a much smaller 757 or a Gulfstream jet. The President's helicopter, operated by the U.S. Marines, is "Marine One."
In 1959, Dwight Eisenhower's modified Boeing 707 became the first aircraft to use the Air Force One designation. Prior to that, various propeller planes were supplied by the armed forces or contracted commercially for the job. In 1943, Franklin Roosevelt traveled to the Casablanca Conference in a Pan Am flying boat, the Dixie Clipper, celebrating his 61st birthday in the plane's dining room. Roosevelt himself had created the Presidential Pilot Office to supply the President and his staff with air transportation.
Elsewhere heads of state and their officials do it similarly — or differently, depending. Some travel in standard military transports or will borrow jets from their country's national airline. Others arrive in stylish airborne limos not unlike our Presidents. For reasons not entirely clear, when Kim Jong-un met with Donald Trump in Singapore in 2017, he arrived from Pyongyang in a chartered Air China 747.
During the 1990s at Logan, I remember, it wasn't unusual to spot a Saudia Airlines L-1011 TriStar, chocked and secured for the weekend at the north cargo ramp. As the story went, members of the Saudi royal family would drop in for shopping junkets or to visit relatives at local colleges, making use of the huge jetliner the way one might borrow a company car.
Related Stories: