Miscellaneous Musings on Air Travel, Volume 1:
Armrests From Hell, and More Annoying Flight Attendant Habits!
February 1, 2014
YOU WOULD THINK that the people who design aircraft interiors — seats, in this case — would pay closer attention to basic ergonomics.  Isn't that their job, essentially?
I was sitting in economy class on an Airbus A320 the other day, trying to, as the safety briefing had just suggested, sit back and relax.  The problem was, the control console for my seat-back video screen was located, of all places, in the top of my armrest.  It was impossible to use the armrest without inadvertently changing the video settings.  I didn't want to watch TV at all, and had switched the thing off.  But every time my elbow brushed against the console, the screen would flash back to life. I'm sitting there in the dark enjoying the peace and quiet, and suddenly "Big Bang Theory" or some other idiotic program is shining into my face. And when I did want to watch something, every ten seconds I was accidentally changing the channel or turning up the volume.
Almost as annoying are touch-screen controls. They're not so annoying if you're the one doing the touching, maybe, but they're definitely annoying for the person sitting in front of you, whose head you're constantly jabbing. Press gently!
On some carriers, the video controls are built into removable handsets that snap into the seat-back.  This should be the standard.
__________
Annoying flight attendant habits:
I've complained in the past about the annoying tendency for cabin crews to announce, "Ladies and gentlemen we've been cleared to land…"  as part of their pre-landing announcement.  I'm not sure how this habit got started, but as I detail in my book, the cabin crew doesn't have the slightest idea when controllers have cleared a plane to land, and in reality that clearance often happens very close to the runway — sometimes less than a minute from touchdown.
Here's another one.  Usually, just after landing, as part of the welcome-to-wheverver speech, a flight attendant will give the time.  This time is almost always prefaced with "approximately," even when the time given is very specific.  For example, "Ladies and gentlemen welcome to Boston, where the local time is approximately 9:17."
No, the approximate time is 9:15 or maybe 9:20.  The exact time is 9:17.
It's just another example of aviation's tendency to shovel in words where none are needed.  The all-time classic example, of course, being the old, "Federal regulations prohibit tampering with, disabling, or destroying a lavatory smoke detector."  Explain how you can disable or destroy a detector without first tampering with it.  "Tampering with" covers everything; can't we just leave it at that?
__________
Those Brazilians build a fine airplane.  Embraer's larger regional jets — the E170 and E190 series — are surprisingly comfortable.  More so, if you ask me, than most mainline single-aisle jets.  The window seats especially are especially comfortable. It's hard to explain, but there's a certain coziness — something about the way your shoulder meets the sidewall, and how the windows are higher up than on other planes, in a more head-friendly position for viewing. The four-abreast layout means there are no middle seats, and even in the aft cabin, behind the engines, it's very quiet. I'll take an E-190 any day over a 737, MD-80 or A320.
Brazil has a long and rich aviation heritage. Many Brazilians feel that it was their countryman, the great Alberto Santos-Dumont, not the Ohio Wrights, who was the true pioneer of powered flight.  The in-town airport in Rio is named after Santos-Dumont.
Is it not strange, meanwhile, that the U.S. never got into the small-jet building business?  Successful regional jets have come from Canada, Brazil, Holland, the UK, and now Russia is getting into the mix with the Sukhoi line, while the U.S. has stayed out of this market altogether.  I'm not sure why.
__________
Lastly, one of my all-time favorite aviation books was recently reissued.  That'd be Keith Lovegrove's  "Airline: Style at 30,000 Feet," now out from Laurence King Publishing, an imprint of Chronicle Books.
I've mentioned Lovegrove's book many times in my columns and posts. It was the inspiration behind my own two-part airline identity essay, and remains the standard when it comes to anything and everything to do with airline identity, design, and culture. Indeed, the original title of the book was "Airline: Identity, Design, and Culture."
I have to say I like the old title better. There's something dumbed-down about the new one.  I also wish a content update had been part of the reissue.  Everything stops at the year 2000 (when the first edition was published).  The global airline scene has undergone huge changes since then. I mean, really, how can you give us a book about airline culture without a single mention of Hooters Air?
Still, expertly written and elegantly illustrated, it's a must-have for even the most casual air travel aficionado.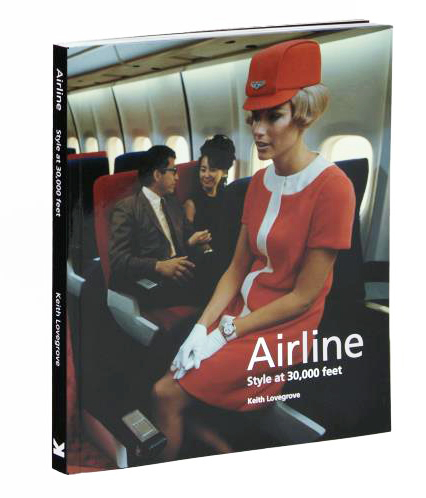 Note: Portions of this story appeared originally in the magazine Salon.