Surface-to-Air Missile Destroys 777 Jetliner. Fatality Count Makes it the 7th Deadliest Air Disaster in History.
July 21, 2014
A Boeing 777 flying from Amsterdam to Kuala Lumpur was shot down by a surface-to-air missile over eastern Ukraine last Thursday morning. The event has many people talking about the dangerous of commercial planes flying over hostile parts of the world.
It is fairly routine for civilian jetliners to overfly areas of conflict. Dozens of airline flights pass each day over Baghdad, for example (many of them land there). There are protocols, as you'd expect. Above restive areas, flights are restricted to particular routes, specific altitudes and airspace sectors. Large chunks of airspace are often totally off limits. Over certain countries — as was the case over Afghanistan for a while — commercial overflights might be prohibited outright. As situations on the ground change, these airspace limitations are adjusted.
Look at the typical aviation chart, meanwhile, and you'll see military operations areas and various restricted and prohibited zones scattered all over the place. This is true even over the United States.
Compliance with these restrictions is important, but they are not difficult to follow. Thousands of flights deal with them every day. Crews don't simply cross their fingers and hope for the best; down below, air traffic controllers are fully aware of who will be passing over, and when.
Reports that the FAA had already banned U.S.-registered jets from the area the Malaysia flight was traversing are incorrect. The zone the FAA had been worried about is well south of where MH17 was shot down, and the concerns were over communications issues, not missiles. One results of this was pushing more flights into the route that MH17 was using.
This is not the first time a civilian jetliner has been shot down — accidentally or otherwise. There have been several such incidents over the years. Most notoriously, at least until now, was the Soviet destruction of Korean Air Lines flight 007 in 1983 — a Boeing 747 flying from New York to Seoul that strayed off course — and the downing of an Iran Air Airbus A300 by the U.S. Navy cruiser Vincennes in 1988.
Ironically and tragically, the 298 reported fatalities from flight 17 make it the seventh deadliest disaster in aviation history — the same spot of infamy held previously by the Vincennes incident. The KAL 007 disaster was, until now, the tenth worst, meaning that three of history's eleven worst crashes were planes brought down by missiles.
By no means does that imply we should expect or accept such things, but sadly they are not unheard of.
In a lot of respects these tragedies are less about air safety than they are about dangers and conflicts on the ground. If a government or rogue faction shoots down a commercial plane, is that really an "air safety issue"?
The consensus already is that MH17's flight path should never have open in the first place, and the plane had no business being there. But it was open. It's easy to say that Malaysia Airlines should have known better. However, at a certain point you have to trust the entities who job it is to determine which routes are safe and which are not. This is not the responsibility of specific airlines; it's the responsibility of ICAO, local governments and the agencies that oversee their skies. Malaysia was one of many carriers flying through airspace deemed safe according those whose job it is to determine so.
On the other hand, perhaps greater precautions need to be taken over particularly unstable areas. Especially those areas where known anti-aircraft fire has been reported. Russia or Ukraine might say the skies above their border is safe, but perhaps that's for others to decide. If in doubt, don't fly there. The FAA can, at its own initiative, restrict the operations of U.S.- registered planes, as can individual airlines. The same holds true for the regulators and airlines of other countries.
Lastly, what a double-dose of agonizing luck for Malaysia Airlines. One of the world's most highly regarded carriers has lost two Boeing 777s in less than a year's span, with neither accident likely being its fault.
Miscellany:
Some readers have asked me why the flight is referred to as "MH17." This is the correct and full flight number. Flight numbers are always prefixed by a two-character airline code. The code for Malaysia Airlines is MH. In the United States we normally drop these prefixes, but they are used routinely elsewhere. This is discussed in more detail in chapter seven of my book.
The name of the airline is MALAYSIA AIRLINES. It's not "Malaysian Airlines," and certainly not "Malaysian Air."
Malaysia Airlines was formed in the early 1970s after its predecessor, Malaysia-Singapore Airlines (MSA), split to become Singapore Airlines and Malaysia Airlines. Both carriers are renowned for their outstanding passenger service and both have excellent safety records. Cabin crews of both airlines wear the iconic, floral pattern "Sarong Kabaya" batik — a adaptation of the traditional Malay kebaya blouse.
Malaysia Airlines' logo, carried on its tails from the beginning, is an indigenous kite known as the Wau. True story: In 1993 I was in the city of Kota Bahru, a conservative Islamic town in northern Malaysia close to the Thai border, when we saw a group of little kids flying Wau kites. At the time I didn't realize where the airline's logo had come from, but I recognized the pattern immediately. It was one of those airline/culture crossover moments that we aerophiles really savor.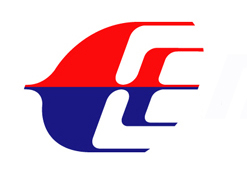 Related Stories:
DATELINE BORNEO:MALAYSIA AIRLINES AND A TRIP TO THE EAST
JAMES FALLOWS WEIGHS IN ON MH17