April 23, 2014
HOW DID HE DO IT? How did a teenage stowaway survive for more than five hours in the landing gear bay of a Boeing 767?
Search me. If you've ever snooped around the nether regions of a widebody plane, you've seen just how spacious the gear bays are, and how deceptively "roomy" they would appear. But they are full of moving parts and extremely dangerous machinery, and are neither heated nor pressurized. Oxygen will begin to dwindle within minutes of takeoff, with sub-zero temperatures. To that you can add total darkness, deafening noise, and the very good chance of being crushed to death by the struts, doors, and retraction mechanisms of the undercarriage. It's worse, even, than Ryanair.
Except, last Sunday, a fifteen year-old California boy managed to make it alive from San Jose to Maui in the main gear bay of a Hawaiian Airlines 767. Though reportedly unconscious for most of the trip, the teen awoke after landing more or less uninjured. He was spotted by airline personnel at the Maui airport after crawling down from the plane and walking across the tarmac.
People have been hitching rides in this manner for decades. Usually it's a somebody in a developing country hoping to reach Europe or the United States. Some years ago, flights arriving in the U.S. from Haiti were common targets. What makes this incident so unusual is that it involved an American citizen on a domestic flight — and, of course, that he lived to tell about it.
Medical experts have mentioned the ability for some people to enter a sort of semi-hibernation state under certain low-temperature conditions, in which metabolism all but ceases and the need for oxygen diminishes. This is maybe the best guess as to how he stayed alive. Perhaps, in addition, the 767's gear compartment receives residual heat from the bleed lines that pass nearby, or from the pressurized lower fuselage? He'd have needed at least some help; the outside air temperature at 35,000 feet is around sixty degrees below zero.
Or would he? Here's how one person explained it to me…
"If you're at 35,000 feet and and not in contact with the slipstream, the convection-rate in minus-sixty or so degree air is probably very survivable with some warm clothing. It's like when I go to skiing in Colorado: so long as there is no wind, I can be outside in the sun, when the temp is 25 degrees, dressed in only a t-shirt. Additionally, the heat of the aircraft might radiate to some extent into the gear well. That, plus the ram-rise convection through the fuselage [warming caused by air friction] could push the temperature up significantly. As for the oxygen, that's more of a mystery, but then again people have made it to the top of Everest without supplemental oxygen."
The teen told authorities he was running away after an argument with his parents. That's better than shooting up a school, I suppose, though I strongly advise any would-be copycats to rethink their plans. This was not the first time a person survived a flight in a wheel well, but the majority of undercarriage stowaways are killed.
One of the most astonishing photographs in the history of commercial aviation, taken in the early 1970s, shows a young boy falling from the wheel well of a Japan Air Lines DC-8 after takeoff from Sydney, Australia. Fourteen year-old Keith Sapsford had sneaked aboard with dreams of reaching Japan. As the landing gear retracted, he either slipped, jumped from fright, or became dislodged by a piece of moving equipment, plummeting to his death. The picture was taken by John Gilpin, an amateur photographer who was trying out a new camera lens. He had no idea that he'd captured the image until developing his film later on.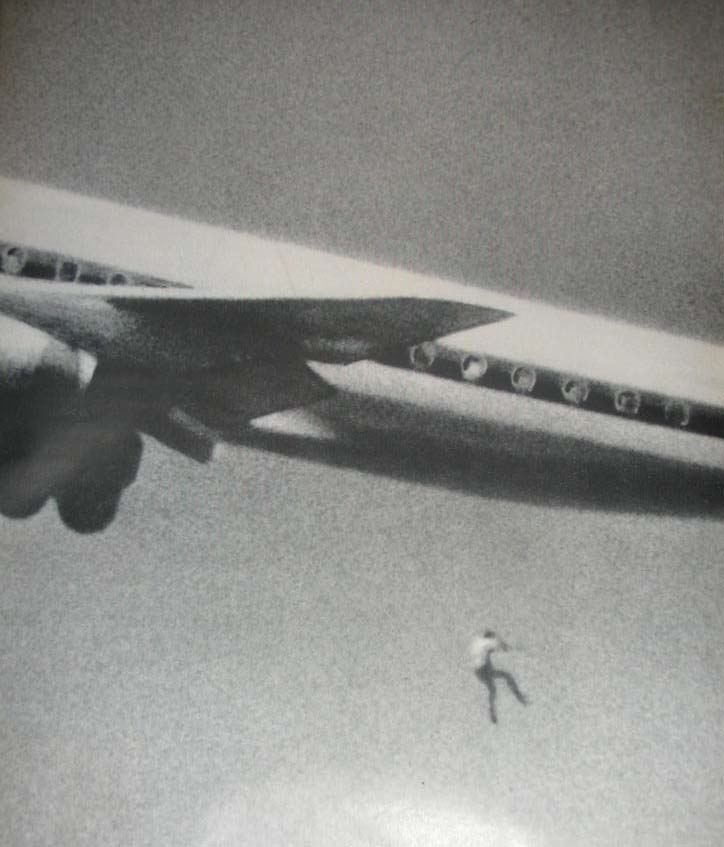 I've seen my share of DC-8 landing gear bays, having been a flight engineer on a DC-8 freighter for four years. They always gave me the willies. There's a funny(?) segment in chapter five of my book where I describe pre-flighting a DC-8, and the sobering effects of looking up into the bays at all of that hulking machinery.
Meanwhile, the stowaway theme is something we could (but won't) riff on for many pages. There's Frank Abagnale, of course, the notorious imposter of "Catch Me if You Can" fame who conned his way into cockpits with a forged pilot's license. Or the case of William Cohn, a shopowner from Miami who traveled the world for free by posing as a Pan Am flight attendant in the early 1980s. The ruse was uncovered after passengers and fellow employees had written several letters of commendation on Cohn's behalf.
The closest I ever came to stowing away was in 1979. A friend and I — we were in seventh grade — skipped school and flew from Boston to New York, to spend the day plane-spotting on the roof of the Pan Am terminal at JFK. We'd take the Eastern Shuttle to La Guardia, then ride the old Carey bus over to Kennedy. We didn't tell our parents.
A flight attendant must have alerted somebody, because as soon as we landed at La Guardia, an Eastern agent and a police officer pulled aside and took us to an office. Here were two unaccompanied minors flying without anybody's knowledge or permission. Were we runaways, they wanted to know?
No, just airplane geeks, we explained. We told them truth: that we'd planned to spend the afternoon at JFK taking pictures of planes, and would fly back to Boston again on the 6 p.m. Shuttle.
And that's exactly what we did. The agent and the cop took us on our word, and let us go.
It was a warm, hazy day in June, I remember. That was the first time I ever saw the Concorde. I remember an Iran Air 747, a British Airways VC-10, and dozens of smokey old 707s and DC-8s. All of this from the rooftop parking lot of the Pan Am Worldport, a.k.a. terminal 3, which remained standing until just this year.
Portions of this story appeared originally in the magazine Salon.