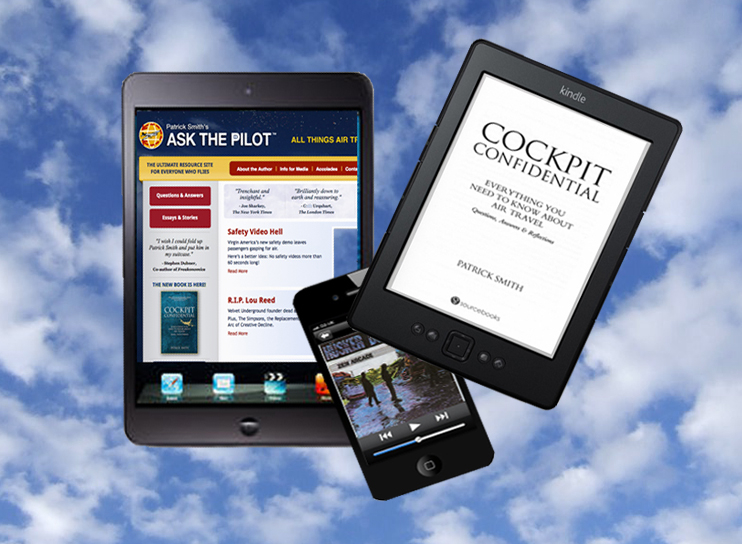 November 5, 2013
THE BIG NEWS IN AIR TRAVEL is last week's long-awaited — some would say long overdue — announcement from the FAA that it is easing the restrictions on the use of some electronic devices in flight.
There's been some confusion: the new rules pertain only to devices of tablet size and smaller — like iPads, Kindles, MP3 players and small gaming devices.  Laptop computers must remain stowed during taxi, takeoff and landing, and the use of cellular phones remains prohibited.  Onboard Wi-Fi will continue to be available only above 10,000 feet, and all devices with cellular capability must be in "airplane mode" during flight.  
All along there have been different rules for different devices for different reasons, and only a few of the rules are changing.  The reason laptop use remains restricted is not just because of concerns over electronic interference. Your computer has to be stowed for the same reason your luggage has to be stowed: to keep it from becoming a dangerous projectile during an impact or sudden deceleration, and, more importantly, so that it does not impede an emergency evacuation.  Time is critical during an evacuation, and the idea is to keep people from toppling over computers and tray tables as they rush for the exits.  
It will be be up to individual airlines to ensure their aircraft are adequately gadget-proof.  Carriers will be required to perform tests, and must submit plans as to how the new rules will be interpreted and enforced — all subject to FAA approval.  The carrier-by-carrier process means there might be small differences as to which gadgets are approved for which periods of flight.  
The regulatory process seems to be working as it should, if perhaps a little too slowly: Initially there was a blanket ban on all electronic gadgets. This made sense at a time when not everything about these devices, and how their use might affect onboard equipment, was understood.  Now regulators are beginning to look at specific devices, tailoring the rules as needed.  
To me the latest changes are sensible and reasonable, though not everybody is sanguine.  Christine Negroni, aviation journalist and author of "Deadly Departure," worries that the easing of restrictions might be a slippery slope toward reckless policy, and that the FAA is ignoring the safety concerns presented by members of a panel who studied the issue.
"The advisory committee issued a substantial list of examples of how gadgets can interfere with flight controls and systems," Negroni says. "They didn't make them up and they didn't rely on their personal experiences. They used scientific testing."
 
"Its a glass is half full approach. There is a great desire by the flying public to use these devices, and the FAA has ignored facts that suggest electronic devices pose a threat to concentrate on those that suggest everything will be okay.  Don't get me wrong. I understand that people are already not complying, which is itself a good way to degrade safety. But the remedy proposed doesn't solve that either. It takes us further into the same territory. Who will put their device into airplane mode? How will the flight attendant check this? How responsive will passengers be to the pilots' instruction to stop using devices in low visibility approaches, for example?" 
Looming behind all of this, meanwhile, is the issue of mobile phones.  Are the latest changes just another step toward the lifting of all restrictions, including those pertaining to phones, or will the phones ban be permanent?
This is trickier.  Anecdotal evidence suggests that phones can, every so often, interfere with a plane's electronics, and there have been at least two accidents — one in Switzerland and one in New Zealand — in which phones may have played a role.  Granted those accidents were several years ago, and the aircraft were smaller, older models, but there's a lot about this we just don't know.  Many people are led to believe the phones prohibition is totally unnecessary — just another example of those mean old airlines making life miserable for their customers.  But it's not that simple.  Have I, as an airline pilot, ever experienced what I thought to be interference from a phone?  No, but that doesn't mean it's impossible, and erring on the side of caution here is probably prudent.
As it stands, you couldn't use your phone during flight if you wanted to. The cellular networks aren't reachable once you're above a few thousand feet, and even at low altitudes calls would seldom stay connected for very long.  Technology already exists that that could eliminate these glitches, and at some point the safety challenges too are likely to be surmounted.  But is that really the way to go?
Ultimately, I suspect this will come down to being a social issue rather than a technological one.  In other words, even if on-board calling were technologically reliable and a hundred percent safe, does that make it a good idea?  Do you really want to be crammed into an airplane with two-hundred people all chatting away on their phones at the same time?
Air travel is already such a noisy experience.  U.S. airports are intolerably loud. There are people shouting, kids screeching and carts beeping; public address announcement play constantly, sometimes two and three at a time, while TV news monitors blare mindlessly at every gate.  It's not until stepping onto the airplane that travelers find some peace and quiet.  I say we keep it that way.  Perhaps, eventually, we could tweak the rules to allow some forms of inflight calling.  Have a designated area in the back of the plane, for example, where passengers could, one or two at a time, place a call if needed.  Or maybe a "chattering" section, akin to the old smoking section, where callers could sequester themselves and drive one another crazy.  
No rush.  Count me among those who hope the ban stays in place.