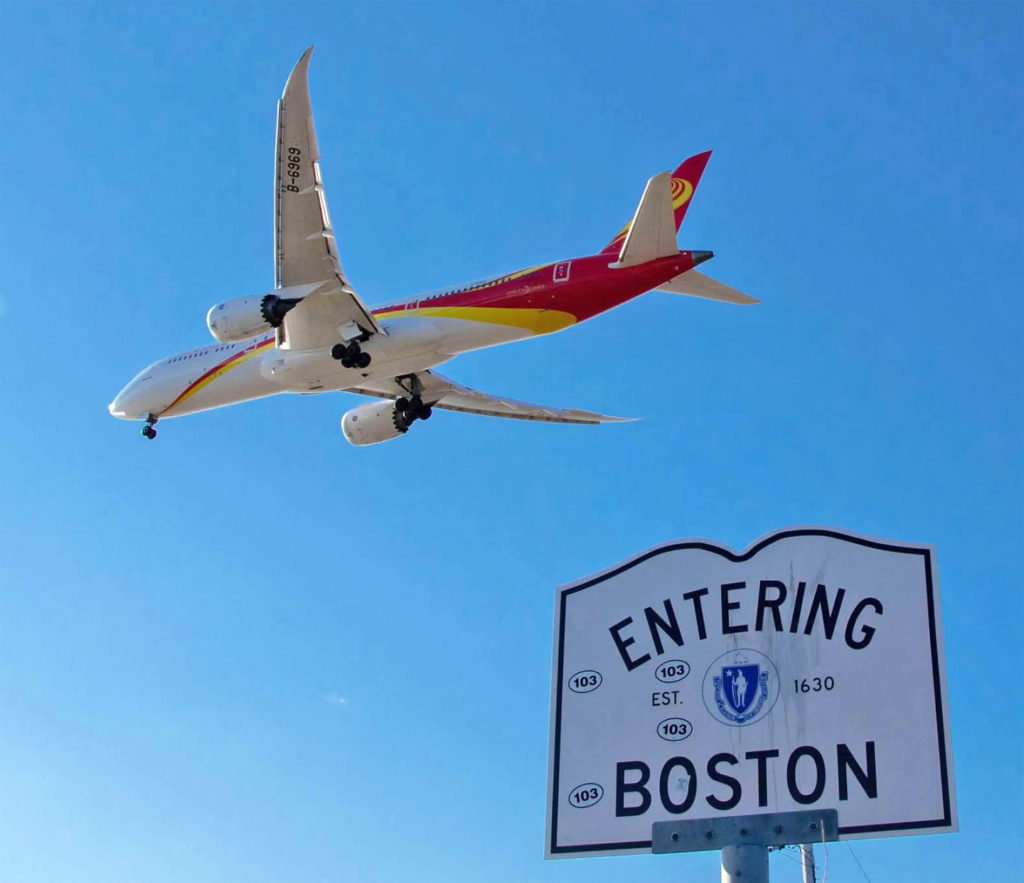 From Little Old Logan, New Englanders Can Now Reach Hong Kong, Istanbul, Tel Aviv and Beyond.
UPDATE: April 23, 2019
Yet more exciting news from BOS.
And I'm two for two in predictions, by the way. "Now that Korean Air is partnered up with Delta," I wrote in December, 2017, "this Wise One sees Korean reintroducing its Boston-Incheon (Seoul) service." Indeed, earlier this month Korean Air kicked off ICN flights using the Boeing 787-9. Incheon becomes the fifth Asian city served from Boston, joining Tokyo, Hong Kong, Beijing and Shanghai. I also predicted TAM/LATAM's service from Boston to Sao Paulo, which it runs daily using a 767.
The one I didn't see coming, though, was Royal Air Maroc's announcement that it plans to launch a Boston-Casablanca nonstop. Set to begin on June 22nd, using a 787, this will be Logan's first-ever flight to Africa.
If I'm counting right, of all the cities east of Chicago, only JFK and Newark have more transoceanic destinations than Boston. That's astounding for an airport that, ten years, ago, had no direct links beyond a smattering of cities in Western Europe.
Our two resident Gulf carriers meanwhile, are upping the ante in premium class. Starting on June 1st, Emirates will put the Airbus A380 on its daily Boston-Dubai flight, replacing the 777-300 used currently. While both aircraft feature an outstanding first class, the business class cabin on the A380 is far superior to the one on the 777. Qatar Airways, for its part, will deploy its exclusive "Qsuite" cabin on its daily flight to Doha. I'd previously written some negative things about Qatar Airways service, but the Qsuite, used only in a few select markets, is arguably the best business class product in the industry.
UPDATE: January 30, 2019
IT HAS BEEN SAID that the real measure of a city's greatness has nothing to do with its cultural or civic institutions, its establishments of higher learning, or the prominence of any businesses or industry. No, what really counts is how many foreign cities you can fly to from its airport.
Who said such a thing? I did. Is it true? Of course not. Not entirely, anyway, though air routes to far-flung places do lend a city a certain prestige. There's something exciting, even a touch glamorous, that comes with being able to reach some distant foreign capital direct from your home town.
Which makes me proud to be a Bostonian, because over the past six or seven years, the pace of international expansion out of Boston's Logan International Airport has been nothing if not spectacular, turning BOS into a truly global airport. Once upon a time, BOS was a second or third-tier international airport, with a handful of late-in-the-day departures to Western Europe. Nowadays, each afternoon and evening, the lineup of colorful tails at Terminal E looks more like JFK or LAX.
It all got going in 2012, when Japan Airlines inaugurated flights from Boston to Tokyo's Narita Airport — the first-ever nonstop between Boston and Asia. Massport (the state agency that manages Logan), along with local city and business leaders, had been coveting an Asian route for some time. Carriers kept balking, afraid of committing a long-range aircraft to a route with questionable potential: The longer a flight is, the higher the operating costs, and the more seats an airline needs to fill (Boston-Tokyo is double the distance of Boston-London). Boston isn't a terribly big city, and Logan isn't much of a hub, with limited domestic feed. Understandably, airlines were nervous about such an endeavor. American Airlines had planned a Tokyo flight back in 2001, only to shelve it in the wake of the terror attacks.
Finally in 2012, JAL gave us a chance, launching BOS-NRT with its brand-new Boeing 787 — the first international service in the U.S. using the 787. The 787 is a medium-sized jet of modest capacity, but its outstanding per-seat fuel efficiency can make a flight like this profitable. The plane's early technical troubles notwithstanding, flights have been consistently full and the route seems to be thriving. (I took the JAL flight shortly after its debut and wrote about it here.)
The following summer, Panama's Copa Airlines added Boston to its network with a daily flight to Panama City — our first nonstop to mainland Latin America. Most of you probably never heard of Copa, but it's a well-respected carrier with a fleet of around 90 aircraft. Copa runs a busy hub out of PTY, with onward connections throughout Central and South America. (You'll notice Copa's blue and gold paint scheme bears a striking resemblance to that of United, due to an earlier arrangement between Copa and Continental Airlines, which merged with United in 2010.)
In the months that followed, Emirates, Turkish Airlines, and Chinese carrier Hainan Airlines joined the party. The latter now uses 787s on nonstop to Beijing and Shanghai. In 2015 came AeroMexico, Cathay Pacific and El Al. Qatar Airways began Boston-Doha flights in March, 2016, using the brand-new Airbus A350 — the first A350 route anywhere in the United States.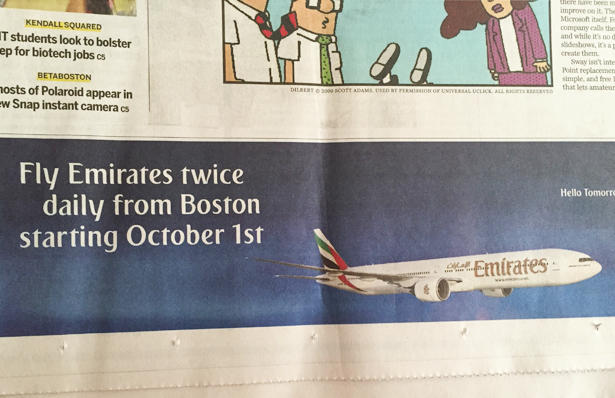 On Emirates, now the world's largest carrier in terms of international traffic, passengers can connect via Dubai to cities throughout Asia, the Middle East, Africa, and Australia. Qatar offers a similarly huge connection network through its Doha hub.
On Turkish Airlines, New Englanders can fly nonstop to Istanbul, one of the most fascinating and historic cities on earth, or they can connect onward to any of dozens of destinations in the Middle East, Central and South Asia. Turkish is a fast-expanding airline that already flies to more countries than any other carrier (95 at last count).
On JAL, Cathay Pacific and Hainan Airlines, travelers can transfer to dozens of destinations across Asia. Cathay, based in Hong Kong, is one of the oldest and most prestigious airlines in Asia. Hainan Airlines isn't as well-known, but it's one of only a handful of airlines to garner "5-Star" status in the prestigious SkyTrax rankings.
TAP, the Portuguese carrier, is here now as well. I can remember TAP 707s pulling into terminal E when I was a kid. The airline withdrew from Boston in the 1990s but has finally returned, with A330s to Lisbon.
Routes to Latin America have been growing as well. in June, 2017, Avianca, the oldest airline in the Americas, introduced nonstops to the Colombian capital of Bogota — the first-ever regular flight from Boston to South America.
After the Avian launch, we wondered if more South American destinations might be on tap. "What's still to come?" I wrote in an earlier post, then promptly answered my own question: "A route to Brazil would be the obvious choice, considering the large Brazilian population in the metro area." I hadn't heard any rumblings of this. It just seemed like a good idea.
TAM, the Brazilian carrier, thought so too. The carrier began nonstops from Boston to Sao Paulo this past summer. The daily route uses a Boeing 767, but will switch to a larger 787 or Airbus A350, TAM says, if demand grows as expected.
That'd be LATAM, technically, as TAM has joined forces with the Chilean-based carrier LAN. LAN, or LAN-Chile as it was known for decades, is/was one of the oldest airlines in the world. The Brazilian side of the operation, TAM, began operations as an air taxi company in 1961. Together, the LATAM group operates over 160 aircraft to 70-plus cities across the Americas, Europe and the Middle East.
Delta, meanwhile, will add summer service to both Lisbon, Portugal, and Edinburgh, Scotland, in addition to its year-round flights to Amsterdam, London and Paris, and seasonal service to Dublin.
Boston is also one of only two U.S. cities served by Azores Airlines (also called SATA). You can fly from Logan to Ponta Delgada, on the island of Sao Miguel, and onward to several other spots in the Azores chain, or to Europe.
And let's not forget WOW Air. Yeah, that's a real thing, a low-cost outfit running flights to Reykjavik, Iceland — and the latest entrant in the race-to-the-bottom trend of stupid airline names. (In the summer high season, Icelandair flies triple-daily from Boston, meaning there are four — four! — nonstops each day to windy Keflavik, the airport serving the Icelandic capital.)
On and on it goes. All of this, not to mention a dozen or so more "traditional" routes into Europe, from Paris to Zurich to Munich. British Airways, Lufthansa, Air France, Iberia, Swiss, et al — all of the major European players are here (save for KLM, which relies on codeshare service through its partner Delta).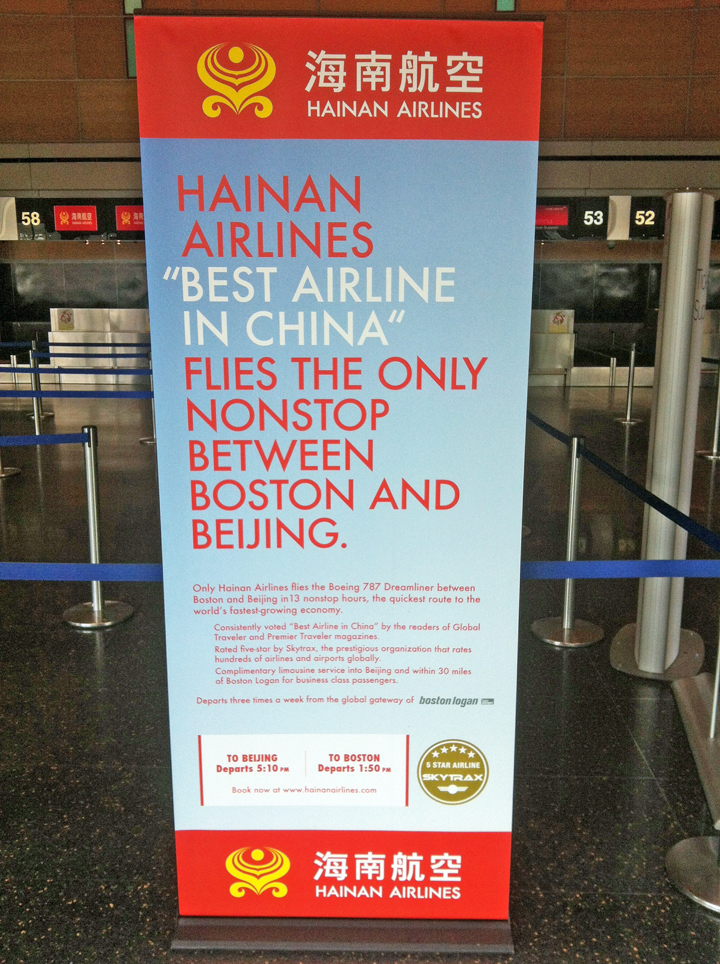 This is exciting stuff for air travel enthusiasts like me, and good news for consumers. Whether they're headed to Turkey or Turkmenistan, Bali or Bangladesh, New Englanders now have a trove of connection options through some of the world's most friendly and convenient transit hubs.
Less impressed, however, are the mainline American carriers, who find an increasing number of travelers, including many high-end first and business class flyers, migrating to their foreign competitors. The continuing expansion of state-supported airlines like Emirates and Qatar has generated a sometimes fierce resentment both from U.S. and European airlines, who argue that lavish government subsidies have permitted them to take a huge and unfair advantage over the legacy carriers. See here for more.
When Qatar began its Boston flights, a group called the Alliance for Workers Against Repression Everywhere (AWARE) was running full and half-page ads in the local papers, accusing the airline of exploiting its workforce — particularly its female employees. Such accusations are not new for the Persian Gulf carrier, and have dogged companies like Emirates as well.
Last summer, Norwegian Air, another controversial carrier, commenced flights from Boston to multiple cities in Europe and the Caribbean, using both Boeing 787 and 737 aircraft. The gripe with Norwegian is a complicated and ongoing battle, mainly involving "flag of convenience" labor issues. It remains to be seen which, and how many, destinations this airline will ultimately be permitted to serve from U.S. cities.
And is it true, as some have argued, that Massport has been subsidizing the new routes by granting allowances not available to U.S. airlines? Virtually all of the recent expansion has come from foreign carriers taking advantage of Massport's International Air Service Incentive Program, which offers incentives such as landing fee rebates and marketing assistance to carriers that add flights to currently unserved destinations.
"Absolutely not," says Matthew Brelis, Massport's Media Relations Director. "Massport's program is open to all scheduled air carriers," explains Brelis. "We secured unanimous support from all of Logan's carriers in advance of introducing the program in 2008, including our domestic carriers. The program is designed to attract nonstop service to new regions of the globe, not divert from our existing carriers, and by all accounts it has been quite successful." Brelis says the new routes are generating more than a billion dollars in annual economic benefit to the region.
Brelis says that Massport has tried to get American carriers to open new international routes, but when it comes to thinner international routes, they prefer to fly from their hubs rather than from "focus cities" like Boston.
International flights into Logan arrive at Terminal E. In the old days this building was called the John A. Volpe International Terminal, named for a former Massachusetts governor. Then, as now, it is the only terminal at the airport with customs and immigration facilities, and it's home to all of Logan's overseas carriers. (The cluster of gates at the eastern tip were once the home of Braniff, Northwest, and until fairly recently, Southwest Airlines.)
Passing the TSA checkpoint one enters the building's older section, which is more or less as I remember it from years ago, with lots of gray cladding and segmented windows staring towards Revere. The check-in hall, however, is entirely new. The spacious, wood-panel interior is softly lit and, unlike most U.S. terminals, blissfully quiet. This is Logan's most impressive terminal, if not one of the handsomest in the country.
Things have become so busy at Terminal E that the building runs out of gate space each afternoon, requiring planes to be towed to and from remote stands.
Granted, having a big, busy airport doesn't automatically qualify your city as world-class (whatever that means exactly). Take poor Detroit, for example. Geography, as much as anything else, determines where carriers place their hubs. But in some ways that just makes Logan's route map even more impressive, because BOS isn't an international hub for anybody. Its traffic is self-generated, not funneled in from dozens of other cities. Little old Logan ought to feel proud.
I say "little old," which I hope isn't insulting. I'm just being friendly. My fondness for Logan goes back to my adolescence, when on weekends it became a sort of second home.
Size and sentimentality aside, it's hard to argue, objectively, that BOS isn't one of the better major airports in the country. It's clean, attractive, well organized, and unlike most American airports it has reasonably efficient public transit connections to the city. It also has the world's coolest-looking control tower.
For the record, Logan places 19th nationally and 33rd globally measured by the number of takeoffs and landings, and in terms of total passengers we're out of the top 50. No, BOS will never be a global player the likes of JFK, Amsterdam, Heathrow or Bangkok, but all things considered, we're doing pretty well.
Memories of Routes Past
On the downside, until recently BOS had been the sole U.S. destination for little-known TACV (Transportes Aereos Cabo Verde), the national airline of Cape Verde, with weekly nonstops between Logan and Praia, on the island of Santiago. That route has been moved to Providence, Rhode Island, of all places, catering to the large Cape Verdean diaspora there.
Similarly, TACA pulled out of Logan not long ago after its San Salvador flights didn't prove profitable.
In the early 1980s, shortly before its demise, Braniff International operated a transatlantic mini-hub at Logan. Braniff's brightly colored 747s and DC-8s (Alexander Calder once hand-painted a Braniff DC-8) flew nightly to London, Paris, Frankfurt, Brussels and Amsterdam. They called it the "Boston Gateway," though by most accounts it was a financial disaster, and one of the final nails in Braniff's coffin.
Northwest, which is today part of Delta, had a similar operation at BOS that lasted about ten years, beginning in the late 1980s, with 747s and DC-10s flying to Amsterdam, London, Paris, Frankfurt, Stockholm, Copenhagen, Glasgow and Shannon. Today, Delta's Amsterdam service is the only surviving vestige of this network (Delta's London and Paris flights are recent additions; the Amsterdam service has been uninterrupted since its launch in 1989).
Poking elsewhere around the airline graveyard, we remember that Pan Am flew to London, and TWA to London, Paris and Rome. Swissair took us to Zurich (the new Swiss International does the same). Sabena had nonstops to Brussels, and Olympic Airways once connected Boston with Athens.
LOGAN TO THE WORLD. NONSTOP SERVICE BY CITY AND AIRLINE.
(Excludes Canadian and Caribbean destinations. Some flights are seasonal.)
Amsterdam    Delta
Beijing    Hainan Airlines
Bogota    Avian
Madrid    Air Europa
Copenhagen    SAS
Casablana    Royal Air Maroc
Doha    Qatar Airways
Dubai    Emirates
Dublin    Aer Lingus
Dublin    Delta
Dusseldorf    AirBerlin
Edinburgh    Delta
Frankfurt    Lufthansa
Hong Kong    Cathay Pacific
Istanbul    Turkish Airlines
Lisbon    Air Portugal
Lisbon    Delta
London-Gatwick    Norwegian
London-Heathrow    British Airways
London-Heathrow    Virgin Atlantic
London-Heathrow    Delta
Madrid    Air Europa
Madrid    Iberia
Manchester    Virgin Atlantic
Manchester    Thomas Cook
Mexico City    AeroMexico
Munich    Lufthansa
Oslo    Norwegian
Panama    Copa
Paris-Charles de Gaulle    Air France
Paris-Charles de Gaulle    Delta
Paris-Charles de Gaulle    American
Ponta Delgada    SATA/Air Azores
Reykjavik    Icelandair
Rome    Alitalia
Sao Paulo    LATAM
Seoul-Incheon    Korean Air
Shanghai    Hainan Airlines
Shannon    Aer Lingus
Tel Aviv    El Al
Paris-Charles de Gaulle    Air France
Tokyo-Narita    Japan Airlines
Zurich    Swiss
Related stories:
LOGAN REDUX. PLANES, PRANKS AND PRAISE
THE DECLINE AND FALL OF U.S. AVIATION
DEAR LORD, WHAT HAVE THEY DONE TO THE PARK PLAZA HOTEL?
Entering Boston photo courtesy of Michael Saporito.