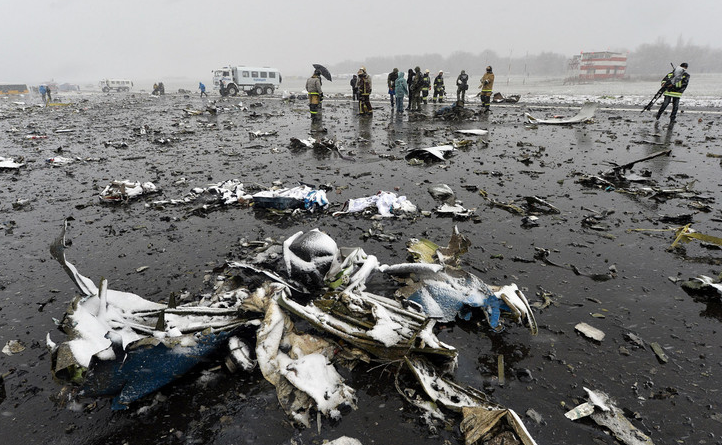 UPDATE: March 29, 2016
THE WINDSHEAR THEORY that I initially posited (see original post, below) about the crash of FlyDubai flight 981 last week in Rostov-on-Don, appears to have missed the mark. What we're looking at now, judging from the black box recordings, is two pilots who lost control of their jet during a go-around maneuver, albeit in terrible weather. Why and how this happened I don't yet understand, and the latest media reports make nothing clear.
The New York Times carried a story on March 26th that was particularly bizarre. The story I'm talking about is the one that describes "switching on" a "stabilizing fin" and how the crew disengaged the "automatic mode," and so on. It makes little sense to me. What stabilizing fin? And what is "automatic mode"? Automatic mode of what? People have this idea there's an on/off switch that somehow controls or lands the whole plane. Then there's this paragraph:
With the fin activated, 'the elevator is no longer working and the plane practically does not react to the pilot's control panel,' the report said. The channel suggested that the pilot could have accidentally hit the button that activated the fin because of his reported chronic fatigue.
The elevator is no longer working? The fin activated? The button? I fly Boeings for a living and I have no idea what the writer is talking about.
The reporter who put this story together did not have an adequate grasp of the topic, and seems to have garbled up whatever insights their sources contributed. I advise you to read it with caution.
Meanwhile I shudder to think how TV news, for its part, is going to further bollix this up. I haven't got the stomach to watch.
March 21,2016
THERE'S LITTLE TO GO ON following the fiery crash of FlyDubai flight 981 in Rostov-on-Don, Russia, last Saturday morning. This is hardly unusual so soon after a major accident, and I'm sure we'll learn a lot more in the days coming up. A few things, though, to clarify (and complain about):
The plane went down after circling in a lengthy holding pattern in terrible weather, plunging to the ground after initiating what should have been a standard go-around maneuver. Go-arounds, when a plane suddenly climbs away after attempting to land, are often disconcerting for passengers. The abrupt transition from a descent to a rapid climb can be noisy and jarring. But it's perfectly natural for an airplane, and a straightforward, if work-intensive set of steps for the crew.
Still, could something have gone wrong? Did the pilots bollix this up somehow, resulting in an aerodynamic stall and a subsequent crash? It's unlikely, but possible.
And/or, did the weather play a role? Much is being made of the windy conditions above Rostov at the time. "By all appearances," said Vasily Golubev, the governor of the Rostov region, "the cause of the air crash was the strongly gusting wind, approaching a hurricane level."
Well, sort of, yes and no. High winds, in and of themselves, do not cause a plane to crash. What the governor and many reporters and commentators have been getting at, but never quite arriving at, is the possibility of windshear: that is, a drastic change in the speed or direction of the wind, which can cause a plane to lose critical flying speed. We're not talking about a momentary change, like you'd get from a gust, but a more prolonged and powerful shift in where the wind is coming from, or how fast it's blowing. Strong shears, particularly those accompanied by what's known as a downburst or microburst, are hazardous to planes when flying slowly and when close to the ground, as the Flydubai jet would have been as it prepared to land.
Windshear accidents have become very rare in recent years thanks to better forecasting tools, pilot training and sophisticated onboard warning systems. But the phenomenon is still potentially dangerous, and a powerful shear can't be ruled out at least as a contributing cause of this crash.
(And one aspect of this story that might develop over time is whether we'll be seeing more accidents like this in the coming years, as climate change brings on more extreme weather events. Hurricane force winds over Russia in March?)
Video footage of the impact shows what some people have interpreted as flames coming from the jet before it strikes the ground. The video I've seen is too grainy to be conclusive, but if indeed those are flames, this wouldn't necessarily imply that the plane itself was on fire. It's possible the flames were might be coming from an engine, and were perhaps the result of engine compressor stalls, which could have occurred as the pilots went to maximum power in a futile effort to climb.
Windshear? A go-around that went bad? Some combination of violent weather and human error, perhaps compounded by an automation or mechanical failure? We'll find out, most likely, soon enough.
Additional information about windshear and go-arounds can be found in chapters two and three of Cockpit Confidential.

Photo credit: Getty Images