It's Time to Get Serious About the Safety Demo.
October 29, 2016
HERE WE GO AGAIN. Yet another incident with passengers taking their bags during an evacuation. This time it was last Friday, after an American Airlines 767 caught fire on takeoff from Chicago's O'Hare airport. During the evacuation — as has become the appalling new normal in evacuations — passengers could be seen leaving the aircraft with their carry-ons.
What makes this behavior so dangerous should hardly need explaining. In situation where seconds can mean the difference between life and death, luggage slows people down, impedes access to the aisles and exits, and turns the escape slides into a deadly slalom.
And this was no precautionary evacuation. The plane's right engine had caught fire, and flames and smoke were billowing around the wing. With thousands of gallons of kerosene inside that wing's fuel tanks, there was danger of a catastrophic explosion. Nonetheless, video footage and photos show passengers hauling their bags from the aircraft.
Maybe the evacuation process seemed orderly and calm, but how would things have unfolded had there been an explosion, and had the smoke and fire suddenly spread inside the plane? We imagine a mad rush for the exits, but now the aisle is clogged with suitcases dropped by panicked passengers. We recall the fate of Air Canada flight 797 in Cincinnati. The DC-9 made a successful emergency landing due to an on-board fire, but twenty-three people died because they couldn't get out fast enough after the evacuation began. And that was in 1983, well before oversized carry-ons were the norm.
I realize that being protective of your things is second nature, and grabbing a small purse or bag containing medicine or other essentials is one thing, but your computer, your toiletries, your underwear and your Sudoku books — all of those things can be replaced and aren't worth risking your life over. Not to mention the lives of those behind you, who can't get to the door because your overstuffed roll-aboard is in the way.
And although you can't always see it in videos or photos, those slides are extremely steep. They are not designed with convenience in mind. They are designed for no other purpose than to empty a plane of its occupants as rapidly as possible. You'll be coming down from over two stories high in the case of a widebody jet, at a very rapid clip, with others doing the same in front of you and right behind you. Even without bags people are often injured going down the slides. This is expected. Add carry-ons to the mix and somebody is liable to be seriously hurt, or even killed — smacked on the head by somebody's suitcase or baby stroller.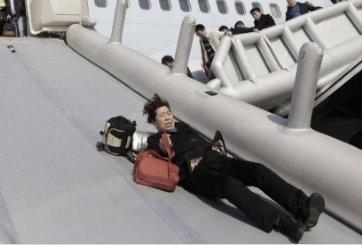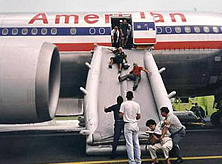 When an evacuation is initiated, cabin crews are trained to loudly and clearly instruct passengers to leave their things behind. In Chicago on Friday, flight attendants reportedly did just that (as did some justifiably concerned passengers, bless them). The problem is, a certain number of people, either willfully or simply out of reflex, aren't going to listen. There have been different proposals, from restricting the number of carry-ons to locking the overhead bins during arrival and departure. Ultimately, though, it comes down to passenger awareness. And one of the best ways to stoke this awareness would be to better emphasize the issue during the pre-flight safety demonstration.
As they exist today, the safety demos are numbingly tedious. Even as carriers try to out-cute one another with their video presentations — further underscoring their irrelevancy as a genuine safety measure — they are crammed with the equivalent of legal fine print. Nobody pays attention, and we can hardly blame them: "At this time we do ask that you please return your seat backs to their full and upright positions." Why not "Please raise your seat backs?" Or, my favorite: "Federal law prohibits tampering with, disabling, or destroying any lavatory smoke detector." Excuse me, but are those not the same bloody things? Doesn't "tampering with" pretty much cover it? Amidst all the redundancies, the vapid niceties and the dreary airline-ese, the demos go on for minutes at a time with confusing and unnecessary instructions about the use of electronic devices, the minutiae of putting on an oxygen mask, and impossibly complex tutorials on how to don a flotation device — things nobody will remember in the throes of an actual emergency. Yet they leave out entirely the short, simple, and far more valuable admonition to LEAVE YOUR DAMN THINGS BEHIND DURING AN EVACUATION!
With a little common sense, the fatty babble of the typical briefing could easily be trimmed to a quarter or less of its length, resulting in a lucid presentation that people might actually listen to. Ninety seconds, tops. And among the bullet-points should be the clear instruction not to take your stuff should the need arise to evacuate. Will everybody get the message? Probably not, but some will. At least passengers have heard it, and that can have important consequences should something unforeseen occur.
Again, it all comes down to awareness. We can help raise that awareness by overhauling the safety briefing, or wait and let it happen the hard way, when hand luggage contributes to a tragedy.