Was This a Botched Go-Around? Plus: Deadly Stupidity Redux. Yet More Passenger Recklessness.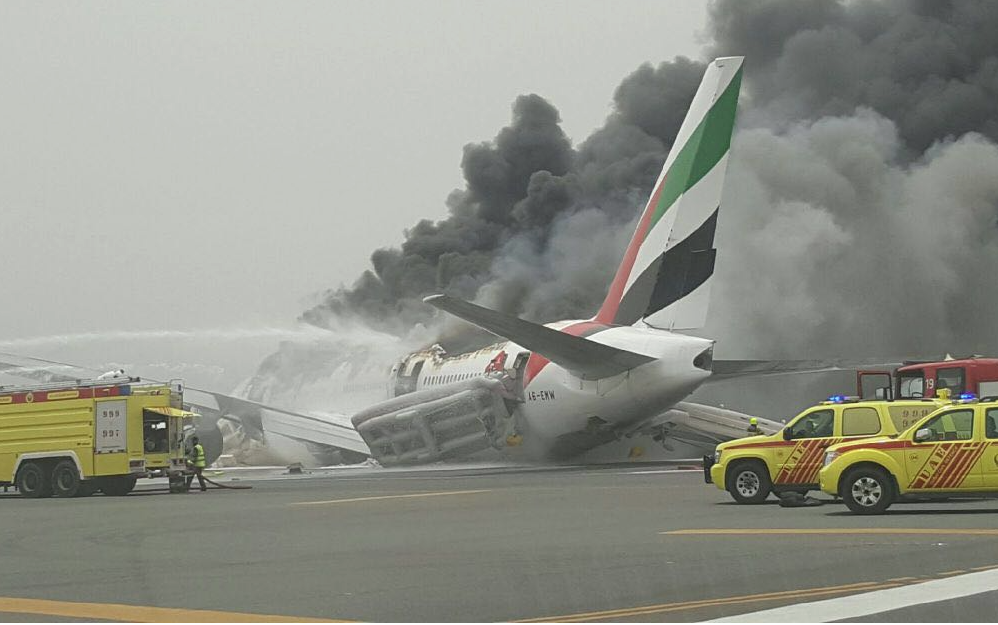 UPDATE: September 7, 2016
Nothing is official yet, but this is looking more and more like a botched go-around.
Procedures and techniques vary airline to airline and plane to plane, but a normal go-around maneuver goes enstially like this: First, the captain or first officer calls out "go-around." The pilot at the controls then depresses one of the TO/GA switches attached to the thrust levers — we say "toga," an acronym for "takeoff/go-around" — at which point the autothrottles will increase power to the required setting, and the flight director bars will command the proper pitch. As the pilot brings the nose up, he calls for the landing gear to be retracted, and for the the flaps and slats to be repositioned for the climb. A mode annunciator will flash "GA" (or something similar) verifying that the TO/GA switch was depressed and the go-around sequence has commenced. All of this happens in just a few seconds. Then jet then climbs away.
Approaching the runway threshold, engine power will be back nearly to idle. Therefore, and perhaps obviously, the most important of these steps is increasing the power. Pitching the nose up and reconfiguring the flaps and gear is not going to accomplish anything without enough thrust to climb. On the contrary, speed will bleed off rapidly, and if things aren't quickly corrected, the plane will stall and crash.
According to the preliminary report from Dubai, power was not increased until eight full seconds after repositioning of the flaps and landing gear. At time 08:37:27, the flap lever was moved to the 20 position, which is the standard setting for a go-around on a 777-300. Two seconds later the landing gear lever was selected up and the gear began to retract. So far, so good, but it wasn't until time 08:37:35, three seconds before impact with the runway, that both thrust levers were moved forward from the idle position. In other words, they were trying to go around without power. That sounds to me like they either neglected to activate the TOGA function entirely, thought they had activated it, or, the system malfunctioned.
None of those three things is a killer, so long as the crew is paying attention and catches the error — in this case, noticing that the thrust is not increasing. And although eight seconds doesn't sound like a lot of time, when you factor in windshear and an outside temperature close to 50 degrees celsius, the plane's performance was already adversely affected. There was limited margin for error.
A go-around is a busy transition, but you need to make sure that the correct steps were taken and the plane is doing what it's supposed to. At some carriers, as an added step, pilots are required to call out the "GA" annunciation on the mode control panel, verifying activation of the TO/GA sequence.
August 4, 2016
ON AUGUST 3rd, an Emirates Boeing 777-300 crash-landed and burst into flames at the Dubai airport. All 300 passengers and crew managed to escape before fire consumed most of the plane's upper fuselage. A firefighter was killed battling the blaze.
Flight EK521 was arriving from Thiruvananthapuram (Trivandrum), India, carrying 282 passengers and 18 crew members. Information from Dubai has been spotty and incomplete, so it's difficult to construct a probable scenario. Here it is several days later, and we're are still hearing conflicting accounts of even basic information. According to various accounts and air traffic control recordings, the aircraft apparently was attempting a go-around maneuver (aborted landing), when, seconds later, it struck the ground hard and skidded to a stop on its belly. There are conflicting reports as to whether the plane's landing gear had been retracted prior to the impact, or if it collapsed upon landing. Normal go-around procedures call for the pilots to retract the gear once the plane starts to climb.
Weather at the time was gusty and unstable, with blowing dust and low-level windshear. Windshear is a rapid change in the direction or velocity of the wind, which in severe cases can lead to a dangerous loss of flying speed. Garden-variety shears are common and almost never dangerous, but it's possible the crew encountered an unusually powerful shear while transitioning from the landing to the go-around, causing the jet to descend and strike the ground. Modern aircraft have sophisticated windshear warning systems, and pilots are well trained in how to deal with this phenomenon, but in rare cases shears can exceed the capabilities of the airplane and crew.
We should mention, too, that the temperature in Dubai was approaching 50 degrees Celsius. Airplanes do not perform as robustly in hot weather. A go-around maneuver, by itself, and even in 50-degree conditions, should have been routine and straightforward, but a combination emerges: unstable weather and windshear, a go-around, and scorching hot temperatures. Could these factors have come together in exactly the wrong way at exactly the wrong time? Did crew error play a role as well? Or was it something totally unrelated?
Little is known for certain. Media access is tightly controlled in the United Arab Emirates, and authorities there are unlikely to be forthcoming. So far we've been told very little. (Oddly, too, the story has been strangely buried in most media outlets. I can't help comparing to the 2013 Asiana 777 crash-landing and fire in San Francisco, which was a circus of coverage for the better part of two days.)
Regardless of the cause, one of the more disturbing aspects of the accident was the behavior of many passengers. All 280 customers made it out alive — somewhat in spite of themselves. Looking at the photos and video footage, dozens of people can be seen leaving the burning aircraft with their carry-on bags. This has become distressingly normal in runway evacuation incidents, and I cannot overemphasize how dangerous it is. In a situation where seconds can mean the difference between life and death, luggage slows people down and clogs the aisles and exits. Also, those escape slides are very high and very steep, turning your laptop or roll-aboard into a deadly, high-speed projectile. To see so many passengers fleeing with heavy carry-ons is especially jarring in this case, because obviously this was no precautionary thing. The plane was on fire.
Passenger recklessness aside, this was the latest of a number of takeoff and landing incidents that, while serious, have been fatality-free or otherwise mostly survivable. If this is a new normal, it's mostly a good thing. In decades past, large-scale catastrophes with hundreds dead were the norm, sometimes occurring a dozen times or more times in a given year. What happened in Dubai was terrible, but in a way it's a testament to how safe flying has become.
Emirates is the world's largest international airline, and largest operator of the 777, with approximately 170 of the jets in service.
More on this story as it develops.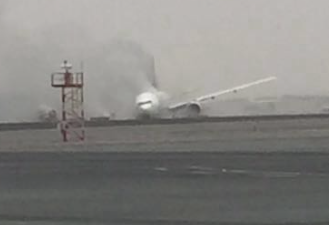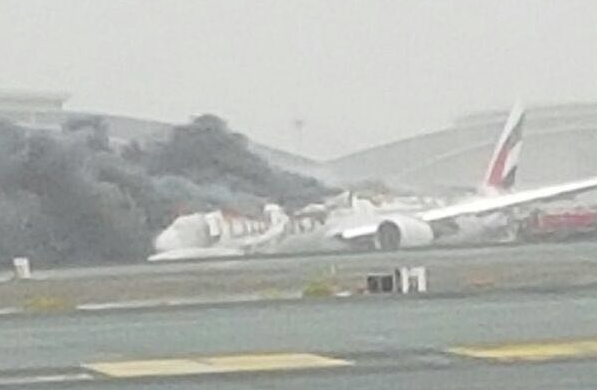 Related Story:
DEADLY STUPIDITY. WHAT NOT TO DO IN AN EMERGENCY.
Thumbnail photo: Reuters
Inside photos: Anonymous