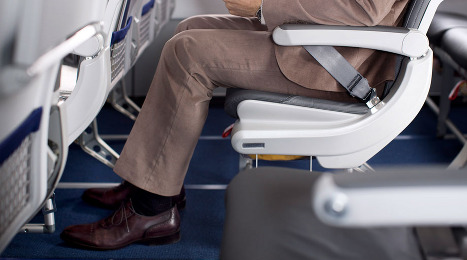 WHEN IT COMES TO ECONOMY CLASS GRIPES, it's legroom, or lack thereof, that most people whine about. There's less and less of it, as airlines cram in extra rows, eager to squeeze out every last penny of revenue in the face of razor-thin profit margins.
Or maybe it just seems that way?
Conventional wisdom holds that the typical economy section is tighter than ever before, with airlines cramming in ever more seats. Well, some are, some aren't, and in fact row spacing hasn't changed all that much over the past few decades. Spacing between rows is called "pitch" in the biz. Measured in inches, it's the distance from one seat-back to the seat-back ahead of it. While it's true that carriers have been tightening up the rear-most rows to accommodate those roomier (and more expensive) "economy plus" sections up front, average pitch has declined only slightly. JetBlue's 34-inch standard is currently the most generous among US majors, where the average is 31-32 inches. That's only an inch or so less than you would have seen 20 or 30 years ago.
Anyone who flew the old PeoplExpress remembers how pitiless and pitchless a cabin can be. Or Laker Airways, whose "SkyTrain" service ran between the US and London in the 1970s. Sir Freddie Laker, the airline's flamboyant founder, configured his DC-10s with a bone-crunching 345 seats — about a hundred more than the typical DC-10 at the time.
If anything, the average cabin is slightly roomier than it used to be. Legroom is perhaps a bit less, but the cabin overall is wider and taller. The Airbus A380, for example, has the same ten-across floor plan as the 747, but is wider by approximately a foot, while six-abreast aircraft such as the popular A320 have a few more inches of head and elbow room than the 707s and 727s of old. And airlines have been moving to "slimline" seats with a thinner construction that in effect increases pitch by up to three inches per row. And for the record, airlines cannot simply wedge in as many seats as they want. There are restrictions based on the number of emergency exits (as well as the number flight attendants), and most carriers are fairly close to this limit as it stands.
If ever you've wondered how it is that airlines can so easily tinker with pitch, check out the floor the next time you fly. You'll notice the seats are on rails. The hardware is usually covered with plastic caps, but you can clearly see how a row can be slid forward or aft with a minimum of fuss. Economy class seats appear to be cheap and flimsy, but in fact they have to meet all sorts of safety criteria, including G-load limitations. The attachment points on those floor tracks are exceptionally strong.
If you ask me, what makes economy class uncomfortable is only partly to do with legroom. It's more about the shapes of the seats themselves, and the terrible ergonomics of the surrounding space.
Each time I settle in to an economy chair, I silently wonder what malformed extraterrestrial it apparently was designed for. "Settle in" is such the wrong term; you don't attempt to relax so much balance yourself in place. The pressure points are all wrong, your legs are unsupported, there's no place for your arms, and lumbar support is nil. The tray tables, the armrests, the storage pockets — everything is the wrong shape and in the wrong position. It's irritating, because things could be a lot more comfortable through modest improvements in basic design.
The most obvious way to make economy more pleasant would be to have fewer seats in the first place, but this a nonstarter unless you're ready to pay substantially more for your ticket. Engineers are also faced with the challenge of designing a frame that is lightweight and extremely strong, able to withstand several times the force of gravity. Nevertheless, there's no excuse for the poorly designed seats we're accustomed to. Through the use of high-tech materials and a bit of imagination, a seat can be safe, lightweight, sturdy, and comfortable all at once. Indeed, ergonomically sculpted seats from innovative manufacturers like Recaro and Thompson Solutions have been on the market for years. If only more carriers would buy them.
In addition to a seat that actually conforms to the shape of a human body, below are six things that ought to be standard in any economy class:.
1. Wider, adjustable armrests.
2. Lumbar support. Existing seats have little or no lower back cushioning. There is only a vacant space into which your lower back sinks, dragging down and contorting the rest of you.
3. Inflight wi-fi and on-demand, in-seat video with a personal screen of at least nine inches. I'm lumping these together because they both capitalize on the strategy of distraction — and that's what keeping passengers happy is all about. Browsing the Web or watching a movie are ideal time-killers. (Anybody remember the magazine libraries that used to be on planes?) And while five or ten dollars for wifi isn't unreasonable, it should be free in first or business.
4. An adjustable headrest. Not the half-assed kind that allow your head to loll around, but one that fits snugly, holding your head in place and allowing you to sleep.
5. A tray table that extends to reach the body, so a passenger needn't hunch over to eat or work. Ideally the tray should have a curved leading edge to better fit your torso. Said tray should be the sort that unfolds from the armrest, not from the seat in front. This solves the hunch-over problem and avoids the hazard of having your computer crushed when the person in front of you suddenly reclines, pinching your screen between the table and the upper cushion. "Assault recliners" is my name for those passengers who come hauling back all at once, leaving you but a split-second to save your laptop from this deadly nutcracker.
Tray tables also need a raised edge to keep food and beverages from spilling into your lap during climb or in rough air. Some have recessed cup holders, but many are perfectly flat and smooth, so that your coffee comes skating backward whenever the plane is nose-high. A quarter-inch ridge would prevent this. One assumes that cabin designers are more or less familiar with the concept of gravity; there's no reason for such a tweak not to be universal. It wouldn't cost more than a few pennies per tray, if anything. And while we're at it, give us more of those ring-style cup holders that fold from the seat-back. They're common in the rest of the world, but I've never seen one on a US carrier. They help prevent spills and free up space on your tray.
6. Power ports. If a full AC outlet is asking too much, at least give us a USB connection. You see them on larger long-haul jets, but at some point every plane ought to have them.
If you've already encountered one or more of these goodies in your travels, chances are it was aboard one of the better European, Asian or Middle Eastern carriers.
It has reached a point where an economy class seat in a foreign market is often on a par with a first class seat in the U.S. domestic market. I can vouch for that. My recent experiences aboard Korean Air, Emirates, Cathay Pacific, Turkish Airlines, Thai Airways, and LanPeru, all in economy, were as good or better than many first class segments I've flown within the United States. What made them so was a combination of things tangible and intangible; both physical comforts and onboard staff who were exceptionally attentive. We'll get to the latter in a moment. The former included things like extra-wide personal video screens with a comfortable headset, retractable footrests, seat-back USB connections, contoured tray tables and amenities kits.
Cathay Pacific's long-haul planes have shell-style economy seats that slide forward rather than tip backward, so that even when fully reclined they do not interfere with the person behind you. In Thai Airways' economy, hot towels are handed out before takeoff. They're not the cotton facecloth version like you'd get up front, but more of a heavy tissue, dispensed from a microwaveable box. It's a nice touch, and one that couldn't cost more than a few dollars per flight. And every airplane was immaculately clean, from the seat pockets to the lavatories.
None of those things, you'll notice, is especially luxurious. Honestly, in light of how inexpensive fares are, together with the razor-thin margins our airlines are forced to work with, luxury is out of the question. And that's all right. What the airlines haven't quite figured out yet, is that satisfactory service doesn't have to be elaborate. The average passenger doesn't expect to be pampered. What he or she expects and deserves are convenience, respectful employees, and a modicum of comfort.
And something else they want: workers who are polite and professional. While it may sound hackneyed, it's also patently true that passenger allegiance is ultimately earned or squandered not through material comforts, but through the attitude and dedication of your employees. I'll never say that anybody else's job in this mad business is an easy one, but if airline workers, as a group, cannot muster the necessary levels of commitment, then something is systemically wrong and needs to be fixed before any of the rest will matter. Extra legroom, on-demand video, and free drinks are much appreciated, it's true. But they're all for naught when you're dying of thirst in the middle of an overnight flight, with trash on your table from a meal that was served three time zones ago, because the flight attendants have spent the last five hours reading magazines in the galleys and ignoring the passengers. Or when a gate agent takes your boarding pass without so much as making eye contact. What I remember most about those flights aboard Korean, Cathay, Emirates, and the others was the attentiveness of the onboard crew. For the full duration of the flight, flight attendants were constantly coming up and down the aisles, asking if passengers needed water, coffee, juice, or anything else.
It is worth mentioning that in an industry where the average is six weeks, Singapore Airlines flight attendants endure five months of schooling. That is considerably longer than pilot training at most carriers. I am not suggesting that Singapore's model is reasonable target for a U.S. major—it's not. For any U.S. airline, hoping to emulate the Singapores of the world would be at best quixotic and at worst financially ruinous. But the deeper point is that an airline's most valuable service asset is the professionalism, grace, and courtesy and of its staff. End of story.
Have a look at the photos below. The first shows economy class on a Korean Air 777. Look at the size of that video screen.  It's touch-activated, or you can use the removable handset that you see just below it.  This handset also controls your reading light, cabin call, audio volume, etc. To the right of the handset is a USB port.  There's an AC power port as well, below the armrest (not shown). To the left of the screen is a coat-hook.  The hook is also handy for hanging your headset.The fold-out cup holder is very helpful when you're drinking a beverage and don't need the whole tray in your lap.  And when you do, there's a fold-out, double-hinged tray that's adjustable forward and aft.  There are pillows and oversized blankets for all passengers.  The second picture shows the immaculate economy section on a Boeing 777 of Taiwan's Eva Air.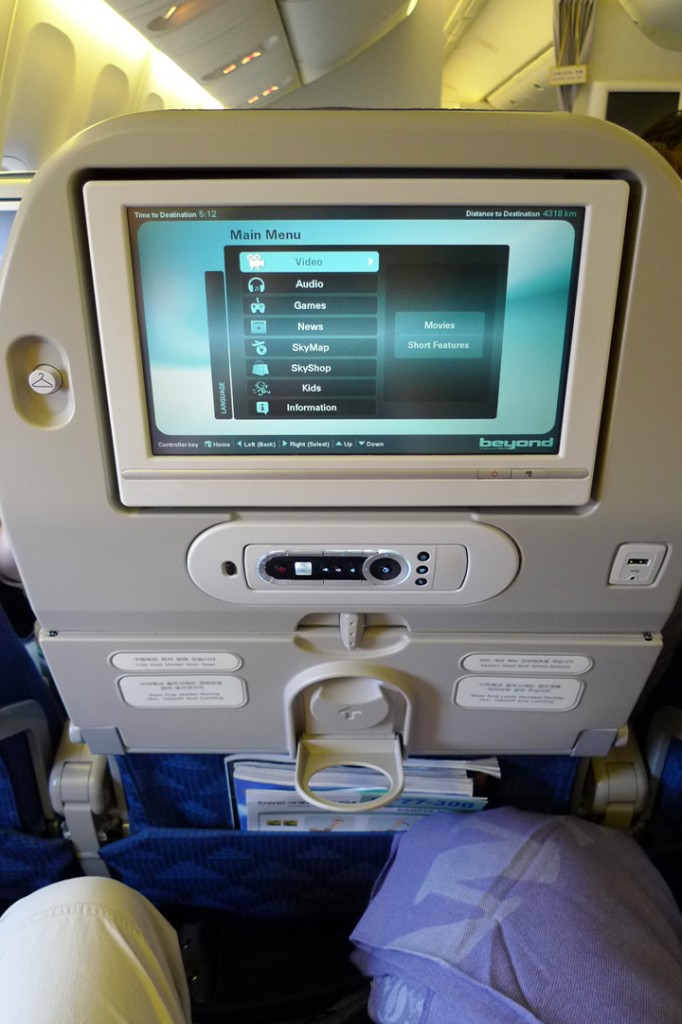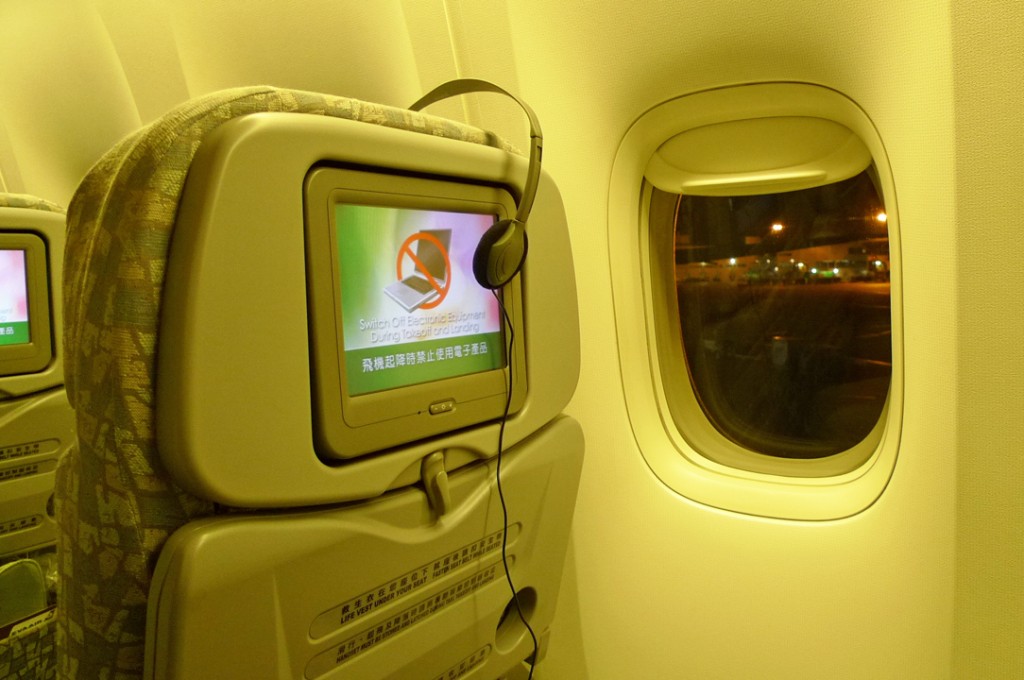 Catering is another issue altogether. Outside the United States, hot meals remain common even on short flights. The following photos show economy class presentations on Sri Lankan Airlines,* Thai Airways, and the little-known Sky Airline (no "s" at the end) of Chile. None of these flights was more than three hours long.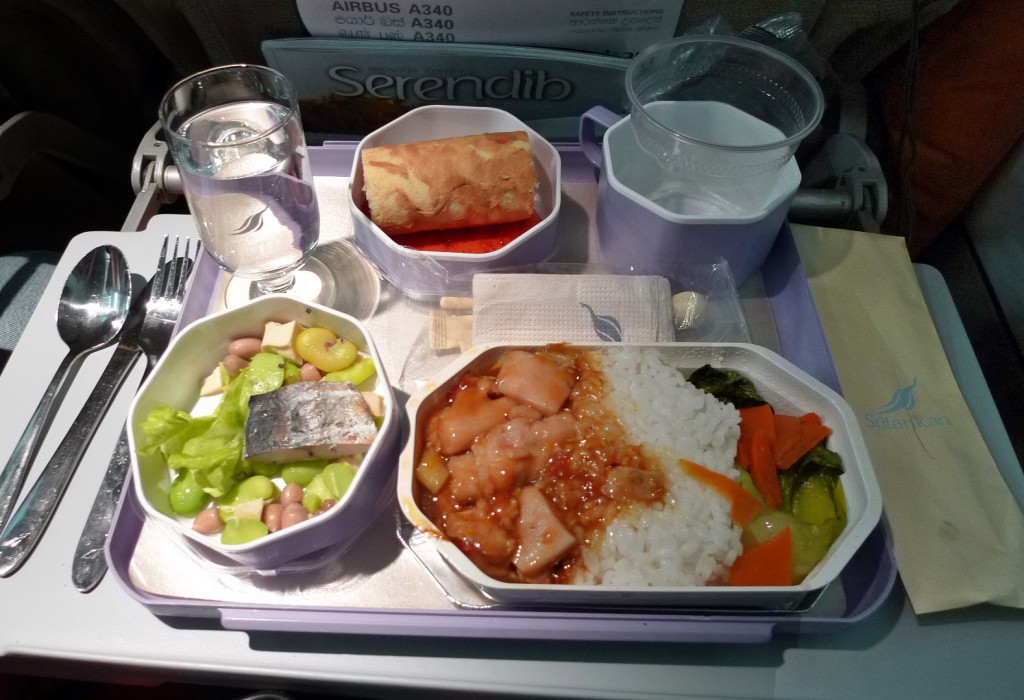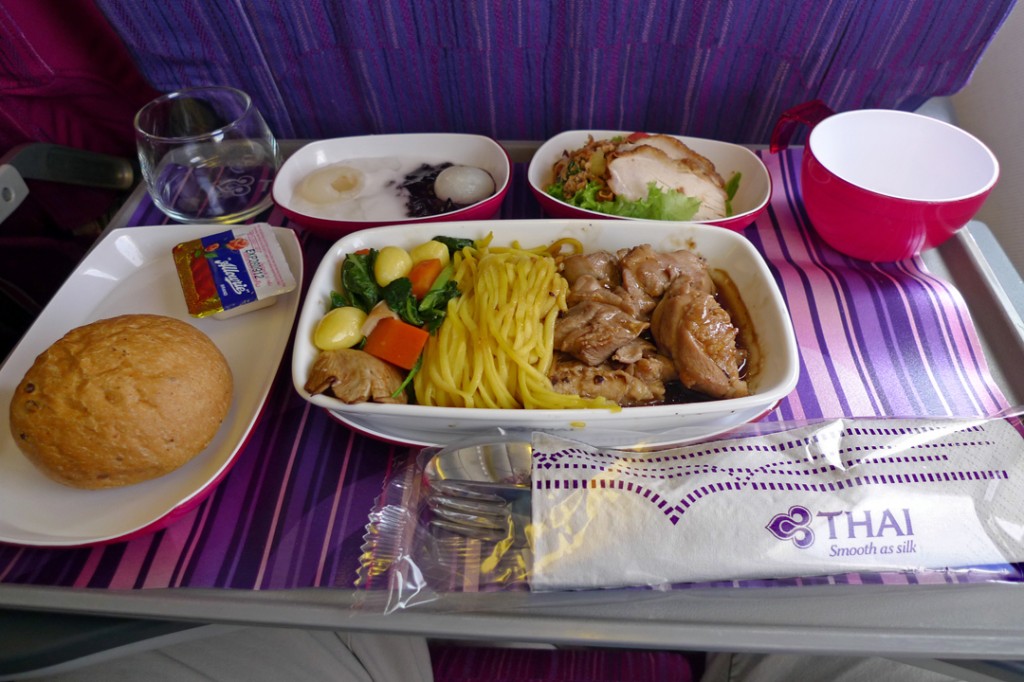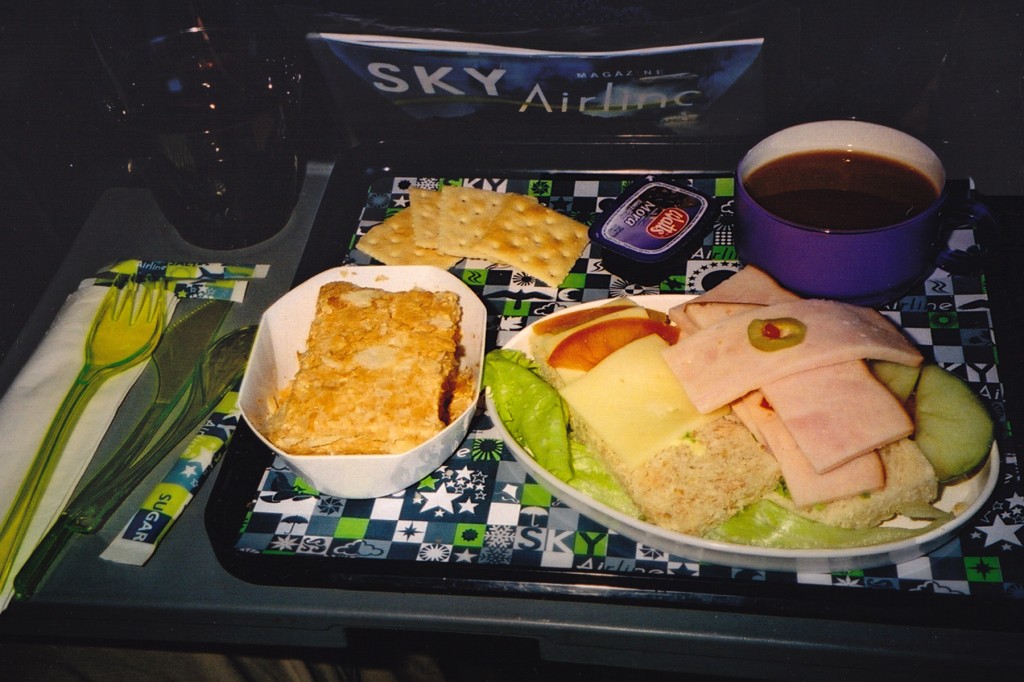 Their shortcomings duly noted, I have to say service standards on US carriers are definitely getting better, having hit their nadir about ten years ago. We might never be on a par with the likes of Cathays and Singapores of the world, but things like WiFi, in-seat video, and decent buy-on-board meal options have become the standard.
One area still crying out for improvement, however, is that of cabin cleanliness. It's tough for carriers to scrub things clean with minimal turnaround times, but there's no excuse for the greasy armrests, dirty tray-tables and peanut-littered carpets that are unfortunately all too common.
Meanwhile, whether or not you're comfortable back there in row 52, remember to get up and stretch at periodic intervals. With long-haul flying times now surpassing the gestation periods of many small mammals, there are growing concerns about an affliction known as deep vein thrombosis, or DVT, brought on by the immobilizing confines of an airplane seat. Also called "economy class syndrome," it's a condition where potentially lethal blood clots form in the legs and can spread through the body. Those with preexisting conditions (obesity, smoking) are at higher risk, but all passengers should avoid remaining sedentary for extended periods. Stand, stretch, take a walk up the aisle.
On Singapore Airlines' 18-hour megahauls between the US and Singapore, passengers are encouraged to visit the plane's inflight buffet lounge — a stand-up bar and socializing area laid out with snacks. More than just a perk, it entices people to move around at regular intervals. For those who wander in barefoot after sleeping, the buffet zone has a heated floor.
( * Looking at that Sri Lankan Airlines meal: It was all quite good, save for that silvery fish salad visible at lower left. Notice the inflight magazine, "Serendib." This is from Sinhalese (and also Sanskrit), one of the languages of Sri Lanka language, and is where the word "serendipity" comes from.)