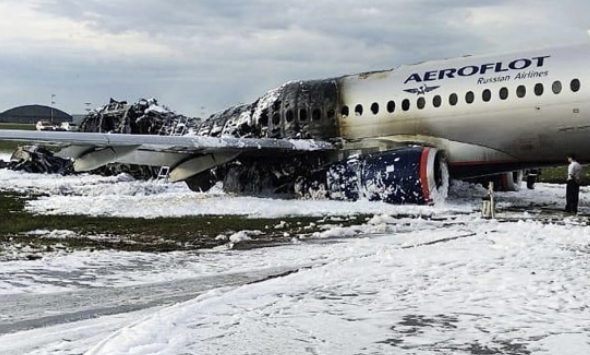 May 9, 2019
THE CAUSE of the crash of Aeroflot flight 1492 remains unclear. The Sukhoi Superjet-100 had just departed Moscow's Sheremetyevo Airport, bound for the northern Russian city of Murmansk, when the crew made an emergency return after a lightning strike caused a problem with their communications equipment. The jet then landed hard, bounced and exploded. Forty-one people were killed.
The crash itself may have had nothing to do with the lightning strike. Planes are designed to withstand lightning strikes (see below), and almost never do they cause serious problems. Based on videos, it appears the plane touched down rather violently, and the impact of the landing is what touched off the fire and crash. It's possible that a strike could have in some way have affected the plane's instruments or flight controls; or it might have been pilot error.
While we don't for sure what caused the crash, there's evidence that the death toll was higher than it might have been, thanks to the selfish actions of a number of passengers. While a deadly fire raged around them, witnesses say people were nonetheless stopping to collect their carry-ons, clogging the aisles and slowing the evacuation. This is just the latest in a string of disturbingly similar incidents. We saw it in in Las Vegas in 2015; in Chicago in 2016; in Toronto in 2005. Among others.
Flight attendants are yelling, "Leave your bags!" but they're being ignored. People are digging through the bins for their computers and backpacks; here's a guy coming up the aisle with his roll-aboard. On YouTube you can find selfie videos from idiotic passengers who thought it was cool to film themselves going down the escape slide.
I cannot overemphasize how unsafe this is. Luggage slows people down, impedes access to the aisles and exits, and it turns the escape slides into a deadly slalom. The incident in Moscow is particularly striking, because while most evacuations are precautionary, this one was a full-blown emergency. The airplane was on fire. If that isn't reason enough to leave your things and get the fuck off the plane as quickly as you can, then heaven help you.
Even in cases where the plane isn't on fire or about to explode; still, the crew might not be fully certain of what it's dealing with, and this is never a situation to take lightly. Seconds count, and the goal is to get everybody out as fast as possible. What at first might seem an abundance of caution can quickly turn to terror. Suddenly there's a mad rush for the exits, but the aisle is clogged with suitcases dropped by panicked passengers. Your computer, your Kindle, your electric toothbrush, your underwear and your Sudoku books — none of those things is worth risking your life over. Not to mention the lives of the passengers behind you, who can't get to the door because your 26-inch Tumi is in the way.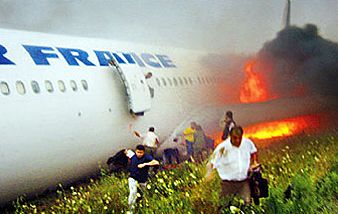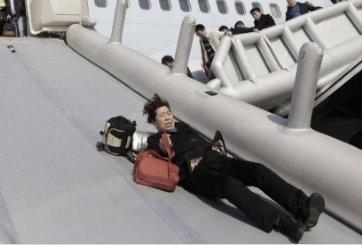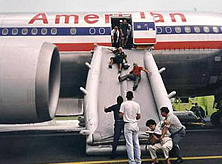 And a word about those escape slides: although you can't always see it in videos or photos, the slides are extremely steep. They are not designed with convenience — or fun — in mind. They are designed for no other purpose than to empty a plane of its occupants as rapidly as possible. You'll be coming down from over two stories high in the case of a widebody jet, at a very rapid clip, with others in front of you and right behind you. Even without bags people are often injured going down the slides. This is expected. Add carry-ons to the mix and somebody is liable to be killed, smacked on the head by your suitcase or baby stroller.
Airlines and regulators are at least partly to blame for this behavior by not better emphasizing the issue during the safety briefing. Of all the gibberish that is crammed into the typical pre-flight demo, one of the most potentially valuable pieces of instruction is often missing: a warning on what to do — or, more accurately, what not to do — in an emergency evacuation. This should be a bold-print, high-emphasis item in any briefing, stated clearly and loudly. Instead we get complicated, twenty-step directions on how to use a life jacket — as if anybody might remember them as they're jumping into the water. (I could also mention that while neither is likely, a runway evacuation is a lot more likely than a water landing.)
The briefings need to be shorter and more concise, and this needs to be a part of them. It's hard to say how much it might help to offset some people's selfish tendencies and general obliviousness, but it wouldn't hurt.
Leave your bags behind. It all will be returned to you later, no worse for wear. And if, in that rarest of rare cases, it winds up incinerated, you should be happy to have lost it. Lest it have been you in there.
Planes are hit by lightning more frequently than you might expect — an individual jetliner is struck about once every two years, on average — and are built accordingly. The energy does not travel through the cabin electrocuting the passengers; it is discharged overboard through the plane's aluminum skin, which is an excellent electrical conductor. Composite aircraft are built with a copper mesh beneath the paint layer that acts the same way. Once in a while there's exterior damage — a superficial entry or exit wound — or minor injury to the plane's electrical systems, but a strike typically leaves little or no evidence. If indeed lightning touched off a fire aboard Aeroflot 1492, this would be highly unusual.
In 1993, I was captaining a thirty-seven seater when lightning from an embedded cumulonimbus cell got us on the nose. What we felt and heard was little more than a dull flash and a thud. No warning lights flashed, no generators tripped off line. Our conversation went:
"What was that?"
"I don't know." [shrug]
"Lightning?"
"Might have been."
Mechanics would later find a black smudge on the forward fuselage.