Yet more garbage about airplanes flying themselves. 'Wired' and 'The Daily Show' are the latest purveyors of The Myth That Won't Die.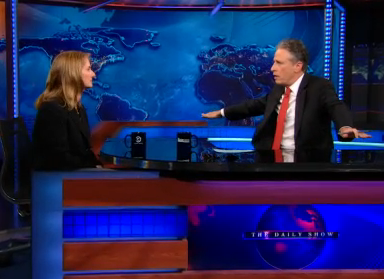 February 1, 2013
MIT's CELEBRITY PROFESSOR is at it again. No, not Noam Chomsky. I'm talking about Mary "Missy" Cummings, the doyenne of drones, who has become a media go-to source on the topic of unmanned aerial vehicles (UAVs).
Late last month, Cummings was featured in a Nova documentary on PBS. A few days later she appeared on The Daily Show with Jon Stewart.
I don't doubt that Ms. Cummings, a former F-18 pilot in the US Navy, is smarter than I am. Neither do I doubt that her work, both as a consultant and as a researcher at the world's most prestigious technical university, is meaningful and important. If I had a question about the technology or applications of UAVs, she's one of the first people I'd turn to.
However, both on the air and in print, she consistently exaggerates the realities of cockpit automation on commercial airplanes, reinforcing the stubborn myth that jetliners basically "fly themselves," and hinting that remote-control airliners are just around the corner. She is either grossly unfamiliar with the day-to-day realities of commercial flying, or she pretends to be. There's no other explanation for some of her assertions.
At one point on The Daily Show, Stewart asks Cummings a question about piloting as an "art," and the roles of skill, talent and judgment in a modern cockpit. It's a good question, and she at first gives an interesting and articulate response — about computers being better with mechanical aspects of flight, and humans being better in the decision-making aspects. Moments later, however, she goes completely off the rails:
"Most of the planes you fly in are drones," says Cummings. "Any Airbus plane you fly in could easily be made a drone. The pilots don't really fly them." What they actually do, she says, is "push a lot of buttons."
Really? This statement is so shockingly reckless that it makes one wonder if Cummings has ever actually set foot in a commercial airplane cockpit.
On the one hand it seems a matter of semantics; what does "fly" really mean? She's right, we do push a lot of buttons and there isn't terribly much time spent steering the plane manually. I think I understand what she's trying to say, but the way she says it is irresponsible and extremely misleading. What the viewer comes away with is a notion that plane is controlling itself, that the pilots are merely "programmers" and that an Airbus is little more than a scaled-up drone with passenger seats. This is so wrong, for so many reasons, that I don't know where to start.
Qualified as I am to rebut such nonsense, I fly Boeings, not Airbuses, so I'll defer to Dave English, an A320 captain at a major airline:
"It just isn't true," says English. "That's a terrible extrapolation of the (admittedly impressive) abilities of the autopilot, auto-thrust, and flight management computers. She sounds more like a breathless teenager than MIT faculty."
She should know better. She has to know better. For somebody with Cummings' credentials to say something like this in front of a national audience is shameless and disgraceful.
It wasn't the first time. She said something similar on The Colbert Report in 2011: "Planes take off everyday with the pilot never touching the stick, ever," she said. "From takeoff to landing."
Except, again, that's not true. It doesn't happen on Boeings, and it doesn't happen on Airbuses.
There is no such thing as an automatic takeoff. Not in any commercial plane, at any commercial airport, anywhere. Meanwhile fewer than one percent of commercial aircraft landings are "automatic." And I put that word in quote marks because an autoland, as we call it, is in fact a fairly complicated maneuver during which the pilots are very much still in the loop.
"In ten years of flying the Airbus A320," says Dave English, "I've flown maybe ten actual autolands."
A year or so before the Colbert Report appearance, Cummings was quoted saying that cargo airlines were "chomping at the bit" to do away entirely with their pilots and begin operating remote-control freighter planes. She brought this up again the other night with Jon Stewart, maintaining that FedEx and UPS will be flying our packages around sans pilots within the next five to ten years. Ignoring the vast technological challenges that get in the way of this prediction, not the least of which would be development and testing of a currently nonexistent remote-control cargo plane that would be safe enough for use in our airspace system, I flew freighter jets for four years and I assure you my airline was not remotely considering such an idea.
"She's possibly correct that remote-control cargo flights are somewhere on the horizon," says Dave English. "But in five years? On commercial routes? No way. The professor trivializes aeronautical science and technology with these cheerleader claims."
They also insult pilots and, on a deeper level, undermine the piloting profession.
Wait! It gets worse…
No sooner was I wrapping up the first draft of this post when I was alerted to a comment made by correspondent Kevin Kelly, over at Wired. In a December, 2012 article on Robotics, Mr. Kelley gives us this nugget:
"A computerized brain known as the autopilot can fly a 787 jet unaided, but irrationally we place human pilots in the cockpit to babysit the autopilot 'just in case.'"
Wow. And I mean, wow. That one takes the prize. It's the "irrationally" part that nudges it over the top. I hereby declare Mr. Kelly's sentence to be the single most grotesque characterization of an airline pilot's job that I have ever read or heard. It's certainly more reckless, and far less true, than anything Missy Cummings said.
To say that a 787 — or any other airliner — can fly "unaided," and that pilots are on hand to "babysit the autopilot," isn't just hyperbole or a poetic stretch of the facts. It isn't just a little bit false. It's totally false. And that a major technology magazine wouldn't know better, and would allow such a preposterous statement to be published, shows you just how pervasive this mythology is. Such assertions appear in the media all the time, to the point where this garbage is now taken for granted. Over and over and over it's repeated — usually by people who know little about the realities of commercial flying. I can spend hours complaining about it in my blogs and articles, but thanks to people like Missy Cummings and Kevin Kelly, millions of people will go on believing it.
And am I the only one who bothers to complain? The Air Line Pilots Association, for example, ought to go bonkers over this stuff. Every time one of these ridiculous quotes is made, the credibility and respect of pilots everywhere is eroded that much more. But rarely if ever does the organization chime in. Within hours of that Wired story coming out, ALPA should have been chauffeuring Mr. Kelly to a simulator or offering him a ride in a 787 jumpseat, all expenses paid. Afterwards, armed with a better understanding of the subject, perhaps he'd have written something a bit more enlightening.
What stuns me, too, is how regularly people will argue with me. A non-pilot will sit across from me and insist that I am the one who isn't being honest! The thinking, apparently, is that precisely because I'm an the airline pilot, my argument isn't to be trusted. I'm the one so eager to make my point, and so I'm the one who must be exaggerating. It's excruciating. Yes, I'm an airline pilot, and yes that makes me an advocate in whose best interest it is to refute the claims of people like Kelly and Cummings. You can believe that if you want to, but I assure you that I'm being neither naïve nor dishonest. And by no means am I opposed to the advance of technology. What I'm opposed to are foolish extrapolations of technology, and the starkly distorted depictions of what my colleagues and I actually do for a living.
I'm not saying this is beyond our capabilities. We could be flying around in unmanned airliners, just as we could be living in cities on the moon or at the bottom of the ocean. But consider the costs and challenges. An unmanned plane carrying 300 people would be vastly different machine, with a vastly different mission, than a single-engine military drone. And for any widespread commercial application, you're talking about gigantic changes to our civil aviation infrastructure, from the designing and testing a whole new generation of aircraft, to an overhaul of the entire air traffic control system. And after all that, you're still going to need human beings to operate these vehicles remotely (don't even think of presenting the idea of a fully autonomous aircraft requiring no human input at all). Ultimately, this isn't a technological challenge so much as one of cost and practicality.
And in the meantime, contrary to what you'll read and hear, our airplanes aren't nearly as sophisticated and "automatic" as people think they are. 
I need an aspirin.
The most effective, and probably the most fun way of making my point, I think, would be through a demonstration in a flight simulator. Cost and practicality make that pretty much impossible, however, and so you're stuck with me writing about it. If you'd like to hear more, below is a greater manifesto of sorts on this topic, borrowed from the Questions and Answers section of this website:
AIR TRAVEL HAS ALWAYS been rich with conspiracy theories and urban legends. I've heard it all. Nothing, however, gets me sputtering more than the myths and exaggerations about cockpit automation—this pervasive idea that modern aircraft are flown by computer, with pilots on hand merely as a backup in case of trouble. The press and pundits repeat this garbage constantly, and millions of people actually believe it. In some not-too-distant future, we're told, pilots will be engineered out of the picture altogether.
This is so laughably far from reality that it's hard to get my arms around it and begin to explain how the idea even arose, yet it amazes me how often this contention turns up—in magazines, on television, in the science section of the papers.
But one thing you'll notice is that these experts tend to be journalists or academics —reporters, professors, researchers, etc.— rather than pilots. Many of these people, however intelligent and however valuable their work might be, are highly unfamiliar with the day-to-day realities of flying planes. Pilots too are occasionally guilty. "Aw, shucks, this plane practically lands itself," one of us might say. We're often our own worst enemies, enamored of gadgetry and, in our attempts to explain complicated procedures to the layperson, given to dumbing down. We wind up painting a caricature of what flying is really like — in the process undercut the value of our profession.
Essentially, high-tech cockpit equipment assists pilots in the way that high-tech medical equipment assists physicians and surgeons. It has vastly improved their capabilities, but it by no means diminishes the experience and skill required to perform at that level and has not come remotely close to rendering them redundant. A plane is as able to fly itself about as much as the modern operating room can perform an operation by itself.
"Talk about medical progress, and people think about technology," wrote the surgeon and author Atul Gawande in a 2011 issue of The New Yorker. "But the capabilities of doctors matter every bit as much as the technology. This is true of all professions. What ultimately makes the difference is how well people use technology." That about nails it.
And what do terms like "automatic" and "autopilot" mean anyway? Typically I click off the autopilot around a thousand feet or so and hand-fly the rest of the landing. On takeoff, I fly manually at least through 10,000 feet, and sometimes all the way up to cruise.
The autopilot is a tool, along with many other tools available to the crew. You still need to tell it what to do, how to do it, and when to do it. I prefer the term autoflight system. It's a collection of several different functions controlling speed, thrust, and both horizontal and vertical navigation—together or separately, and all of it requiring regular crew inputs to work properly. On the jet I fly, I can set up an automatic climb or descent any of about seven different ways, depending what's needed. The media will quote supposed experts saying things like "pilots fly manually for only about ninety seconds of every flight." Not only is this untrue, but it also neglects to impart any meaningful understanding as to the differences between manual and automatic, as if the latter were as simple as pressing a button and folding your arms.
One evening I was sitting in economy class when our jet came in for an unusually smooth landing. "Nice job, autopilot!" yelled some knucklehead behind me. Amusing, maybe, but wrong. It was a fully manual touchdown, as the vast majority of touchdowns are. Yes, it's true that most jetliners are certified for automatic landings, called "autolands" in pilot-speak. But in practice they are rare. Fewer than 1 percent of landings are performed automatically, and the fine print of setting up and managing one of these landings is something I could talk about all day. If it were as easy as pressing a button, I wouldn't need to practice them twice a year in the simulator or periodically review those tabbed, highlighted pages in my manuals.
A flight is a very organic thing—complex, fluid, always changing—in which decision-making is constant and critical. For all of its scripted protocols, checklists, and procedures, hundreds if not thousands of subjective inputs are made by the crew, from deviating around a cumulus buildup (how far, how high, how long), to troubleshooting a mechanical issue to handling an onboard medical problem. Emergencies are another thing entirely. I'm talking about the run-of-the-mill situations that arise every single day, on every single flight, often to the point of task saturation. You'd be surprised how busy the cockpit can become — with the autopilot on.
Another thing we hear again and again is how the sophisticated, automated Boeing or Airbus has made flying "easier" than it was in years past. On the contrary, it's probably more demanding than it's ever been. Once you account for all of the operational aspects of modern flying, from flight-planning to navigating to communicating—the volume of requisite knowledge is far greater than it used to be. The emphasis is on a somewhat different skill set, but it's wrong to suggest that one skill set is necessarily more important than another.
But, you're bound to point out, what about the proliferation of remotely piloted military drones and unmanned aerial vehicles (UAVs)? Are they not a harbinger of things to come? It's tempting to see it that way. These machines are very sophisticated and have proven themselves reliable—to a point. A drone is not a commercial jet carrying hundreds of people. It has an entirely different mission and operates in a wholly different environment—with far less at stake should something go wrong. You don't simply take the drone concept, scale it up, build in a few redundancies, and off you go.
I would like to see a drone perform a high-speed takeoff abort after an engine failure, followed by a brake fire and the evacuation of 250 passengers. I would like to see one troubleshoot a pneumatic problem requiring a diversion over mountainous terrain. I'd like to see it thread through a storm front over the middle of the ocean. Hell, even the simplest things. On any given flight there are innumerable contingencies, large and small, requiring the attention and often visceral appraisal of the crew. I can't imagine trying to handle these things from the ground, thousands of miles away.
And, adapting the UAV model to the commercial realm would require, in addition to gigantic technological challenges, a restructuring of the entire commercial aviation infrastructure, from airports to ATC. We're talking hundreds of billions of dollars, from the planes themselves to the facilities they'd rely on. We still haven't perfected the idea of remote control cars, trains, or ships; the leap to commercial aircraft would be harder and more expensive by orders of magnitude.
And for what? You'd still need human beings to operate these planes remotely.
It amuses me that as aviation technology progresses and evolves, so many people see elimination of the pilot as the logical, inevitable endpoint. I've never understood this. Are modern medical advances intended to eliminate doctors? Of course not. What exists in the cockpit today is already a fine example of how progress and technology have improved flying—making it faster, far safer, and more reliable than it once was. But it has not made it easy, and it is a long, long way from engineering the pilot out of the picture. It's a long way off — if it happens at all.