Gift Ideas for 2014: From Patrick Smith to Kasper Hauser, Six Cool Books to Stick in Your Stocking. Plus: Memories of Holidays Aloft, and the Worst Christmas Song of All Time.
December 15, 2014
IT'S CHRISTMAS AGAIN, and if you're scrambling for some last-minute gift ideas here are a six books that I'd recommend:
At the top of the list, shamelessly and predictably enough, is my own book. Now a New York Times bestseller, Cockpit Confidential: Everything You Need to Know About Air Travel. Questions, Answers & Reflections is the ideal stocking-stuffer for the frequent flyer, nervous passenger or world traveler on your gift list. It's informative, thoughtful and funny; seven addictive chapters of FAQ, informational essays, rants and memoir, covering everything from the nuts-and-bolts of flying to airline customer service to the yin and yang of global travel. The perfect take-along for your next flight. He said, modestly. Click the photo and you'll be taken to the book's Amazon page. For more info and additional ordering links, including options for the U.K, Canada, Australia and India, click HERE.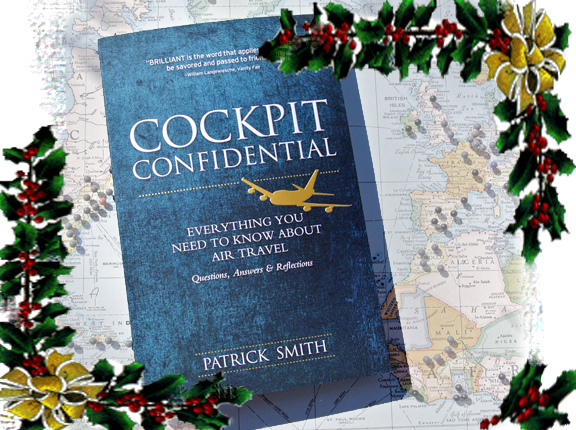 My own masterpiece notwithstanding, my vote for Air Travel Book of the Year goes to Barnaby Conrad's Pan Am: An Aviation Legend. Sure the title is dry and boilerplate, and already there have been plenty — some would say too many — hardbound homages to the legacy of Pan American Airways, now defunct for 23 years. But most of those efforts weren't very good. Conrad sets the standard with this elegantly written and superbly illustrated chronicle of history's most important airline. Not to detract from his prose, but the photos and artwork are what make this volume exceptional. So many of these types of books simply try to jam in as many pictures as possible. Here, for a change, they feel carefully chosen. The double-page spread of the flight attendants in the doorway of the "Clipper Freedom" is my favorite, along with the shot of the Beatles at Idlewild, coming down the stairs of the 707. There are too many to describe, of a quality and verve that make this a fantastic book not merely for airline enthusiasts, but for any student of the history of 20th-century America. Get yourself a copy and plant it on your coffee table.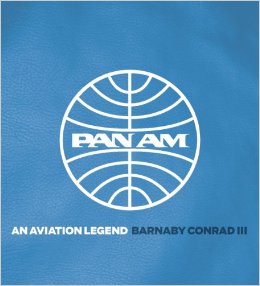 Eight years ago, the San Francisco-based comedy troupe Kasper Hauser published SkyMaul, a sendup to a concept — inflight catalog shopping — that had been screaming to be sent up for a very long time. The real SkyMall, which assumes that every American has an insatiable hunger for necktie organizers, remote-control pool toys and garden gnomes, is always just half a step from self-caricature. The KH gang gave it that nudge into full hilarity. It was hit or miss, page to page, but overall SkyMaul was one of the funniest things I'd ever read. Unfortunately it went out of print very quickly. This year, though, KH released SkyMaul 2, an almost-as-funny sequel. It's not quite as good as the original (it couldn't be), but it's more than funny enough. I mean, a bass drum pedal next to a harp seal, described as the "Handicapped-Accessible Seal Club." Bring this book with you on the plane, and your staccato laugh attacks are guaranteed to make your seat-mate hate you.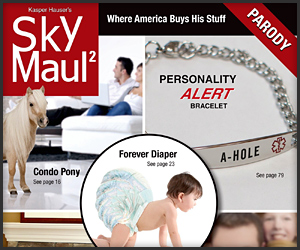 In a totally different vein, Tom McMillan's Flight 93: The Story, the Aftermath, and the Legacy of American Courage on 9/11, caught me by surprise. The story of flight 93, the United Airlines 757 that went down in rural Pennsylvania after passengers fought back against the hijackers, has been told and told again, often inaccurately and distorted by emotions. Tom McMillan gives us what we've needed: a carefully researched and well-written chronicle that hews to the facts without losing intensity. I'm a bit of a 9/11 junkie and will read almost anything on the topic, and I've learned not to expect much from the caliber of the writing. Tom McMillan is a pleasant exception. He knows how to write and he tells a good story. His build-up to the attacks, delving back through the formation of the 9/11 terror cell, is nearly as engrossing as Lawrence Wright's masterful chronology in The Looming Tower, and his insights into the troubled and complex character of hijacker pilot Ziad Jarrah will leave you feeling mesmerized, hateful and conflicted. It's the passengers of flight 93, however, who are the true protagonists of this terrible saga. McMillan treats them fairly and objectively. They were heroes, and they also were ordinary Americans hoping like hell to stay alive. He's a little corny in spots, but McMillian lifts the legacy of flight 93 from the darkness of terror into the glow of a nation's perseverance and fighting spirit.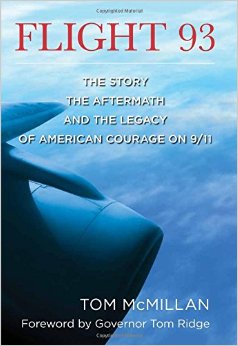 Flight 232: a Story of Disaster and Survival, by Laurence Gonzales, takes us back to the 1989 crash of a United Airlines DC-10 in Iowa. After an engine came apart, wiping out all three of the jetliner's hydraulic systems, captain Al Haynes and his crew guided the crippled jetliner to a crash-landing at Sioux City. The plane cartwheeled into a cornfield and burned, killing more than a hundred of the 296 passengers and crew. A terrible accident to be sure, but for years I never quite understood some people's fascination with it. By number of fatalities it wasn't close to the worst, and it seemed to lack the mystique, for lack of a better term, of many other crashes. Gonzales has taught me to see it differently. This wasn't just the first commercial jet crash caught on video, it was a disaster that unfolded slowly, over many minutes, in a manner closer to a Hollywood movie than to the template of most plane crashes, which happen unexpectedly with little or no warning. The suspense builds and builds, finally culminating not in some save-the-day happy ending but in a fiery catastrophe. It's the nervous flyer's worst nightmare and a hauntingly compelling drama for everybody else. Amidst it all was the fearlessness and heroics of the crew members, both the pilots and cabin attendants, most of whom survived to tell their unforgettable stories. (As did most of the passengers, which is where the book becomes bogged down. There are too many names, too many characters, and it's easy to lose track.) Unlike most lay writers who tackle a commercial aviation story, Gonazles does an outstanding job on the technical side. There are very few miscues and only once or twice did I take the cap off my highlighter. His explanation of the inner workings of a jet engine is particularly eloquent, and his retelling of the accident investigation is as nail-biting as the finest detective story. Who knew metal fatigue could be so exciting?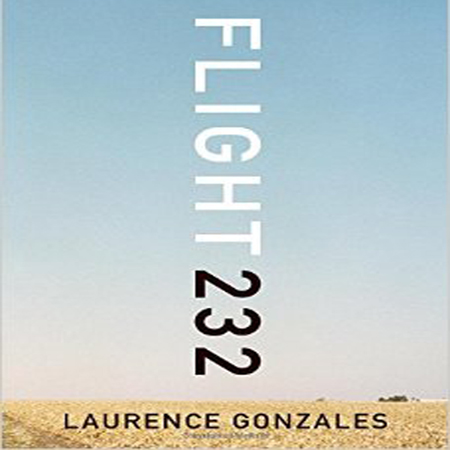 Lastly, one of my all-time favorite aviation books was recently reissued. That'd be Keith Lovegrove's Airline: Style at 30,000 Feet, now out from Laurence King Publishing, an imprint of Chronicle Books. I've mentioned Lovegrove's book many times in my columns and posts. It was the inspiration behind my own two-part airline identity essay, and remains the standard when it comes to anything and everything to do with airline identity, design, and culture. Indeed, the original title of the book was "Airline: Identity, Design, and Culture." I have to say I like the old title better. There's something dumbed-down about the new one. I also wish a content update had been part of the reissue. Everything stops at the year 2000 (when the first edition was published). The global airline scene has undergone huge changes since then. Come on, how can you give us a book about airline culture without a single mention of Hooters Air? Still, expertly written and elegantly illustrated, this is a must-have for even the most casual air travel aficionado.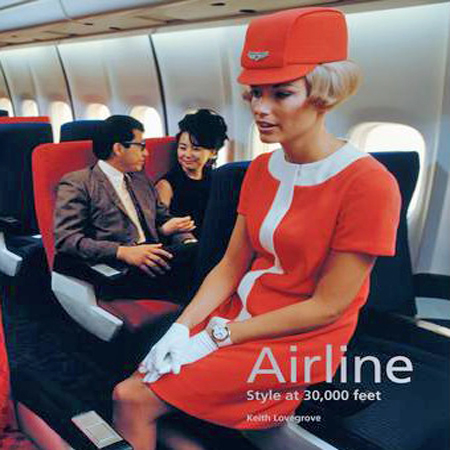 —————–
And now…
MEMORIES OF HOLIDAYS ALOFT
The Annual Posting of a Perennial Favorite
SO THE HOLIDAYS ARE HERE, and according to the International Air Transport Association (IATA), roughly 750 billion people are expected to fly between now and New Year's Eve, 96 percent of them connecting through Atlanta.
In fact I don't know how many people are projected to fly. I haven't been listening. In any case, it's the same basic story every year: the trade groups put out their predictions, and much is made as to whether slightly more, or slightly fewer, people will fly than the previous year. Does the total really matter to the typical traveler? All you need to know is that airports will be crowded and flights especially full. Any tips I might offer are simple common sense: leave early, and remember that TSA considers fruitcakes to be hazardous materials (no joke: the density of certain baked goods causes them to appear suspicious on the x-ray scanners).
Normally I work over the holidays. As a relative bottom-feeder on my airline's seniority list, it's an opportunity to score one of those higher-quality layovers that are normally out of reach. Other pilots want to be home with their kids or watching football, and so I've been able to spend Christmas in Egypt, the Fourth of July in Belgium, Thanksgiving in Cape Town.
That's how it works at an airline: every month you put in your preferences: where you'd like to fly, which days you'd like to be off, which insufferable captains you hope to avoid, and so on. There are separate bids at each base, for each aircraft type and for each seat – i.e. captain and first officer. The award process then begins with the most senior pilot in your category and works its way down. Each pilot's "line," as our months are called, is filled with trips until reaching a certain number of pay-hours. When it finally gets to the dregs, lower-rung pilots have their pick of the scraps.
Eventually the process reaches a point when there are no more rostered trips to give out. Those pilots left over — the bottom ten or fifteen percent — are assigned to what's called reserve. A reserve pilot has designated days off, and receives a flat minimum pay rate for the month, but his or her workdays, given out in multiple-day blocks, are a blank slate. The reserve pilot is on call, and needs to be within a stipulated number of hours from the airport — anywhere from two to twelve, usually, and it can change day to day. When somebody gets sick, or is trapped in Chicago because of a snowstorm, the reserve pilot goes to work. The phone might ring at 2 a.m., and you're on way to Sweden or Brazil — or to Omaha or Dallas. It's an unpredictable way to live. Among the challenges is learning how to pack. What to put in the suitcase when you don't know if your next destination will be warm and tropical or freezing cold? (Answer: everything.)
Looking back, holiday flying has provided me a few of those sentimental oddities a pilot files away in his mental logbook:
One of my favorite memories dates all the way back to Thanksgiving, 1993. I was captain of a Dash-8 turboprop flying from Boston to New Brunswick, Canada, and my first officer was the always cheerful and gregarious Kathy Martin. (Kathy, who also appears in my "Right Seat" essay, was one of three pilots I've known who had been flight attendants at an earlier point in their careers.) There were no meal services on our Dash-8s, but Kathy brought a cooler from home, packed with food: huge turkey sandwiches, a whole blueberry pie and tubs of mashed potatoes. We assembled the plates and containers across the folded-down jumpseat. The pie we passed to the flight attendant, who handed out slices to passengers.
Quite a contrast to Thanksgiving Day in 1999, when I was working a cargo flight to Brussels. It was custom on Thanksgiving to stock the galley with a special holiday meal, and the three of us were hungry and much looking forward to it. The trouble was, the caterers forgot to bring the food. By the time we noticed, we were only minutes from departure and they had split for the day. I thought I was going to cry when I opened the door and saw only a can of Diet Sprite and a matchbook-size packet of Tillamook cheese.
The best we could do was get one of the guys upstairs to drive out to McDonald's. He came back with three big bags of burgers and fries, tossing them up to us just as they were pulling the stairs away. Who eats fast food on Thanksgiving? Pilots in a pinch.
On New Year's Eve, 2010, I was flying over the city of Bamako, Mali, in West Africa. Fireworks explode only a few hundred feet from the ground, but enough of them together provide a unique spectacle viewable from a jetliner. At the stroke of midnight, the city erupted in a storm of tiny explosions. The sky was lit by literally tens of thousands of small incendiaries — white flashes everywhere, like the sea of flashbulbs you sometimes see at sporting events. From high above, this huge celebration made Bamako look like a war zone.
Not that I work every holiday. I've spent a number of them traveling on vacation.
And with that in mind, here's some advice:
Do not, ever, make the mistake that I once made and attempt to enjoy Christmas at a small hotel in Ghana called the Hans Cottage "Botel," located on a lagoon just outside the city of Cape Coast. They love their Christmas music at the Hans Botel, and the compound is rigged end-to-end with speakers that blare it around the clock.
Although you can count among those people able to tolerate Christmas music — in moderation, in context, and so long as it isn't Sufjan Stevens — there is one blood-curdling exception. That exception is the song, "Little Drummer Boy," which is without argument the most painful piece of music ever written. It was that way before Joan Jett or David Bowie got hold of it.
It's a traumatic enough song in any rendition. And at the Hans Cottage Botel they have chosen to make it the only — only! — song on their Christmastime tape loop. Over and over it plays, ceaselessly, day and night. I'm not sure who the artist is, but it's an especially treacly version with lots of high notes to set one's skull ringing.
"Ba-ruppa-pum-pum;ruppa-pum-pum…" as I hear it today and forever, that stammering chorus is like the thump-thump of chopper blades in the wounded mind of a Vietnam vet who Can't Forget What He Saw. There I am, pinned down at the Botel bar, jittery and covered in sweat, my nails clattering against a bottle of Star lager while the infernal Drummer Boy warbles into the buggy air.
"Barkeep!" I grab Kwame by the wrist. "For the love of god, man, can't somebody make it stop?"
Kwame just smiles. "So lovely, yes."