Flying is cheaper and safer than ever, but good luck to anybody who makes the point.
February 25, 2013
WHENEVER I TAKE THE TIME to remind people of just how inexpensive flying has become, my inbox gets socked with hate mail. People simply hate flying, and the level of anti-airline contempt is so high that it has become almost impossible to say anything positive about the experience without being called a shill, an asshole, or worse.
I wonder if Derek Thompson, over at the Atlantic, is feeling the heat. Thompson just published a short but very revealing piece showing how the price of air travel has fallen 50 percent over the past three decades. You can read it here. It includes a remarkable graph, which I'll reproduce below: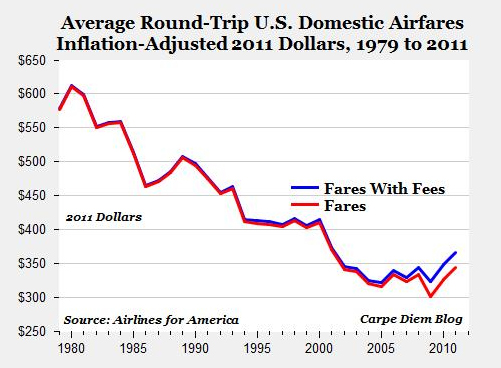 Notice the upswing since 2009 or so, but overall the trend is very, very clear.
Normally when I bring this topic up, one of the regular rebuttals is the likes of, "Oh, well maybe base fares are down, but it's those [expletive, expletive] fees that are killing us!"
Except they're not. I realize that people feel nickel-and-dimed when asked to pay a surcharge for checked luggage, onboard food, or a reservation change. But as the graph clearly shows, these "unbundling" fees, as they're known, barely change the picture.
Personally I feel that unbundling is a smart idea. It allows certain passengers to purchase ancillary items that not everybody wants, absorbing a higher share of the cost. This helps keeps the overall price down. And these ancillaries were never "free." They were included in the price of your ticket, and that price was once a lot higher.
How high? In 1939 it cost the equivalent of $6,000 for a round-trip ticket between New York and France. As recently as the 1970s, an economy ticket from New York to Hawaii cost nearly $3,000.
I've shown you this before, but here it is again. The item below was found by a friend of mine in a flea market several years ago. It's an American Airlines ticket receipt from just after World War II. In 1946 a passenger named James Connors paid $334 to fly each direction between Ireland and New York.  That's equivalent to $3,690 today – each-way.
Earlier this winter Aer Lingus was selling round-trips to Ireland for under $600. That's less than a tenth of what Connors paid.
It's only in the past 30 years or so that flying as we know it — as an affordable form of mass transit — has come to exist.
I'll remind you too that roughly 83 percent of flights arrive on time.
People often talk about the good old days of air travel, and if only we could return to them. On the one hand, it's a sentiment I can understand. I'm old enough to recall when people actually looked forward to flying. I remember a flight to Florida in 1979, and my father putting on a coat and tie for the occasion. I remember cheesecake desserts — on a 60-minute flight, in economy. Yes, things were once a little more comfortable, a little more special.
Though how much so is arguable. Just two nights ago I flew in economy class from Tokyo to Bangkok — a six-hour flight. The seat pitch, maybe, was tighter than it once was. However, I had an on-demand video screen with a hundred or so movies and games to pick from. (Remember those blurry, scratchy bulkhead screens and painful plastic headsets?) I had a power port, a USB connection, free wine, and a full hot meal that was probably better than a meal would have been in the old days. (And up front, in first or business class, no contest. Today's premium cabins are far and away better than they used to be, with full-flat sleepers, wide-screen video, deluxe food and drink, and so forth.) Inflight WiFi, already widespread on US domestic routes, will soon be commonplace even on transoceanic flights.
Do you really want to fly like people did in the '60s? Are you sure?
There's no denying that airlines today could and should do a better job — at communicating, at treating their customers with dignity and respect. But those good old days, maybe, are more mythical than we admit.
And we haven't even gotten to safety yet.
As revealed in a recent New York Times story, the Aviation Safety Network reports that 2012 was the safest year globally since 1945.
There are twice as many commercial aircraft worldwide, carrying twice as many passengers, as existed in 1980. Yet, per passenger-miles flown, flying is an estimated five times safer. Narrowing it to the past ten years, the number of people who fly annually has increased by roughly 20 percent, to just over two billion. Over that span, the number of fatal crashes has held steady at around twenty per year. Here in the United States, the accident rate has fallen 85 percent since 2000. From 2008 through 2012, the odds of being in a fatal accident were approximately one in 45 million.
Consider for a moment the year 1985:
What may have been a fantastic year for music (Husker Du's "New Day Rising," one of the greatest indie albums of all time, hit the stores in January) was arguably the darkest ever for commercial air travel. By the end of the year, 27 crashes had resulted in the deaths of just under 2,400 people.
These included the Air-India bombing over the North Atlantic, with 329 casualties, and, two months later, the crash of Japan Airlines flight 123 outside Tokyo, with 520 dead. (That's right, the second and fifth-most deadly accidents in aviation history happened 49 days apart!) Also in 1985 were the Arrow Air disaster in Newfoundland that killed more than 240 U.S. servicemen, the infamous British Airtours 737 fire, and the crash of a Delta L-1011 in Dallas that killed 137.
All of that in under 365 days.
Through better crew training, better technology, and the collaborative efforts of airlines, regulators, and groups like ICAO, we have engineered away what used to be the most common causes of accidents. The old standards of safety no longer apply. Maintaining such a high level of safety won't be easy, but the record shows it is holding.
I am well acquainted with the hassles of modern-day air travel, don't worry. I don't enjoy claustrophobic planes, delays, noisy airports or the TSA any more than you do. But a spade is a spade. You don't have to love flying, but neither should you take it for granted.