A Red Sox rant, and a look at the weird parallels between aviation and America's favorite pastime.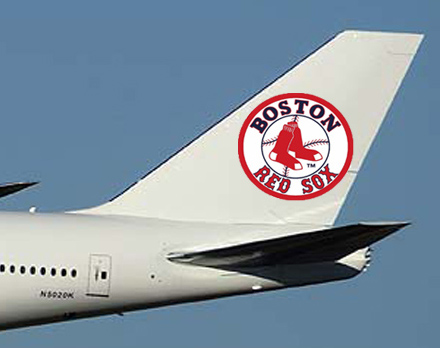 UPDATE: October 28th. Jonny Gomes. Yes, I know, the events of Game 4 of the World Series on Sunday night have (somewhat) wrecked the credibility of my argument below. Gomes's heroics are hereby duly noted. But I do wish the Sox would stop relying on miracle home runs to bail out their otherwise anemic offense.
October 22, 2013.
THE WORLD SERIES IS HERE, and people around New England are excited.
I reckon most airline pilots prefer the NFL gridiron over the baseball diamond. Still though, baseball is adopted as metaphor for just about everything, and there are, in this case, some colorful cultural parallels between baseball and aviation…
Ballplayers tend to look like pilots, for one, and their postgame interviews always seem to ring with the same cliches and regional drawls as those "thanks for flyin' with us" announcements.
Both pilots and players train hard and face a long, regimented system of step-by-step challenges. Either can see a career wiped out by a single miscue or accident — a fastball in the face, a torn ligament, or a gear-up landing.
When a pilot earns his private license, he's made it to the bottom of the minor leagues. Building time in a four-seat Piper or Cessna, he's playing in the equivalent of A-Ball.
With some time under his belt, maybe he gets a job instructing or running weekend charters to Nantucket. He's broke, with a job or two on the side, but when asked his occupation he answers "pilot" without that annoying twinge of embarrassment. Double-A.
Next comes a job with a regional carrier — a huge step up. Now there are flight attendants, real uniforms, and jets that wear the names and colors of the majors. Clearly this is Triple-A. Those American Eagles and Delta Connections are the Pawtucket Red Sox and Columbus Clippers. You're almost there, and for the first time you can just about eke out a living. A lucky few will take that final step; most will not. And if this is where it ends, well, heck, you came pretty close.
Finally at the majors, be it Leagues or airlines, the perks and cachet speak for themselves. There's no higher plateau. You've made it to "The Show." Of course, your first assignment is to the dregs of routes and schedules — on call, reserve status, dragged from home by a phone call at 3 a.m. You are, you might say, a bench player. That 747 captain, he's the All Star outfielder with the Yankees, Red Sox, Dodgers or Braves. You're just glad to be here, rubbing elbows with these guys.
Hazards are all around. The economy tanks and the furlough notices go out, it's back to the minors for a few seasons.
And not everybody makes it to this level. There are only so many Americans, Uniteds and Deltas to go around. A pilot may instead find himself at the likes of AirTran, Spirit Airlines or Frontier. It's very much the pros, but without that edge of prestige. He is, so to speak, playing in Japan.
Etc. With one important caveat: The failure of a ballplayer to progress through the ranks, from A ball to the majors, is usually a failure of talent. It doesn't work that way for pilots. It's the industry's relentless hiring cycles, attrition, and plain old luck, more than anything else, that determine a pilot's destiny, not how good he is.
Now, am I even a sports fan?
No, not really. But it's true that every year between April and October, I live and die with the Boston Red Sox.
This isn't about athletics, or even, necessarily, about baseball. If you grew up around here you'll understand: the Red Sox have transcended sports to become a fixture of psycho-cultural obsession. Like the weather, they are embedded in the New England psyche — an eternal pattern of warm summer promise and, at least until recently, cold autumnal foreboding. We remember our baseball seasons the way we remember famous storms. The Blizzard of '78; Bucky Dent. To paraphrase Hall of Fame Red Sox catcher Carlton Fisk: People don't merely watch the Red Sox, they live their lives through them.
There's something unhealthy about that, don't you think? And although things changed forever in 2004, for many of us the scar tissue of defeat is layered like the rocky crags of the Maine coastline, or the 300-year old grime of a Boston street. The Boston Globe's Ellen Barry once put it this way: "Over the years, there has been no shortage of self-analysis in Red Sox Nation, whose fan base includes the highest concentration of mental health professionals in the country. On the contrary, the Nation has fingered its past injuries obsessively, like a character out of Dostoyevsky, trapped in a recurring parable of loss. They are, as a group, swamped by their own emotions, suspicious of happiness, and apt to catastrophize."
Count me in. For example, I spent most of that cataclysmic eighth inning of the final playoff game between the Red Sox and Yankees in 2003 curled on the kitchen floor in a semi-fetal position. (At first I'd tried buttressing myself against a wall, bent forward with my arms wrapped over my head, but the tension was too great. So I dropped to the ground and covered my ears, so I wouldn't hear the crack of the bat if the Yankees, against all odds, tied the game. Which naturally they did.)
Until 2004, Red Sox fans had been pathologically defeatist and well accustomed to pain. We feasted on perennial October failure, served cold and often the result of some preposterously unlikely chain of events. Like a plane crash.
It's different now, of course, having finally won it all in '04 (and again three seasons later) and good for that. Water under the bridge, as they say.
However, can I please offer up a rant about the 2013 edition of the Sox? Specifically, can I please put on record the sheer disappointment I feel over the manager's stubborn refusal to put my favorite player, Daniel Nava, in the lineup?
Daniel Nava's .395 on-base percentage for the year was third among all AL outfielders. His .303 batting average was second-highest on the team and eighth-highest in the league. He had a higher average and a higher slugging percentage than Dustin Pedroia.
So naturally he was benched for five of the six games against the Tigers, and it looks like he'll be sitting for the World Series as well. You don't want a guy like that in your lineup.
Instead we have Jonny "Sasquatch" Gomes in there. Who doesn't like Jonny Gomes? He's fun to watch, he gives it all he's got, and he's been effective at times. But come on… the guy hit .250 for the year and is under .200 for the postseason. Why has he become the full-time left fielder?
In the sports section of Monday's Globe, manager John Farrell said that Jonny Gomes helps gives the lineup "personality." Oh. I didn't realize that winning baseball games was a personality contest.
During the broadcast of game six against Detroit, commentator Joe Buck said that Gomes helps give the lineup "a different look."
I have no idea what in the world that's supposed to mean (other than in the literal sense), or how on earth it could justify letting Nava sit. A different look all right: the look of a guy striking out, stranding runners and not reaching base.
We need more guys like him. Imagine a whole lineup of Jonny Gomes. Not just one guy hitting under .200, striking out and not getting on base, but nine of them! That'd be a winning team for sure!
And the fans, they love him. With his ZZ Top beard, his full-sleeve tats and that crazy gleam in his eye, he's such a "gamer."
The Globe's ALCS review section on Monday had about a dozen photographs, and it seemed like half of them were photos of Jonny Gomes. In one of the captions he's described as "Red Sox slugger Jonny Gomes." Slugger, are you sure? In another one, he is biting the corner of the ALCS trophy. What a nut! He's so crazy! Not like that boring Daniel Nava, who only hits .303 and hardly has a beard.
Me, I'm nervous about this series against the Cardinals. And it's not just the Gomes Factor. He is one of several players who've been playing with invisible bats and whiffing like there's no tomorrow.
The Red Sox combined for 73 strikeouts in six games against the Tigers. That is the all-time MLB record for strikeouts in any postseason series. The previous record was 70, and that was over seven games! By the time the 2013 World Series concludes, it's pretty likely the Sox will have broken the total postseason strikeout record.
There are those who look at strikeouts another way. They drive up pitch counts, the thinking goes, and wear down the opposing pitcher. But not if you're whiffing on three straight pitches, as Sox players are prone to do — to say nothing of the strikeout's failure to move runners along. I do not subscribe to the strikeouts are cool school. To me, it's an empty out.
Photo composite by the author.
By the way, when sports teams travel, it's usually in a chartered commercial aircraft. Players sit it economy class; coaches and managers sit in first. These are game-at-a-time charters. It's rare for teams to have a single, dedicated aircraft at their disposal for an entire season, and even more uncommon for a team to outright own an airplane.
Note: Portions of this post originally appeared in the magazine Salon in 2003.