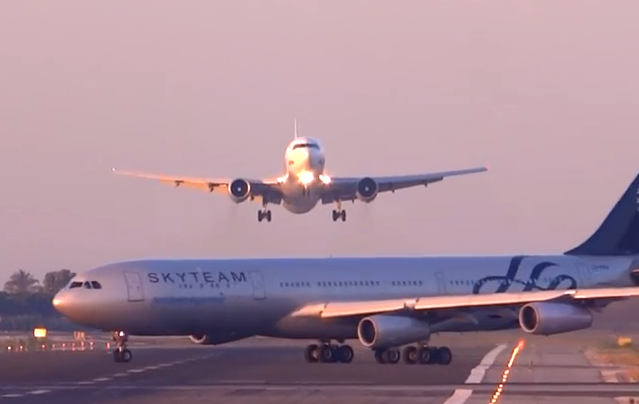 July 9, 2014
NO DOUBT SOME OF YOU, probably too many of you, have watched the video of the Boeing 767 and Airbus A340 nearly colliding, or so it seems, at the Barcelona airport last weekend. At last count, more than sixteen million people had seen the footage! Various news outlets featured the tape, tarting it up with words like "terrifying" and "near-disaster." In case you missed it, it's here.
Though if you don't click over, well that's okay too, because what you're seeing is mostly a trick of perspective.
The planes involved were an Aerolineas Argentinas A340 and a UTair 767 (the latter is a Russian carrier based in Siberia). Apparently the Aerolineas Argentinas crew crossed the runway in error, which is serious. However the camera angle greatly exaggerates how close the two aircraft came to colliding. Reports say the planes were a full kilometer apart. (It's similar to to the zillions of pictures online taken at San Francisco International and other airports with closely paired runways, where parallel arriving planes are made to look like they're right on top of each other, when in fact they're safely apart.)
Meanwhile the go-around performed by the 767 was, by itself, routine. I discuss go-arounds in chapter three of my book, and also here. The maneuver can feel abrupt and can be frightening to nervous flyers, but it's perfectly natural for an airplane and not especially difficult for the pilots. You can see the 767 beginning the maneuver at roughly a hundred feet or so, meaning it was well prior to the runway threshold.
Now, so that I'm not accused of downplaying:
"Incursion" is the word we use to describe when an airplane crosses onto a runway or taxiway it shouldn't be crossing onto. Although Barcelona wasn't the near-catastrophe some have called it, I should note that worldwide the number of incursions has indeed been climbing. Not alarmingly so, but the trend is nonetheless worrying.
"I think the public fascination with the video is completely understandable," says Christine Negroni, aviation journalist and blogger. "Downplaying the event is an example of a fallacious reasoning that judges the seriousness of an event by the outcome. As you well know, many factors come into play in aviation safety including luck. The Barcelona video highlights a real problem in aviation brought about by many factors. That it's getting attention is not a bad thing, and if it gets the conversation going, that's even better."
To a large extent the incursions uptick is the result of increased air traffic and, at least in the United States, poor airport design. The number of commercial flights has more than doubled over the past quarter-century, without a corresponding overhaul or expansion of our airports.
As I write in chapter six of Cockpit Confidential, the problem isn't always the volume of planes per se, but the congested environments in which many of them operate. La Guardia, Boston, and JFK are among airports that were laid out decades ago for a fraction of today's capacity. Their crisscrossing runways and lacework taxiways are inherently more hazardous than the parallel and staggered layouts seen at newer airports. That does not imply that these locations are unsafe, but they present challenges both for crews and air traffic controllers, particularly during spells of low visibility.
The FAA has been working fast and furious on new programs and technologies to reduce the number of mistakes and/or mitigate the consequences when they occur. These include an upgrade of tarmac markings and mandatory anti-incursion training programs for pilots and controllers. Under testing are improved runway and taxiway lighting systems and an emerging, satellite-based technology known as Cockpit Display of Traffic Information (CDTI) that will provide pilots with a detailed view of surrounding traffic both aloft and during ground operations. And a growing number of airports are outfitted with sophisticated radar that tracks not only planes in the air, but those on runways and taxiways.
Those are all good ideas, but the FAA has a habit of over-engineering complicated fixes to simple problems. There will be no magic technological bullet. At heart this is a human factors issue. The agency's most valuable contribution to the problem might be something it has already done: stirred up awareness. When it comes right down to it, the best way to prevent collisions is for pilots and controllers to always be conscious of their possibility.
Getting back to Barcelona, whether this was a crew error or an air traffic control mistake, we're not yet sure. Pilots are never cleared to cross a runway at their own volition. You must receive specific permission from ATC. I don't know if the A340 crossed on its own, sans permission, or was erroneously told to cross.  Either way, judging from the angle  seen in the video, the crew should have seen the 767 on short final approach and held its position.  A visual check prior to crossing a runway is taken for granted, regardless of any clearance from controllers.  Almost always in such situations, the pilots will announce, one to the other, "runway clear," or some such confirmation.  It's possible the Aerolineas pilots became distracted or otherwise busy with some task. That's not an excuse, but perhaps it explains why they didn't seem to notice the encroaching 767.
And yes, the clear weather was a fortunate factor. It's hard to tell what would have happened had it been foggy and the the A340 invisible to the 767 pilots. It depends how far down the runway the A340 was crossing. You can't really determine this from the video, but it appears the planes probably still would have missed each other. When visibility is down, you are relying pretty much entirely on ATC to ensure the runway is clear and that no traffic will cross. You cannot see the entire runway. In really heavy fog you might be able to see only a few hundred feet, if that. The only cockpit equipment that might indicate conflicting traffic is your TCAS, but that's not what TCAS is intended for. More advanced technologies like the aforementioned CDTI would likely be more useful, but currently few aircraft are equipped.
As it happened, the weather was fine and the incident didn't deserve the attention it got. What is it about airplanes that makes people so cuckoo? Purely in the interest of fairness, I expect all sixteen million people who have seen the YouTube video to read this post as well, in the process clicking on my Google ads, snapping up copies of my book, and making me rich. Yahoo, CNN, and all the other sources who picked up the story also will be linking to me.
In the meantime, if you really need to entertain yourself on YouTube, try these…
Senegal Layover, Part 1
Senegal Layover, Part 2
24 Hours in Cairo
Welcome to BKK
Best for Last