November 1, 2014
LAST MONTH, Vanity Fair published a story by William Langewiesche on the crash of Air France flight 447, the Airbus A330 that went down in the Atlantic in 2009. You can read it here. Several readers have asked for my thoughts on the piece.
Langewiesche is a fantastic writer and was kind enough to lend a flattering blurb to the cover of my book, so it's not easy for me to say this: While his article was gripping and meticulously researched, it was painfully disappointing at the same time. The narrative is eloquent and terrifying — the sort of vintage Langewiesche that places him among the very best journalists in America. And yet, when it came to the closing paragraphs, I was steaming mad.
How flight 447 crashed is equally straightforward and baffling: The pilot at the controls overreacts to a faulty airspeed indication and stalls the airplane. Confused by their instrument readings, neither he nor the pilot sitting next to him recognizes the stall, and no attempt is made to recover from it. As the plane descends, essentially out of control, a third pilot — the captain, who'd been on his rest break — enters the cockpit and, quite understandably at this point, can make no sense of the situation. The plunge continues until impact.
Langewiesche focuses on the roles cockpit automation may have played in the accident. His conclusion is a familiar and, to somebody who flies for a living, irritating trope: pilots have become so reliant on automation that we no longer know how to fly. It was a degradation of basic flying skills, more than anything else, that was responsible for the Air France pilots committing such a basic and unforgivable blunder.
But the crash of flight 447 was brought on by a combination of things. Poor airmanship was only one of them. Pilot inexperience was another factor, and possibly crew fatigue as well. Langewiesche also gives short shrift to certain Airbus design quirks that may have played a significant role. For example, the fact that the control sticks are not inter-linked. When first officer Pierre Bonin, sitting in the right seat, first pulled the jet into a stall, the extreme inputs he was making weren't apparent to the pilot in the left seat. This contributed much to the ensuing confusion.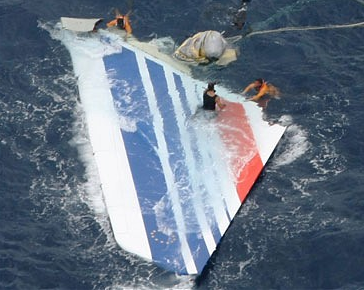 Avoiding aerodynamic stalls, that's Flying 101 stuff; almost nothing could be more basic. But one point that nobody ever makes is that even in the proverbial old days pilots would, every now and then, make similarly knuckleheaded mistakes, even in old-fashioned, seat-of-the-pants airplanes. The argument in those days was that cockpits needed to become more automated, to engineer out this tendency. The unintended consequence of that approach, we're now told, is that pilots can't fly anymore. So what's the fix? Yet more automation, or less? Or is that the wrong question entirely?
I'm not arguing that pilots' hands-on flying skill have probably become degraded over the years. But this is because a newer set of skills is required to master the job. A high level of competence is demanded in both skill sets, but it's unfair, and wrong, to contend this newer set is somehow less important or less valuable than the other.
Neither is it anything easy to learn or master. The most frustrating take-away from the Vanity Fair story is that unless and until something goes wrong, flying modern planes is essentially effortless and without much challenge. The author's point about the erosion of hands-on airmanship is a useful conversation. However, his contention that piloting jetliners is somehow easy, and his at-times cartoonish descriptions of what the job actually entails, is where the article falls apart (and pisses me off).
Professionals of all kinds will often describe a particular task as "easy." What they mean, more correctly, is that it's often routine; they are used to it. That's not the same thing as easy. Try to imagine how much work — technologically, logistically, and so on — goes into getting a widebody jetliner with hundreds of people on it from one continent to another? It can be very routine, but nothing about it is easy.
Of professional pilots, Langewieschehe says that "a different crowd is flying now, and although excellent pilots still work the job, on average the knowledge base has become very thin." He cites "nearly universal agreement of this," but I'll tell you it simply isn't true, and there's a reason why, at least in this country, the major commercial airlines expect a new-hire pilot to have somewhere around 6,000 hours of flight time before they'll take his or her resume seriously. Because it takes an extraordinary of knowledge, skill and experience to know what the hell you're doing in the cockpit of even the most modern and "automatic" jetliner.
I put that word in quotes because what does it even mean? The Vanity Fair report is sub-titled "Should airplanes be flying themselves?" The answer is no, and in any case they're not flying themselves. The entire story starts off under a false premise, and the author, for all of his in-depth knowledge of aviation, does little to dispel the absurd notion, believed today by millions of people, that pilots are merely along for the ride, and the only real challenge to their skills arises in a malfunction or emergency.
No airplane "flies itself." The automation is only as good as the pilots who are controlling it. A plane "on autopilot" is still under the direction and guidance of its crew. You need to tell the automation what to do, how to do it, and when and where. The automation isn't flying the plane. The pilots are flying the plane through the automation.
I found it curious that of all the sources Langewiesche quotes in the story, not one of them is an active pilot. As some of you already are aware, one of my longest standing pet peeves is when reporters rely on aviation academics for articles like this — aviation professors, engineers, researchers, etc. Smart as these people are, they tend to have very little understanding of the day-to-day operational realities of commercial flying. Yet they are the ones the media always seems to turn to.
As Langewiesche has it, the piloting profession doesn't amount to much. At one point he writes of pilots: "All of them think they are better than they are." I wonder if he'd make such a rude and cursory blanket statement about doctors or other professionals.
At that, at least, I was able to laugh out loud. The point where I had steam coming from my ears came a few pages later: "In professional flying, a historical shift has occurred," writes Langewiesche near the end of the piece. "Pilots have been relegated to mundane roles as system managers, expected to monitor the computers and sometimes to enter data via keyboards, but to keep their hands off the controls, and to intervene only in the rare even to failure."
That is about the most asinine and misleading characterization of an airline pilot's job that I have ever read in my life.
William Langewiesche responds:
I understand your reaction to the piece, and expected it. I want to point out to you that my main sources were senior and active airline pilots, as well as their equivalent among cockpit designers — but because of this, not a single one of them wanted to be identified in print. The broad characterizations of a declining skill level among average line pilots were a surprise to me, and they were universal. They were not my judgement, but the judgment of others in positions to know, and I was taken aback by them. Not once did I invite such characterizations, but they kept coming at me. Moving on, I did not write that the current generations of airplanes are robots just bringing pilots along for the rides, but that the trend seems to be in that direction. The fact of the matter is that crews have been reduced in size and activity as more and more automation has come in over the decades—though the fundamental mental processes of piloting have changed little, and for the best pilots they have probably expanded because they now have to encompass the buried complexities of automation, as well as the basics of flying. Of course I'm aware of the outstanding safety record of U.S. carriers over the past few years. But I was writing about a French crew, in an aviation culture that is decidedly not American, and characterizing airline flying on a global level, just as the airline manufacturers must do. I pointed out that even the global safety record is outstanding. But airliners are not designed for the best crews, or the most thoughtful guys like you, but for the worst, worldwide. Such design decisions inform the experience of piloting for everyone. I tried to make these distinctions very clear, in order to avoid gratuitous insult, or the unfair branding of individual pilots. Obviously this is sensitive stuff, particularly in a proud profession that in the U.S. has long been in retreat, as you know. Anyway I can see why the piece was irritating to you, and as always I enjoy the energy of your response, even when it is directed against me. Keep up the good work, I'll try to do the same, and I'm sure that in the future we'll find plenty of other subjects on which we'll agree.
I appreciate this response and I don't disagree with it. But I keep coming back to that one paragraph, that preposterous, yet so sure-sounding caricature of a pilot's job: "…sometimes to enter data via keyboards, but to keep their hands off the controls, and to intervene only in the rare event of failure." Maybe I'm fixating too strongly on such a small passage, but I have grown so tired of these descriptions. The media repeat them constantly. The notion that flying a jetliner entails little more than sitting there and watching the plane "fly itself" has become fixed in the public consciousness. Millions of people actually believe this. And to hear somebody like William Langewiesche, as knowledgeable and experienced in the field of aviation as he is, reinforcing this mythology through such flip and inaccurate language is exceptionally frustrating. I'm not opposing his main contention, about the degradation of old-school, hands-on flying skills. What angers me is his characterization of the job: the suggestion that it's easy and involves little more than pushing a few buttons. I guess what I'm trying to say is that flying planes is still pretty complicated and challenging even for the worst pilots.