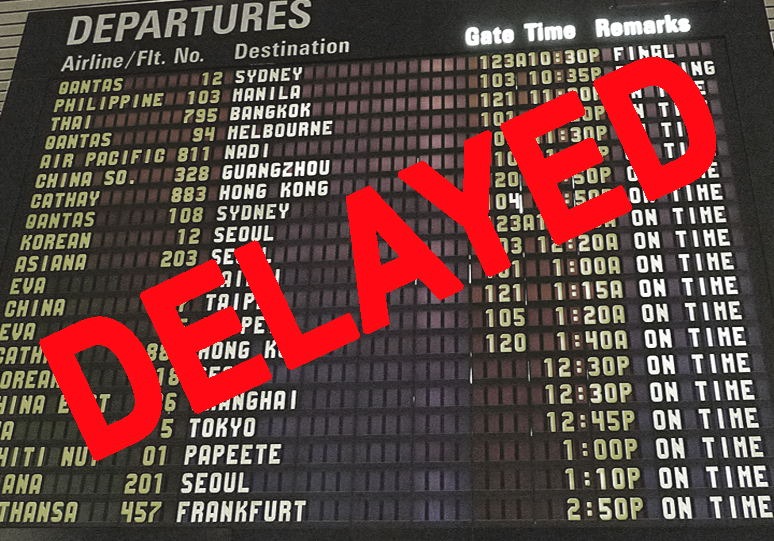 April 26, 2013
Late in the day on April 25th, the US Senate unanimously passed legislation that would end the FAA controller furloughs and restore the nation's air traffic control system to normal, or close to normal operation. The measure permits the shifting of over $200 million from elsewhere in the Federal budget to cover the required funding. The "Dependable Air Service Act" now moves to the US House of Representatives, where it is expected to be taken up as soon as Friday.
This should put a quick end to the delays and cancellations that have been plaguing the country's airports since last weekend. According to the FAA, roughly a thousand commercial flights each day were in some way affected by the sequester-induced furloughs, with many delays lasting several hours.
I saw it first hand:
When I landed in Los Angeles on Sunday evening, the terminal had the look and feel you'd expect during a snowstorm or hurricane: long, sullen faces, unusually heavy crowds, agents rushing around in an obvious state of fluster. The departure screens were blotched with red: CANCELED, CANCELED, CANCELED.
The following afternoon, my outbound departure was delayed for more than an hour. When I approached the podium for a look at the preflight paperwork, the agent handed me a printout: GROUND DELAY DUE TO FAA STAFFING SHORTAGE.
That Congress is finally acting to end the crisis is certainly welcome news. But the whole thing was unacceptable to begin with. The traveling public was caught up in a political squabble. Passengers had become pawns, basically, in a game of stalemate.
The airlines, too, were caught in the middle. Industry leaders were livid, and who can blame them: the trickle-down effects of a single canceled flight can wind up costing a carrier hundreds of thousands of dollars.
What a peculiarly American episode of incompetence and irresponsibility: I can't imagine such a thing happening in Europe or Asia, where governments are quick to recognize how vital commercial air travel is to their economies. Our leaders don't seem to understand, or don't seem to care, how much the country stands to lose through long delays and cancellations: the tens of millions of daily dollars in lost productivity and wasted time.
Or else they knew exactly how much. Some have suggested the furloughs were a deliberate and cynical attempt to inflict as much pain as possible on the traveling public in order to guarantee FAA funding. Let's leave that, and the subject of whether or not the FAA's budget and ATC payroll are bloated and inefficient, for another time.
Regardless, this was just another depressing example of America's long slide into infrastructural obsolescence, brought on by a government so mired in absurd partisan gridlock that the country's best interests are no longer important. Our roads, bridges, railways and public buildings are falling apart. And compare for a moment the airports in New York, Chicago and Los Angeles with those of Seoul, Hong Kong, Munich or Singapore.
You mean to tell me that the government couldn't reallocate a tiny fraction of the mandated cuts — less than two percent by some estimates — to keep something as critical as our air transport system running at a normal pace?
Earlier this year, Congress intervened to prevent the furlough of USDA meat inspectors, allocating $55 million from elsewhere in the budget. Last week, Airlines for America (A4A), the Regional Airlines Association (RAA), and the Air Line Pilots Association (ALPA) jointly filed for an Emergency Motion against the Department of Transportation and FAA, asking that the U.S. Court of Appeals issue an emergency stay to prevent implementation of the cuts pending a full review.
The motion was denied on April 19th, and millions of passengers paid the price.
And how this all came to be is something that I, and many others, don't quite understand. The FAA is funded directly by user — i.e. passenger — fees. Airline tickets are more heavily taxed than almost any other product in the US economy, and it's those taxes and fees, not the general treasury, that keep the air traffic control system up and running. Apparently that money was available all along, but the way the sequester was worded, it couldn't be used as intended.
Furloughed controllers will be back to work shortly. Delays will likely linger, however, at least for a few days. Check with your airline before heading to the airport. There's also information on the FAA's website.
And bear in mind that the causes of a particular delay will be hard to pinpoint; they may or may not have anything to do with the controller cuts. The FAA says around 40 percent of delays in the past week were attributable to the furloughs, but I suspect that's a soft number. "Normal" weather and traffic delays haven't gone away, of course, and in many cases have been compounded by the staffing crisis. Flying out of LAX on Monday, the message we got from air traffic control referenced the personnel shortage specifically, but in many cases it was a mix of factors: the sequester, the weather, or perhaps both — or neither.
For instance, at La Guardia on Tuesday afternoon, dozens of flights were canceled (mostly regional jet departures), and delays were up to two hours long. But the weather, also, was terrible, with low ceilings and reduced visibility. To what extent the trouble could be blamed on staffing was impossible to determine.
It'll be over soon, but what a shame all around. Airline on-time performance had been improving, too, with 84 percent of flights landing within 15 minutes of scheduled arrival time.
A VERSION OF THIS STORY ALSO APPEARS ON THE DAILY BEAST



Photo composite by the author.