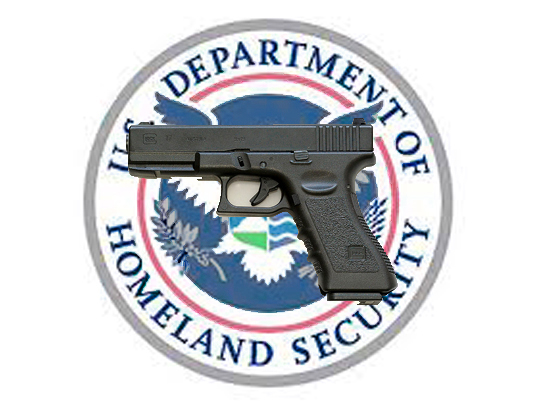 December 2, 2013
IN THE WAKE of the shooting at Los Angeles International Airport in November, among the questions being asked is this one: should TSA screeners be armed?
My answer is no, they should not be. Readers of my articles and my book already know of my disappointment with many of TSA's policies and protocols. Let me say up front that I am not using this incident as just another opportunity to criticize the agency and arbitrarily oppose a policy, and by no means do I wish to downplay the seriousness of the shooting. But the question of arming of TSA workers has come up before. It ought to be opposed for good reasons:
First, citizens need to realize that TSA screeners, despite what their blue shirts and silver badges might imply, are not law enforcement officers, and do not have police authority — such as the power to arrest. Deputizing and training even a limited number of these employees to carry and use deadly weapons is granting the agency a power it neither has neither earned nor requires to fulfill its mission. It also would be very expensive. That expense would be passed directly to the taxpayers, or perhaps to the airlines, who in turn would raise fares to cover that cost.
Although what happened at LAX was tragic, the idea that armed screeners would result in a safer work environment for TSA employees, or a safer travel experience for passengers, is dubious. What happened at LAX was a random tragedy at the hands of a lone and presumably deranged gunman — the sort of attack that could easily have taken place at a shopping mall, movie theater, etc. That the man is believed to held a grudge against TSA specifically is not a good enough reason to go handing out guns to screeners at large. The response to every mass shooting in this country should never be simply to arm more people, be they government or employees or anyone else.
Meanwhile if we are going to increase the TSA budget, there are better ways of spending that money.
We should start by speeding up and streamlining the airport screening process — a project that would entail taking screeners away from public view in the terminal and re-training them to work behind the scenes. When it comes to protecting passengers from criminals and terrorists, concourse screeners do have a role to play, but mostly it is one of last resort. The more critical work belongs to law enforcement and TSA working together backstage, so to speak: inspecting luggage and cargo, reviewing passenger data, and foiling plotters before they reach the airport. Chances are, once a perpetrator has made it to the terminal, he or she has already figured out a way to fool whatever safeguards we have in place. Meanwhile, holding up lines so that guards can confiscate harmless pointy objects and shampoo bottles wastes our time, wastes our money, and does nothing to make anybody safer.
I'd also suggest deploying more TSA workers overseas — in the Middle East, Africa, Asia and South America — where they could assist local security staff in the protection of US-bound aircraft. It is much more likely that a bomb or other attack would originate from somewhere overseas, yet our focus is relentlessly domestic. We've got high-tech equipment and body scanners at regional airports in Ohio, while US carriers are often forced to hire third-party contractors to assist with passenger and luggage screening in areas of the world where the threat is statistically much higher.
It's true the 9/11 attacks were launched domestically, but the failure to foil the plot had nothing to do with concourse screening. The loophole the 19 hijackers exploited was not a loophole in airport security, but rather a loophole in our mindset — that is, our understanding of what a hijacking was, and how it would be expected to unfold, based on decades of precedent. What weapons they brought along for the job mattered little; had boxcutters been contraband, they could easily have improvised other weapons once on the aircraft. The men were not relying not on hardware at all, but on the element of surprise.
To its credit, TSA seems to realize most of this already. It took an awfully long time, but the agency is beginning to understand the limitations and challenges of its role on the front lines. Its "PreCheck" program is a smart idea,* and many TSA employees are already busy doing that important work back stage. Let's keep that trend moving in the right direction. Arming screeners would be expensive, while accomplishing little or nothing in the name of safety. And if TSA wants to earn and keep the respect of the American traveler, strapping on guns, in an increasingly militarized society already awash with arms, isn't the way to do it. The way to do it is through more effective and efficient security.
(* Well, I like the concept behind it. What I don't like is that PreCheck travelers — those not pre-approved by the airlines — are required to pay a fee to qualify. Rather than charging Americans money to bypass the what's broken, how about fixing it instead?)

Photo composite by the author.