Four Flights Aboard the Industry's Most Prestigious Players. The Results Might Surprise You. And, are U.S. Carriers Closing the Gap?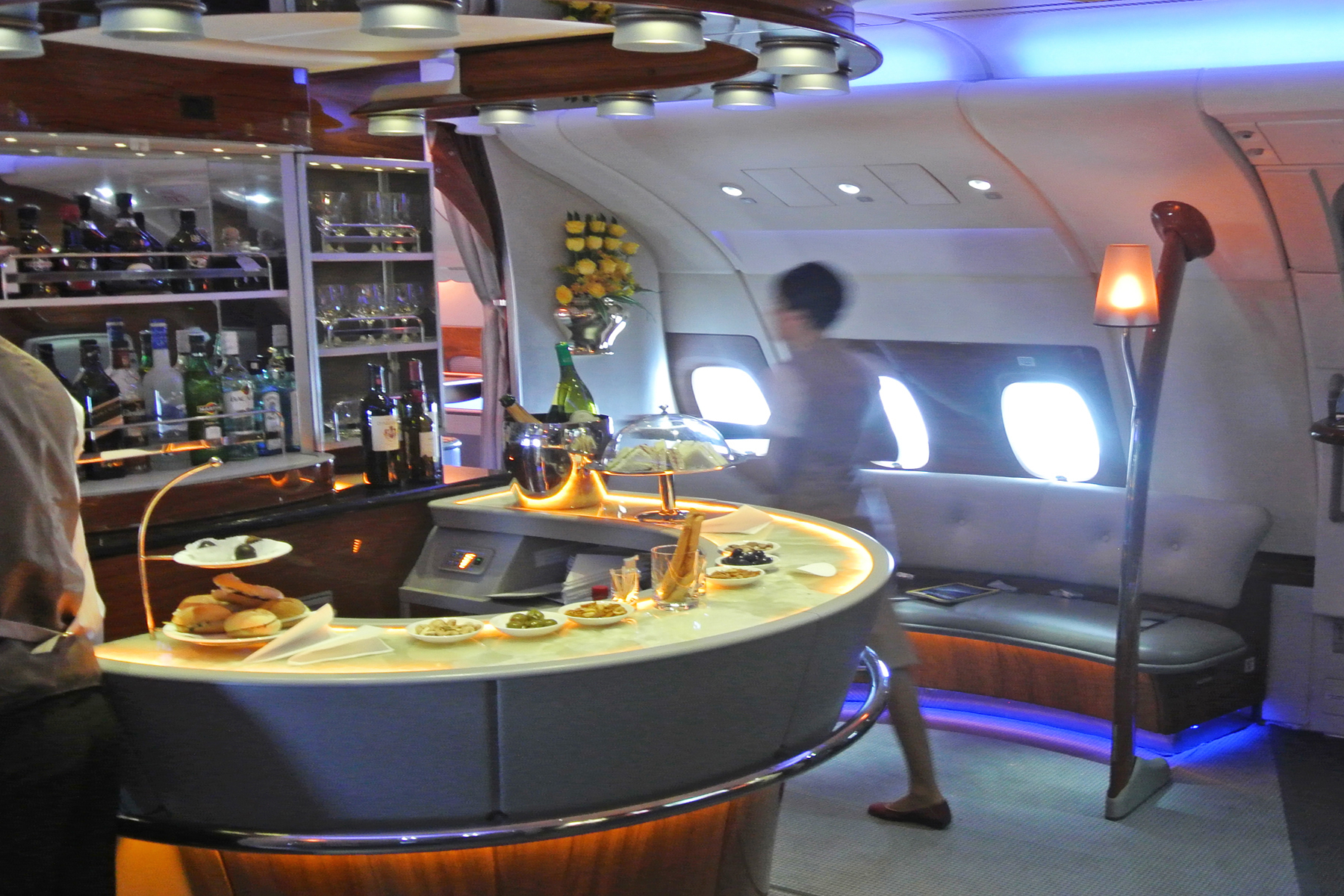 PHOTOS AND COMMENTARY BY PATRICK SMITH
May 28th, 2015
EVERY SO OFTEN — perhaps more often than my finances justify — I splurge and buy myself a full-fare, long-haul business class ticket . I do this because I'm an airline geek, and I like to try out as many different carriers as possible. There's also the guilty pleasures factor: I'm a sucker for the luxuries of flying up front. It's really, really fun. The longer the flight the better.
I'm beginning to feel that the industry's most highly respected names, while they offer a very good product, are overrated. It's a case, maybe, of a reputation preceding you. Check the SkyTrax rankings and it's the same winners, year after year, but are these really the top airlines, or do we simply expect them to be? Qatar Airlines, to pick one, calls itself "The World's Five Star Airline," whatever that means exactly. Repeat it enough times and everyone believes it. Certain carriers have built their identities around presumably being the best. Are they? Meanwhile, the once-beleaguered U.S. carriers are beginning to close the gap. Our airlines have come a long, long way in the past fifteen years, to the point where, if the following critiques are any indication, premium cabin service on Delta, United or American isn't terribly different from what you'll find aboard those SkyTrax perennials.
It's tricky business, though, grading airlines. Experiences can vary tremendously flight to flight, depending on the temperament of the crew, aircraft type and configuration, and so on. An accurate appraisal requires a healthy sampling of various routes and aircraft. My sample sizes are unfairly small, but nonetheless here are my impressions of recent long-haul flights with four of the world's most prestigious airlines…
QATAR AIRWAYS
Business Class, Boeing 777
Qatar Airways operates more than 120 aircraft, serving six continents from its hub in Doha.
I did not see the Qatar Airways business class lounge at the brand-new Doha airport because it was still under construction (it has since opened, and is considered one of the best in the world). For compensation, the carrier was offering vouchers for use in any of the airport restaurants or duty-free shops.  The customer service agent looked at me like I was crazy when I told him no thanks, that I didn't need one of the vouchers. I was planning to eat on the plane, and there isn't anything in an airport duty free shop that I possibly would wish to buy. Cologne? Cigars? Whiskey? What I wanted was somewhere quiet to relax, which proved difficult thanks to the lack of a lounge and the approximately eight million shrieking children scattered around the terminal. I finally found a gate that was mostly empty and mostly out of earshot of crying kids, way at the end of the concourse, and hid there until it was time to board.
Once on the plane things got better — at least at first. For starters, the aircraft was immaculate, and Qatar's interior decor, accented by the 777's adjustable moodlighting, is possibly the most striking and attractive in the entire industry.  The airline's colors are a deep magenta and gray; a polished copy of its logo, the Arabian oryx, was mounted handsomely on the bulkhead. The cloth upholstery was a pleasant change, I thought, from the usual sticky leather. Just a beautiful cabin.
After the predeparture drinks were served, the flight attendant politely asked my permission — "may I take your glass please?" — before picking up my obviously empty champagne flute. Then he comes around with pajamas — tops and bottoms in a gray drawstring bag — and asks my size. Hey, I'm thinking, this is pretty stylish. This is going to be fantastic.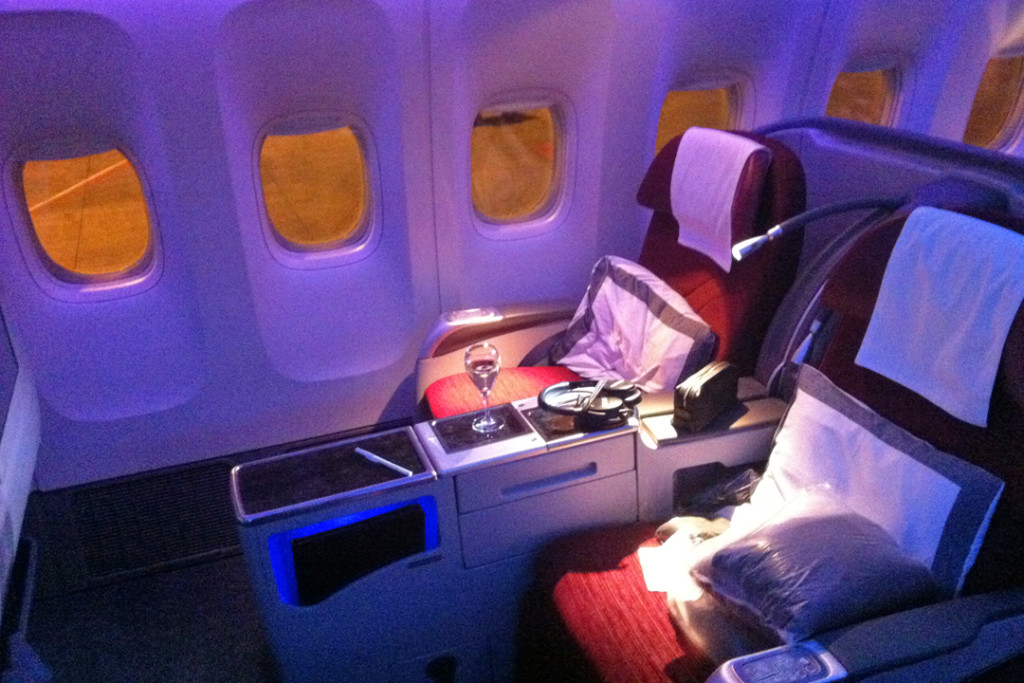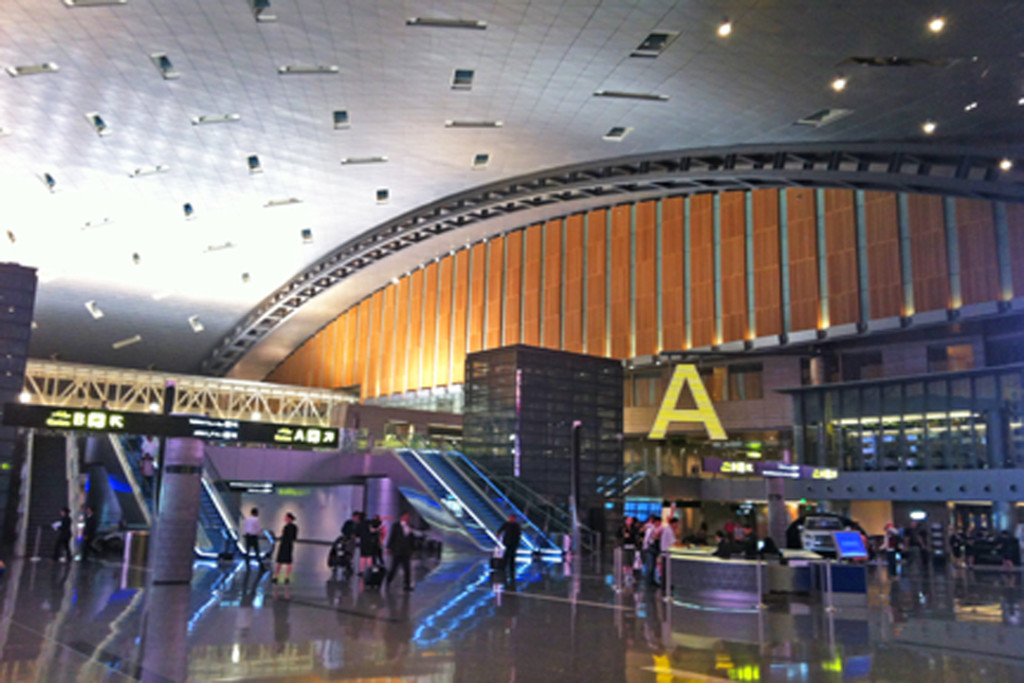 Well, it was and it wasn't.
The business class cabin on the 777 is laid out six-abreast, 2-2-2, with a wide console between each seat. The plane felt very roomy (for some reason it seemed much roomier than the Korean Air 777 I was on a few days earlier, despite the same layout), but the retractable privacy barrier was small and not particularly useful.  Also, I prefer the angled, herringbone-style configuration in which every seat has direct-aisle access. It stinks having to climb over the feet of the person next to you, mid-flight, when going to the lavatory.  Neither do I like seatback-mounted video screens, common as they are, which allow everybody in the cabin to see what you're watching (I'd start with the Coen Brothers' "Inside Llewyn Davis").
There was a mattress pad for use in the full recline position, which helped fill in the cushion gaps and made for a very comfortable bed. The pillows, though, were skimpy.  In a cubbyhole at each seat was a big leather binder, like the ones you find in a luxury hotel room, containing the menu, wine list, and beverage list.  Qatar's wine glasses taper inward at the top — a nice idea that helps reduce spills.
What I didn't realize, however, is that, there are no formal meal services. Everything is on request. You can order whichever meal you want, when you want it. When you're hungry or thirsty, you flag down a flight attendant and ask. This is appealing for obvious reasons, but it's a little too open-ended, and at no time was this process explained.  After takeoff I sat there for two hours, ravenously hungry and waiting for the service to begin, before finally figuring out there was no service!
And subsequently, each time I asked for something, it felt like I was putting the staff out. They quickly organized my meals, but they never smiled, and each time I was left with the sensation that they were doing me a favor. Overall, with the exception of a very tasty mezze appetizer, the food itself was mediocre and the portions tiny.  The third meal — I picked an Indian dish; I forget which — was lukewarm and undercooked, and I nearly sent it back. The crew also acted very confused about the menu choices.  When I asked for breakfast — one of the menu items was clearly labeled "breakfast" — the flight attendant didn't seem to know what I was talking about. Finally she took out a menu, studied it for several seconds and said, "Oh, yes, that one. But you had it already, didn't you?"
I had not.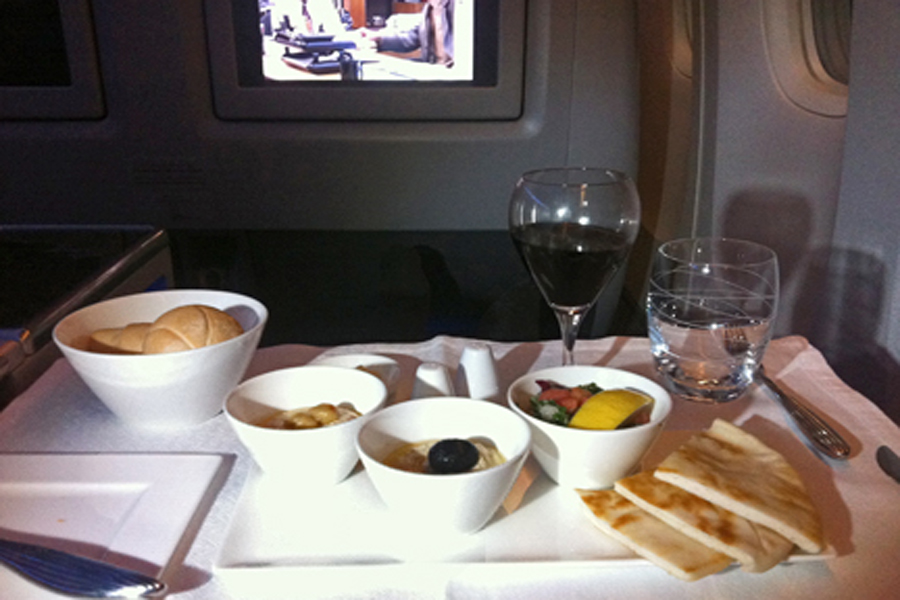 Worst of all, not once during the entire flight did a flight attendant ask if I needed anything.  Not once.  Except for when the meals were brought, I wasn't even offered water. Walk-throughs were rare, and I sat with an empty wine glass and plastic trash on my console for four hours before finally carrying it to the galley myself. Under no circumstances is this acceptable in a long-haul, business class cabin.
Qatar's entertainment system has loads of movies and television shows to choose from, but the interface is terrible. You scroll through the options using a cursor, and the cursor… moves…very….very…slowly.  And each time you highlight a movie or program to learn more about it, the system resets to the beginning.  So unless you actually watch that selection, you have to re-scroll all the way through again. And when you do choose to watch, it takes three separate clicks to get the program running, each on a different part of the screen, requiring you to reposition that damn slow-motion cursor. Very cumbersome.
But the strangest and most startling moment of the flight came near the end:
It was about an hour, maybe 45 minutes to landing. We hadn't started descending.  I was in seat 3A, watching a movie. It was bright daylight outside, but the shades were drawn so the cabin was dark and cozy. All of a sudden, one of the flight attendants came over. Without a word, she reached across my body and WHAM, WHAM, WHAM, she slammed up the shades to all three of my windows!  My vision went white with sunlight. I was blinded.
What the fuck! Er, what I actually said, rather curtly, is "Excuse me, I'm watching a movie!"  No response.  Without a word, she stalked to the next poor passenger's seat and WHAM, WHAM, WHAM, slammed up his shades as well. I understand that the shades need to be open for takeoff and landing (see chapter five of my book). But this was almost an hour before arrival. And the rudeness of it was appalling.
After she moved along, I slid two of my shades back down. About twenty minutes later she came back.  Again, saying nothing, she reached across me, this time her elbow nearly hitting me in the nose, and WHAM, WHAM, yanked the shades up again. This time I didn't argue.

CATHAY PACIFIC
Business class, Airbus A330 and Boeing 777
Based in Hong Kong, Cathay Pacific is the world's 14th largest airline.
I was traveling Bangkok-Hong Kong-Amsterdam. That's about fifteen hours of flying, and it cost me only $2200. But here's something funny: If I'd booked only the HKG-AMS portion, the much longer of the two legs, the price was almost six thousand dollars! For the same flight on the same day, but without the Bangkok leg at the beginning. That's right, if you fly from Bangkok to Hong Kong to Amsterdam, it costs $2200.  If you fly only from Hong Kong to Amsterdam, it costs three times as much. That shows you what a high-end market Hong Kong is, and how competitive things are out of Bangkok.  If you're a business traveler flying to Europe, why not hop down to BKK first and grab the flight from there? You'd save thousands of dollars and it it's only an extra few hours.
The first flight, a two-and-a-half hour hop, would be on an Airbus A330. The twelve-hour leg to Schiphol would be a 777-300 (what long-haul flight isn't a 777-300 these days?). Both business cabins were outfitted with Cathay's beautiful lie-flat sleeper pods: four seats across in an angled 1-2-1 configuration. Cathay gives Qatar a run for its money when it comes to stylish decor, with lots of forest green, tan and wood-tone. But it was the little touches that really stood out: the bulkhead artwork, for example, and the real orchids at every seat (and in the lavs too). The seats themselves were the most comfortable I'd ever sat in.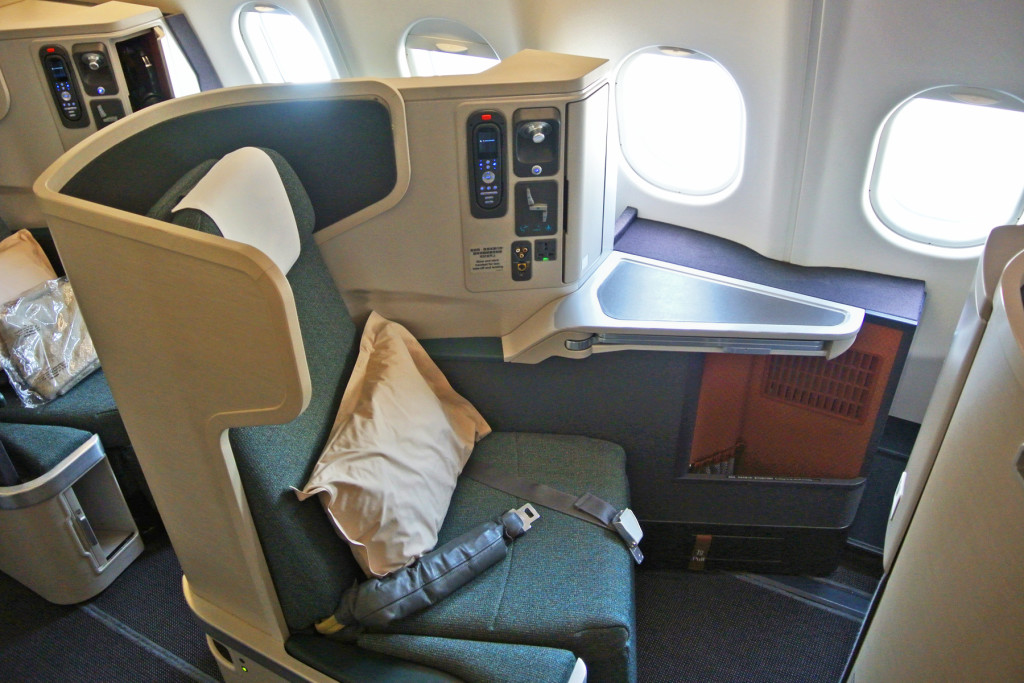 The first leg started with the usual hot towel and champagne service.  After takeoff a hot dinner was served, with separate appetizer and dessert courses and a choice of three wines. After dinner the cabin lights were dimmed and a buttery moodlighting was turned on.  Prior to landing there was a beverage service and another round of hot towels. The lighting changed from butter to a greenish-blue.  All of this on a flight less than three hours long.  In the U.S. I'd probably have been wedged into a 70-seat regional jet with a bag of pretzels.
Cathay's business class lounge in Hong Kong was well appointed but, as seems to be the case in every premium lounge nowadays, overcrowded.  The clientele in the lounge was a peculiar and particular lot, with everybody seeming to fit one of two profiles: The wealthy Anglo banker type, or the evil Asian villain/drug dealer from a James Bond movie.  Profile number three is the interloper. That would be yours truly, emptying out his bank account for a chance to pretend he's a member of groups one or two. I am the stranger, the observer, the spy.
The second leg was essentially an expanded version of the first one.  Instead of a single meal service, there were three. Instead of two hot towels, there were five. When it's mealtime, flight attendants came down the aisle with each entree displayed on the cart. Rather than ordering ahead of time, you picked the one that looked tastiest. I like this idea. There was no on-board lounge, but buffet-style snacks and drinks were available throughout the flight.  All of the cabin staff, if a bit less than chipper, were gracious and professional.
Cathay's entertainment options were also very good. Not as good as Emirates' ICE or Delta's Panasonic system, which in my opinion are the best in the sky, but a lot better than most. Cathay's noise-canceling headsets, stored in a small closet near your shoulder, are pre-wired into the console; you don't need to plug them in.
An excellent experience overall.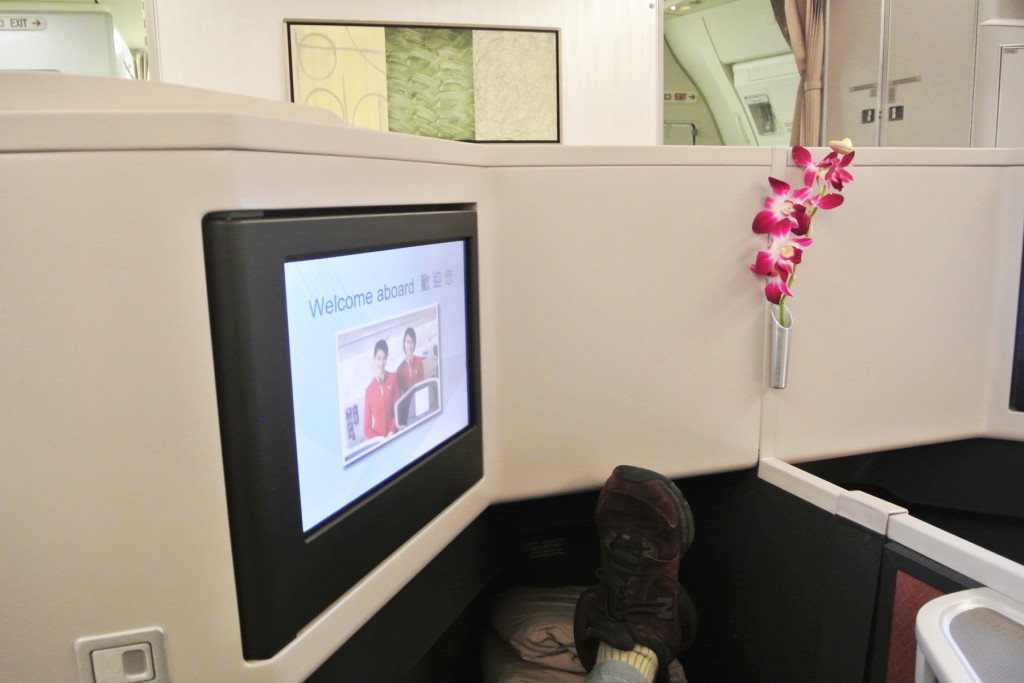 EMIRATES
Business class, Airbus A380
Measured by international traffic, Emirates is now the largest airline in the world.
On the outside, the megajumbo A380 is the ugliest jetliner ever conceived, but on the inside it's quite a treat: spacious, luxurious and whisper-quiet. This is also a good example of how aircraft type can make such a difference. Emirates' 777 business class has a more standard-style seat, and at seven across it's very, very tight. Its upper deck A380 business class, on the other hand, is outstanding.
Before departure, a flight attendant came down the aisle, introduced herself to each customer and making sure everybody was familiar with the various seat controls, including the electrically operated window shades. (Emirates' pre-departure announcement always reminds passengers of how may languages its crew can speak. Tonight it was eighteen. No real surprise. Emirates is the most global of global carriers, with a polyglot staff of expats, but I have to ask: does somebody actually count?)
The seats on the A380 are full-flat sleepers with a console and minibar to one side. It's not a totally enclosed suite like you'd find in first class, but the chair is set deeply within the cubicle. The rows are slightly staggered, however, and the trick is to get a seat with the console on the outside, which acts as a buffer between you and the aisle. This was a two-leg trip. On the second flight I had one of the inside-facing consoles, and the feel was totally different. Window seats have thigh-level storage compartments along the side, similar to those in the upper deck of the 747, and the two center seats have an electric privacy barrier between them. Flight attendants hand out mattress pads for your bed, but for me it was plenty comfortable without one.
It needs to be said that Emirates' taste in decor isn't for everybody. Overdone in faux wood and gold trim, it's that sort of Arabian-Vegas aesthetic popular in the Middle East. But that just adds to the fun. It's tough to complain when you're sitting there amidst it all, playing make-believe Emir in your golden sky-throne.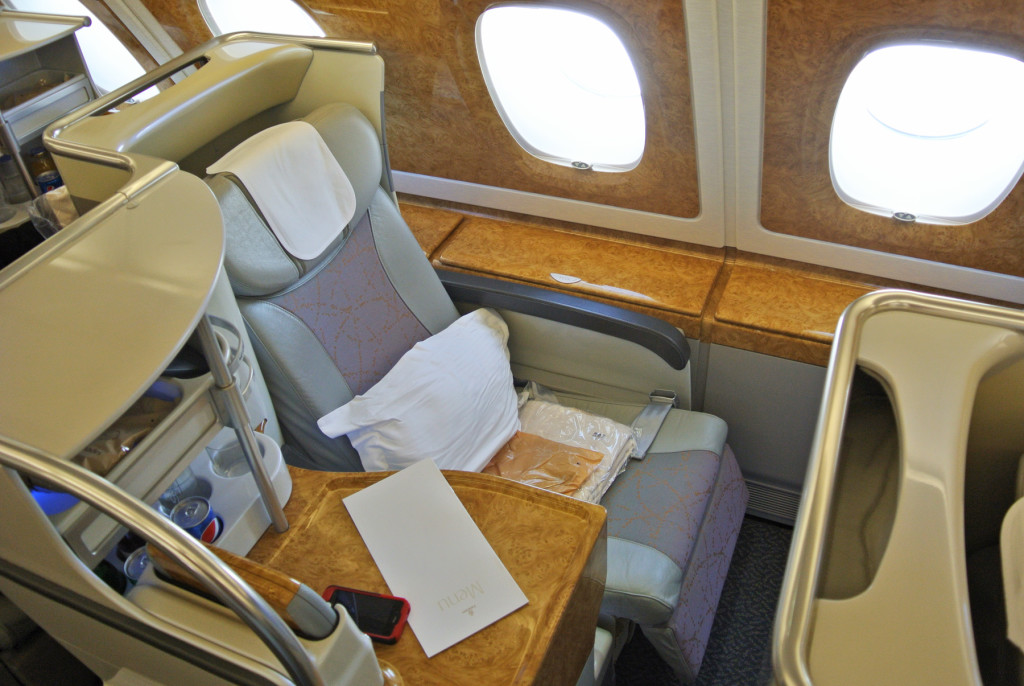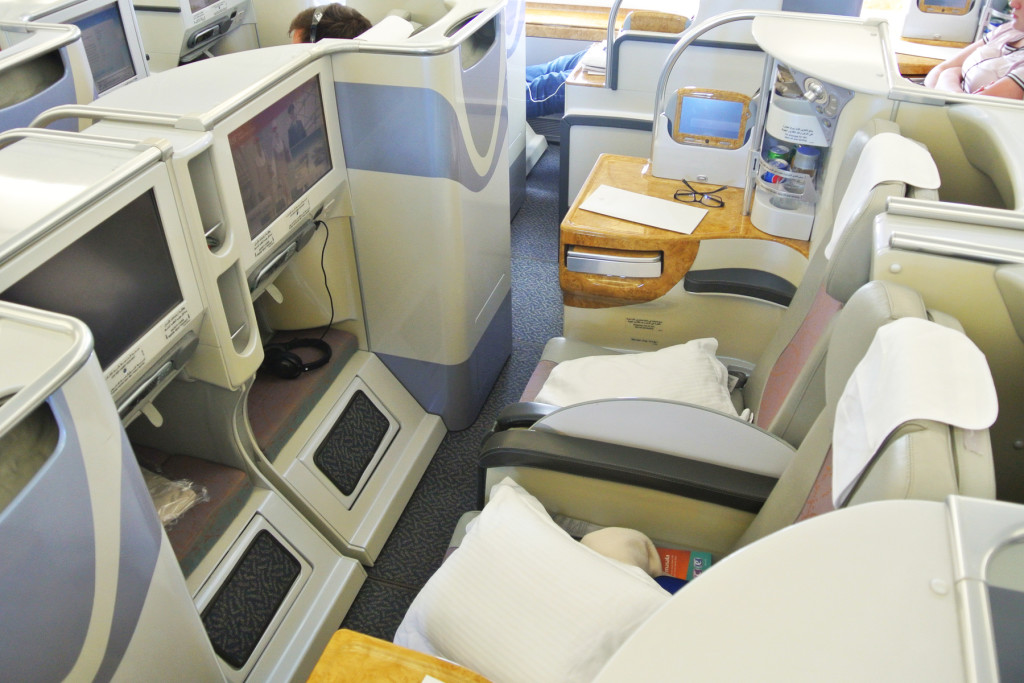 The ICE system (Information, Communications, Entertainment) offers more than a thousand movies, television and music options, though a good number of them are Indian or Chinese selections. The video screen is huge and crystal clear, with a comfortable set of noise-reduction headsets. On the information channel you can choose between three different external camera views, including one from high atop the A380's tail.
Emirates' menu always has great multi-ethnic entree choices, but the portions are stingy and the presentation is discombobulated. At most airlines there's a formal "service," with each course delivered from an aisle cart. At Emirates, as with Qatar (see above), passengers are served separately, and the whole thing feels random and confused, with flight attendants running to and from the galley with plates and trays. I never knew for sure what would be next to arrive, or when.
In the very back of the upper deck is a lounge. There's a horseshoe-shaped bar staffed by a flight attendant and a countertop spread of pastries and hors d'oeuvres. On either side of the lounge is semicircular, sofa-style bench seat. The benches have seat belts, so you're welcome to hang out during turbulence.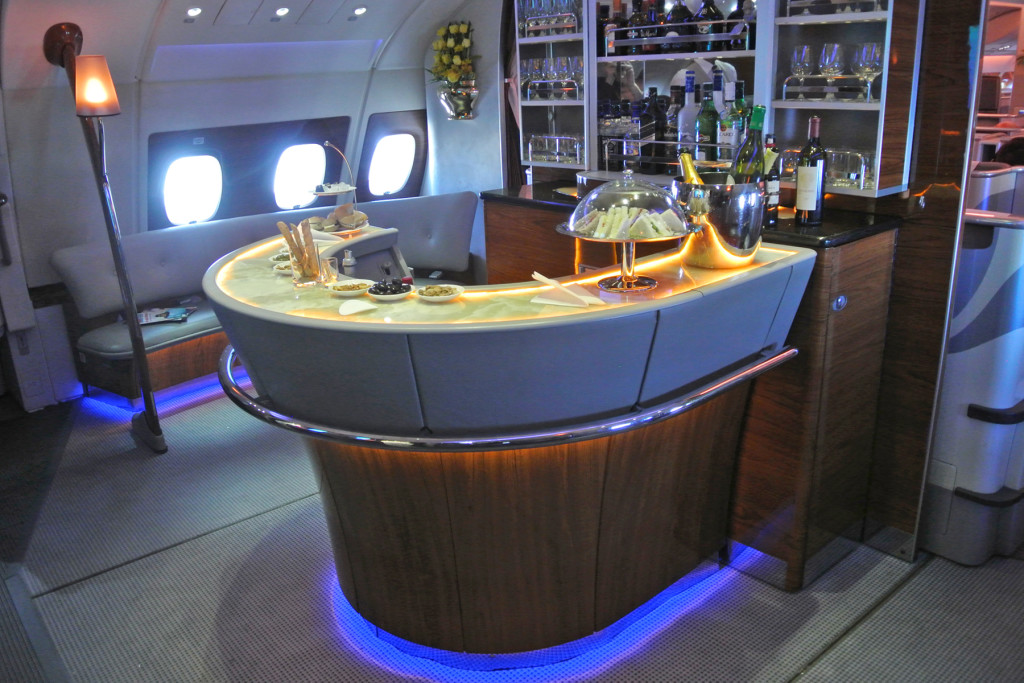 Transfer at Dubai was a breeze. It took about six minutes to reach my connecting gate, including no more than a minute or two at security (why secondary security is required at all is a topic for later, but at least in Dubai it's quick). Transfer time can be longer if you're switching terminals, but the process is still pretty painless. In the U.S. it would take at least an hour, and probably a lot longer, thanks to our country's absurd international connection policies, requiring you to claim all of your luggage, stand in line to check in again, and pass through the full TSA gauntlet, often with a change of terminals to boot.
Emirates' business class "lounge" at Dubai's terminal A is one of the most impressive things I've seen at an airport. I put "lounge" in quotes because that word belies just how big the place is. Terminal A is massive, and the lounge takes up the entire upper level. It's an airport unto itself, with several sub-lounges where you can eat, drink, or relax in quiet, softly lit waiting areas. Boarding bridges lead directly from the lounge to the upper deck of the A380. You never even see economy class, or any of the economy class passengers. This also shields you from having to see the plane's ghastly exterior.
Emirates is one of only a few carriers to have developed its own proprietary typeface, which it uses in everything from its advertising to its inflight menu. I don't know who designed this font, but it's very attractive and distinctive. In an era when carriers are becoming more and more similar to one another, it's a small but elegant way for Emirates to set itself apart. More airlines should do this kind of thing.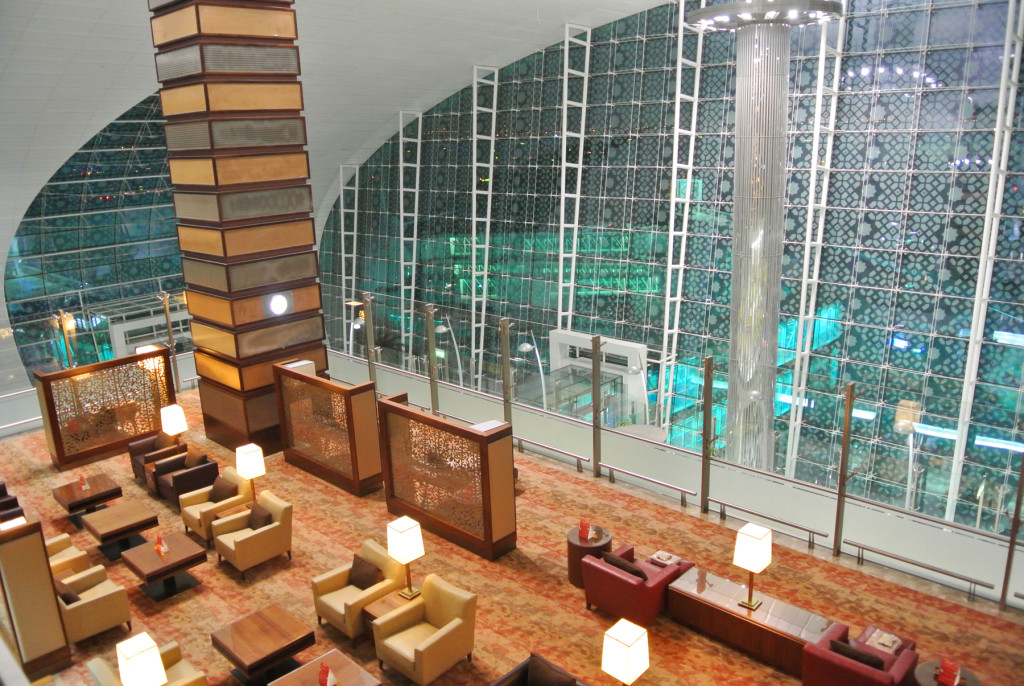 SINGAPORE AIRLINES
Business class, Boeing 777
Singapore Airlines has won more passenger service awards than any other carrier.
This was it, the Big Kahuna. I'd be riding the swankiest airline of them all, in what's marketed as the biggest and fanciest business class seat in the world. The Singapore to Amsterdam flight will take thirteen presumably blissful hours on a 777-300 arranged in a super-spacious 1-2-1 configuration. The night prior, I was so excited I could hardly sleep.
So how was it? Underwhelming, frankly.
It began pleasantly enough, with a warm welcome from the cabin crew. Singapore's female flight attendants are called "Singapore Girls," and for decades they've worn the famous Sarong Kebaya, designed by Pierre Balmain. (Malaysia Airlines crews wear these same dresses, colored slightly different. Malaysia and Singapore were the same carrier until 1972.) Who am I to judge women's fashions, but these are the most fetching uniforms in the industry, bar none.
And the seat, oh it's big all right: the widest I've ever seen, with a 15.4-inch video screen and lots of storage space. The seat is so big that I laughed out loud as I settled into the thing. The seat-back unlatches and falls forward, like the rear seats in a car, creating a huge sleeping space. This is no longer a seat, it's a bed.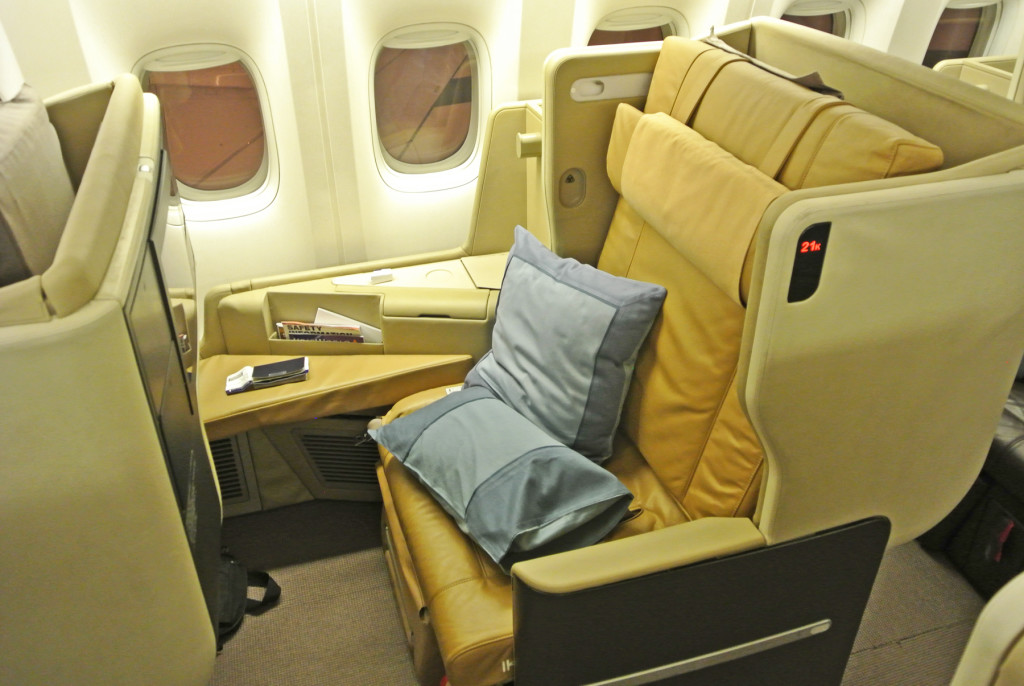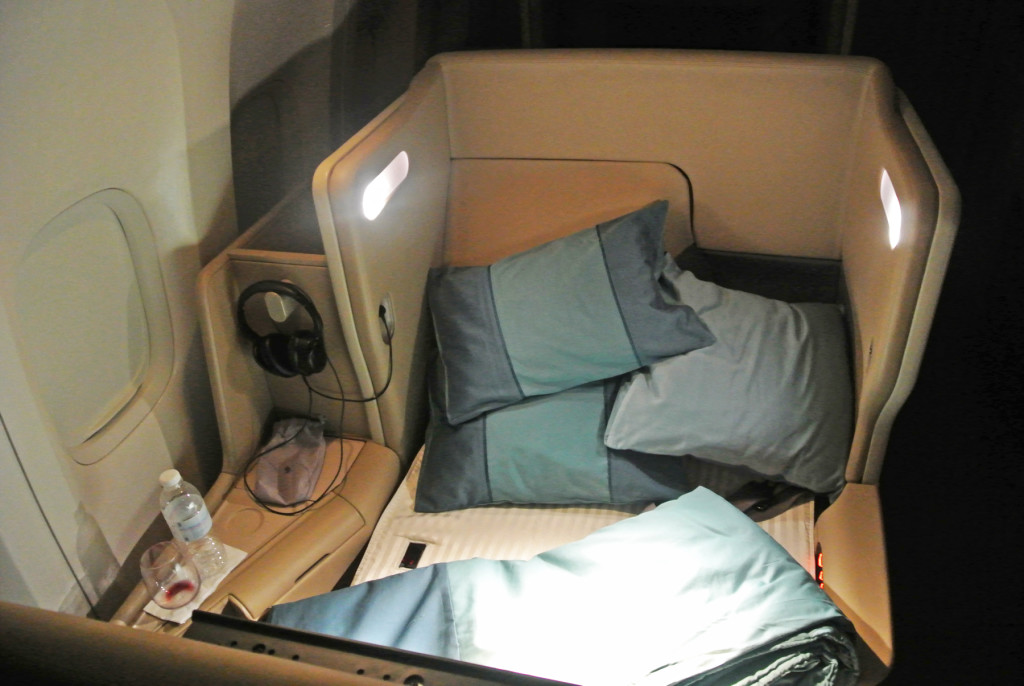 The problem is, in order to maximize room for sleeping, your leg space is offset from the rest of the chair. The cubicle faces forward, but in the bed position you're at about a 30-degree horizontal angle. Lying flat, my feet faced toward the window, and my head toward the aisle. Thus, if the seat is in the normal, non-bed position, the only way to stretch your legs is to aim them sideways toward that offset slot. When you're dining or watching a movie, the seat becomes extremely uncomfortable (I'm told that on Singapore's A380s the leg slot is directly forward, solving this problem).
The meals, meanwhile, were so-so, with small portions, and the crew's attentiveness was adequate at best — certainly no better than on any of the fights described above. My wine glass was taken before I could ask for a refill, and walk-throughs were so infrequent that I twice had to walk to the galley and ask for water. This was the vaunted Singapore Airlines? I almost hate to say it, but my own carrier's cabin staff — yes, one of those reviled U.S. carriers — is usually much friendlier and more diligent. The inflight Wi-Fi did not work, and no apology or explanation was given.
As on Cathay Pacific, though, some of the small touches stood out. The artwork, for instance, and the roomy lavatories stocked with amenities. I also appreciated that Singapore doesn't wrap its pillows and duvets in clear plastic, as too many carriers do. I get the need for hygiene, but let's not overdo it. It's a little déclassé, not to mention wasteful, having to unwrap your bedding and shove all that plastic into a seat pocket.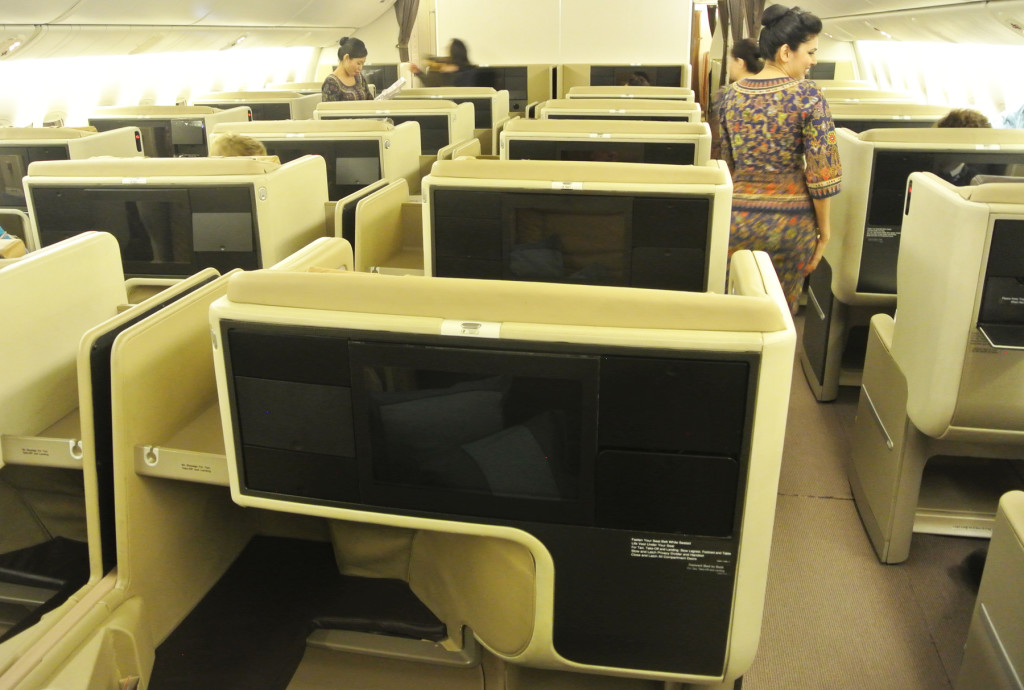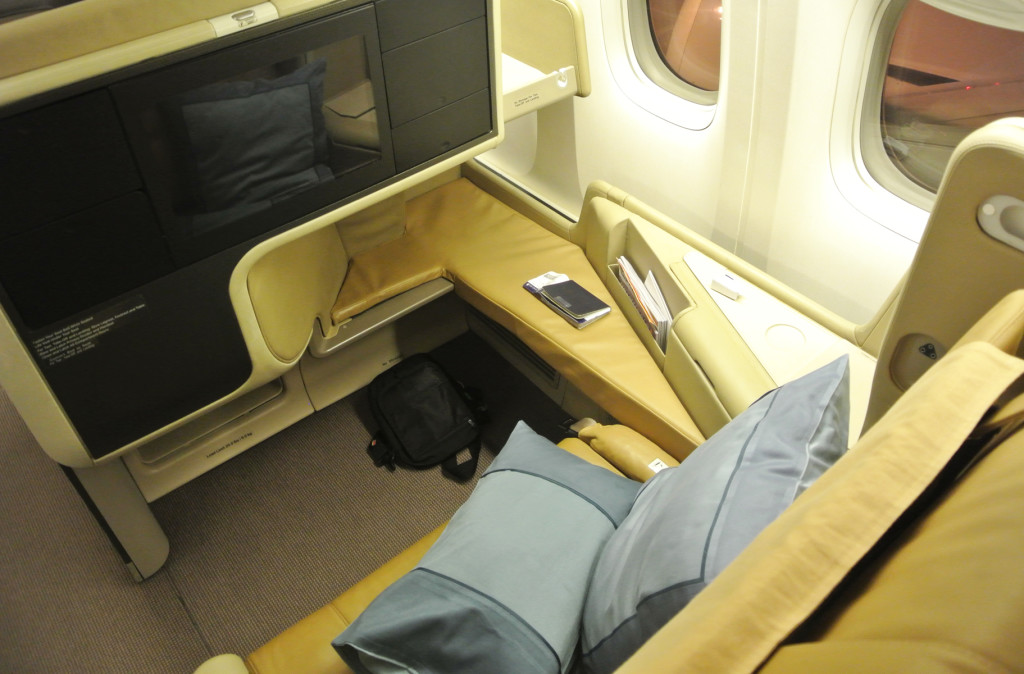 The winner? Cathay, probably, though everything else being equal, those Emirates A380 seats with the outside console are fantastic.
Don't get me wrong. Even the worst of these flights was highly enjoyable. The encroachment of low cost carriers like AirAsia, Tiger, et al notwithstanding, Asia still does air travel right. The planes are always widebodies and there's always a full meal. the airports are always efficient and traveler-friendly.
And is it any wonder that passengers hate transiting through U.S. airports?  It's not that our carriers are especially bad, but the rest of the experience is awful: the noisy, dirty, claustrophobic terminals, the tedious TSA lines, the two-hour waits to clear immigration, etc. In Asia everything is big and clean and efficient. It's zip, zip, zip and you're through, regardless of where you're sitting or how much you paid for your ticket.
Another impressive (and amusing) thing about Asian air travel is how fast and efficient they are when it comes to boarding. Even on a flight with 400 passengers they typically don't start boarding until a half hour prior to departure.  Yet they're almost never late.  Somehow they manage to get all of those people on in thirty minutes, every time.  Of course, you're always on a widebody plane, which are by nature quicker to board and deplane, and they usually use two jet bridges — or three on the A380.  You seldom encounter those doorway traffic jams that are so routine in the U.S, where the norm is to horde luggage-laden people onto single-aisle jets through a single doorway. (Of the four carriers I've written about, Qatar is the only one with any single-aisle aircraft in its fleet. The smallest planes operated by Emirates, Singapore or Cathay are Airbus A330s.)
And lastly, one of the things that drives me crazy on U.S. airlines is the incessant public address chatter. The first 45 minutes of an international flight is taken up by a start-and-stop stream of announcements, often in multiple languages, only a small portion of which is useful or informative. On and on it goes, interrupting your movie or otherwise driving you crazy. We don't need an announcement, in three languages, to tell us that the cabin lights are about to be dimmed. Just dim them; we can find our reading lights. Spare us the "sit back, relax, and enjoy" pablum, and those interminable end-of-the-flight salutations as well. Overseas carriers aren't so self-conscious, and they seem to understand that it's possible to be thankful and courteous to your customers without being overbearing. With the exception of Emirates, which borrows too closely from the U.S. model, each of the flights above was pleasantly quiet from departure to arrival. Announcements, when they came, were quick and to the point.
Now, if there's anyone out there willing to donate five or six thousand dollars, I'd love to try Qantas, Lufthansa, or Air New Zealand.
Related Stories:
WELCOME ABOARD THE A380. PLUS, MY STRANGE CHILDHOOD OF AIRLINES REAL AND IMAGINED.
BOSTON TO TOKYO: A RIDE ON THE 787