February 14, 2019
AIRBUS THIS WEEK announced that it will cease production of its flagship aircraft, the double-decker A380. The fate of the A380 — the largest commercial aircraft ever built — had been on the fence for some time. The decision to close the assembly line comes after Emirates, the plane's largest operator, walked back a recent order, opting for A330 and A350 models instead. Emirates has over a hundred A380s in its fleet, but elsewhere sales have been sporadic. To date, only about 240 A380s haven been delivered, with roughly 75 more still on the order books. Once those orders are filled, some time in 2021, the line will shut.
It feels like only yesterday that I was writing posts and columns about the A380's inaugural flight. It was October, 2007, when launch customer Singapore Airlines put the plane into service. Fourteen years will be an awfully short run for a jetliner that took fifteen years and cost $25 billion to develop.
I feel a certain glee in learning that production of the Boeing 747 — a plane whose future is itself in serious peril — will outlive that of the A380, the jet that took its place as biggest in the world. The hype and hoopla surrounding the A380 has always bugged me. For starters, the jet was never deserving of many of the adjectives thrust upon it: radical, revolutionary, iconic, and so on. The 747, which fifty years ago went from a literal napkin sketch to a fully functional airplane in a mere two years, was more than double the size of any existing jetliner, and it introduced economies of scale that, for the first time in history, allowed millions of people to travel long distances at affordable fares. That was revolutionary. The A380 merely built upon the 747's legacy. It was a little bigger, a little heavier, a little more impressive technologically.
And a lot uglier. Yeah, I've written some pretty unkind things over the years about the A380's lack of aesthetic grace — most of them fully deserved. For all its technological accomplishments, let's face it, it's not a pretty plane — a sort of lumbering beluga with an outsize forehead. Nothing like the elegant, erudite lines of the 747.
That said, it's sad to see the demise of any commercial aircraft. And I'm first to admit that for all its faults on the outside, the A380 is a pretty spiffy ride on the inside. Looks aren't everything, right? And it's in the cabin where the A380's personality comes through. It's spacious, quiet, and if you're lucky enough to sit in premium class, decked out with luxe amenities. Whenever I travel first or business class on Emirates, for instance, I always make sure to book the A380 rather than 777, and will alter my itinerary to make it so. For all the badmouthing I've done, I'll fight to score a seat on one.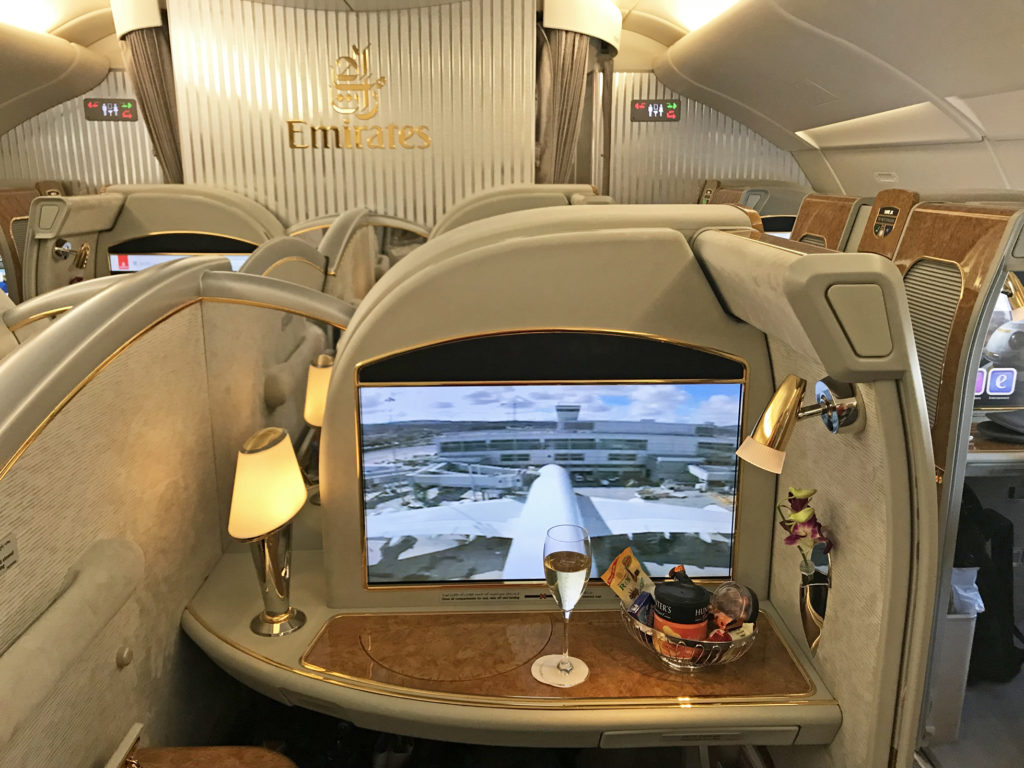 It's only a matter of time, meanwhile, before Boeing announces a similar shutdown of the 747 line. But don't read too much into these closures. Airlines are still plenty hungry for big aircraft — just maybe not the ones with four engines.
Conventional wisdom holds that the jumbo jet is dead: long-haul markets have fragmented, and airlines have turned to smaller, mid-sized jets like the A330 and 787 instead. To an extent this is true, but there are, and will continue to be, plenty of very large planes out there. The most common of them, for now, is the Boeing 777-300. This is the aircraft, not the A380, that most of the world's carriers brought in to replace their 747s. It does the job with two engines instead of four, and with significantly lower operating costs. But it's by no means a small aircraft. It's almost the size of a 747, typically carrying around 350 passengers — with even more underfloor cargo space than a 747. Essentially, every 777-300 you see today — and there are nearly a thousand of them around the world — would, a generation ago, have been a 747. The upcoming 777-X will be larger and heavier still. The A350-1000 and 787-10 are of similar size and weight, with capacities approaching 400 passengers.

All photographs by the author.
Related stories:
THE 747 IN WINTER
HISTORY, HYPE, AND THE WORLD'S BIGGEST PLANES
IT LOOKS LIKE THE FUTURE: UP CLOSE & PERSONAL WITH THE 787