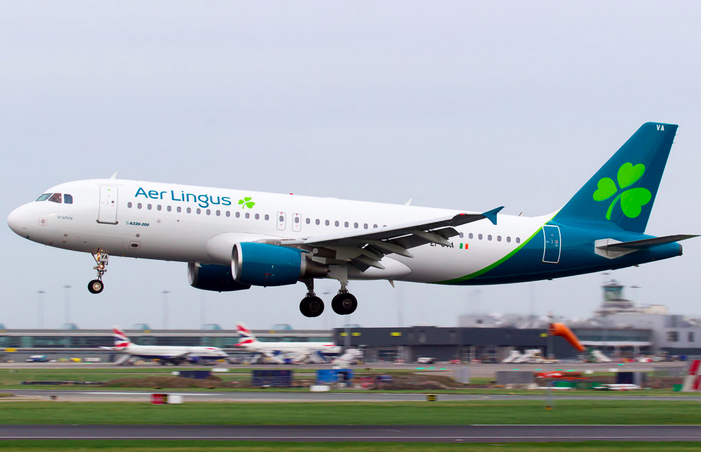 January 21, 2019
THESE DAYS, whenever any airline unveils a new look, I wince in anticipation. I usually need to meditate a bit, or have a few sips of peppermint tea, before I dare take a look.
So it went after getting word that Irish carrier Aer Lingus was revealing its first corporate rebranding since 1996. Three deep breaths, click, and behold.
There's a feeling that I don't think anyone has yet come up with a word for. Maybe there's a word for it in Gaelic? It's that feeling when you can't quite hate something, much as you want to, and you're forced to accept a simmering disappointment instead. That's how the new Aer Lingus makes me feel. "Underwhelmed" is putting it another way.
Where do we begin? First off, we don't see the emerald green of Ireland. We see a tropical cocktail of teal and lime.
Then we see the carrier's timeless shamrock emblem, which it has used for more than eighty years. They haven't disposed of it, thank the Irish saints, but here it is twisted into a strange, somewhat disorienting perspective.
And, of course, this being the airline business in the second decade of the 2000s, we see an anemic white fuselage, awkwardly tail-heavy due to yet another of those tail-swoosh things where the color comes washing down the fin and around the plane's rear end. Yawn.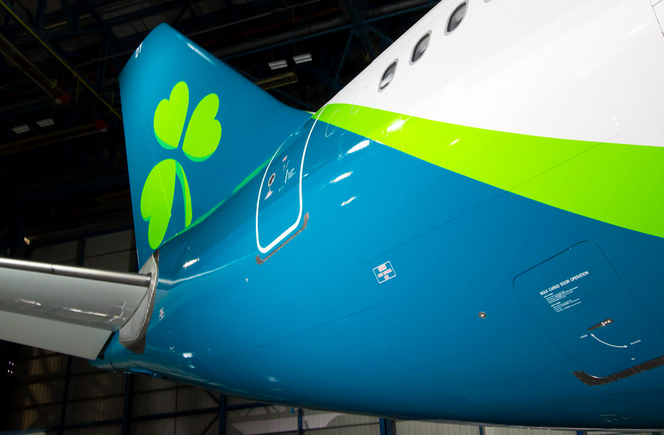 There was nothing great about the design this one usurps — a soggy, green-on-green motif with a blurry shamrock. A do-over was, you could say, overdo. This one is better, absolutely. But it's less of an improvement than a wasted opportunity.
Over at Aer Lingus, though, they're just bursting with enthusiasm. "The new look reflects our position as a modern international airline," boasts a press release, "while at the same time maintaining our rich Irish heritage. Our new colour palette consists of two contrasting shades of green. The rich teal represents strength and confidence."
Does it? When I see teal, I think of ugly Christmas sweaters, or maybe the Caribbean Sea.
The shamrock, says the company, "sits proudly as the hero of our livery, with a new tilt to add movement, dynamism and speed, with heart-shaped leaves reflecting the warmth and hospitality of the brand. We've kept our Instagram-worthy shamrock on the wingtip — visible only from inside the aircraft."
I don't know if there could be a more hysterical, self-parodying glossary of corporate ad-copy buzzwords. What all of that actually describes, once you boil out the jargon, is a livery that represents nothing — which is maybe appropriate, since it looks like nothing. Using words like "dynamism" is bad enough, but to include the phrase "Instagram-worthy" makes this officially the most nauseating brand promotion I've ever read.
And how depressing it is to look through Google Images and come across the many pictures of Aer Lingus' 1980s-era colors, seen below on a 747. Who will be the first carrier, we wonder, to smarten up and reintroduce one of its looks from decades past, old-fashioned striping and all — not as a novelty retro scheme, but as a brand new look, as it were. This is just one of the beauties to pick from…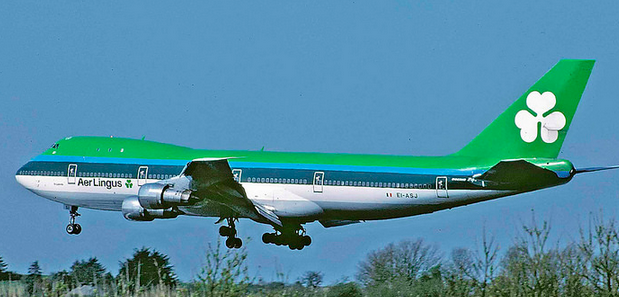 Over at Emirates, meanwhile, we have another from-bad-to-worse story. It's not their livery, thankfully, which remains one of the better and more distinctive ones out there, but their slogan.
Emirates had been running with "Hello Tomorrow," whatever that was supposed to mean. It sounds like the catch phrase for a theme park or a software expo. Now, however, they've switched to the almost unfathomably boring "Fly Better." Is this an airline, or a heartburn medication?
As the kids say: seriously? One can only imagine how many millions of dollars Emriates must have for an advertising budget. And this was the best its consultants could come up with?
What should the Emirates slogan be? The answer is so obvious that I should hardly have to type it. Here's the largest international carrier in the world, operating over three-hundred wide-body jets, including over a hundred superjumbo A380s, to pretty much every major city on five continents. It should be, "The Airline of Planet Earth."
We love this tagline because it works on two levels. It speaks to the imagination because it sounds futuristic, a touch sci-fi, or even a bit tongue in cheek. And also it's true.
It's perfect. And in exchange, I don't expect much. I ask only for a million dollars in cash or five years worth of unlimited first class travel.
Not to be outdone by their Persian Gulf neighbors, Qatar Airways has been pushing a new line as well, and it's almost as bad: "Going Places Together."
That's right. As with Emirates, you'd think a hip global carrier with money to burn could have thought up something a little less vapid and generic, but there you have it. The poor Qatar flight attendants are forced to repeat this awful slogan as part of their cabin announcements. "Thank you for flying with us. Qatar Airways: Going Places Together."
Again the young people have a word for this: cringe-worthy.
Related Stories:
THE ESKIMO AND THE FLUORESCENT NOODLE
THE YIN AND YANG OF AIRLINE IDENTIY, VOLUME I