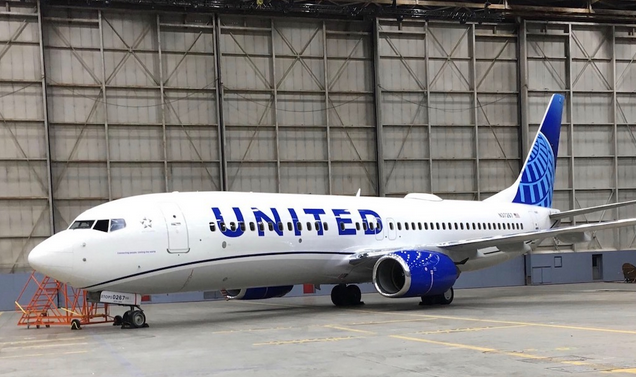 April 24, 2019
OVER THE PAST dozen years or so, the trend in airline livery design has been one big race to the bottom. Whenever a carrier announces a change is in the works, we prepare to be disappointed.
And so it went after getting word that United Airlines, the nation's number two carrier, was about to unveil a new look. A part of me held out hope. Maybe, I thought, they'd bring back a version of the iconic, sorely missed "U" logo that graced the carrier's tails for so many years. Maybe we'd see something akin to the carrier's handsome mid-90s look, with the gray top and elegant understriping.
That was always a longshot, of course.
The livery being replaced, which came about after the merger with Continental Airlines in 2010, is itself nothing special. It's an amalgamation that blended the United typeface with the Continental globe. Bland and ultra-corporate, it looks like something you'd see in a PowerPoint slide. There was plenty of opportunity here for improvement, which brings us to the most important question: is the new livery better?
The answer is no, it's not. They've stayed with the 2010 template; except, now, they've sucked away whatever dignity it had.
We start with the "United" title, which has gone big. Big for big's sake, in a way that looks unbalanced and garish. It's oddly spaced as well. And, needless to say, you can't have a livery these days without some annoying "in-motion" theme. United obliges with a mandatory curvy thing — it looks like a garden hose — along the lower fuselage. It's capricious, worm-like, and worst of all it's black — black!
The gold accenting is gone from the tail now, too, turning the Continental globe into a sort of fluorescent hub cap. Is this the airline's excuse for a logo? Do they even have a logo? It's a gaudy tail in a two-tone blue that's at once syrupy and overexposed.
Granted this isn't as terrible as what American Airlines did a few years ago. It's bold, I'll give you that, and you can marvel in the simplicity of it. Or, you can call it what it is: boring, and totally without spirit. Like too many identities these days, it's watered-down, cowardly, half-assed scheme that looks like it was designed in about fifteen minutes.
Grade: D.
With both AA and UA having let us down, together with JetBlue's lackluster scheme and Southwest's carnival car abomination, this leaves Delta, for now, head and shoulders above the other U.S. majors.
Related Stories:
ALASKA AIRLINES' TACKY NEW LOOK
THE NIGHTMARE CONTINUES
ET TU, KLM?
THE NEW AMERICAN AIRLINES
KUDOS FOR AIR CANADA