August 12, 2018
ON FRIDAY NIGHT at Sea-Tac airport in Seattle, a 29 year-old employee of Horizon Air purloined one of the carrier's Dash-8 Q400 turboprops. Richard Russell, a ground service worker, took the 76-seat aircraft for an hour long joyride before crashing onto an island in the southern end of Puget Sound. Russell was killed.
In the wake of this unfortunate incident, the media is going a little bonkers over the idea of airline employees appropriating aircraft and causing mayhem. "One of the biggest potential perils for commercial air travel," is how one CBS news story described it. In the same story, Erroll Southers, a transportation security expert, said, "The inside threat is the greatest threat we have to aviation."
Looking back over the history of air crimes, only a tiny fraction of which have involved rogue airline workers, I'm unsure what prompted Southers to say such a thing. If he's talking about the potential for non-pilot employees to smuggle drugs or possibly plant explosives, that's one thing. But stealing airplanes is something else.
The Q400, built by Bombardier of Canada, is a small but highly sophisticated aircraft, and Mr. Russell clearly had some understanding of its systems. He was a member of Horizon's "tow team," and was qualified to occupy the captain's seat while the the aircraft was under tow — a position that requires at least elementary training in the plane's hydraulic, electrical, and communications systems. I've been an airline pilot for over twenty years, and was once captain-qualified on an older Dash-8 model (the Q400 is a modernized variant of the De Havilland Dash-8). If you stuck me in the cockpit of a Q400 today, could I get the engines started? I imagine so, but it would take some time and effort. That Russell got the plane up and running is fairly impressive, and I'm even more startled that he didn't kill himself — and possibly others too — during takeoff or shortly thereafter.
He flew for an hour without stalling or rolling over or causing structural failure. I'm sure he wasn't smooth, and I'm sure he wasn't flying within normal or safe parameters. To the extent that he needed to, he knew what he was doing, but for the most part he was just flailing around, trying out maneuvers he'd likely practiced on his computer. In which case he was fortunate not to rip the wings off. He wasn't really flying the plane in a meaningful sense. He was steering. Those are very different things, and there was a very fine line between him being in control, and not being in control. What he was doing was rudimentary, a tiny part of what piloting is all about. For those who think Russell illustrated how easy it must be to fly a plane, I'd like to have seen him perform an instrument approach, handle a go-around, manage an arrival into LAX or La Guardia, or navigate across an ocean — or any of a hundred other things.
And even rudimentary flying isn't easy. This is not anything the average baggage handler, counter agent or even aircraft mechanic could pull off on a whim. Without some systems knowledge, some rudimentary flying skills, and a whole lot of luck, it's more or less impossible. The average person, if put in a Q400 cockpit and told to go flying, couldn't get a propeller turning if his or her life depended on it, let alone take to the air.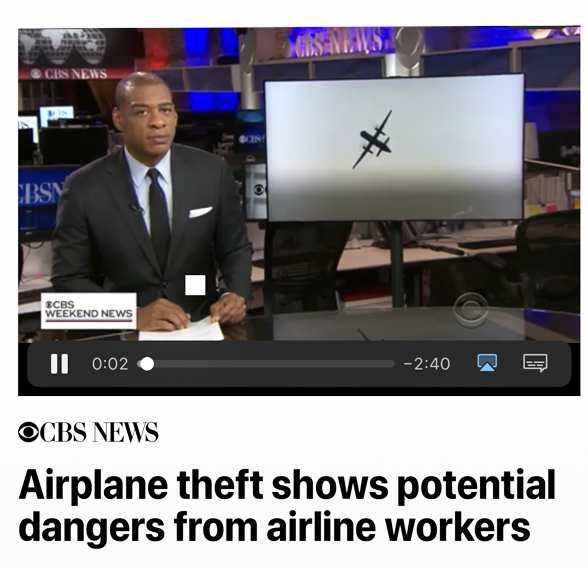 A New York Times headline, meanwhile, says the incident "Raises Troubling Security Questions."
Actually, it doesn't. But on and on we go: always the new "threat," the new scare, the new loophole, in our security-obsessed culture and media. It should go without saying that certain airline workers are always going to need, and have, cockpit access and knowledge of how a plane works. What exactly are we supposed to do?
Calm down, for one.
Mr. Southers and the Times are correct that an insider threat does exist, and always has. This particular kind of threat, however — the idea of random employees getting hold of planes — shouldn't be overplayed.
Employees of Libyan Airlines were implicated in the Pan Am 103 bombing in 1988. A year earlier, David Burke, a recently fired ticket agent at Pacific Southwest Airlines (PSA), sneaked a loaded gun past security at LAX. During cruise he broke into the cockpit, shot both pilots, then nosed the airplane into the ground killing everyone aboard. Burke was an insider — or had been until he was fired — but anybody else could have committed the same crime.
We remember, too, Auburn Calloway at FedEx, Tsu Way Ming at SilkAir (maybe), Gameel Al-Batouti at EgyptAir, and Andreas Lubitz of the Germanwings disaster. These were pilots, however. Indeed, the number of pilots who've intentionally crashed planes is greater than the number of other employees who have. I hate pointing this out, but in a weird way, maybe, it underscores how difficult the task would be for a non-pilot.
Horizon Air, a subsidiary of the Alaska Air group and partner of Alaska Airlines, is one of the nation's oldest and largest regional carriers, with an extensive network throughout the Pacific Northwest.